Home

Trice Jewelers
Details
Engagement Rings, Appraisals, Custom Designs, Ring Insurance, Wedding Rings
Contact Info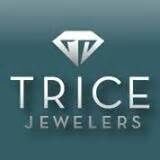 Groom's Band is Fab!
Reviewed on

7/10/2015
Karlee H
My groom loves his ring! Jane (she's a rock star!!) helped me find the perfect ring to wow my man. I was able to customize the band to be all matte finish. It is classy, yet not flashy :)
---
Helen Is What Makes Trice So Great
Reviewed on

3/17/2015
Elizabeth S
My husband started working with Helen before I met her. When he took me to the store Helen was overjoyed to meet me! She showed me all that she and my husband had been working on and seemed genuinely excited for us! After looking around we decided to go ahead and design our own.... Read More She gave us inputs on what cuts look good together and what band would look best on my small fingers. She and my husband kept in contact. She sent him CAD drawings of the ring and it was PERFECT! When he got down on one knee and I finally saw it I was BLOWN AWAY! It was so perfect, so shiny and SO ME! We knew we would be going back to Helen for our bands and that is exactly what we did. We custom made my band to match my ring and I couldn't have been happier! If you want an experience where everything is about you and your budget, they don't try to sell you on anything you don't want/need, and to work with someone who will remember your name and other small details go to Trice Jewelers and see Helen!
---
Our Wedding Rings
Reviewed on

7/12/2014
Jordan B
We loved trice. My husband got my wedding ring/band here and I got his band here. They were always so professional and nice to work with. They were very helpful and made the experience of looking for rings a great one.Every time we have gone in to get our rings cleaned, have a... Read More question, or whatever it may be, they are always there to help and are always so personal and nice.
---
Great Place for a Beautiful Ring!!
Reviewed on

12/13/2013
Abigail O
My husband found my engagement ring and wedding band at Trice Jewelers. We had looked at several other jewelers around Colorado looking for the right style and service. I had never been to Trice before but I knew people who had beautiful rings from there. My husband went by... Read More himself to trice and they were incredibly helpful. They mounted an heirloom diamond we had into one of their settings beautifully. Highly recommended with great customer service!!
---
Great Selection; Custom takes awhile
Reviewed on

10/08/2013
Robyn B
I've been pleased with Trice for my engagement & wedding ring along with my husbands band. I was able to purchase a band for use during our wedding while waiting for my custom band that will be similar. I'm still waiting for the custom band (4 weeks & counting) but hope to... Read More receive it soon. Helen has been great to work with and always responds promptly!
---
Bling It Out!
Reviewed on

9/07/2013
Cami M
Thanks to everyone at Trice for restoring my husband's late great-grandmother's ring. It is truly an honor to wear something that means so much to his family and it is truly a gorgeous ring.
---
Great Selection
Reviewed on

8/17/2013
Jessica H
They have an amazing selection and the staff is extremely helpful!
---
Best service and value!
Reviewed on

7/24/2013
Sharon S
My husband (then fiance) and I went in with an heirloom ring to do a custom wedding band to go with it. Chandra listened to all our wishes, stayed in budget, and knew exactly how to get us what we wanted. The talent in that store is incredible and they make the best quality... Read More jewelry. These guys will be our jewelers for life! Great warrantee included as well.
---
Love my ring
Reviewed on

7/19/2013
Sandra P
I designed my own ring @ Trice Jewelers. They made it exactly the way I wanted it to look. Couldn't be happier!
---
A great wedding partner
Reviewed on

9/20/2012
Bronwyn L
Jane at Trice (now located at Southglenn) was very helpful at delivering exactly what we wanted in the way of wedding bands. She was friendly, attentive, and offered helpful suggestions. Shopping with Jane at Trice was a pleasure.
---
Mixed feelings, but love style of custom rings
Reviewed on

9/14/2012
anne b
I love, love, love my engagement and wedding rings that Trice Jewelers created for us. Based on a past experience with Trice and their less than stellar warranty plan, I was very hesitant to use them. At the end of the day, I didn't have a choice because it was my fiance who... Read More chose to have them make a custom ring since I couldn't find anything else I liked. So far they have been good to work with. I had a loose stone in my e-ring and they fixed it. Before the wedding they rebrushed my e-ring so it would match my wedding band, but they brushed it the opposite direction and they didn't match at all. It took 3 weeks to custom make both rings and it took this same amount of time to have it replated and rebrushed before the wedding. Apparently they do custom work themselves, but send out repairs. Overall I have mixed feelings about Trice, but I do love the style of my rings. They have updated their warranty policy and it is comparable to other large jewelers in the Denver area. They have also made it retroactive so my rings are now covered fully.
---
Perfect!
Reviewed on

8/10/2012
Malorie M
The staff at Trice is amazing! They helped my husband and I pick out our perfect rings. I highly recommend going to Trice!!!
---
Trice Jewelers is a good choice!
Reviewed on

5/15/2012
Sabrina A
Trice is a great jeweler. We went to the new location near Southglenn on University Blvd and had a pleasant experience. The staff is helpful and the selection suited our needs. Thanks!
---
Wonderful
Reviewed on

12/21/2011
Heather R
Justin and his crew are amazing and always have excellet customer service.
---
Ben @ Trice!!!
Reviewed on

12/12/2011
Niki B
Ben worked with my husband and I to design our custom rings. NOT your typical cheesy/pushy jewelry salesman. Ben is on top of it, and so willing to do anything to meet your needs and budget. Love him.
---
AMAZING!
Reviewed on

11/02/2011
Kyley K
We got all of our rings through Trice. Jeff was great to work with. The quality and service were amazing. Love my rings. Will go back many times!
---
So welcoming
Reviewed on

11/01/2011
Kate D
My husband got my e-ring at Trice, so naturally we went back for our bands. We love the attention we receive when we walk in. Everybody is so eager to help us, even though we are 20-somethings. If you get your ring from them, you can get it cleaned as often as you like (which is... Read More wonderful!), and every year, you get a free spa session for your rings. Truly a great place, and we love going in.
---
my wedding band
Reviewed on

9/20/2011
Liz D
my band was fairly simple, nice, but plain. My husband did say he ran into some complications as far as getting the actual ring on time as well as with billing... nice jewelry.
---
Wedding band bliss
Reviewed on

7/29/2011
Corey C
My engagement ring is my great grandmothers. It came with a band but it just wasn't my style. It was too bulky and I just didn't feel that it went with the engagement band very well. We went to Trice through word of mouth and we were extremely pleased. Judy helped us right away.... Read More She listed to what I thought I was looking for and kept us in our price range. I just wasn't seeing what I knew was "it" so I asked her to suggest a few bands. Her first suggestion turned out to be perfect. It looks like my engagement band came with my wedding band to begin with! The styles line up perfectly and it's the thinner band style that I love. To top it off, the ring had been there since 2007 when the price of gold was far cheaper. She sold it to us at the 2007 gold price because it was a style that isn't very popular. Not only did I get the ring that is perfect for me, but at a price that was incredibly affordable (below our budget actually). They sized my band with no problems whatsoever and but a bracer around my engagement ring to insure it's the right size without ruining the 1939 engraving on the inside. I will be back to have the two fused together. I highly recommend Trice!
---
Great products
Reviewed on

11/24/2010
Becca S
I love my wedding back and engagement ring, they did a great job.
---
Trice is AMAZING!
Reviewed on

10/31/2010
Mary K
Trice did a phenomenal job at perfecting our rings. Jeff was awesome and not only helped my now husband design my engagement ring but also helped match a wedding band perfectly with it. He helped us find exactly what we were looking for and within our budget.
---
Beautiful
Reviewed on

10/19/2010
Amanda R
We got all of my bands and my ring here as well as my husbands ring. They rock. We love our jewlery. We couldn't have found anything we would love more.
---
Perfect jewelry, great prices
Reviewed on

9/14/2010
Jamie M
We had the pleasure of working with Helen at Trice when we picked out our wedding bands. My husband had gone to Trice to pick out my engagement ring, and unable to find anything, they custom made the ring he was looking for. It was perfect. The diamond was top quality, and the... Read More service we received from Helen and the rest of the Trice staff was impeccable. Also, since we decided on rings that we couldn't pay cash for outright, they allowed us to place our rings on layaway, and make payments until they were paid off. This was a wonderful option for us, as we didn't want to shell out a bunch of cash all at once, and we had time before the wedding to pay payments. Trice is great. We love Helen. Thanks to all of you for making our rings perfect. Trice is our jeweler!
---