Home

Trosper Productions
About this Vendor
Videography with a fun new twist!
Videography is the best way to capture your wedding day. Yes pictures are great and wonderful but they can't let you hear your significant other say their vows or make you laugh at a speech. Videos capture time to let you return to that special day and experience it like you are in the crowd.
Details
Artistic, Classic, Documentary, Vintage
Getting Engaged, After Party, Rehearsals + Parties, Wedding
Destination Wedding Packages, Destination Weddings, Second Shooter Available, Social Media Sharing, Full-Length Video, Highlight Video, Video, Photo + Video
Contact Info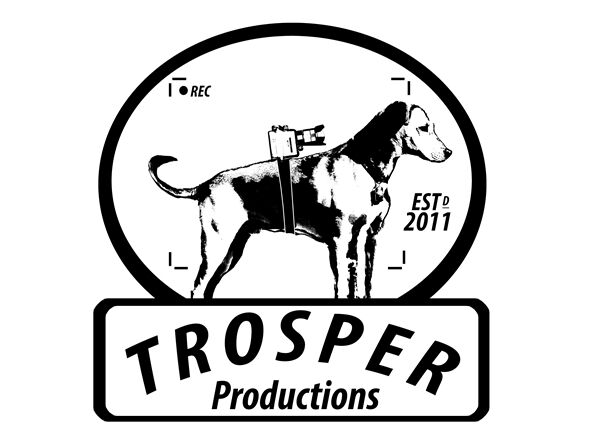 998 OttawaBeach Rd, Holland, MI
Amazing!!! Absolutely amazing!!!
Reviewed on

10/24/2015
Sarah M
Trosper productions is the absolutely most phenomenal and dedicated videography service I could ever imagen! We actually contacted him only a few weeks before the wedding because we had received a little extra gift and all our friends who had recently been married kept saying,... Read More "We wish we had, had a videographer." We called him and heard back in less than a few hours. He just happened to still have that day free, and was able to come on pretty short notice. He showed up the night before our wedding, to our rehearsal dinner/welcome party, and captured extra interviews that where incredibly sweet as well as footage of the party and live band, that we otherwise wouldn't have had. He started the next morning, early, and went well until 12-1am, capturing every beautiful moment in artistic excellence and with such an individual tone. He made us feel so comfortable, laughing throughout, he was non intrusive, like a new friend that was an old friend. His suggestions for activities that would create unique view points and cinematographic accentuations where brilliant, fun and natural. He diligently worked on our product, going above and beyond, meeting some of our expectations that probably exceeded those of an average client. The finished production was perfect, in absolution. It is something that we will have forever, creating a masterpiece of one of the best days of our lives. It is our new famiy's heirloom, a documentation of beginning, etched in digital stone. We are ecstatic with his work, and recommend him to anyone and everyone. The price is absolutely reasonable, and I couldn't possibly imagen what another service providing that was more fantastic no matter how much you paid them. Some services where looking into where asking for 3-5g or more. Let me say, look no further than to Trosper productions for your own magnum opus; one that asks fair compensation that other companies could not supersed despite their high production costs. We loved it, highly recommend it, it's something you can afford, and you will treasure!! Thank you Jason!
---
Reviewed on

8/25/2016
Ashley W
I knew I had to have Trosper Productions for the Videography at my wedding. His videos are always outstanding. I had a very small wedding and reception, so I wasn't sure how much footage he would be able to get or what he would have to work with, but he somehow got lots of great... Read More video! He was very quick getting the video after the fact as well. It was less than a month until I got my video. Highly recommend Trosper Productions!!!
---
Reviewed on

6/08/2016
Amy F
AMAZING! Jason made sure he got every moment of my wedding on video! I absolutely loved the highlights video. It was very creative! As we where heading back from our honeymoon our final videos where already in the mail! Very fast on completing them! Couldn't be any happier!! 100... Read More percent recommended.!
---
Reviewed on

6/07/2016
Neva N
Jason Trosper was awesome to work with! He did a great job of capturing all of the precious moments of our daughter's wedding. He thought of every detail from the quiet moments before the wedding to capturing all the crazy dance moves of the reception. His videos will be a... Read More treasure for years to come! I highly recommend Jason of Trosper Productions!
---
Reviewed on

6/03/2016
Leah N
PERFECTION! Jason was great to work with. He had so many cool ideas for our wedding video that he came prepared to shoot and different cameras for everything! The wedding music video is so cool and different from anything you see at other weddings. All his ideas for... Read More dance-offs and singing with guests into the camera made my reception so much fun. He was very interactive with us and our guests and everyone had a great time with him at the wedding. Jason captured every detail of our best day ever, even some details I didn't think of! (and Im the bride, so I thought I had all the details down!) He was wonderful and had the videos to us so quickly and they are such great quality. I highly recommend him! He's awesome!
---
Reviewed on

5/19/2016
Stephanie L
Paying for the wedding ourselves (and blowing our budget out of the water), we decided early on that a Videotographer was not needed... Until I suddenly realized, "Oh my God! We spent all of this money, What were we thinking?!" We lucked out and our date was still available.... Read More BEST DESCION EVER! Every amazing moment was captured. While still on our honeymoon, we got 2 videos on our facebooks. We laughed so hard watching the music video and cried even harder watching the highlight reel. They are both beautiful. Jason caught things on camera that I wasn't even aware happend! We are now 3 weeks out from the wedding and Jason called us to let us know that we should have the full DVD by the weekend. I hadn't expected such a quick turn-around! I have not one bad thing to say about Trosper Productions, I felt like it was the smartest investment that we made that day. I would recommend every couple get a videotographer, and especially to use Trosper Productions.
---
Reviewed on

2/14/2016
Michelle S
I cannot say enough wonderful things about Jason and Trosper Productions. From the beginning to the final product, we have been nothing but thrilled! Jason was so amazing to work with and he wasn't just professional, it was like working with a friend who took the time the really... Read More get to know us. He even worked with seamlessly with our photographers even though they had never met. He had such awesome ideas and collaborated with our photographers. As much as all brides tell themselves they are going to stay calm and relaxed on their wedding day, the nerves and stress can get to you. And there were moments where I felt really stressed, especially about the weather and Jason helped me stay positive. My husband and I absolutely loved working with him on the day of our wedding and continue to talk about how much fun we had. Our wedding DVD turned out phenomenal! We wouldn't be happier and it's something we cherish and love that we can relive that day. It's an incredible day that flew by and feels like a dream, and Jason captured those moments beautifully for us. Thank you!
---
Reviewed on

2/12/2016
Elizabeth C
When my husband and I first started planning our wedding we didn't think we needed a videographer, we hoped to remember every part of our day, the honest truth......you don't. After watching a few of Jason's videos we changed our minds. He truly captured the most memorable parts... Read More of our day. If it wasn't for his video, we would have forgotten the small parts of our wedding day. From the moment Jason arrived to the moment he left he did an amazing job at capturing our big day. Our music went down during the reception and quite a few guests were unsure of what to do, one of the wedding coordinators plugged in a small speaker while the DJ fixed the speakers, this didn't slow Jason down. He grabbed the props from our photo booth and had all of the guests dancing and having fun. Scott and I highly recommend Jason and would encourage everyone to have a videographer for their wedding day. He was worth every penny and wish we could go back and do the day over. We love watching our videos and reliving the day time and time again. Thank you again Jason! You were a major part of our special day ❤️ Scott & Beth Chenevare
---
Reviewed on

1/12/2016
Courtney G
Jason was a total pro on our wedding day. He adapted to all of the confusion that comes with the wedding day territory, and he also worked very well with the other photographers from a different company. His quality of work is excellent and the final product was beyond anything... Read More we could have expected. I highly recommend getting the "music video" he offers as well. It was a blast and he really captured the feeling of the reception. Overall, you will be very pleased if you are lucky enough to work with Jason. We were more than satisfied and count ourselves very lucky to have had him for our Oct 2015 wedding.
---
Reviewed on

12/03/2015
Amy V
Jason was absolutely WONDERFUL to work with and his finished product is amazing. He captures all the right moments and his videos are seamless! I would HIGHLY recommend him!
---
Jason is Great
Reviewed on

11/18/2015
Jason was great to work with, he was very easy going. The quality of my video is great I loved it and have watched is a million times.
---
Creative and Personal Videographer!!
Reviewed on

7/12/2015
Carlye B
I asked Jason at the last minute to make the trip to Charlevoix and film our wedding day and he was up for the challenge! He was beyond prepared: showed up early, filmed every important event, did interviews and captured all the special moments. I could not have chosen a better... Read More videographer and he did an incredible job of managing my rowdy 22 person wedding party! He has an energetic and inviting personality and I am so happy he was able to film the best day of my life!
---
Reviewed on

6/19/2015
Heather S
Jason was great to work with and everything turned out fantastic and the turnaround time was really quick. I knew I wanted a viodeographer for my wedding, but it seemed like they were all $2500+ and in the end you only get a 3 min video. Jason was not only very reasonably... Read More priced, but you get 3 different videos that really do cover everything in your wedding day. He was very professional and worked well with my other vendors, in fact my photographer and him had never worked together before, but they teamed up very quickly to make sure they were both on the same page. We would highly recommended Jason to anyone looking for a videographer.
---
video
Reviewed on

9/06/2012
Mandy S
We booked Trosper productions and they were there for everything from us getting ready to the dollar dance at our reception! can't wait to see the final product!
---
OMG!
Reviewed on

8/07/2012
Trisha S
I have never watched anyone's wedding video so I wasn't sure what to expect. I was thinking it was just going to be like a home-movie. I was sooo wrong. The DVD had each event as it's own selection. He set music to the movie during the dancing songs so you could really hear... Read More the music. He even sent 3 DVDs. I was so impressed. Completely worth it! Thanks!
---
Outstanding service
Reviewed on

6/22/2012
Kaweche N
Very friendly, knows what he is doing and seems to love doing what he does. Was very professional and wonderful to work with. Would recommend any day.
---
Perfect
Reviewed on

6/12/2012
Hannah W
Jason with Trosper Productions is truely dedicated and talented. He was with us from the salon in the morning getting ready so the very end of our reception. He captured moments that I missed and others that I had forgotten. His work is outstanding. I highly recommend Jason as a... Read More videographer for any important event in your life. He did such an phenomenol job preserving the most important day of our lives and we're so excited to be able to show it to family and friends who were unable to make it and to our future children. Thank you so much Trosper Productions!
---
Great Videographer
Reviewed on

10/24/2011
Amy N
4 days before the wedding the videographer I hired called and told me he would not be able to make it to my wedding I called Jason in a panic and he was available to come to my wedding and he did a spectacular job! I loved every bit of footage he took and the work that he edited... Read More was amazing. I would recommend him to any bride looking for an amazing videographer.
---
AMAZING!!!
Reviewed on

10/09/2011
Heather H
You have no idea how AWESOME Trosper Productions is. We had him (Jason) for our wedding and our video was AMAZING! He made it like it was a movie. I was speechless. SOOO WORTH THE MONEY and just UNBELIEVABLE! HIGHLY RECOMMEND!!!
---
Meet The Owner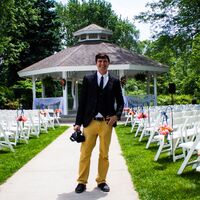 Jason Trosper
I have filmed weddings for over 5 years now and it is my passion. Every wedding video I create is personal, fun, and romantic. I film weddings full time and have the experience to tackle every fun moment you will have on your day!