Home

Troy Marks and No Idea
About this Vendor
Troy Marks and No Idea is the ultimate wedding band, bringing great music to your special day. Together since 1994, the band plays over 50 wedding shows a year and is a seasoned, professional group, offering a dynamic range of popular hits from numerous eras.
Details
Country, Disco, Hip-Hop, Jazz, Pop, R&B, Rock, Latin
Ceremony, Reception, Wedding
Live Music, MC Services, Music
Contact Info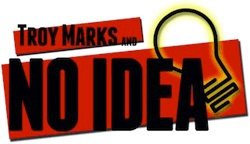 Kenner, LA
Serving the South
FABULOUS
Reviewed on

5/04/2012
Judy E
I first heard No Idea Band at my cousin's wedding and was very impressed. I got a card from them and even though my daughter was not yet engaged, I held on to it for future use. When she became engaged and we were planning the wedding, I checked No Idea's website and found out where they were playing. They went to see them and called me the very next day and told me to book them. They absolutely loved them and they didn't want to see any other band. Everyone loved them at the wedding and had a wonderful time. Everyone was involved and dancing and I was told it was the best wedding ever. They loved the music. I would hire them again in a minute. Also, working with them was a breeze. Did no have to track them down and they were very accomodating. Their website was vey helpful and I plan to going to see them again and know I will have the best time ever!!!!
---
THE MOST AMAZING NIGHT!!!!
Reviewed on

2/04/2014
Frances G
I just wanted to THANK YOU SO MUCH for playing for Kurt & I's wedding 01/18/14 @ City Park Arbor Room. It was such an incredible night for us!!! I first heard you play at my cousin's wedding 6 yrs ago, then again at St. Charles Borromeo school fair this year, and my friends wedding in September... I knew as soon as we got engaged I wanted to book yall to play for our wedding. And it was the best decision ever!!! You guys are amazing and can master any and every song you played!!!! My guest couldn't stop talking about how awesome you guys were. I've never seen a wedding with the dance floor packed the entire night. From the oldest guest to the youngest, everyone rocked the dance floor. Thanks again for making our wedding night perfect and an incredible memory to cherish forever! An even bigger thank you for being so easy to work with and wonderful from the very beginning.
---
Fun, engaging band
Reviewed on

12/23/2013
Anna G
No Idea played at our reception and we really liked them. The groom and myself had never heard them play before - we booked them solely based on recommendations from people we knew, but we are glad we did. It was important to us that we not only got to talk to our guests and thank them for coming, but that we also got to dance and enjoy the reception. We definitely got to do that! We had a smaller wedding (~130) and I was a little worried with a smaller crowd people would be more hesitant to dance. No Idea got everyone dancing and kept them dancing throughout the night. Enjoyed working with them!
---
Hands down, best wedding band...ever!
Reviewed on

6/29/2015
Kamryn Y
"Picking the band" was pretty much the one wedding task my husband really had a strong opinion about, so when it came time to pick the band, he interviewed and listened to samples from a number of bands before selecting Troy Marks. We had never heard them in person (we are from Los Angeles) so we were a bit nervous to see how it would all play out, since in our opinion, the wedding band determines how much fun the party is, but Troy Marks and the No Idea band did not disappoint! They were amazing! Our guests had the best time and our dance floor was packed the entire time- if the band could have kept playing until 3AM, our wedding guests would have been there...dancing! We got so many compliments on how great they were and I can't even tell you how many people told us that Troy and the No Idea Band were easily the best wedding band they had ever heard. I highly recommend using Troy Marks and the No Idea Band!
---
Wow. Just wow.
Reviewed on

10/13/2014
Amanda G
Hiring a band, especially considering we don't live in New Orleans, was sort of our "wild card" vendor. We had never heard them perform live and all of our business was conducted via email so we were obviously a bit anxious. However, there was ZERO reason for concern, because they were one of the best choices we made for our entire wedding! We gave No Idea an idea of which songs to play, but we also have them free reign to play intuitively based on what the crowd seemed to like...they even allowed the groom (guitar) and matron of honor (bass) to play a song, as well as letting some of our cousins rap to the Humpty Dance. They were SO accommodating and energetic. Don't hesitate. They're fun, friendly, & amazing performers...all of our guests were still talking about it the next morning!!!
---
Best wedding band ever!
Reviewed on

10/12/2014
Amanda S
Troy Marks and the No Idea Band played for my wedding and everyone had so much fun dancing to them! They played a variety of songs from Twist and Shout to All About the Bass and kept everyone of all ages dancing all night long. They were also super easy to work with and even accommodated last minute changes. I highly recommend this band if you want everyone at your wedding to have a good time!
---
AMAZING
Reviewed on

9/05/2014
No Idea Band could not have been more perfect! They absolutely made the entire night and played such a great mix of new and classic songs. People at my wedding did not stop dancing from the time they started playing until the night was over. It was so great and they were SO much fun!! They were so interactive with the crowd and really got everyone excited. I can't count how many people have told me that it was the most fun wedding they have ever been to in their lives and I give No Idea most of the credit for that! More importantly, I had so much fun dancing at my own wedding! My husband and I never left the dance floor unless we had to. It was so much fun and I would highly recommend them to anyone! They were also extremely easy to work with which makes things so much easier for the bride :)
---
Fabulously Perfect!!!
Reviewed on

8/18/2014
My husband and I eloped to Vegas in June after nine years of dating. We got engaged and married in the same day, and it was beyond magical and romantic. When we returned, we contacted No Idea and they happened to have the same day open as our venue. They were amazing and met every need, request, and question we had. Their list of songs was diverse and they actually learned two new songs for us. I still cry when I think about just how perfect they made our night. Prior to the reception, everyone that heard we were using them went on and on about how great they were and that we would not be disappointed. They all could not have been more correct. They exceeded my expectations. I am an extremely picky person and enjoy top of the line things. I just want to make it clear how great they absolutely are. Again, they helped to make our night perfect, and all were extremely professional as well. Great people, and I will recommend them over and over to everyone I know! I can never thank them enough. Worth the money...and I would have paid more!
---
Sima/Clements Wedding
Reviewed on

8/11/2014
Jessica C
Troy and Jesse were amazing to work with! The entire band gave me exactly what I've always wanted when thinking of my wedding......one outrageous party where 200 of my favorite people tore up the dance floor and had a blast! I can't thank them enough, and absolutely recommend them!
---
Danced all night
Reviewed on

8/05/2014
Lauren n
An absolutely amazing band! My guests raved about how much fun they had dancing all night, from our first dance to our second line out the door, I don't think I stopped dancing once. They are flexible with music and can play almost anything, but they know how to keep a party going! My husband and I got engaged in August of 2013 and started planning a few months later. Even before we picked the venue, church, or caterer- we knew that we wanted to book the No Idea Band. They were the first vendor we put a deposit down on and we were so excited. Troy Marks and No Idea played at my brother and sister in law's wedding also- so it's somewhat of a family tradition for them to be a part of our weddings. I can't say enough good things about them, we had an amazing time at our wedding and so did everyone who came!
---
BEST DECISION
Reviewed on

8/05/2014
Tracey Z
When I got engaged picking a band was honestly the easiest decisions I had to make. I had seen No Idea play at a friends wedding and fell in love. Being a performer and in the arts I wanted a group that was high energy, kept the dance floor packed, and played a variety of styles to entertain all the guests. No Idea Delivered and then some. They were so professional, friendly, and accommodating to all of my needs. From my first conversation with Kate I knew i made the right decision. Everyone was saying all night how it was the best wedding and the band is the number one reason for this. I can honestly say, You will not be disappointed, in contrast it will be one of the best decisions of your entire wedding!!!
---
Great Wedding Reception Band
Reviewed on

7/06/2014
Katie K
Troy Marks and No Idea were absolutely fabulous. Not only do they have tons of songs to choose from, but they will learn one song if it is not on their list if it is musically possible. If they aren't able to they offer to use a MP3 for the bridal party dances. They are great at giving everyone up and out of their seat and on to the dance floor. They really are a great band and help to make your reception top notch. And if you are on the fence about whether or not they are worth the price as compared to a DJ, they TOTALLY are!!!
---
Best band ever!!!
Reviewed on

5/12/2014
Carrie D
This band really exceeded my expectations! The guests could not stop raving about how fun they were (and I can't either)! Always kept the party going and played a good mix of classic wedding songs, party songs/line dances, and current hip hop music. We even had wedding crashers from the banquet room down the hall that left their party and came to ours because they heard the music. We literally danced from beginning to end! We couldn't have asked for a better band!
---
Awesome Band
Reviewed on

9/30/2013
Brittany D
Could not have been happier with this band for our wedding
---
No Idea Band
Reviewed on

8/20/2013
Stacey P
Great band! They played for my April 6, 2013 wedding at Latrobe's and they were very good! They also modify their play list according to the crowd which was very nice!
---
Incredible!!!
Reviewed on

8/13/2013
Ashley G
NO IDEA was absolutely amazing at our wedding!!! Not only do they have a plethora of music in their repertoire, but they definitely know how to keep a party going. So much so, that I don't remember ever leaving the dance floor. My parents still have guests calling the house asking who played at our wedding. No Idea was professional and extremely nice to work with, & I loved that they learned a song for us:-) One of our biggest wedding decisions was entertainment, & I can honestly say that No Idea was the ultimate entertainment. BEST TIME EVER!! A Strain
---
Amazing!!!
Reviewed on

8/01/2013
Carrie P
I can honestly say that one of the best decisions I made during my wedding planning process was book Troy Marks and No Idea. Ever since I heard them play at my friend's wedding 4 years ago, I knew that I wanted to book them for my own wedding. They play a variety of music. They are also willing to learn one song for your wedding. They learned my husband's favorite song for our wedding, and it made his night. They also let my husband's uncle sing a couple songs!! The dance floor was completely packed the ENTIRE night...even from the very beginning of the reception (which I never see at other weddings). I don't have a single negative thing to say about this band. They are absolutely amazing and the life of the party. Almost three months later, guests still tell me how our wedding was the best one ever, and I know I have No Idea to thank for this. Another thing that I really appreciated was Troy and Jesse found me after the reception to tell me bye. You can't go wrong booking them as your wedding band! Book fast!!!
---
Great Choice!!!!
Reviewed on

7/26/2013
Shannon R
From the first time I heard No Idea, I knew I wanted them to play at my wedding someday! Sure enough, I was booking them as my band for my wedding two years later. No Idea was one of my "must-have" vendors when selecting my wedding date because I enjoyed their performances every time I heard them. I received a lot of compliments at my wedding for choosing them as the band, and they had people up and dancing throughout the whole night. They were VERY accommodating to every one of my requests! My decision to have No Idea at my wedding is definitely one that I would NOT change!!!
---
Leda Lindsey on 3/15/2013 daughter's wedding
Reviewed on

7/25/2013
Leda L
The only word I can use to describe the band is AWESOME!!! My nephew recommended the band to my daughter as we live in Houston and the wedding was in New Orleans. They learned the song for the couples dance and they were fantastic. As the mother of the bride, I kept in touch with Jessica and everything was handled professionally and wonderfully. Totally stress free, which is great cause there are other things to stress out about. The music was fantastic and we danced the night away. We didn't want the music to end and the second line dance was so New Orleans that it made the night. We even had out of towners chanting for the Saints. All I can say, is if you want a great band with great music then they are the band for you. They had old stuff, new stuff, and fun stuff. We had compliments galore from our guests. Thanks guys.
---
Awesome
Reviewed on

7/15/2013
Megan J
Danced the whole night! No complaints at all!
---
Rocked it
Reviewed on

7/03/2013
Rebecca E
I got so many compliments from family and friends about the band! They really rocked the house and had everyone on the dance floor all night long. They even invited one of our good friends on stage to play his sax. It was overall a wonderful experience!
---
AWESOME BAND!!!!
Reviewed on

6/19/2013
Nicole G
No Idea was fabulous at our wedding! The dance floor was packed the entire night and it was an absolute blast! My uncle is a musician and they even let him play a couple of songs with them. They were super easy to work with, sound awesome and looked like they had as much fun as we did!
---
Band Makes a Difference at Weddings!
Reviewed on

5/06/2013
Theresa P
Troy Marks and No Idea are always fun and GREAT entertainment! They will have people always on the dance floor and having fun no matter the ages of the guests - there's always music that everyone enjoys! They've played at two of my daughter's weddings, and we will certainly use them in the future!
---
Amazing!
Reviewed on

11/08/2012
Erin L
My guests are still talking about how awesome NO Idea Band was! The dance floor was full the entire night! Definitely recommend NO Idea!!
---
Most fun I have EVER had!!!
Reviewed on

11/01/2012
Kristen D
No Idea played for my sister's wedding almost 10 years ago. When it was time to choose a band for my own wedding, they were my first choice; however, as someone with a Bachelors of Music, this was not a decision I made lightly. Troy Marks and No Idea are professional, personable, and an extremely talented group of musicians. They not only played the songs I requested, but did a great job of choosing others to keep my guests dancing the whole night! My guests said it was "the most fun wedding" they had ever been to and "No Idea was the best wedding band" they had heard!!! It is rare that you will find a group with such a great, long-term reputation that also keeps their sound relevant to today's style. Troy Marks and No Idea made our reception the most fun night my new husband and I have EVER had!!! What more could you want for your wedding?
---
Send Message