Home

Twin Owls Steakhouse at the Black Canyon Inn
About this Vendor
Twin Owls Steakhouse at the Black Canyon Inn
Twin Owls Steakhouse is located at the Black Canyon Inn and housed in a recently renovated 1920's log cabin. We blend the tradition of family, the celebration of friends and the finest cuisine in Estes Park for a warm and unique experience. We offer many options for your unforgettable event.
Amenities + Details
Amenities
Handicap Accessible

On-Site Accommodations

Indoor

Reception Area
For more details about amenities, please message the Venue.
Bar + Drinks, Cakes + Desserts, Food + Catering, Rentals + Equipment, Service Staff
Contact Info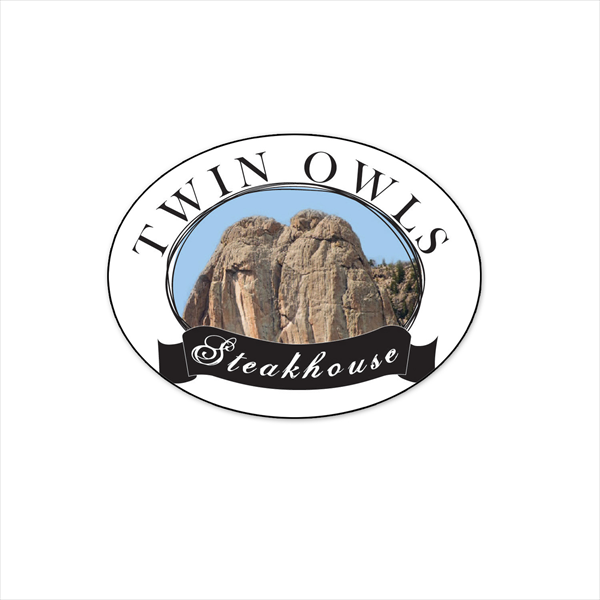 800 MacGregor Ave, Estes Park, CO
Great Food and Location
Reviewed on

11/05/2013
Heather S
The food here was amazing but even better was the atmosphere. The steakhouse was rustic and romantic with the great fireplace in the loft upstairs. Everyone enjoyed dining here.
---
great reception!
Reviewed on

8/28/2013
Laura T
We had our wedding reception at Twin Owls and could not have been happier. We had a great experience from the beginning. Sandra was great to work with and easy to get in touch with, and whenever she was unavailable her assistant, Julie, was just as great. We had a couple of... Read More minor contract issues but Sandra was very responsive and was able to fix them as soon as they were brought to her attention. They are very flexible and accommodating. The venue is GORGEOUS - we had very minimal decorations and it would have been fine with even less - and of course the food was delicious. We are still getting tons of compliments on our reception!
---
Akailey
Reviewed on

6/26/2013
Adreann K
Food and service was great! Beautiful and private loft to have a small wedding reception.
---
Twin Owls Steakhouse!
Reviewed on

8/22/2015
Sydney D
We looked at this venue over a year before we planned to get married and booked it right away!( I would recommend this if you love it because it gets booked up very quickly). It is rustic and glamorous with a log cabin feel and huge chandeliers. We had some trouble and... Read More communication issues while trying to arrange which package we wanted and how many guests we would have but this was quickly solved. On the day of the wedding, they allow you to decorate at 12:30 pm which worked out perfectly since my ceremony was at 4, cocktail hour at 4:30 and we wouldn't be going into the restaurant until 5:30 for dinner. One other thing I loved on the day is that when my husband and I were about to walk in for our grand entrance they came up and asked us what we wanted to eat(we choose a buffet) and brought our food to us first so we would be able to eat and then have plenty of time to mingle, very classy! The one downside is cost, this is a 5 star restaurant my friends so they do not let you get out easy! We paid about $100 a person which included a buffet with prime rib, tortellini and Alaskan cod as the mains. As well as sides, unlimited soda, juice, tea, wine and beer. It worked perfectly for us, and all our friends and family were raving about the food for weeks! Overall, I had a great experience with Twin Owls, although they were pricy they helped make my day incredible and everything went so smoothly!
---
Reviewed on

7/15/2015
We were married on July 4, 2015 and I cannot thank Sandra and the rest of the Twin Owls Steakhouse staff enough. As if the venue doesn't speak for itself, the staff just complete the picture. They were all so incredibly accommodating and helpful when planning a destination... Read More wedding. I never felt stressed and received prompt responses to all emails. Sandra made sure that our day was perfect! We opted for the buffet and everyone at the reception commented on how delicious the food was. I highly recommend the spicy elk tenderloins for an appetizer, you won't be disappointed!! Since returning home I have not stopped telling all of my family and friends about the phenomenal experience we had at Twin Owls Steakhouse. I cannot wait to return there.
---
Great food and venue.. terrible service
Reviewed on

9/16/2014
jandee t
It's a shame to give this low of a rating because we were so excited to use Twin Owls for our Reception. The food here is INCREDIBLE. The restaurant is beautiful and rich in history. The staff was flawless our wedding night. Our guests raved about the food and the service. The... Read More selection was wide and varied. And the price was very reasonable. Unfortunately it was the planning process that left us feeling neglected. We had a great initial impression with the owners. We dined in the restaurant the night before we met to discuss possibly booking the venue for a wedding and we fell in love with it right away. We were blown away by the food. And one of the owners came by our table (not even knowing our reason for dining there) and swept us off our feet with his personable approach and hospitality. The next morning we met with his wife Sandra, the co owner and again were blown away by the personable approach and packages they offer and we booked a date immediately. That was the end of our good experience in dealing with them. Sandra was difficult to get a hold of. Responses were usually one word answers or none at all. Finally we submitted our final plan 2-3 months before the wedding as required with our idea with linens and lighting etc. Of course no reply so we sought one out, and the response was "yes" it was received. Not answering any of the questions we had. Come to find out the week of the wedding after everything was reserved, that our linen plan wouldn't work b/c of the type of tables they use. It was apparent that our plan wasn't even fully reviewed until then. Fortunately I had a planner who was able to change our linen order in time and hunt down Sandra to get the answers we needed on multiple other items. We were staying on site the whole week before the wedding and tried to meet to make sure everything else was set, but we were unable to find her so we eventually had to talk to another staff member who was unsure of most of what we were asking. The only time we saw her all week was at the very end of the night to collect payment. When there was a problem with the card all of a sudden she was readily available the whole next day calling multiple times to make sure she got paid. Another disappointing thing we were shocked to discover the night of the reception was that were not "permitted" to order shots from the bar. We purchased the highest available food and liquor package with the understanding the whole bar would be available. We were told in advance that shots and doubles would have to be paid for in cash, so when we had money left over to meet our minimums our hope was to open another bar tab for just that purpose. Well the night of the wedding going to order a shot as husband and wife and the bartender told us shots aren't allowed because "people get too drunk". That is not what was in our contract and highly disappointing for all the money we paid to be told as adults were aren't allowed to do a shot the night of our wedding? just bizarre and unacceptable. It was still a beautiful reception with great food, and our guests enjoyed it, but for us it should've been a better experience as a whole.
---
Gorgeous Reception Venue in Estes Park!
Reviewed on

6/18/2013
Christina R
Twin Owls is a wonderful place to have your wedding reception. The log cabin is amazing and is so unique. The food is excellent and everyone will love it! The responsiveness to emails and phone calls is slow; it sometimes took days to get a response. However, they were very... Read More accommodating to any changes I wanted to make or any concerns that I had. The value is great, while there is a food and beverage minimum, there is no rental fee. However, we had decided to pay for an extra buffet option, but come the day of the wedding the food was not available for our guests. While I was refunded the money, I was still upset that it was not made and it was one of the things I was looking forward to eating. But, the rest of the food was amazing and was leaps and bounds over normal wedding reception food.
---
Great food/setting, coordinator hard to work with
Reviewed on

11/08/2012
Whitney F
Twin Owls steakhouse has amazing food. Huge proportions and a high quality taste. The ambiance was lovely. They've taken really good care of the old mansion, and it has a unique feel to it. My biggest complaint was that the coordinator only works a few days a week, so when we... Read More were getting down to the fine details, she'd often be unreachable which was really frustrating. Everything turned out ok, but it felt very last-minute, and I like to plan ahead, so this was really stressful for me. My only other complaint was that the noise restriction forced us to end our reception at 10:30pm, which is really really early, in my opinion. The service on the day-of was great.
---
Yummy
Reviewed on

10/28/2012
Sarah G
Great food, great staff, great drinks, great location, inside is really cool looking
---
Bachlorette party dinner
Reviewed on

8/05/2012
Kelsey E
Twin owls did a great job with our wild group of ladies. The service was great, the food was amazing, we had a great time overall. Sorry again about the penis confetti! :)
---
Wonderful for a smaller wedding.
Reviewed on

8/02/2012
Nicole F
We had about 40 guests at our wedding. We rented out the garden room and bar/lounge area for our wedding reception in Estes Park, CO. The Twin Owls Steakhouse was excellent. Our food was excellent and our guests were still talking about it a week later. It was the perfect amount... Read More of space for our guests and I wouldn't have done it any differently. Their wedding coordinator Sandra was easy to work with and patient. They worked well with our florist and cake company and were very accommodating.
---
Great staff!!
Reviewed on

7/22/2012
Karen S
Sandra and Julie worked together to make our evening absolutely wonderful. The staff was soooo attentive of my husband and I, making sure we had water, drinks, and something to eat if ever we needed. They worked with our DJ to coordinate everything behind the scenes so my... Read More husband and I didn't have to worry about a thing. We had a little less than 120 guests so filled the main room, loft, and had the buffet in the garden room. It was a little tough that they opened for decorating at 12:30 on the day-of ... with the wedding at 3:30 I was already getting hair and make-up done and wasn't able to do up the steakhouse on my own. It was tough - I didn't want to ask bridesmaids or mom/stepmom to do it because I wanted them with me during hair and makeup. So that was a little frustrating and "inflexible" The food... holy moly it is the best food we or any of our guests have ever eaten. This is NOT "wedding food" I mean... baked brie, elk bites, NY strip... unbelievable. So good. But WOOOOOWWWW do you pay for it. That is the only reason I had to give value 4 stars... not that it is more expensive than anywhere else in Estes for a wedding... but everyone up there charges too much. So just throw down and do it!!
---
Beautiful mid-size Reception
Reviewed on

7/22/2012
Jennifer P
We had our wedding reception here in June with about 120 people. They worked with us with long distance planning and were very flexible and accommodating with set-up within the facility. We definitely recommend!
---
Yummy Dinner!
Reviewed on

7/19/2012
Lauren C
This place was awesome! The unique menu was fabulous for our out of town guests. The appetizers were extremely tasty. The dinner itself was even perhaps better than our wedding dinner! And the desserts were to die for! The venue had multiple room choices, and the one we got... Read More was perfect. The price was right, and the service was excellent.
---
Twin Owls
Reviewed on

5/10/2012
Amy G
Twin Owls was fabulous. We had a small wedding in the loft area and had a great experience. The food was fantastic and the service was great! Our guests had a fabulous time!
---
Great food
Reviewed on

5/03/2012
Tracey M
Our reception was held here. Was nice to be able to have our guests walk right into the reception after our ceremony at the Black Canyon. We went and took pictures while guests enjoyed cocktails and apps. The dinner was fantastic we has so many guests tell us what a wonderful... Read More time they had at our wedding.
---
Rustic Reception
Reviewed on

11/05/2011
Ariel S
We decided to host our reception at the steakhouse due to its Colorado Mountain atmosphere. The log cabin-like interior does not require much decoration as it is beautiful in itself. The food was delicious & we were able to offer unique options such as Elk. The service was... Read More also very good. The in-house planners were very helpful throughout the entire planning process. They were even able to help with wardrobe malfunctions! The "cozy" feel seemed to put our guests at ease and everyone had a great time. There is limited space for guests, but this is the perfect reception spot in Estes Park for a small to medium sized wedding!
---
Loved this location for my wedding!!!!
Reviewed on

10/30/2011
Jennifer F
We had our wedding at the pavilion at Black Canyon, followed by the reception in Twin Owls Steakhouse. Everything was perfect. We couldn't have been happier.
---
Wedding Day Dinner
Reviewed on

10/25/2011
Ashley P
The loft in the cabin was a beautiful backdrop for our rustic mountain wedding! The fireplace was roaring and the food was amazing!
---
Great Food & Elegantly Rustic
Reviewed on

10/20/2011
Kati M
First of all, the food was delicious! The filet mingon macgregor is a must have, every one of our guests raved!! The planning was made very easy, especially from a distance. We had our wedding dinner in the loft, which was cute and cozy and had the rustic ambiance that we... Read More wanted. All around fantastic. Can't wait to go back and have dinner there again and relive some wonderful memories!
---
Wonderful
Reviewed on

10/18/2011
Emily C
The food was simply amazing and the venue gorgeous. We have never had a better steak and every single of the 135 guests said the same thing - that is IMPRESSIVE! I highly recommend them to anyone, Sandra is a treat to work with and very organized. The only complaint I had was... Read More that one server was pushy with our guests when things needed to be moved, such as the cake - granted, it must be very difficult to move a wedding cake, there is no need for rude comments and pushy behaviour - a simply announcement coordinated with the DJ would have sufficed. That being said, the party and dinner was absolutely amazing and I still give it a 5 star rating.
---
Beautiful Rustic Reception!
Reviewed on

10/16/2011
Chelsea B
My husband and I wanted a place that was very classy looking and that wouldn't need a lot of work to decorate for our reception and we found that in Twin Owls! The place made for great pictures and a lot of fun! The food at our reception was phenomenal! We loved it and had many... Read More guests compliment us on the "catering" which was all done by the Twin Owls staff. The only complaint I have is there is a food & beverage minimum depending on the day and which room you utilize for your event. We ended up not having as many people drink at our open bar which went toward this total, but it didn't matter because even if we didn't spend the required minimum, that's how much it cost anyway. I will say that the service was worth the extra cost though! Everything was set, cleared, and wrapped up quickly & in a very organized fashion. They ended up saving all my centerpieces, decoration, placecards, etc. I'm so glad so that I can use a lot of that stuff in my wedding scrapbook! Loved our reception and given the choice, would do it there all over again!!
---
Amazing food!
Reviewed on

8/11/2011
Kelly S
The venue is goregous and the food was delicious! Everyone raved about how great the food was!
---
Absolute Perfection
Reviewed on

11/30/2010
Christi R
Twin Owls Steakhouse was the perfect Colorado mountain wedding venue. Spectacular food and service in an intimate setting. Simply elegant!
---
Beautiful steakhouse, wonderful food!!
Reviewed on

9/30/2010
Danielle B
We had our reception at the Twin Owls Steakhouse. The ambiance was amazing. It is a beautiful building and the food and service was great!
---
Send Message