Home

Ultimate Bridal Beauty
About this Vendor
Professional Airbrush Makeup and Hair Design
Jaye Minton-Goldberg is South Florida's Premier Bridal Beauty Expert on Airbrush Makeup and Hair Design. Jaye and her staff are recognized in local and regional print publications and television shows. Venues include: The Boca Raton Resort, The Ritz, The Four Seasons, The Breakers and The Biltmore.
Details
Beauty Group Bookings, Hair + Makeup Trials Available, Hair Stylists, Airbrushed Makeup, Eyelash Extensions, Makeup, Makeup Artists, On-Site Hair + Makeup, Massage, Beauty
Contact Info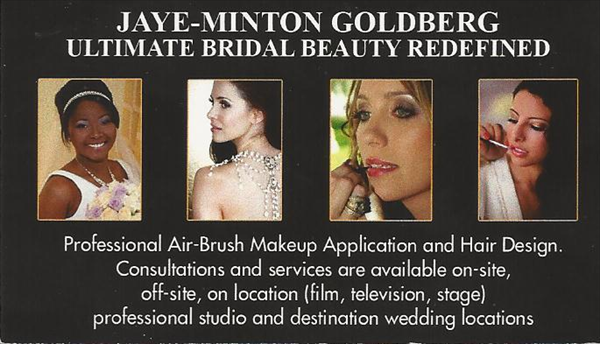 Reviewed on

2/13/2017
Stephanie A
Absolutely wonderful, I recommend Jaye and her team to everyone!! I found Ultimate Bridal Beauty online and after reading all of the glowing reviews, booked a hair + makeup trial a year before my wedding. From the first moment, Jaye was professional and knowledgeable and worked... Read More around my schedule (I live in NYC so was only in FL sporadically) to set up the trials. I ended up having 1 makeup and 3 hair trials (simply because I couldn't make a decision) and Jaye was patient and fantastic through them all. Carmella is a genius with hair and can replicate any picture to perfection. On the day of my wedding, the team was phenomenal! We all did updo's with full airbrush and everyone looked fantastic. I wasn't happy with the first pass of my makeup and Jaye took her time and completely redid it to my satisfaction. She never pressured or pushed me to do something I wasn't comfortable with. I would recommend Jaye and her team to everyone who wants to look their best on their big day. You can not do any better.
---
July 17th wedding
Reviewed on

8/14/2013
Jaye and her staff were wonderful! They fulfilled my every expectation of how I wanted to look on my wedding day! They were very courteous and professional. I felt like a princess. Thank you Jaye!
---
The Most Beautiful Bride Ever
Reviewed on

7/02/2013
ANNETTE R
These are the words out of my husband's mouth. When I had my makeup-trial, my fiance hated the makeup. I spoke to Jaye and she understood. My makeup on the day of my wedding was natural and glamorous at the same time. She made me feel comfortable and was amazing. The hair... Read More professional she had took my poker-straight hair and put beautiful fullness and wave like curls in my hair that lasted on the BEACH! I have never felt more beautiful nor comfortable working with her. I strongly recommend Ultimate Bridal Beauty. If it weren't for Jaye, I wouldn't have had the florist or photographer - she could be a wedding planner, she has it TOGETHER. Thanks, Jaye!
---
Reviewed on

10/18/2017
Yael S
Vey professional and love the work
---
Reviewed on

9/04/2017
Nancy R
Jaye made our special day perfect! Very professional, on time and her expertise really shone through. I would highly recommend her services.
---
Reviewed on

7/17/2017
Lindsay C
I've never liked how people have done my makeup in the past as no one ever seemed to understand the idea of making me look like the best version of me. Jaye did an amazing job at highlighting my features so I know I was the best version of myself on my wedding day. My mother and... Read More mother-in-law also agreed that their makeup was flawless. Most importantly, the makeup held up for hours in the South Florida heat with little need for touch-ups. I recommend Jaye to everyone! For hair, I also can't say enough positive things about Carmella. She of course can replicate a picture but she also has the knowledge of how to adapt that style to your bone structure and for the texture of your hair. You do need to do a trial (as mom and I needed to add fake hair in order to have enough volume for our styles) but the end result was really worth it. As with the makeup, my hair didn't budge until I decided it was time to let it down.
---
Reviewed on

7/08/2017
Barbara P
What a beautiful day and what beautiful hair and makeup!! As the planner and the mother of the bride I wanted my daughter to have a perfect day and she did!! So many of us got our hair done by Anna and our makeup done by Jaye. Could not have been more perfect!! These ladies are... Read More amazing and professional and wonderful to be around. Simply perfect!
---
Reviewed on

7/02/2017
Lisa G
Jaye and Team were Fabulous!! My daughter got married 05/06/17. She had 12 bridesmaids and grandmothers for hair and makeup. Jaye and staff were on time, very personable and professional. Everyone looked magnificent! I would highly recommended Jaye!!
---
Reviewed on

6/21/2017
Rachel B
I would recommend Ultimate Bridal Beauty to anyone looking for GORGEOUS HAIR AND MAKEUP! Every bride wants to look like a princess on her wedding day... thank you to Jaye and her team for making me feel and look like one on mine! Professional, on time, and talented! Everyone... Read More looked gorgeous from head to toe!!!!!
---
Reviewed on

6/20/2017
Brynn W
I can't thank Jaye enough for making me look like the most beautiful bride I felt like. She not only is incredible at what she does but she is so sweet and fun to be around. She made my day as well as my Matron of Honor and Mom. I definitely would recommend Ultimate Bridal... Read More Beauty to all!
---
Reviewed on

5/25/2017
Kaley B
Ultimate Bridal Beauty is your golden ticket to looking absolutely fabulous for your wedding. Jaye and her team are absolutely incredible to work with and make you and your bridesmaids look like royalty. I worked with Jaye, Antoinette and Anna and they were unbelievable. I... Read More cannot thank them enough for making me feel so special on my wedding day. They were the "A" team!
---
Reviewed on

5/23/2017
Awesome service.
---
Reviewed on

2/26/2017
Elisa S
Out of the Blue Waterfront in Jupiter, FL has been recommending Ultimate Beauty for the past 3 years and could not have made a better choice for our brides and their bridal party! Jaye goes over and beyond to make our brides happy & beautiful! Thank you for being part of our... Read More team at Out of the Blue Waterfront!!!
---
Reviewed on

2/19/2017
Cari S
Words cannot explain how wonderful Jaye and her team are. I had 11 ladies to receive hair and makeup and Jaye brought a wonderful team to our venue and did phenomenal work. Jaye and Sam did all of the makeup, all of the airbrushing was wonderful and lasted throughout all the... Read More pictures, dancing, and after party. Even at midnight my makeup still looked wonderful after getting it done around 11am. Carmella and Anna did beautiful hairstyles, which again lasted all throughout the night. Jaye and her team accommodated all of our requests, varying up and down hairstyles, different types of hair, and more. Jaye is so dedicated to her clients, she even came in to do my makeup two weeks after she had surgery. I could not have asked for a better hair and makeup team. Jaye, Sam, Carmella, and Anna are all extremely courteous and professional and did a wonderful job. We all felt like movie stars!
---
Reviewed on

1/09/2017
Cath F
Jaye and her team were beyond amazing. They were flexible and accommodating! They made the day fun. Her team made my girls look stunning and I felt beautiful thanks to them! I give them the highest recommendation possible!!! They are the best of the best
---
Reviewed on

11/06/2016
Sadia K
Jaye is great! She's professional, willing to help, and comforting. I had a very early start time for my beach ceremony (9am, which meant 6am start time for hair/makeup), but she was able to find me someone: Samantha Dubin did my hair/makeup for the ceremony and she was... Read More wonderful! She understood what I wanted for my big day and made it happen! She told me makeup is supposed to enhance your features and not change the way you look... that's when I knew I could just sit back, relax and let her do her thing. Jaye also provided another hair stylist for my bridesmaids... she did amazing updos/hairstyles for my girls. Pick Ultimate Bridal Beauty if you want your big day to be stress free!
---
Reviewed on

10/17/2016
Baiyi L
Their service is fabulous! The artists are very nice, professional and fast and they are very creative! They made my hair as I wanted and it looks gorgeous! They listened to us about what we want and fulfilled them! The make up looks very good too but due to damp weather in... Read More South Florida, we had to put on loose powder from time to time to prevent oily look. Overall we have had a wonderful experience and we have had a great day!
---
Reviewed on

10/10/2016
Lori N
Jaye did an amazing job on make up. Carmella did an amazing job with hair. They both did everything myself and my girls asked of them and then some. I was super happy with them.
---
Reviewed on

9/28/2016
Stacey E
I was very nervous planning my wedding without being in Fort Lauderdale but Jaye made the beauty aspect very easy. She was very responsive in her communications and arranged Milene to work her magic on September 10th Milene confirmed her arrival at my hotel two days before the... Read More wedding. She was very prompt, professional and friendly. She put up with this nervous bride who has very definite opinions about hair and makeup. Milene reassured me all along the way. She worked on both me and my sister and I was so pleased. We both had sophisticated looks perfect for a late morning wedding. I would definitely recommend Ultimate Bridal Beauty for weddings or any other celebration. They know what they're doing!
---
Reviewed on

8/08/2016
Austin L
It was a pleasure having Ultimate Bridal Beauty be a part of our Big Day in Jupiter. I was quickly convinced after having a trial with them in Boca- they were extremely accommodating and easy to contact. I would recommend their services to anyone in South Florida.
---
Breathtakingly Amazing!
Reviewed on

1/09/2016
Roz S
I was absolutely amazed with my hair and makeup as well as stunned with my wedding parties' looks! I was astonished at the transformation of my mother, she was a whole new woman! We had so much fun getting ready, it was such a relaxed atmosphere. Jaye and her team went above... Read More and beyond making sure we all got what we wanted and fixed anything we felt wasn't to our liking. They spent as much time with us as we needed, while still staying on schedule. I cannot express how happy I am with the services I received and the quality is reflected in the wedding photos. This is the best professional hair and makeup I have ever experienced in all the weddings I have been involved with.
---
Looked great all day and night long
Reviewed on

11/23/2015
Kristin R
The team was wonderful. Showed up early on day-of and finished ahead of schedule. The entire wedding party look great and the makeup and hair lasted through a very long day (12+ hours). The stylists really listen to you and work with you to get the look exactly right. Very... Read More friendly team. Would absolutely recommend and will use again.
---
Very Pleased!
Reviewed on

10/27/2015
Linda P
Jaye did myself (MOB), my daughter ( the bride) , several bridesmaids and an Aunt. Jaye is very professional, talented, and calm. Everyone was more than pleased with the makeup and looked beautiful! I would highly recommend Jaye she was a pure pleasure to work with.
---
Thank you!!
Reviewed on

10/13/2015
Thank you for everything you did to help make our special day great!!! =)
---
Perfection
Reviewed on

8/11/2015
Dana B
Ultimate Bridal Beauty did the hair and makeup for me and my bridal party on 7-18-15. Each of the members of the staff were professional, talented, and easy to work with. My girls, myself, mom, and mother-in-law were over the top impressed with their work! I had not had a... Read More makeup trial and was slightly nervous as I am not big on makeup; however, they made sure to talk with me about my preferences. I showed photos for hairstyles and they helped choose one that would work with my hair type which was wonderful to get an HONEST opinion as I have super fine hair that does not cooperate often! The girls were prompt the day of and ensured we were all touched up and ready to go! I would absolutely recommend Ultimate Bridal Beauty to any future bride! :)
---
Meet The Owner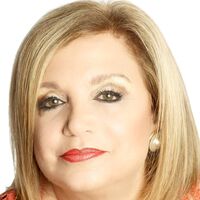 Jaye Goldberg
Jaye Minton Goldberg is South Florida's Premier Bridal Beauty Consultant and former owner of Look Great European Day Spa in Boca Raton, Florida. Services include Professional Air-Brush Makeup and Hair Design. Wedding, Couples and Bar and Bat Mitzvah Packages are available. We are LGBT friendly. See our AD on the EnGayged website under Beauty and Health in South Florida. We advertise on WeddingWire, The Knot, and Florida Brides magazine and attend many wedding events in South Florida as well as being an active member of the National Association of Wedding Vendors.