Home

Unforgettable Announcements
Details
Custom Invitations, Invitations + Paper Goods

Contact Info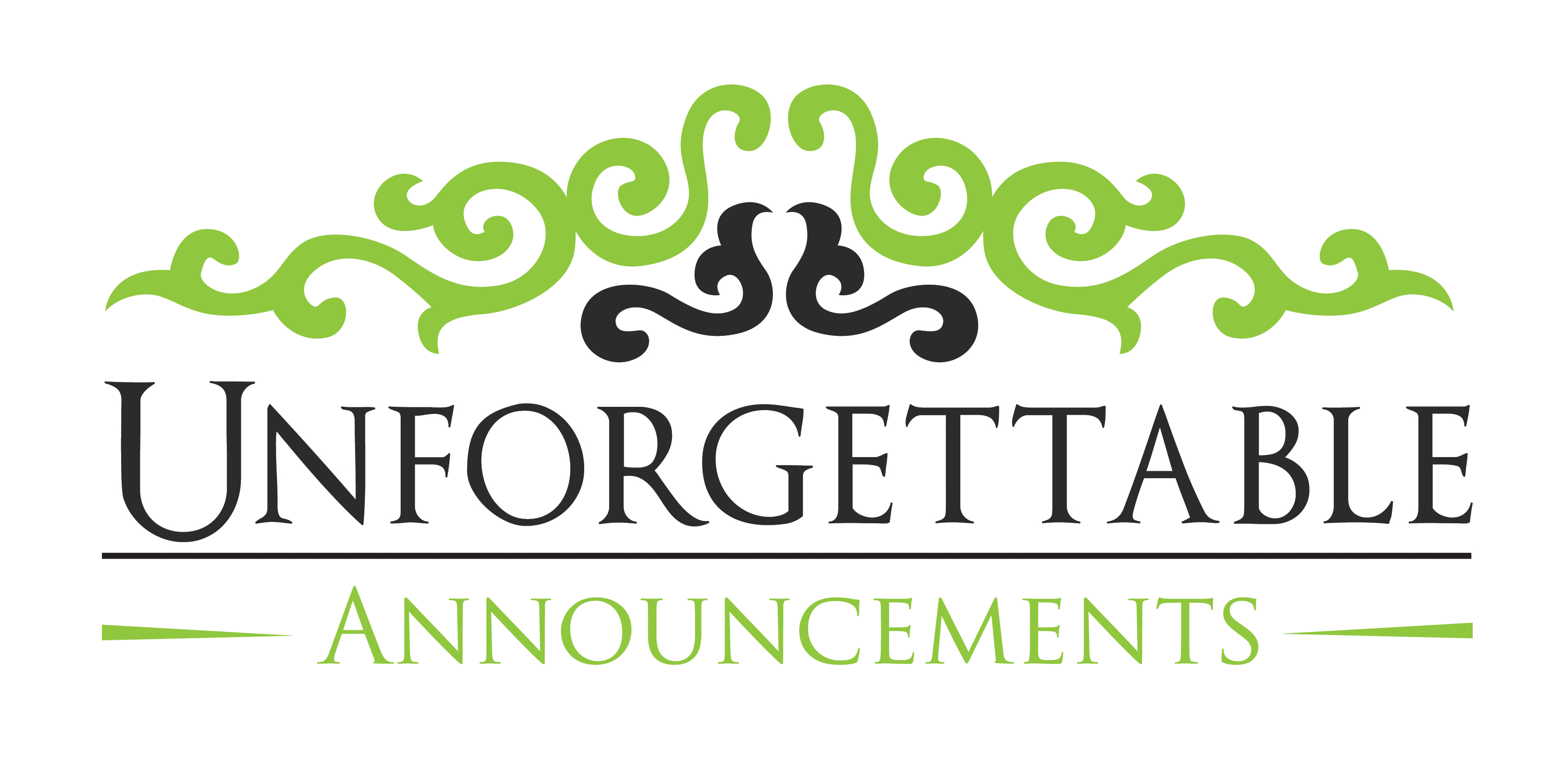 Great
Reviewed on

10/22/2013
Vanessa P
We loved dealing with Meagan. She was great and made our choices easy! We would definitely recommend her to anyone!
---
Love her!
Reviewed on

8/05/2013
bekah m
Megan is amazing! We had her do our invites, thank you bookmarks, and escort cards. The ideas we had for all three were different and vague, yet she was able to put a spin on them that we never would have imagined. Her work is impeccable! It is fresh, modern, and beautiful. She... Read More was so professional, willing to meet halfway in distance, and kept in touch during the whole process. Definitely recommend her for anyone wanting something different and not as traditional for their wedding:)
---
Truly Unforgettable!
Reviewed on

9/30/2012
Samantha B
These invitations were absolutely gorgeous! Everyone loved the design and had never seen anything like it before. Megan was very easy to work with and had great ideas! I highly recommend Unforgettable Announcements for all of your announcement needs!
---
Unfortunately Unforgettable. Do not use!!
Reviewed on

6/06/2012
Sarah Y
Was recommended to Megan through my wedding planner. I wanted a high quality pocket invitation. She offered to do them for a large fee (around 1500 dollars) but I wanted them perfect and my mom said "you only get married once". I told Megan that I wasn't sure about what to put... Read More in the invitation because I had never done this before and I would let her tweak things because she was the expert. I sent her an example I found online and we went from there. She noted that the time of the cocktail hour was not included and I gave her the time to put in. I continuously emailed her regarding spelling errors on her part that needed to be fixed. I was surprised a professional wouldn't spell check. She sent me a copy in the mail to proof before she sent them to the printer.She said I could feel the way a guest would feel when they got it and see if I wanted to make any last minute changes. I was very excited. The only thing that I felt was weird was she misspelled my first name on the envelope she addressed to me. It was correct on the invite but I did email her about it because I wanted to make sure she could spell my name. Besides that the invite was beautiful. The rsvp postcard in the pocket was blank on one side, but she said the guests would have the rsvp address printed on them with a stamp. This was blank because it was a keepsake to me. I told her that I had already printed out address labels with my parents name and address on them and gave them to the wedding planner to give to her. She said to save them because they would just be printed on. After that the deadline got delayed. It was stressful because it cut into the time we had to collect the RSVPs. She said since it was her fault, she would buy the postage for the return postcards in the wedding pocket. That saved quite a bit of money so I agreed and everything seemed like it would be ok. Once the invites went out, the calls started coming in. The invite did not include the time of the wedding. I must've overlooked that with so much on my mind, but shouldn't an "expert" have a checklist they follow? Megan stated that it was my fault but she felt bad she didn't catch it so she would make a timeline postcard for us to send out at 50 cents a card. I said no because we spent enough already and had over 300 guests invited. I made my own online for 50 dollars. Then it was pointed out by a relative that the rsvp card stated the wrong name on the address part. It said MS. my first name, the grooms last name. That will never be my name. Also, It was supposed to be my parents. I had even made labels. So many people teased us about that. Then the postmaster notified us that the postage on the rsvp's was not enough (it needed a standard stamp) so we had to pay the additional postage for our responses. A couple guests stated their postmasters made them pay (Embarrassing!) When we contacted Megan, she refused to do anything because she said we accepted the proof. My proof was blank on the rsvp and did not have the wrong name. She said it did not matter. Even our wedding planner gave us a discount because she was embarrassed about the situation because she recommended Megan. The only thing Megan offered to do was create a perfect invite for me to keep and scrapbook. No thank you. Please do not use her. Go to the envelopments website yourself, and save yourself the money, time and embarrassment that we faced after using her services. She gets one star because they have nothing lower.
---
Very disappointed
Reviewed on

5/27/2012
Natalie G
Working with Megan was at the end was a very disappointing experience. The design of my invitation was great, but the unprofessionalism that Megan revealed after being responsible for the misprinting of the final product is one of many reasons you should work with someone else.... Read More My final product was a complete typo mess. If she had been more meticulous with the process, I assume fewer mistakes would have been made: For instance: She made over 15 to 20 large errors on my final invitations. 3 of which are completely embarassing and required me to contact all of my recipients. You have to stay on top of her like you would stay on top of a child. She mislead us to believe our invitations would be early. She mailed them on time, however, the came three days late, full of mistakes. We were able to remedy them quickly, but we had to be very pushy with her. If like to be well-informed of the process, and feel confident with your invitations. I would go with someone else. I didn't feel confident with her being able to remedy them in enough time, so I ended up having to deal with everything myself. It is very disappointing that someone is acting so indifferent about their mistakes on the invitations for the one of the most important days of my life. If you do go with her, give yourself PLENTY of time to correct her. 4 weeks before you want to send them out.
---
Fantastic Job!!!
Reviewed on

10/31/2011
Angie B
We couldn't be happier with the experience that we had with Megan. She listented to all of our wants and created a fantastic package for us. Her quality is absolutely unmatched. the pictures on her website are only the tip of the iceberg. We used her for all of our needs... Read More (invites, thank you notes, table numbers, and programs). She also designed our bachelor and bachelorette party invites. We will definately use her inthe future for all of our other needs as well. Great job Megan!!!
---
I Love My Invitations!
Reviewed on

9/10/2011
sarah d
I chose Unforgettable Announcements for my wedding invitations this August, 2011 and they were completely gorgeous. Megan, the designer took the little instruction that I gave her and created something beautiful that was exactly what I was looking for. My invitations had a... Read More traditional elegance with a bit of a trendy flare. The card stock and other materials were of an extremely high quality and the way that she layers them is just stunning. I have had so many compliments on the invitations, people have said that they are the best that they have seen. Also, I had last minute changes happen throughout the process and Megan was so gracious about accommodating all of the changes. If you choose Unforgettable announcements for your special event, you will be pleased with the outcome, I highly recommend them! Sarah
---
Best Decision Ever!!!!
Reviewed on

8/02/2011
Sara F
I am so happy with how well my invitations turned out! I have had numerous compliments from family, friends, and even others that have seen them in passing. Megan, the designer, is absolutely wonderful to work with. She is easy to work with, open to suggestions, provides ideas... Read More and input to make the invitations even more amazing. It was easy to communicate with Megan as well and she always went over every detail to make sure everything was clear and accurate. I am very happy with my decision to use Unforgettable Announcements for my wedding invitations and would use her again for future events.
---
Perfect product for your special day
Reviewed on

5/11/2011
m b
Completely unique invitation. Made to my order and were a perfect complement to our theme and colors. Megan was professional and accommodating in her workmanship and suggestions. I received so many compliments on the invitations! She was able to make changes and order extra and... Read More the price was reflective of the product. THANKS MEGAN you made my day complete.
---
HIGHLY recommended!!
Reviewed on

4/23/2011
Kristin I
I used Unforgettable Announcements for my Save-the-dates, bachelorette party invitations, and wedding invitations. Megan, the designer, is soooo easy to work with. Very upbeat and always made me feel like she was so excited about making my invitations. My invitations were... Read More GORGEOUS and affordable and I cannot even tell you how many compliments I received on them! My invitations made the perfect first impression of my wedding. At first I thought I would not get custom invitations because all of the other companies in Michigan I found were too expensive. Unforgettable Announcements makes high quality, beautiful invitations catered to your specific wedding AND within your budget. So I would highly recommend this company to every bride and I already have to all of my friends and family who have gotten engaged after me!
---