Home

Upstairs Downstairs Catering
About this Vendor
Upstairs Downstairs Catering for Your Wedding
For 35 years, Upstairs Downstairs Catering has prepared every meal with a passion for perfection. Not limited to menu options, we can turn family recipes into fare for your entire party. Whether sit down, family style, or buffet, our attentive and quick responding staff handle every detail.
Details
American, Eastern European, French, Greek, Indian, Italian, Latin American, Middle Eastern, Fusion, Seafood
Gluten Free, Vegan, Vegetarian
Buffet, Catering Delivery + Setup, Chef Stations, Family Style, Passed Appetizers, Seated Meal, Food + Catering, Service Staff
Contact Info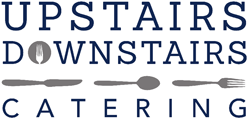 1617 N. Stoughton Rd., Madison, WI
I love Upstairs Downstairs Catering!
Reviewed on

5/15/2013
Hilary S
We had a really fabulous experience working with Megan at Upstairs Downstairs. She was extremely attentive and flexible with my frequently changing my mind about the menu, and made everything happen the way I wanted it. We requested several items that were not on the menu and they made everything work perfectly. The food was delicious, everyone enjoyed it. The service was really good, all the wait staff were extremely attentive and friendly. They also managed our bar, and the bartenders were so friendly. We didn't need to worry about anything during the reception, everything was taken care of. We bought all our own alcohol and the bartenders served it. We ran out of one of our beers and one of our liquors, and they just opened the extra that they had brought along, which we had talked about ahead of time as an option. These are experienced caterers that think of all the details and make it all happen so we didn't need to worry about a thing, just enjoyed ourselves. Catering is always a big part of a wedding budget, so make sure you're getting good service for all that money. Upstairs Downstairs makes that happen!
---
They made our wedding amazing
Reviewed on

11/05/2013
Laura I
From the first phone call to the final follow-up, Megan and her team at Upstairs Downstairs provided some of the best customer service we have ever experienced. They were so nice and genuine, but more importantly, they worked with our budget (which was not large!) and helped us create a perfect menu for our farm wedding. On the day of, the servers and bartenders had only smiles as they served dinner in a torrential downpour, soaked and chilled to the bone. They constantly checked in with us as the schedule had to be adjusted due to weather, and they accommodated our every need and desire. The food was delicious and we got several "best wedding food ever" comments from guests afterwards. Although our choices were less formal, they offer everything on the spectrum, and we highly recommend them to any couple looking to make the catering, drinks and food portion of their day an exceptional experience.
---
Excellent Food & Service!
Reviewed on

7/19/2013
Katharine S
We had an amazing experience with Upstairs/Downstairs catering. Megan was more than accommodating with everything. We originally planned a sit down dinner, but after our destination wedding, decided on a more casual reception. Megan helped us change our menu and was very understanding of the last minute changes. We had heavy hors d'oeurves and it turned out perfectly. The staff was extremely proficient and friendly. Kim was great at helping time out the service. We weren't sure on how we wanted to have the service, but Kim had us release the tables while our slideshow played and there was never a long line and the food was constantly replaced and fresh. We got multiple compliments from our guests on the food. The tomato bisque shooters were an absolute hit. We couldn't have asked for more and really appreciated the above and beyond caring service that came with it. Definitely recommending to all of my newly engaged friends!
---
Large Portions, Competitive Pricing, Delicious Flavors
Reviewed on

7/27/2015
Laura T
I can't say enough good things about Upstairs Downstairs Catering. We worked with both Megan and Dan throughout the process. Both of them were very thorough and easy to work with. On the day of our wedding, they provided us with consistently hot and delicious food. Numerous guests talked to us about how good the food was. We had the beef tenderloin, prosciutto chicken and lemon baked cod. We heard great things about each. We had a few guests not show, so I asked the server to bring me two different entrees. He made sure that I had the full size portion of each of the two entrees and sides on my plate. The portion sizes were huge! This was good and bad: good for the really hungry guests, but bad that a lot of food was wasted. Compared to a couple other caterers in the area, Upstairs Downstairs Catering was really well priced for what we got. They did not charge us for bringing in our own cupcakes or s'more ingredients for our bonfire. They also did not charge a corkage fee. Our venue required us to have a fully hosted bar, so we chose to provide our own beer, wine and soda and pay to have bartenders on site from the caterers. We purchased our alcohol from a liquor store that allowed us to bring back any unopened bottles. The bartender we had was great! She made sure not to open any bottles until they were needed. Our bartender also took care of our special bride and groom champagne glasses when I absent-mindedly left them on the table. Later in the evening when I had a blister from my shoes, one of the servers dug through her purse to find me an extra bandaid. Phil seemed to be the head server that night and he did a great job keeping the meal flowing at just the right pace. I would highly recommend Upstairs Downstairs Catering to anyone. They truly went above and beyond my expectations. Their food and service was the highlight of our wedding. Thank you for all you did to make our day extra special!
---
Wonderful Caterer!
Reviewed on

10/29/2014
Patrick S
We had a fabulous experience with Upstairs Downstairs. Megan is on top of everything and the whole event ran smoothly because of her - and the food was wonderful! From the first meeting, we could tell that we could trust her because of how prepared she was (we had thought we were prepared for the meeting and Megan asked us a handful of questions that never would have occurred to us). We had a few odd requests and non-traditional aspects to our food and they accommodated all of them. All of the costs were laid out up front and they have many options to work within varying budgets. On the wedding day we had butler passed hors d'oeuvres and a server made sure to stop by us first, so we were able to try each of them, which we really appreciated. The whole dinner and dessert ran smoothly thanks to Megan and Upstairs Downstairs (not to us as we were totally scatterbrained). We have had many complements on the food. Lastly, we were in a unique position in that 2 months before our wedding we attended a wedding that had also used Upstairs Downstairs as their caterer. Not only did we enjoy the food at that event as well, but Megan also made a point to stop by, say hello, and to ask us how are own planning was going. We highly recommend!
---
great food, but not for an off-beat bride
Reviewed on

10/24/2014
Alicia B
We chose Upstairs Downstairs Catering after interacting with a few caterers around town. I wish we had kept looking, because my interactions with the director of sales were the most stressful part of my event day. I have worked as a caterer in the past and currently organize events at my job. I preface this only to indicate that this catered dinner was not my first rodeo. My husband and I were married in January, and we met with U/D to plan a dinner for an October reception. Over the course of the planning process, the director of sales, Megan, referred to my husband as my fiancé; this was a small but important indication that we were just another wedding dinner on her list. I felt routinely railroaded by Megan. For instance, we requested a coffee station for a set amount of coffee. The day of the event, Megan argued with my husband, insisting that we would need to purchase more coffee if we wanted it available for the entirety of the night. Apparently, she had been under the impression that we wanted coffee service offered to all our tables throughout dinner--this was not the case. The plan was always self-service. That interaction left me feeling like she was making a high pressure sale (on coffee, of all things) on an already stressful day, and that she had not noted our original intent for coffee. Another instance: servers did not serve my guests until my husband and I began eating, despite my explicit instructions that the two of us were not to hold up the dinner service. It was important to me that people leaving work early and traveling on a Friday to join us for dinner wouldn't have to wait longer than necessary for a meal. But wait, they did. I realize I have an off-beat approach to our reception dinner, but our caterer should have been able to come through on these small but important requests. I found Upstairs Downstairs to be inflexible; our requests seemed to take a backseat to "the way they do things." I was also frustrated by the lack of attention to details we had previously discussed. Personally, I found Megan, our main contact with this caterer, to be dismissive, rude, and passive aggressive. If you are looking for a very run-of-the-mill caterer, this may be your place. The food, admittedly, was excellent at both the tasting and our dinner event. The salads were beautifully garnished with flowers, and we received lots of compliments on both the chicken dinner and the vegetarian wellington. For this, I am happy to report that Upstairs Downstairs can satisfy a diverse and picky crowd. However, if you desire accommodations beyond a cookie cutter wedding-style service, you may find yourself frustrated.
---
Couldn't have asked for more
Reviewed on

9/22/2014
I worked with Megan at Upstairs Downstairs Catering. She was truly wonderful to work with. So friendly and accommodating. She made all the planning very simple for me... which was important since I was planning the whole event from out of state (by myself). She tried to offer us and schedule a taste testing... however, we weren't able to work it out with our schedule (being out of state), but after multiple conversations with her, I felt at ease. I was also not disappointed on the day of the event, which was an outdoor event. She also made recommendations for other vendors to call for tents, tables, chairs, etc., which saved me a lot of additional time and energy. I went with her suggestions and was pleased. Her staff was ALSO incredibly friendly and accommodating... and the food was terrific. My husband has a gluten allergy (a real one, not a fad one), and they worked with us to make sure every item on the buffet menu was able to be enjoyed by everyone. The staff ensured we didn't have to worry about anything, and made the day truly relaxing and enjoyable. All of our guests commented on the catering and how much they enjoyed the day. I would hire Upstairs Downstairs Catering again in the future, in a heartbeat... and recommend calling them if you are looking for a great one.
---
August 23
Reviewed on

9/09/2014
brit w
Upstairs Downstairs delivered an incredible family-style meal to our 130-person wedding. Everything was exactly as described, and we received many compliments about the quality of the food we selected. My husband and I opted to skip the cake in favor of brownies with ice cream. Upstairs Downstairs prepared the perfect brownie, complete with ice cream and whipped topping. Communication with staff leading up to our big day was exemplary. I was able to have any questions answered within 24 hours and never doubted the staff's ability to deliver the service we expected. I would strongly recommend Upstairs Downstairs to any other bride.
---
Great Food! Great Service!
Reviewed on

8/20/2014
Clare V
Amazing food! Everyone at our wedding commented on how great their dinner was! We had a steak option, a stuffed pork, and a mushroom ravioli and all were excellent! Megan, the coordinator, did a great job. She was very professional and really made sure we had exactly what we wanted. It was maybe slightly on the expensive side, but not too bad and the food and service was great, I would definitely recommend them!
---
Thanks Upstairs Downstairs!
Reviewed on

7/23/2014
Sarah S
I was planning my June 2014 Madison, WI wedding from out of state, and had to book a caterer before doing any formal tastings. Needless to say, I was a little bit nervous. However, Upstairs Downstairs surpassed all of my expectations! The staff was extremely professional, easy to communicate with, and very accommodating. I truly believed they wanted my big day to be perfect. They were very flexible with scheduling tastings and my walk through around my visits back to Madison, and also doing phone meetings when needed. Their menu had tons of delicious options to chose from as well. On the day of the wedding, things went perfectly! I had so many compliments from my guests on the food and service. Not only was the food amazingly delicious, but the presentation was beautiful. They really pay attention to detail. Megan, the Director of Sales and Events, was especially awesome. She even put together a plate of hor dourves for my husband and me to eat at the dinner table, knowing we would likely not have time to try any during the cocktail hour. I would highly recommend Upstairs Downstairs to anyone.
---
Affordable, but lacking in quality and service
Reviewed on

7/03/2014
Samantha G
Food was good, not great. They changed the way they prepared one of our dishes without telling us, forgot to bring an appetizer platter. And was dishonest in the linens and bar they would provide. Let us supply our own alcohol and they bar tended, which saves a lot of money.
---
Awesome!
Reviewed on

7/01/2014
Megan and the entire Upstairs Downstairs team were amazing! Megan is so detail oriented, I felt so comfortable with her. Upstairs Downstairs is super flexible. They actually allowed my fiancé to cook the pulled pork, brisket, make the coleslaw and BBQ sauces. They served the food along with their AMAZING macaroni and cheese with truffle oil!!! Multiple people commented on the mac and cheese. We had fantastic appetizers as well, individual fiesta cups, caprese skewers, avocado bruschetta, and Italian stuffed mushrooms. We also had a smoked salmon station and a marinated vegetable station (we really love food). They have the option of having the customer buy the alcohol and their bartenders will serve it. This saved us a ton of money! We had a late night snack of pizza which was fantastic to snack on after the reception was over. All of the staff was incredibly attentive. Our food was served family style which was fun. I highly recommend using Upstairs Downstairs for your event!
---
Amazing Caterer
Reviewed on

6/16/2014
Courtney F
I would recommend Upstairs Downstairs catering to anyone! We had a pretty large group, about 370 people and it was difficult to get other caterers to even call us back. UD responded to our request promptly. Megan was so helpful throughout the whole process. There is so much to think about when planning for that many people and she seriously made it a breeze and very stress free. The food was amazing along with the presentation. The food very gourmet and delicious. We had a large group and everyone received their food on time and it was not cold. We have received so many compliments on the food at our wedding and everyone asks who we worked with. The catering staff was very polite friendly and attentive to all of our guests. Many people went out of their way to make sure everyone was happy. The thing my husband liked most was the fact that Megan made sure the wedding party got to eat some of the appetizers. We were on a tight schedule and taking pictures once we got to the venue and Megan brought the wedding party plates with appetizers. If you are looking for a very reasonably priced, delicious and friendly caterer, Upstairs Downstairs is who you should call.
---
My Fabulous Caterer
Reviewed on

6/04/2014
Holly H
Upstairs Downstairs catering was perfect. Food and service was awesome. Megan know's what she is doing. She know's how to deal with all sorts of different people. She made sure I got what I wanted. They make sure everything is perfect. Everything tasted so good. I can't explain how well and yummy the food was. There are no words besides PERFECT! Price was great. She made my wedding perfect! Waitstaff was so good and fast. Keep up the great work.
---
Flexible and amazing
Reviewed on

5/28/2014
Carina S
Working with Megan was a breath of fresh air! She was very helpful every step of the way and very responsive to my emails and questions. Upstairs Downstairs was very flexible when it came to dietary needs and special meals. We got to choose 3 entrees and special meals were not part of that. And their food, excellent! From the salads to the late night pizzas, it was perfect! I would recommend them to any bride and groom!
---
Delicious appetizer-style meal
Reviewed on

12/04/2013
Taine H
We opted to offer an appetizer-style meal: several different small portions of things that were self-serve rather than having a sitdown meal. The service was great, food was refilled quickly, and I heard no complaints about the food from anyone at the wedding. Worked out great for children, too. They also supplied non-alcoholic drinks for our reception, including infused waters made at our request: cucumber lemon and strawberry basil. Their Director of Sales, Megan Vlazny, was a pleasure to work with, ridiculously friendly, and open to working around our budget and creating new items that they hadn't offered before. I think my only complaint would be that they didn't refill the water enough (which would have only required adding water to the jars full of infusing items), but this one thing doesn't detract from my experience working with them.
---
Seamless and Delicious
Reviewed on

10/31/2013
Molly
Our experience with Upstairs Downstairs catering was great! Megan was really quick to answer emails and responsive to any questions and changes we needed, and the food was amazing (I didn't eat a lot day-of due to nerves, but the leftovers were delicious!). The best part was, it was really low maintenance on the day-of. Megan and her team executed everything seamlessly and made it very easy for us to just enjoy!
---
Thanks to Upstairs Downstairs Catering, our Wedding Reception was a memorable success!
Reviewed on

10/28/2013
Kristin H
Megan Vlazny (Director of Sales and Events)and the Upstairs Downstairs Catering staff were amazing. They provided us with exceptional food and incomparable service. They offered a wide variety of menu presentations, and worked closely with us to personalize our menu. They served hors d'oeuvres during our cocktail hour that our guests raved about: Hawaiin Gnier Pulled Pork Sliders, Asparagus Wrapped in Bacon, and Caprese Skewers. Megan also set aside a plate especially for me (the bride) and brought it up to make sure I had eated something! For our plated dinner (they also offer buffet), we chose: Classic London Broil with Wild Rice Pilaf and Cauliflower Polynaise, Shrimp Scampi with Linguini and Sauteed Seasonal Vegetables, and Portabella Ravioli with Sauteed Seasonal Vegetables. There were Artisan Rolls and butter pre-set on the tables, and everyone started with a Mixed Field Green Salad. Also, we served kid's meals that consisted of Chicken Fingers, Mac & Cheese, and a Fresh Fruit Cup. We chose to add full china - salad plate, dinner plate, all silverware, water glass, coffee cups & saucers. We also added Ivory Table Linens and Ivory Linen Napkins, as well as Head Table, Gift Table, and Cake Table skirting. We would highly recommend Upstairs Downstairs for any event. Their website is very user friendly, and they even provide a link to their "10 Questions to Ask a Caterer" flyer! Their attention to detail, quality gourmet food and friendly, professional service is impeccable!
---
Absolutely Awesome!
Reviewed on

10/23/2013
Denise B
We could not have been happier with Upstairs Downstairs Catering! Absolutely one of the best vendors we had for our wedding. Megan was terrific and so flexible...everything we needed, she took care of! She was even able to take my mom's recipe for cheesy potatoes and make into a family-style success! The Tenderloin steak with whiskey sauce and Wisconsin chicken were phenomenal...even "non-steak people" admitted they couldn't get enough! The roasted garlic baby red potatoes were terrific, and even my husband (not a vegetable person) took a heaping helping of the honey glazed carrots. The staff was exceptional and "Johnny on the spot" (as several of our guests remarked) at all times. Even the owner of our reception hall made the comment that "it was almost like they weren't even here, everything went so smoothly." And of course, the ice cream sundae bar and pizza we served as late-night snacks went over extremely well! I would absolutely recommend Upstairs Downstairs Catering to anyone in the Madison area. You will not be disappointed!
---
Amazing food and amazing service!
Reviewed on

10/16/2013
Whitney R
Upstairs Downstairs Catering was GREAT to work with. The food was amazing and they have tons of options to choose from as reasonable prices. The service was even better. The day of our wedding they had staff to handle each table, they were dressed professionally and helped out with things they didn't have too. Before they left they asked my husband and I if there was anything else we needed help with. I would recommend them to anyone!
---
130 guests and waaaay under budget!
Reviewed on

10/08/2013
Tiffany T
We worked with Megan from Upstairs Downstairs and were SO pleased! The food was delicious and unique; not your average wedding fare (unless you wanted it to be). Megan was very helpful in giving advice through the process and was incredibly prompt with email correspondence, and she was always working to make the catering fit our budget. Furthermore, they were so flexible! Not only were they willing to let us buy our ice cream directly through the vendor to get a good price, they also froze it for us overnight since we didn't have room for 3 3-gallon buckets. When our reception site was uncertain of the time the caterer would be able to access the facility, this didn't seem to faze Upstairs Downstairs. The other Madison-area caterers with which we met seemed to see all of our requests (like ice cream) as obstacles, whereas Upstairs Downstairs expected and even invited personalization. I would use this caterer again and again!
---
Up/Down was great for our Lake Geneva Wedding
Reviewed on

10/07/2013
Brianne G
Our experience with Upstairs Downstairs helped make our wedding day absolutely unbelievable. The planning of the apps, food, and dessert was fun, simple, and delicious! The trickiest part about our wedding is that we asked them to come all the way down to the Riviera in Lake Geneva. The logistics had us really nervous due to the distance and time crunch and it being their first time at that venue, and I can't believe how well Megan and her team were able to execute flawlessly. The food was DELICIOUS. We had tons of compliments from our guests. The crew serving drinks and appetizers were extremely friendly and fun to be around. They had the added challenge from us to break down the ceremony setup and prepare our head table while everyone had a cocktail, and no one noticed . These guys are professionals, it's a no brainer to go with Upstairs Downstairs!
---
Amazing Serivce and Excellent Food!
Reviewed on

8/17/2013
Kristina Dahnert D
We could not have been happier with Upstairs Downstairs as our wedding caterer for our August 2013 wedding. From early on in our engagement, both Dan and especially Megan were so prompt in responding to all of our many questions. We ended up choosing the picnic menu for our barn wedding and our friends and family are still raving about how good the food was! Upstairs Downstairs also allowed us to serve both of our Mom's signature side dishes and took great care in preparing and serving them for us. The staff at the wedding, including the servers, the grillers, Kim and Rhonda were a dream come true. Everything worked like clockwork and we didn't have a care in the world! As a caterer, they are more accommodating than I have ever witnessed and will make everything from burgers and brats to beautiful plated dinners and so much more. If we ever need a caterer for another event, we know where to find one! They could not have made our day any better!
---
Wedding catering
Reviewed on

8/14/2013
Natalie L
Upstairs Downstairs provided the catering for my wedding. I was very happy working with both Megan in the planning process and Sylvia on the wedding day. Megan was very thorough and thought of every little thing that I may need. She was easy to get in touch with and always answered my questions promptly. Sylvia was very helpful on my wedding day- I remember telling her about the location of supplies and her response was "don't worry about it, we will find it, go enjoy your day" It meant so much that I could trust her to get things done.
---
seamless and lovely
Reviewed on

7/29/2013
jenny s
First off, Megan, the planner we spoke to was the most straightforward and attentive vendor we dealt with for our wedding. She walked us through guest expectations and food estimates really well. Next the food was top notch vegetarian options. We tried veg options from more than three caterers, and by far, Upstairs Downstairs did the best job making a delicious complete meal, rather than a wilted, bland, mushy substitute like the other places. Further the attention to detail and the service was lovely. They set up our centerpieces, and when our seating chart went astray, handled recovering and setting it up really well, keeping us informed of the process and making sure we were satisfied. Their servers were attentive and charming.
---
Send Message