Home

Valley Country Club
About this Vendor
An antique setting with contemporary flair...
Enjoy cocktails and hors d'oeuvres on the upper deck overlooking spectacular views of our golf course and historical stone bridge.Then feast on the finest cuisine in our elegantly crafted ballroom. The Valley team of specialists are masters in the art of producing weddings and events.
Amenities + Details
Amenities
Indoor Ceremony Area

Kosher Available

Liability Insurance

Liquor License

On the Water

Onsite Catering

Onsite Overnight Accommodations

Onsite Parking

Onsite Wedding Consultant

Outdoor Ceremony Area

Outdoor Reception Area

Outside Caterers Allowed

Site Fee

Tented Area

Valet Parking

Wheelchair Accessible
For more details about amenities, please message the Venue.
Banquet/Reception Hall, Country Club, Unusual/Alternative
Contact Info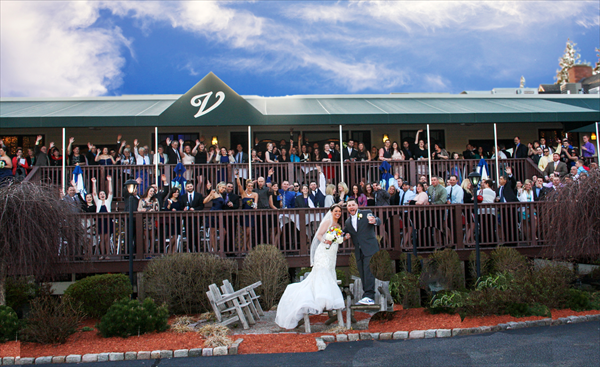 251 New London Avenue, Warwick, RI
Amazing and Beautiful!
Reviewed on

6/30/2015
Kristen B
Valley Country Club in Warwick, RI was the venue for our wedding on May 30, 2015. It's a beautifully maintained facility that was absolutely perfect for our outdoor ceremony and indoor reception. The event coordinator, Melodi, helped us through the entire process and made the event run as smoothly as we could have hoped. She was professional and accessible during all of the planning and preparation and she helped make the wedding and the rehearsal go off without a hitch. When unexpected issues with our plans arose, she was accommodating to our changes without hesitation. It was clear from the beginning that we were in good hands. On the day of the wedding, we were catered to by Cheryl and Danny, the head wait staff at Valley CC. They were accessible whenever we needed them and they granted us every request. From the moment we arrived until we drove away that night in our newly decorated car, they were there for us. It's hard to imagine what we would have done without them. Additionally, our guests raved about the rest of the wait staff and the food as well. The food options were fantastic and the preparation left nothing to be desired. The ballroom was decorated beautifully and our guests are still complimenting how inherently beautiful the whole facility was. We are grateful to everyone at Valley CC for making our wedding so special for us and for coordinating so well with our other vendors. It meant so much to have everything go so well and for us to see our guests so happy. We couldn't have asked for any more than what they delivered and now we have nothing but wonderful memories of one of the best days of our lives. We absolutely intend to recommend Valley Country Club to our family and friends.
---
Absolutely amazing venue!!
Reviewed on

7/01/2015
Kylah A
Our wedding was originally September 2015 last summer we decided to move it up to June 14th 2015. From the beginning Melodi was very helpful and always answered my questions. She never had a problem changing things last minute or adding anything in. The rehearsal she knew I was beyond nervous and she made me feel comfortable. The day of the wedding we had another worker that was helping us. He was our go to man. Anything we needed he did for us. Danny was simply amazing!! He was fanning me because I was sweating he even was patting my sweat. When it came time to walk down I was given a shot and got a little on my hand and he even let me use his sleeve to wipe my hand!! He calmed me down about as much as he could! After the ceremony the nerves subsided and I was happy as could be. He kept asking not only my husband and I if we needed anything but he would also ask all of my bridal party which I had 9 bridesmaids and groomsmen!! Dinner time he wanted us to eat so he cut our 2 year old sons food for us. We had a buffet and he served us our food. He set up all of our decor and centerpieces with the help of other staff members and they all did amazing. My guests kept raving on about how amazing the food was they epically loved the Boston baked scrod! At the end of the night all the staff members helped pack everything up and Danny brought everything out to my bridesmaids cars. We honestly could not have chosen a better venue to get married at! I know for sure I will talk about the amazing service for ever and we will do a vow renewal sometime in our future at Valley Country Club!! Thank you again to all of the staff!!
---
Highly Recommended!
Reviewed on

6/30/2015
Rob C
Some of the most experienced staff in Rhode Island helped make our wedding day absolutely perfect. Everything was precisely coordinated so the ceremony and reception went without a hitch. Add in the delicious food and beautiful facility and you have a truly excellent wedding venue. We would highly recommend Valley Country Club to anyone looking to get married in or around central Rhode Island.
---
Reviewed on

6/12/2015
SASCHA S
I cannot even begin to explain how amazing Melodi and Stephen were for our wedding. From the first day that we decided to have our wedding at Valley, Melodi was there the entire time. She immediately responded to any emails or questions. We really felt like anything we needed would be taken care of. The day of the wedding went very smoothly. We did not have to worry about a single thing the entire night. They were both there each step of the way helping and answering questions. From the smallest little details to Stephen bringing us drinks while we were taking photos, there was nothing that they would not do for us. This truly was such a great night and a lot of that is due to the diligence and helpfulness of Melodi and Stephen. Thank you guys so much! Sascha & Will
---
Reviewed on

5/29/2015
My husband and I had our wedding reception at Valley Country Club on 5/23/15 and we could not be any happier with how the night turned out! Melodi was fantastic from the very beginning, walking us through the planning process and responding quickly with any questions we had. Melodi, Steve and the staff at Valley helped to give us the perfect wedding reception. The food was amazing, the guests could not stop talking about how delicious all of the food was, including cocktail hour, the meal and desserts! Melodi checked in with us to make sure everything was going the way we had hoped, and Steve made sure that us and the bridal party had everything we needed. Many guests said it was one of the best weddings they had been to! I would HIGHLY recommend valley country club to couples looking for venues!
---
Vespia wedding
Reviewed on

5/28/2015
Veronica E
I cannot thank the staff enough. Me and my husband live in another state. I never thought we were going to find a venue that could have worked with us but Valley Country Club was amazing. Melodi was so easy to talk to and she helped me plan everything and made sure I didn't forget anything. She made time to talk to me every time I was in the airport. The day of could not have gone any better. Everything looked perfect. Melodi did check in to make sure everything was great. Also there was a staff member that brought me food and beverages. She also had my flip flops ready for me when I was I dancing. And she even carried my dress for me and helped me clean and pack the car when everyone was all set. I don't think I could have had a better reception. The food was amazing. All my guests raved about the food! It was so yummy! Everything was hot and delicious. My guests usually are a little difficult to please but they loved everything. I would recommend this venue to everyone! This venue is breath taking beautiful! And the staff and event coordinator are incredible. Great personalities and great pictures all in one place!
---
AMAZING
Reviewed on

11/25/2014
Our wedding was on 10/26/2014. Great Location. Great and outstanding service. Their responses were quick and attentive to everything. Every detailed oriented. Made the entire day run smoothly! Thank you!!!
---
Absolutely best service on my wedding day !!!
Reviewed on

11/15/2014
Stefanie D
From the time that we walked in to the end of the night at our wedding we felt comfortable and stress free. Melody and her staff made sure that everything was absolutely perfect. Their service was on point. They made sure we had refreshments when we were taking pictures and there was someone always asking if we needed anything. They made us feel like we didn't have to worry about anything, they had it handled. Our guests had such an amazing time! They are still raving about the good time and how great the food was. Valley Country Club is the place to be for a wedding if you want to be stress free and just have a good time. Thank you Melody and Staff for such an amazing night that we will never forget!
---
More than impressed..
Reviewed on

10/31/2014
Jill S
I would like to start by saying Thank You to Melodi, Hannah, and the staff of Valley Country Club. They truly put there heart and soul into their work. I felt so confident in them that I did not worry about anything the day of my wedding and let me tell you I was more than impressed!! You would of thought I found gold if you heard all the compliments I received (100 or more) It was the best wedding I've ever been too and I'm not just saying that because it was mine.. Besides it just being beautiful and very clean the food is phenomenal. Coming from a family in the restaurant business I was worried about critics. Well everyone I had worried about impressing ate so much they could barely make it out to the deck for fresh air. I would highly recommend Valley Country Club to anyone and so would everyone of my guest.. Thank you for being part of one of the best days of our lives.. Rob & Jill Shappy
---
Great Location and Helpful Staff
Reviewed on

10/29/2014
Kat H
Melodi and Hannah were amazing help through the entire wedding process. What won us over with this particular location was it had great value and we had diverged from our original (and more thrifty) plan because the overall quality was amazing! The biggest thing I remember is these two ladies rolling with the punches. It felt like almost everything was forgotten or behind plans and they drove through making everything have such a great flow. My guests are still talking about how beautiful and great the reception (and food!) was.
---
Fairy Tale Wedding!!
Reviewed on

10/25/2014
Nicole S
Our wedding day was perfect. I couldn't have pictured our day bring any different. WE have gotten many complements still being 8 weeks after our big day how awesome the food, décor, clean, and friendly the staff was. Melodi and Hannah worked extra hard to make sure everything we wanted was perfect, even my last minute surprises for my groom :) and Teri~ you are an amazing chef. I would highly recommend the Valley Country Club to anyone... and maybe in 25 years we will have our wedding vow renewal there too :) thanks a bunch everyone... my wedding was picture perfect.
---
Couldn't be happier!
Reviewed on

10/24/2014
Meghan S
Our wedding day was absolutely perfect thanks to Melodi and the entire staff at Valley Country Club. We envisioned a small event where we could get married, eat good food, and enjoy time with close family and friends in a beautiful setting. We could not have predicted just how amazing everything would turn out. Our ceremony took place on the bridge followed by brunch in the Victorian room. Even on an overcast and rainy day, the grounds were a beautiful backdrop for our ceremony and pictures. The Victorian room is just gorgeous and gave us plenty of room to sit and eat as well as mingle in the bar area. The staff was so kind and attentive throughout the day. One person brought a small plate of strawberries and mascarpone to me after I commented I would get some after pictures. Two others insisted on making up our plates and carrying them to our table for us. They were all so sweet! And, the food was outstanding!!! We are incredibly grateful for everything Melodi and the staff did for us. We highly recommend Valley Country Club to anyone looking to hold any type of event. The great ambiance, great service and staff, and great food just can't be beat.
---
Amazing venue, amazing food and an amazing team!
Reviewed on

10/21/2014
My partner and i got married this October at Valley Country Club. We both knew people who had had weddings there and they were highly recommended. Our wedding at Valley Country-Club was all I could have dreamed of and more! If anyone is getting married and looking for a venue in RI I highly recommend Valley. It is an absolutely gorgeous location both outside and indoors. We had an outdoor ceremony on the picture perfect golf course. And the pictures look beautiful! We also had a dinner buffet and ice cream sundae bar, both were great . So many people came up to me and said how delicious the food was and how much they loved the sundae bar! Many people also raved about the service and staff too. I was super nervous about the wedding day and about things going wrong, but nothing did! (and if there was anything that came up i knew nothing about it, and it was all worked out smoothly) I honestly cannot think of even one minor detail that was not perfect! I want to thank Valley for an amazing wedding day, and a very special thank you to our wedding coordinators Melodi & Hannah! They are both so sweet and really awesome! Melodi was super helpful in the planning process (and on the day of too). Hannah was literally there for us for anything we needed throughout the day (she even scooped my icecream at the sundae bar,so I wouldn't get anything on my dress!). We could not have chosen a better venue for our big day!
---
October 2014 wedding
Reviewed on

10/15/2014
Tracy M
I can't say enough about how wonderful Hannah, Melodi, and the VCC were. I would not change a thing. They were amazing,were experts on everything wedding, were true professionals but with heart too. Couldn't be happier with my wedding!
---
Wedding 9/20/14
Reviewed on

10/05/2014
Katie P
My husband and I cannot say enough good things about Valley Country Club. From the moment we first walked into the venue, we had an exceptional experience. Melodi was also available to answer any questions we had throughout the whole process. She was easy to get ahold of and prompt to respond to everything. Melodi helped out event run smoothly all night without any hiccups! We also, cannot say enough about Hannah. She was great all night! She was available when we needed her and catered to all of our needs. Food and staff were excellent! Our guests keep telling us how beautiful the grounds were for our ceremony and how beautiful the reception was. We would highly recommend any other bride an groom looking for a venue to look here! It is a hidden gem and you will not be disappointed!
---
Valley Country Club is AMAZING!!!
Reviewed on

9/23/2014
Melissa M
Melodi and Hannah at Valley Country Club are outstanding. They took care of everything for me during the big day and the weeks leading up to the wedding. They made sure I had whatever I needed to make my big day perfect. And it was perfect. The venue is beautiful outside and in making for great photos. Melodi had some wonderful suggestions that my husband and I utilized during our ceremony to make our wedding really stand out. The day of, Hannah helped out with everything from busseling my dress to making sure I had drinks/ food/ dessert. The experience was stress free and fun from start to finish. If you are considering Valley Country Club for your ceremony or reception, or both, DO IT!!!! The entire staff is amazing and the grounds are beautiful!!!
---
Truly spectacular
Reviewed on

9/19/2014
Melodi Caruso and the entire staff at VCC went above and beyond to make this wedding truly spectacular. Everything from the food to the ballroom and the grounds were beyond my expectations. They provided the highest level of professionalism and perfection. Can't wait for our next big event!!!!
---
Simply Amazing
Reviewed on

9/03/2014
Kerri D
I had my ceremony and reception this past weekend at Valley CC. Melodi, Steve and the staff were all simply fantastic. I couldn't believe how amazing the ballroom looked when all decorated. Melodi accomidated my last minute arch for the ceremony which was the final touch. Steve was by our side all night from pre-ceremony pictures and thru out the night. The food was fantastic and the dessert bar was to die for. (I wish I ate more.) They did an awesome job setting up and refilling the candy buffet all night for our guests. Our guests keep telling us how wonderful the venue, fantastic the food was and the best wedding they've been to in a long time. So thank you Valley CC for a memorable wedding for me and my husband. I highlighly recommend Valley CC. You will not be disappointed.
---
Couldn't be happier!
Reviewed on

9/02/2014
Kayla R
We couldn't be any happier with how everything went. Melodi was so helpful throughout the whole process. She was always willing to accommodate us even with some of our last minute changes. On our big day Danny was so helpful and nice. The food was outstanding and the grounds looked amazing. Absolutely perfect venue
---
Awesome wedding!
Reviewed on

8/29/2014
Leana M
Everything was just perfect. Melodi and Hannah both did a wonderful job. They answered all of our questions and helped us through the planning process. They made sure the bridal party had food and drinks at the cocktail hour and they kept checking in with us and made sure we didn't need anything throughout the night. Special thanks to Chef Terry as the food was delicious, everybody was very happy with the au d'oeuvres and dinner. The ceremony, cocktail hour and reception setting were amazing. Wouldn't change anything and would definitely recommend to other brides.
---
Wedding
Reviewed on

8/29/2014
Brittney P
Valley country club was the first and only venue my husband and I looked at because it was perfect and everything we were looking for! Great quality of food, great scenery, and fantastic service! Melodi was the biggest help throughout the entire wedding planning, she answered all my questions with quick responses, and she made the planning a breeze. Mike and I can not thank you enough for everything you had done for us! Hannah, her assistant, was extremely helpful that day to myself and the bridesmaids! She was always right there whenever we needed her. I would highly recommend this venue to anyone who is looking for a fantastic reception that is also well budgeted. This wedding was the "talk of the town" and everyone is still raving about it! Thank you all again you are all fantastic!
---
Stellar Venue Site
Reviewed on

8/27/2014
Kelly M
Everything about our wedding here was perfect .... Delicious food, beautiful deck and view of the golf course, huge dance floor, flexible and personable staff .... Would recommend Valley in a heartbeat! Thanks to the event planners Melodi and Hannah!
---
Great Venue!
Reviewed on

7/03/2014
Melodi & Hannah were great! Excellent service. Excellent food. Beautifully decorated. Would highly recommend this venue!
---
Valley goes above and beyond
Reviewed on

7/02/2014
Jamie R
I'm so happy we chose Valley for our wedding. Melodi and her staff were a joy to work with from beginning to end. Our friends and family can't stop talking about the food (especially the ice cream sundae bar) and overall atmosphere. It truly was breathtaking when I saw the ballroom. The above lighting also gave it a special touch. The outdoor deck area was great for cocktail hour and gave our guests more than enough room to mingle, eat, and enjoy the view. Melodi, Hannah, and the rest of the staff made the day perfect!!!!
---
BEST WEDDING !!!
Reviewed on

6/22/2014
Amber B
The Valley Country Club did a amazing job for our wedding. There staff is amazing and always has your best interest in mind. Everything looked beautiful. The food was delicious. All of our guests have told us how amazing everything was. I would highly recommend this venue to anyone looking to have their dream wedding. -Mr. and Mrs. Boyd
---
Send Message