Home

Vines Mansion And Wedding Chapel
Book Your Wedding with Vines Mansion And Wedding Chapel
---
A BACKYARD IN LOGANVILLE, GA
About Us
Say "I do" in Loganville, Georgia in the 18,000-square foot Vines Mansion and Wedding Chapel. The small, southern community is located about 30 miles east of Atlanta. Couples will fall in love with the 22-acre countryside estate and its many striking features such as the lake, spacious gardens, manicured lawns and dense woods. The mansion's front entryway with four white pillars and carved wood doors provides the perfect backdrop for your wedding portrait.
Arbor Patio. Located in the back of the mansion overlooking the lake, the Arbor Patio is surrounded by well-manicured gardens. This area seats up to 250 guests.
Front Fountain Garden. The beautiful stone fountain is set on the property's front lawn. It can accommodate up to 300 guests for a grand ceremony.
Swan Lake Chapel. This unique spot gives couples a traditional, indoor ceremony area and an accompanying outdoor reception. Pose in front of the Chapel's beautiful, stained glass French doors for a memorable portrait. The Swan Lake Chapel can seat up to 150 guests.
Pavilion in the Park. Sitting directly over the lake, the Pavilion in the Park is an unforgettable location for your ceremony. It can accommodate up to 50 guests.
Koi Pond. For intimate nuptials, the Koi Pond is in a secluded area at the back of the property. It seats up to 40 guests and connects directly to the lounge.
Salon. Oversized, arched windows overlooking the venue's woods with hard floors and neutral decor. The Salon is available for ceremonies and small receptions.
Garden Room. Enjoy big windows with a beautiful view of the woods, wood flooring, neutral colors and gorgeous crown molding.
East Hall. The Marble Foyer connects to the East Hall. It has floor-to-ceiling windows, a single crystal chandelier, decorative crown molding and hardwood floors. The lower level hall opens to a spacious stone patio.
West Hall. Directly across the Marble Foyer from the East Hall, the West Hall features wood floors, a matching crystal chandelier, a decorative handrail and beautiful wood floors. This room, along with the foyer and East Hall, can be reserved together.
The Library. Couples can book the Library with wood wall panels, built-in bookcases, a fireplace, gold chandeliers and an impressive, elegant decor.
What You Should Know
Rental times are flexible but must end by midnight. All parties have access to the cooking facilities for preparation to serve only. Only licensed bartenders can serve alcohol on the premise. Decorations require approval from management. Party's can't use birdseed, rice, confetti or similar products. Outside vendors are welcome. A list of preferred caterers that have experience with the venue is available. Vendors not on the list require preapproval by the facility.
Extra Perks
Prepare for your ceremony in the Bridal Suite with a spacious dressing area and a powder room that connects directly to the Koi Pond Lounge. Not to be outdone, the Groom's Room is comfortable, well-furnished and offers a large flatscreen television with a PlayStation to unwind before you say your vows.
From the Vendor
Ideal for Luxurious or Casual & Indoor or Outdoor
The 18,000 square ft. Vines Mansion is nestled majestically in the 90 acre Vines Gardens with panoramic views of beautiful walkways, decks and gazebos meandering around the borders of Swan Lake. The large doors of the Estate Side Grand Ballroom open to for a grand processional walk for wedding ceremonies in the Estate Garden. The Garden Side Ballrooms, with its nearly 3,000 Sq.' outdoor deck, overlooks Vines Gardens and Swan Lake. Vines Manson's 2,100 sq.' covered Garden Side Veranda and Lawn offer the perfect setting for outdoor wedding ceremonies and receptions. The Vines Wedding Chapel seats up to 150 guests. The adjoining Arbor Patio and Stage seat over 300 guests for ceremonies, receptions and entertainment. CONTACT OUR WEDDING CONSULTANT FOR A PERSONAL TOUR AND AVAILABLE DATES
Amenities + Details
Amenities
Bridal Suite

Handicap Accessible

Liability Insurance

Indoor

Outdoor - Covered

Outdoor - Not Covered

Reception Area

Wireless Internet
For more details about amenities, please message the Venue.
Backyard, Ballroom, Garden, Historic Venue, Park
Bar + Drinks, Cakes + Desserts, Food + Catering, Planning, Tents, Rentals + Equipment, Service Staff

Reviewed on

5/04/2017
Ashley H
Our wedding is a night that I wish I could relive all over again!!! The staff at Vines were very accommodating and my guests loved the mansion and the grounds. I toured several venues in Gwinnett before I decided on Vines. I chose Vines mainly because you were allowed to select... Read More your own vendors and bring in your own alcohol. Many of the highly rated venues in Gwinnett charged an arm & a leg for food and alcohol. I liked the flexibility of Vines and the beauty of the grounds because I wanted an outside ceremony. Christa Bellew was very helpful and organized, she recommended great vendors. I also worked with a separate wedding planner who directed my reception and having her there for the evening and Christa there to direct my ceremony made my wedding flawless. My guests commented over & over again on how much they enjoyed the wedding and the venue. My only wish is that the evening could have lasted longer!!! Highly recommended!
---
Reviewed on

10/24/2017
Pam M
My daughters wedding at the Vines Mansion on July 8th included an outside ceremony on the beautiful grounds surrounding the mansion. The reception was spacious including a separate area for dancing. The mansion was a spectacular place for pictures, including a fountain and many... Read More beautiful locations. The staff was very accommodating and pleasant knowing how to create great memories for a wonderful event.
---
Reviewed on

10/24/2017
christa P
My little sister got married at the Vines Mansion and it was a night to remember, the venue is amazing and the staff was wonderful to work with
---
Reviewed on

11/08/2017
Denise W
This place is absolutely GORGEOUS and the Vines staff is wonderful. Christa, Barb, and Jennifer were so helpful and super sweet. I knew this was the place I wanted to have my wedding as soon as I walked through the door. From the stunning grand foyer to the beautiful koi pond,... Read More the Vines is spectacular with a breathtaking view. It was everything I was looking for in a wedding venue. My wedding was held on the garden side and the landscaping was exquisite. The guests were impressed and I'm sure it left a lasting memory on everyone for years to come. If you haven't found the perfect place for your wedding yet, check out the Vines. You won't be disappointed.
---
Reviewed on

11/01/2017
David Y
Everyone at Vines Mansion was very accommodating and fantastic to work with. Everything from planning the wedding itself to the day of went very smoothly because of the excellent staff. We worked with Barb the most and she was phenomenal in helping us decide on how and where we... Read More wanted the different parts of the wedding and reception to take place. The facility itself is beautiful, and the view outside is gorgeous. The natural lighting through the windows is really great for inside photos.
---
Reviewed on

11/01/2017
Rachel C
I have attended two weddings at the Vines Mansion. One was for only 75 people. The other was for a very large wedding. It had to be close to 300 people. It amazed me that they were both were so wonderful. The setting for the smaller reception was beautiful and perfect. It kept... Read More everyone close so that mingling was easy. However, I did not feel crowded at the larger wedding. It used the whole house and the veranda deck.
---
Reviewed on

10/31/2017
Mary M
I have been looking for a venue for our wedding. I visited the Vines Mansion and loved it. My mother loved it to, but we decided to look at a few more places. I then attended a wedding there and it was even more beautiful than I had imagined. It looked like rain and... Read More ceremony would have to be moved inside. The ballroom has large crystal chandeliers and rows of tall windows looking into the Estate Gardens. Fortunately, the rain let up and the ceremony was held in the Arbor Patio. The bridal procession came across a trellised walkway and down the stairway to to the Arbor Patio. It was fabulous! I had tears in y eyes. I imagined it was me and Alex. We really enjoyed having cocktails on the Veranda and dining in the Mansion The venue and day was perfect. I also got to see first hand how great the staff is at the Vines Mansion. They were perfect too.
---
Reviewed on

10/31/2017
Bailey R
I attended the Vines Mansion for a 50 year wedding anniversary reception. The couple got the most beautiful reception looking over the garden's blooming flowers and stunning lake. When I got the chance I saw the propety's spacious veranda!!!!
---
Reviewed on

10/27/2017
Mariah V
We couldn't have picked a better place to have gotten married. When I first moved to Georgia about 8 years ago my mom and step dad found several parks to walk around and take photos. We used to walk around the botanical gardens in the back with beautiful flowers, fountains, a... Read More pond a bridge. It is beautiful. I would have never imagined that I would have gotten married there!!! Fast forward 7 years and I was looking for venues to marry the love of my life! And we found it! Vines made sure our day was perfect! Throughout the whole process Pam and Krista were so helpful! I was clueless when it came to certain details about a wedding and they made sure that I had everything figured out and they gave their suggestions and made the day so easy! VInes also is a place where you can choose your own vendors! We got to bring our own alcohol, caterer, DJ, photographer. When we were looking at venues in the beginning that was something that we came across a lot, venues not letting you choose who you want to work with and have to chose someone within their list (and they may not be in budget). Vines does have a preferred venues list but you do not have to use it - just suggestions with people who they have worked well with and trust previously). If anything, go and tour vines - look on their website and give them a call to set up a tour. I am confident that you will fall in love with the venue like I did!
---
Reviewed on

10/25/2017
Ben O
The staff really took care of us. Our cake was delivered and was starting to melt. Then, it sitting by a window, continued to melt. We didn't even know about this. It all happened behind the Scenes. The staff called our cake vendor and had them bring us a cake that looked nice... Read More for our special day. Everything was done before we even knew about it. The place is already so nice looking, we barely needed to decorate. We did a few things to fit our wedding theme, but otherwise, we didn't need to add anything. Everything went so smoothly because the staff handled everything. From lining us up, having tables and chairs set up, having weather contingency plans, everything. They helped make our big day as magical as it could have been.
---
Reviewed on

10/25/2017
Hannah W
Vines is so beautiful inside and outside! There were so many different location options we could choose from regarding the placement of our ceremony and reception. The staff was so friendly and helpful with everything we needed on our special day.
---
Reviewed on

10/24/2017
Brian W
The venue is great and the gardens are great for pictures and outdoor ceremonies. The staff was very attentive and made my wedding day relaxing and wonderful.
---
Reviewed on

10/24/2017
Pam W
My son and daughter- in-law chose Vines Mansion for their wedding venue and from my perspective, they chose a perfect place. I was proud of how everything turned out, and I had so many people tell me that it was one of the best weddings they had ever been to. I have already... Read More recommended Vines Mansion to a neighbor looking for a outdoor wedding site with lots of picture opportunities. The pictures of the wedding that were taken by a photographer recommended by Vines Mansion are so beautiful. I attribute that to a beautiful bride, beautiful venue and outstanding photographer recommendation. As a parent and going with the couple to check out other venues, I felt we received a lot of value by having the wedding at Vines Mansion . Thank you to for helping us have such a fabulous event.
---
Reviewed on

9/21/2016
Let me first start this review by stating that the Vines Mansion is a beautiful place to have a wedding- the mansion and the gardens set such a romantic setting. Let me also state that our sales coordinator, Barb was a wonderful woman that my daughter, the bride, and I had the... Read More pleasure of working with and getting to know and care about. You could tell that she wanted to do anything that she could to make this wedding both easy, straight forward and flawless. She is great. The rest of this review is a story and you determine if this place is the place you want to have your special day. My daughter's wedding was an evening wedding out by the arbor. We were told to provide the isle runner and advised of the double sided carpet tape that would be needed to hold the runner in place. We purchased double sided carpet tape from one of the home improvement stores, nothing special, nothing heavy duty. After the wedding, family and guests went to the house for the reception and dinner. As the dinner was ending, my sister was approached, unbeknown to me, by the "grounds keeper"- he later told me he was not maintenance- that there was a problem that when the isle runner was pulled up that some of the tape adhesive had stuck to the concrete and to some of the wooden deck. He told her that the general manager had been called and that pictures had been taken regarding this matter. Because his manner was somewhat calculated for battle, my sister left the party and went back to the arbor. There was adhesive and it did need to be removed. Through the entire process of almost a year long commitment to the Vines, my daughter and I had followed all The Vines rules and timelines, and as the fun reception was going on, we had never shown ourselves to be irresponsible or reckless. With the General Manager in tow via phone calls and pictures secured, my sister and fiancé missed out on most all of the party. I did not get to see my daughter throw her bouquet or the groom the garter. Instead I was sitting on the grey deck board making sure that the "groundskeeper" who was on the phone with the GM was pleased with everyone's effort to remove this adhesive. Please do not misunderstand and think that it was something for us to ignore but at my daughter's wedding, in that moment, this wedding venue missed the mark. As I sat on the ground, in a full length dress, looking down at grey chipped paint on wood boards and a white wooden arbor that could surely use some fresh white paint; I wonder why this was how they wanted to handle this. The setting is surely beautiful, Barb is wonderful, you decide for yourself if this is the place for you.
---
Great Space for a Large Wedding Ceremony and Reception
Reviewed on

9/30/2015
Lauren G
The Vines did a great job with everything the venue is set on a beautiful botanical gardens and the house for the reception is gorgeous! Great price for everything that you get! We had an amazing wedding there with NO hiccups! The staff is super friendly and helpful!
---
Great Venue
Reviewed on

7/26/2014
Jessica H
The staff was great and everything went smoothly. Only complaint, they opened all the wine bottles at the beginning of the night, so bottles that were not needed were already open and could not kept for later.
---
Loved!!
Reviewed on

4/30/2014
Johnecia H
I loved this venue!! Ms. Krista was the best!!
---
My dream garden wedding
Reviewed on

6/15/2011
Resena H
I was looking for the perfect spot to have my garden theme wedding and Vines Mansion was perfect. The outside area is gorgeous, although it was a very hot day in May the scenery of the lake and flowers and the arbor was perfect for my Spring wedding. The staff was... Read More accommodating even after I made a few last minute changes and things moved along very smoothly. If you don't live in the area, it is quite far, but if beautiful outdoor wedding is what you're looking for, I definitely suggest Vines Mansion!
---
Gorgeous Wedding Venue
Reviewed on

7/14/2010
Regina G
My husband and I held both our wedding ceremony and reception at Vines Mansion. After months and months of searching for the perfect venue that fit our style we finally came across Vines Mansion. They had just re-opened for business about a month before our wedding, April 11,... Read More 2009. The staff was very accomadating. I had always wanted to have an outside wedding surrounded by a beautiful landscape and Vines Mansion was the place for me! I loved the inside of the mansion as well, since the reception areas have tons of windows our guests were able to enjoy the view of the gardens while we celebrated. We took a look at several other properties, but the problem we were running into was a lot of them were still decorated in a southern look (i.e. floral walls, carpets) etc. But Vines Mansion had a very modern feel to it with their solid walls and floors we didn't have to worry about anything clashing with our decorations. If you are looking for a venue where you can have both your ceremony and reception I would recommend you go with Vines Mansion.
---
Vines Mansion - AMAZING!
Reviewed on

5/26/2010
Vika K
We only used the outdoor patio for ceremony, but it was gorgeous! The view is amazing! Also the management is very helpful and flexible with your needs! I absolutely loved it - dont regret anything!!!!!!
---
Meet The Director of Sales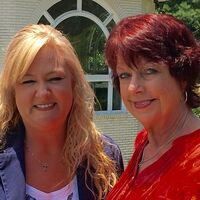 Christa Bellew & Barb Olar
Sales Directors Christa Bellew and Barb Olar, have over 30 years of experience. Both truly love working with Brides to make their wedding truly special. Their knowledge, understanding and attention to detail will place you at ease from your initial planning process through your wedding ceremony. Vines Mansion is a gorgeous venue and provided a beautiful backdrop. All of the staff was very friendly and helpful, especially Christa! Thank you so much to Barb for all you did as well as the staff on their wedding day. It will be a memory we will all cherish forever. Schedule your tour today