Home

Vineyard Estate at New Kent Winery
About this Vendor
A picturesque vineyard setting in New Kent, VA.
Stunning indoor and outdoor venue spaces make the Vineyard Estate at New Kent Winery the perfect spot to host your wedding, bridal shower, rehearsal dinner or celebration. The Estate's rustic charm, beautifully landscaped grounds and sweeping vineyards views make it an ideal location for weddings and year-round events! Only 20 minutes from both Richmond and Williamsburg, the Vineyard Estate is conveniently located near everything you will need to accommodate all of your family and friends. We have private dressing rooms for the bridal parties, various ceremony and reception locations to choose from and we provide the tables and chairs for your event. We even have a per person wine beer package to keep the award-winning wines and beers flowing all night long.
Amenities + Details
Amenities
Bridal Suite

Handicap Accessible

Liability Insurance

Indoor

Outdoor - Covered

Reception Area
For more details about amenities, please message the Venue.
Commitment Ceremony, Elopement, Interfaith Ceremony, Non-Religious Ceremony, Religious Ceremony, Same Sex Ceremony, Second Wedding , Vow Renewal Ceremony
Farm + Ranch, Barn, Estate, Historic Venue, Vineyard
Bar + Drinks, Planning, Service Staff
Contact Info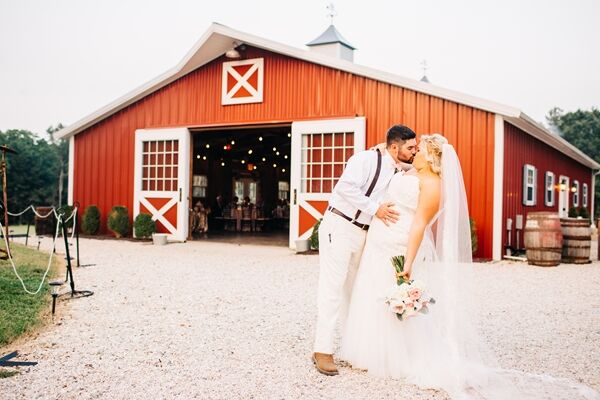 A Night To Remember
Reviewed on

11/10/2014
Emily b
We had been searching for a venue for our wedding for months and finally had the brainstorm of looking at vineyards. We set our minds to New Kent after seeing what many had to offer. Andrea Kephart was our contact at the vineyard and she was amazing. She catered to all of the... Read More details and kept us on track when we forgot something. We did our own coordination, so this was needed at times :) On the day of the wedding, she had everything ready and had coordinated with the vendors to make everything perfect. I can honestly say there is not a single thing I would change about the venue, people, or night. This is a great place to get married and a great staff to help with it!
---
Reviewed on

10/19/2017
Michael C
I emailed Joe Dombroski, the owner of the Vineyard Estate at New Kent Winery, for pricing details for his venue as I'm out in Colorado, and want to host my wedding in my hometown of VA. After asking Joe, the owner, a few questions, he answered the first few, then did not address... Read More my last one (asking about BYOB, catering prices, etc.) and then began sending me a LinkedIn request every week. I currently have 3 from this month alone. I was tired of receiving these requests in my email and let him know that we've found a new venue. He responded by saying, "Sorry you wasted my time. You did not even tour here. Cheers, Joe". I have never been more validated in making a decision. I am SO glad I did not choose this venue! I can only imagine if he would respond to a stranger this way, that he would not treat a potential bride and her family with respect unless you are doing exactly what he wants you to. Additionally, I would have to question the morals of someone who would be so rude over the internet to someone who was simply trying to find their ideal wedding venue (and was very kind!)
---
Reviewed on

10/18/2017
Brittany S
We had our wedding at the winery and it was absolutely beautiful! We had a couple of different wedding planners, but the staff kept track of what we had discussed and made sure the day went off without a hitch. It was pricey, but was worth every penny spent!
---
Reviewed on

7/25/2017
Ashley S
We had a beautiful and near flawless wedding day at New Kent Winery this summer. Everything came together the day of but it was a lot of work to coordinate with the venue and many times they were not responsive for weeks/months at a time. I loved the venue so much I would do it... Read More all over again though. I would advise only booking this venue if you hire a third party wedding planner who is organized and will stay on top of the venue. I went with the venues coordinators at an extra cost and had FIVE different coordinators in the span of a year. The first two were unresponsive and terribly disorganized. The last 3 were amazing but I would have preferred to work with one coordinator and not have details lost in translation. Also, it's worth noting that the venue is not flexible when it comes to the timeline. The "tentative" timeline in your contract ends up being the timeline they stick to and won't flex on.. not even by 30 minutes. My ceremony couldn't begin until 6pm which meant reception began at 7:45 and we had to leave by 11. This makes it about 1 hour shorter reception than other venues I looked at. You don't get access to the venue until 4 and it's open to the public until 5. I decided to rent a hotel suite for getting ready instead of getting ready at the venue because 4 was just too late. Make sure you get the max capacity of the venue written into your contract. One of the coordinators contacted me after I sent out invitations months before the wedding to tell me the venue only seats 120 guests not 175 as was previously discussed. Luckily I only had 110 rsvp or we would've had to use the tent and not the actual venue which I was extremely opposed to. Lastly, the owners change policies frequently. Make sure your contract is solid and outlining all details such as alcohol, costs, timeline, guest count, setup, etc. I had to refer back to the terms of the agreement many times. Overall beautiful venue but difficult to coordinate with.
---
Reviewed on

6/15/2017
Melissa R
We had our April 2017 wedding at The Vineyard Estate at New Kent, previously called the Vintager Inn. The pros of this venue: the site is beautiful and it's easy to fall in love with the gorgeous property and rustic but elegant barn. I do want to say that the pictures came out... Read More beautifully and on our wedding day, the venue was beautiful and everything went off day-of without a hitch. The venue staff set up the tables and chairs as we had requested. We had two venue event staff with us on site who were very friendly and helpful. I never visited the bar but understand that the bartenders were kind and efficient. The small barn had just been repainted and the bride and groom suites had been remodeled and looked very nice. We had no issues day-of. That said, I would not have booked this venue knowing now what incredible frustrations we would encounter in the process of planning. My Husband and I had 4 meetings at the Vintager from first visit to wedding day. Each time we met to discuss the wedding there was a newly hired event coordinator who had none of the information that had been discussed and agreed to with their predecessors. Every meeting was the first meeting. They did not have our vendor list, the layout of the spaces, timing of the day, and the list went on. Conversations that should have happened once had to be repeated, and for a couple who had to travel from out of town to meet in person to get answers and re-litigate details several times, it was a tremendous inconvenience. Our final straw came a week before the wedding. Per our contract, our confirmed head count was due one month in advance, which we provided. At that time, I requested the calculation of our final payment (which was based on a per head count for wine). I emailed and called several times to check in on the final invoice as it needed to run through accounting and the accountant was out sick on our count due date. A bit over a week later, we received the final invoice. The invoice contained an additional charge related to the bar setup which had not been previously mentioned, agreed upon or discussed. In the end, it took me, the bride, getting on the phone with the owner the week before my wedding to explain the reasons why I felt the charge to be un-justified for us to come to a mutually agreeable resolution. At that time, I also had the opportunity to share my frustrations with the many changes in staff, lack of record keeping, and changes to our agreements. The owner remained actively involved in the planning for the remaining week leading up to my wedding. Needless to say, working with this venue throughout planning was not a smooth process. Were I not a professional event planner myself (in a different city) and had I not worked diligently to keep very organized records in my planning, I believe these circumstances would not have been manageable. The venue is beautiful and the staff are friendly in-person. However, I think there are also many other beautiful venues in the area at a similar or lower price point. If you do decide to book here, go in being prepared to have to fight for what you want and make sure you keep meticulous records and have a strong event planner.
---
Reviewed on

6/09/2017
Loved having my wedding at the Vineyard Estate. The property is beautiful and it is the PERFECT location if you are looking for a setting that has both a vineyard AND a barn! The new accommodations to the bridal suite and groom's suite really are beautiful; the decorations/new... Read More paint add even more charm to this picturesque location. Not to mention there is SO much more space for the wedding parties to get ready. Both the groom and I enjoyed preparing for the ceremony in our designated suites. The owners are very sweet and really made sure that our vision was captured for our wedding day. Thanks to the Vineyard Estate, we got everything we wanted and more for our wedding day!
---
Reviewed on

5/31/2017
Lauren C
My recent wedding at the Vineyard Estate was so much fun and the day was beautiful. I was nervous about all of the recent renovations but I ended up loving all of the changes, especially the newly expanded bridal suite where I could get ready with all of my bridesmaids. The... Read More venue looked beautiful and we loved having the chance to take pictures in the nearby vineyards too. Our guests are still raving about the wine package and how good the wines were. We appreciated having the wine package so that we knew we wouldn't run out of alcohol at any time during our reception. I would definitely recommend the Vineyard Estate to future couples who want an easy planning process with a unique venue.
---
Reviewed on

5/30/2017
Jenny W
My husband and I decided on the Vineyard Estates because of the capacity it can hold and the amazing views of the property. We were able to have our ceremony outside, with cocktail hour in the smaller barn and the reception in the larger barn. After we signed the contract, we... Read More had a few bumps in the road. The new owners had just taken over, the staffing was changing a lot, and communication wasn't clear about some details for what was allowed and required. However, the venue had a few things that helped make up for these. The new bridal suite is BEAUTIFUL and makes for awesome pictures. The groom's "mancave" is super cool and my husband had a great time with his groomsmen in there before the ceremony. We also used the venue's wedding coordinator. We went through a few people because staffing wasn't stable at first, but the girls they have working there now are awesome, especially Dana. These ladies made sure that we stayed on time and were there to help with setup, breakdown, and everything in between. Though there was some confusion at the beginning of our experience, with the new wedding coordinators on staff, everything went perfectly! We could not have asked for anything to go smoother the day of, and we appreciate all of their efforts to correct any past problems and make our special day happen stress free.
---
Reviewed on

10/17/2016
Katie
We just had our wedding at New Kent Winery & it was absolutely beautiful, by far the best day of our lives. However, we had several issues with them as a venue. The owner did a great job of selling the winery to us, making us feel like it would be all about our day (& it should... Read More be for how much it we paid between the venue, wine package, & miscellaneous other small things) but once it was booked & paid for, about 2 months out from the wedding, all these things that were originally promised to us (between the 3 different event planners they've had over the last year) were all of a sudden not possible. There is a huge lack of communication among their staff. Our guest count was 150 & I had told them that multiple times yet they still only had 100 chairs set out so my planner & her team were running around like crazy trying to gather chairs as guests are being seated. As far as getting ready, they were not open to us needing to come early to get ready so we could have pictures done pre-ceremony (they do not allow your ceremony to begin until 6 because they are open for wine tasting yet sunset is at 6:30 this time of year so we had no option but to do our first look, bridal party photos, and family photos before the ceremony). This was a big deal for the winery & the day of, when the groomsmen arrived, they felt very unwelcomed by the winery staff. I get that they were open for business and tasting, but I can also guarantee those customers were not spending nearly as much as we did to have our wedding there. I think if they made events feel as if they are more of a priority, they would find out it would be such a better venue experience for all. If it weren't for my wedding planner & her team, it could have been a very stressful wedding week, especially day of. My advice if you want to book here is to make sure EVERY little thing or detail is written in your contract because they are not very flexible and will verbally promise things that they can't follow through on.
---
Beautiful Setting in VA Wine Country
Reviewed on

9/18/2013
Deidre B
NKW is a great venue to consider for your outdoor wedding. The landscape is beautiful and the winery staff are great to work with. They have wedding packages to meet any budget.
---
Beautiful winery
Reviewed on

12/17/2011
Barbara B
My girlfriends took me here for a tasting to start off my night. We actually were able to watch a wedding taking place there while we had our tasting. Great setting.
---
Best Location Ever!!!!
Reviewed on

10/18/2011
Natalie S
We had the most perfect location for our winery! The New Kent Winery is gorgeous with refurbished wood and new. Having the vines and grapes in photographs is gorgeous. We had our entire wedding, ceremony, cocktail hour and reception at the winery. The tent they have is perfect.... Read More A wonderful size with fans inside and two bars.
---