Home

Waterford Event Rentals, LLC
About this Vendor
FREE RENTALS!
WER specializes in chair covers, sashes, table runners, table cloths, and more! We offer fresh new ideas to enhance the overall "look" of your event. Please contact us to schedule an appointment to view our samples! ** MENTION THE KNOT AND RECEIVE 5 FREE CHAIR COVERS & 5 FREE SASHES!!
Details
Lighting, Linens, Rentals + Equipment
Contact Info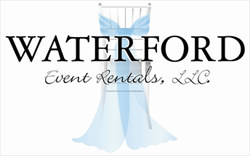 Hampton Roads & More!, VA
Waterford made it easy!
Reviewed on

10/15/2014
Beth L
Alyse was a pleasure to work with! I changed my needs several times leading up to the big day, and I always got a polite, quick response with updated prices. Thank you for your help, WER!
---
I couldn't be happier!!
Reviewed on

10/27/2014
Angela G
Waterford Event Rentals absolutely made my wedding as amazing was it was. I cannot say enough about how great it was to work with Alyse, Rebecca, Amy, and the rest of the staff. From the beginning, Alyse was patient and listened to all of my ideas. She then took my ideas and vision and made them come to life. She guided me with my table cloth and napkin choices and told me what she thought would look good and what wouldn't (which I appreciated)! When it came to the wedding day, the linens are absolutely perfect. They were clean, free of wrinkles, the napkins were perfectly folded, and the sashes on the chiavari chairs were gorgeous. The Waterford staff had great attention to detail, and my wedding planner even mentioned to me afterwards how nice it was to work with them. When I first started wedding planning, I didn't think it was that important to have specialty linens, but after a friend convinced me how important it was to the overall look of the wedding, it was the BEST decision I made. I did spend a little more money than I had initially wanted, but it absolutely made the difference to my wedding decor and I would without a doubt, 100% recommend using this company for your wedding! PS- I was married on 10.04.14, but my profile makes it look like I was married back in 2009...
---
These girls are one of a kind!
Reviewed on

10/20/2014
Holly S
Alyse and her team met every expectation we had for our event rental company! They are so prompt with their communication. Alyse truly knew the vision we had for our day. When we had to add a few linens and alter some thing to our invoice, it was handled with such professionalism and expertise! The day of Rebecca and Stephanie showed up ready to keep me calm and handle all the set up for me. I had no idea how I wanted our napkins to work so Stephanie was so kind to set up a few examples for me which was so helpful. They even showed up with extra linens just in case we needed to switch some color options on a few of my decor tables. The girls are top of the line, and when they say they are the crystal clear vision, they truly are! I will always recommend them to any bride I know! Thank you girls for all that you did to make my dream wedding come alive!
---
Reviewed on

7/23/2015
We rented the chairs for our wedding from Waterford, and could not have had a better experience! The size of our guest list changed many times, and Rebecca was more than accommodating as our order fluctuated over and over again! As a bit of an anxious bride, her quick responses to every email kept me very at ease! And their rental prices were easily the best that I found in the Hampton Roads area. We had so much fun working with Waterford, and we couldn't have been happier with the result!
---
Great service
Reviewed on

6/26/2015
Dana D
We used Waterford for our table clothes, chair covers and charger. Waterford was a great company to work with. They were happy to let me change my mind too many times and didn't mind when I went back to the original choices. They are happy to accommodate any budget. I highly recommend going to one of their events as it really helps to see the fabrics with everything set on them. They were able to set up a day before the wedding. When we say the fabrics there were a few issues but as soon as I called them, they came out that night and fixed it. It came out perfect!! I would happily use them again because they really want your event to be perfect! It creates a no-stress environment. I never had to worry if something wasn't going to happen. They had it covered.
---
Tablecloths and chairs
Reviewed on

5/19/2015
Kylie W
We wanted simple decor for our wedding and did not need anything fancy for the tables, but the lady who helped us was very pushy about trying to upsell chair covers and table sashes which we did not want or need. The pricing was on the high end for the area, but they did provide free delivery to the venue.
---
STUNNING!
Reviewed on

10/17/2014
I never thought finding the perfect table linens would be so difficult. I was in and out of linen shops in search of the perfect color scheme for my big day.The hardest part about picking table decor is the inability to see what it will look like until your wedding day arrives. Not only did Waterford Event Rentals allow me to take a sneek peek of their work at a wedding set-up, but they helped me find the most beautiful, breath-taking linens THREE WEEKS before my big day! They were so patient with me and were willing to throw linen after linen on a prop table to make sure I loved what I picked.The ladies at Waterford Events are sweet, organized, and accomidating. They have a six sense when it comes to wedding decor. I LOVED my table schemes and cryed happy tears the minute I walked into my reception. Ladies at Waterford Event Rentals, you have me as a customer for life and I cannot thank you enough for everything!
---
Quality Linens and Quality Service
Reviewed on

10/14/2014
Erin M
Alyse was so wonderful to work with from the beginning. She sat down with me and helped me come up with a vision for my wedding. She helped me incorporate certain linens while still staying within my budget. Her staff did an amazing job setting up the reception space. The linens were great quality, clean, and in great condition. The linens Waterford provided helped in making my reception space beautiful! I would highly recommend them for any event!
---
Excellent Service
Reviewed on

10/14/2014
Jennifer S
To be fair, I never even saw them on the day of the wedding. But in this case, I would count that as a positive. However in the meetings leading up to the day of, they were professional, they make good use of technology to provide quick responses, and gave us a fair price. The day of everything was fantastic, the linens were of good quality, and clean, pressed, everything you'd expect. Everything on the invoice was provided, they arrived at the scheduled time, setup, and were on their way before we knew it. Excellent rental service for sure.
---
Beautiful linens combined with excellent service
Reviewed on

10/13/2014
Waterford is the company to go to for all of your linen needs. They did my wedding, and I was so thrilled with the excellent service and the great quality linens. All of the employees are so friendly, helpful and kind. I'm an indecisive person, but put out a few thoughts as to what I like and they matched it perfectly. They are very affordable, and the linens come perfectly ironed. I'd gladly recommend them to anyone doing an event!
---
Absolutely Loved Waterford
Reviewed on

10/13/2014
Waterford made my wedding reception the most memorable part of my wedding. The staff was awesome and ver kind, and the onwner was just amazing. Everyone was very helpful and very easy to get a hold of when needed answers to questions. Waterford is very affordable for any type of rentals. I will definitely use them if I need any rentals in the future. Awesome job ladies!!!!!
---
Beautiful
Reviewed on

8/17/2014
Megan J
Alyse and her team did an absolutely beautiful job at our wedding. They took my vision and made it a reality. They were so helpful and professional. It was so easy working with them. They were able to allow us early pickup on our napkins to get them wrapped ahead of time which helped us so much. The price was great. The service was fabulous. I highly recommend them!
---
Awesome
Reviewed on

8/15/2014
Lisa S
Waterford Event Rentals provided the table linens, chair sashes, napkins, and chargers for my wedding on 7/12/14. When I walked into my reception, I was blown away. Of course, I saw a sample when I selected everything, but I couldn't envision how it would look altogether when all of the tables were set up with the chairs and flowers. I never imagined it would be THAT beautiful! But what I really want to highlight is how helpful, patient, and flexible Alyse was. When I first met with her, I had no vision for my wedding. I did not have colors or a theme/style of any kind or a venue or a guest count. Alyse helped me sort out all of that, and after meeting with her, I finally felt like I had some direction. I changed my mind on colors and linen style during the process, and it was no problem. Alyse was very responsive to email and answered all my questions quickly. SO happy with Waterford Event Rentals--highly recommended!
---
Beautiful
Reviewed on

8/12/2014
Karyn B
The ladies at Waterford were great. They worked with our colors and gave us options to pick from. The day of the wedding, they set everything up and made sure that it looked great. We chose to break everything down, but they can do it for you. We would definitely use them for another event.
---
Great Service!
Reviewed on

7/21/2014
Temieka B
Their service was amazing and I'm glad I hired them for my wedding. They did a perfect job in a limited time spot.
---
Affordable and Elegant
Reviewed on

2/13/2014
Dee B
I came in with my sister and friend to get ideas from Waterford. Alyse gave us options of what they have to offer and gave me a quote at the end. I liked that we did not have to wait for it so we can weigh our options. They will set up, breakdown, and rent their services for you all at an affordable cost while providing an exceptional response time. The discounts offered helps as well. Our wedding is in July 2014 and we can't wait to see the results. Prior to us signing the contract we have already started referring our friends to them that are getting married this year. We originally found them on WeddingWire.com and are happy with our decision. We didn't want to go with anyone else!!
---
They Are the Best
Reviewed on

9/07/2013
Can always count on the staff to be on time, provide what is requested with efficiency in the layout & style desired. Staff is a pleasure to work with. Helpful with selections & design. Linens are steamed to perfection. Various chair ties selection.
---
It was perfect!
Reviewed on

9/06/2013
Laurin R
Alyse and her team did an absolutely beautiful job at our wedding. She listened to what I wanted and totally understood my vision for our decor. Most importantly they were so helpful, professional, and understanding when working around my busy, stressful schedule. It was hassle free working with them and the price was on point, much more than other rental companies I had researched. Definitely recommend!!
---
General Manager - Village Hall & Pool
Reviewed on

9/06/2013
George D
Alyse and her entire crew always do a great job in providing my facility with linens for our wedding events. In fact she has done such a superior job that Waterford is now my exclusive vendor for all our linens. I unconditionally recommend her company to anyone needing her services. They set the tone for the entire event and have hundreds of styles and colors of chair sashes to perfectly coordinate the bride's color scheme for her special day.
---
Bride
Reviewed on

9/06/2013
Angela D
I have used muitple vendors for our weddings and I have to thank waterford rentals for there outstanding job and attention to detail. Not only did Aylse and her team drop off and pick up in a timely manner she also helped me with detailing and planning of the other aspects of the special day. She is not only a rental company but will help you with all the do's dont's pro's con's of planning that special day. SHE IS INCREDIBLE!
---
Wonderful Waterford Event Rentals
Reviewed on

9/06/2013
Shannon A
The linens from Waterford Event Rentals made my reception come to life! Everything was beautiful! They came in on a day off so my dad could go pick up the linens because I missed my pick up day! I could not have asked for better service and quality!! Highly recommended to any bride!!
---
Runners
Reviewed on

8/15/2013
WHITNEY K
I ordered runners through Alyse at Waterford Event Rentals. She was more then helpful! I loved the runners and decided I wanted our cupcake stand and our card box to match them. Alyse let my fiancé and I purchase two of the runners so we could cut them and use them for these projects. They turned out so perfect. Alyse was always available via email and got back to me promptly no matter what time it was. She even emailed to check to see how our projects were coming along with the damask runners. I loved how our reception looked all because of the runners we got from her! The runners were also packaged really nicely which made for easy transportation and set up for our day of planner.
---
Easy process
Reviewed on

8/07/2013
Erin B
I rented napkins and table runners for our wedding. The process was very easy. The quality of the products were very nice. The pick up and drop off were simple. Alyse is super sweet.
---
Greatness!!!
Reviewed on

7/16/2013
Alexzandrea R
I just recently had my consultation and to be honest I was sold on the company before I even got there for the simple fact that when I ended up on that side of the water hours before my scheduled appointment due to unexpected errands I emailed Waterford and with in seconds I received an email with the okay to come early. By the end of the consultation I was more than happy about what came from the meeting. Another thing that amazed me is the fact that they worked with my busy schedule (being im planning my own wedding and full time job AND full time mom) and they have accepted and answered every question I have had. I cant wait until our day comes!!
---
Reception Rentals
Reviewed on

7/04/2013
Valerie B
Waterford was recommended to me by my wedding planner. Alyse was so wonderful to work with and my reception looked so beautiful. They did such a great job. Alyse was very easy to work with and really tried to make me feel like my wedding was just as important to her and made sure everything was perfect. Their prices are very reasonable and they are very reliable.
---
Send Message