Home

Wedding Ceremonies YOUR Way --- Officiant
About this Vendor
Wedding Ceremonies YOUR Way - Since 1996
We have married couples since 1996 in the NW in large churches and small chapels; in our living room, on our deck overlooking a large koi pond or simply sitting in our living room. Whatever your desire, religious or civil, from large to small venues, from complex to simple and sweet ceremonies, it is always up to you. We will send you, JUST for asking, sample wedding vows. If you decide to book, you may cut and paste those vows to your delight, or use your own. With your booking we will GIFT to you a custom and personalized Wedding Certificate. Many details AND reviews are available on our site. I hope to hear from you and set a time we can chat over coffee about you wedding ceremony... I will offer many ideas but in the end it will be YOUR CEREMONY YOUR WAY. Blessings, Mel
Details
Civil Union, Commitment Ceremony, Elopement, Interfaith Ceremony, Non-Religious Ceremony, Religious Ceremony, Same Sex Ceremony, Second Wedding , Vow Renewal Ceremony
Buddhist, Catholic, Mormon, Orthodox, Protestant, Christian, Hindu, Interfaith, Jewish, Muslim, Secular, Spiritual, Unitarian

Contact Info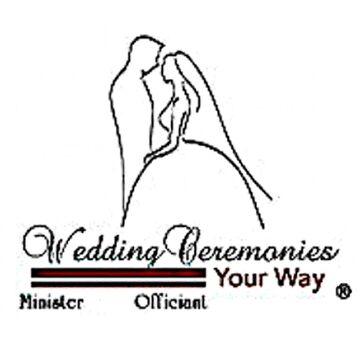 Address
13600 SE 215th Ct, Damascus, OR
Portland metro AND N.W. Oregon and S.W. Washington
(503) 936-9469
WEBSITE
Reviewed on

9/24/2017
Erin H
We are so happy we chose Rev. Mel to officiate our wedding. When I first reached out to him, he sent a welcome email with many attachments of sample vows. Those were SO helpful later, when the time came to choose which ones we would use for our ceremony. Mel invited us to his... Read More home for coffee and a "consultation" (we had already hired him at this point, didn't want to miss out!) to go over which vows we liked best. It was during this meeting that he made suggestions and recommendations to make our ceremony memorable for our guests and for ourselves. I could tell he's passionate about his work, and loves to make sure that the bride and groom are happy and have fun. I strongly recommend Mel for your wedding!
---
Reviewed on

10/05/2017
Crystal O
Mel was so great on our special day! I was in a bind and he quickly and professionally helped us out. I couldn't be happier with our decision! I instantly felt comfortable and at ease - his experience and caring is evident immediately. It's very apparent that he has outstanding... Read More integrity and truly loves what he does. Mel was so accommodating and kind, I would recommend him to anyone! Thanks again Mel:) - we had a perfect day.
---
Reviewed on

7/10/2017
Carol L
We're so glad we chose Rev. Mel. A nicer person can't be found. Even though our ceremony was a little late and Rev. Mel had an appointment he was going to be late for, he didn't make us feel like we were inconveniencing him. He delivered the ceremony in a professional and fun... Read More way. All of our guests kept telling us what a great job he did. I recommend him to anybody who is looking for a great officiant.
---
Reviewed on

10/23/2017
We were so happy and pleased we chose Mel s our officiant he gave me so many choices for a Catholic Church ceremony. Being Filipino he was also able to incorporate traditional veil, cord, harras ceremony . Which was the most important part of my wedding day. Ty again Mel... Read More ceremony
---
Reviewed on

9/20/2017
Jacqualine Q
From the moment we met Mel, we knew right away he would be our officiant. Communication was made easy seeing as we both have similar senses in humor. Mel is very kindhearted and has a "go with the flow" vibe - which proved to be very helpful during my incessant giggling during... Read More our ceremony! We loved Mel, and we had bribed him with Costco hot dogs and voodoo doughnuts to meet our family at the reception. He is a very experienced officiant who you can for sure rely on - and I'm glad we chose him! :)
---
Reviewed on

8/22/2017
Mike F
Mel was the best. His vow samples helped us immensity in organizing and writing our own, which Mel executed to perfection. We were also greatly appreciative of Mel's flexibility to approach the service in a way consistent with both of our values and beliefs. Mel was a calm... Read More and welcoming figure in the craziness that can be your wedding day. Working with Mel felt like working with someone in your own family.
---
Reviewed on

8/14/2017
Kelsey B
I would recommend him any day! Such a nice person and added that perfect touch to our wedding. I can't thank him enough! He was on time, very professional with a great sense of humor!
---
Reviewed on

7/30/2017
Kellie S
Rev Mel is the sweetest. He's been very responsive and supportive throughout the whole process. We have never met him till the day of the wedding. From what I've heard from my guests, Rev Mel has taken the time to greet my guests. He's funny during the ceremony and he caters the... Read More ceremony service according to what we like. We are very pleased with Rev Mel and will recommend him to everyone we know.
---
Reviewed on

7/16/2017
Jamie S
Rev Mel married us in June 2017 and did a great job! He helped us choose vows and was warm and friendly throughout the whole process. Our ceremony was more on the secular side and he was more than willing to oblige. He has many ideas to incorporate and a lot of experience. I... Read More would definitely recommend Rev Mel to anyone as an officiant. :D
---
Reviewed on

7/12/2017
Jared W
Great job for july 8th wedding. He really let us do things our way. He gave us a lot of different ideas and then let us customize. He also was very good about keeping us on schedule before and during the ceremony. Great Job
---
Reviewed on

6/27/2017
E K
He was so welcoming and inviting! The ceromony was sweet and he made it easy to follow and less nerve-racking. Great experience!
---
Reviewed on

10/13/2016
Melissa F
We knew Mel was right for us after our first meeting! He is so kind, and was willing to work with us every step of the way. He was very respectful towards us, as well as our guests. He is professional while being personable. We definitely recommend Rev. Mel!
---
Reviewed on

9/27/2016
Cheryl M
We ended up without an minister 4 days before our wedding. I contacted many officiants but none of them could or would accommodate a last minute wedding. Even though Mel had a wedding just an hour after ours, he performed our wedding beautifully and exactly the way that we... Read More wanted it to be. He never made us feel rushed and included some additional very nice gestures as a part of the ceremony. I would highly recommend him!!
---
Reviewed on

9/17/2016
Mackenzie T
Mel was a great officiant. After interviewing a few other officiants we determined that Mel was by far the most helpful, friendly, kind, and welcoming person we could choose to marry us. Our ceremony was meaningful and amazing thanks to him. I would highly recommend choosing Mel... Read More to anyone looking for an officiant!
---
Reviewed on

9/02/2016
Liliya Y
We are so happy we found Rev Mel! Our initial meeting with him was such a blast I can't imagine picking anyone else. He has a great sense of humor, a fantastic voice for the job and so many stories we just wanted to sit and listen to him all evening! Plus, he serves you... Read More delicious coffee if you meet at his house (which BTW is full of many neat art pieces with stories of their own). Rev Mel provides you with many options for the vows (I called it a "script") to get you started and get the ideas flowing, and is truly open to doing the ceremony YOUR way. The day of our wedding was HOT! but he did a great job and everything flowed so smoothly. He remembered all the details we had requested and overall it was just a perfect, short, beautiful ceremony.
---
Reviewed on

8/25/2016
Rev Mel was amazing, he went above and beyond to make our day perfect... <3
---
Reviewed on

7/18/2016
When Rev Mel arrived at our outdoor wedding he immediately brought a peaceful calm. We had a traditional Christian wedding and he did a beautiful job. It was an amazing moment for my wife and I and Mel was just the perfect person to give us our moment before God. While... Read More standing with Mel waiting for my bride to walk down the isle I whispered to Mel that I needed to get into control of my emotions, his reply was, "Why would you do that? Let your emotions show" Those simple words helped me to have a moment with my wife that we will never forget. I highly recommend Rev Mel
---
Reviewed on

5/29/2016
Debbie S
Rev Mel officiated my daughter's wedding in Stevenson, WA. The couple was offered choices for the vows and the ceremony turned out exactly how they wanted it to be. Rev Mel was great to work with, showed up early and performed a wonderful ceremony. I recommend contacting Rev... Read More Mel if you are looking for someone who will care about you and your family.
---
Reviewed on

2/08/2016
Sasha C
Rev Mel made our day, literally! After our Pastor herniated his disc two days before our wedding, I was blessed to find Rev Mel! He did a wonderful job and was available at short notice. I would recommend him to anyone in the area, absolutely fantastic!
---
Officiant and MC
Reviewed on

9/01/2015
Mel was the officiant and master of ceremonies (MC) for our August 2015 wedding. He was quite understanding that we did not want a religious ceremony, and offered many great ideas for how to make it special. He was very organized and made sure we knew what we needed to do. After... Read More the ceremony he 'changed hats' and was the MC for the reception. He has a loud voice and knows how to command the attention of a crowd, so he didn't even need a microphone. He helped make sure we stayed on our timeline, but was still very flexible when we needed it. He's very funny and made a great game out of deciding which tables could go out to the buffet. Many of our guests came to tell us how great he was. Thank you Mel for contributing to our perfect evening!
---
SUPERIOR service!
Reviewed on

9/06/2014
Kari O
I could not have been more satisfied with my officiant. Mel did everything he could to make it as stress free of an experience as possible. I was able to completely customize my ceremony by piecing together different samples that he had. He paid so much attention to the... Read More little details. and he was very affordable!
---
Best of the Best
Reviewed on

11/03/2011
Jennifer W
It took my husband and I awhile to find the right person to marry us but when we met Rev. Mel we knew he was the one! He helped us with so much and made us both feel so comfortable! Call him today and see for you self (HE IS THE BEST)
---
Meet The Owner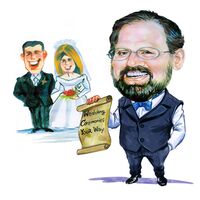 Mel O'Brien
Serving Oregon and Washington couples as an officiate/minister for over 20 years. Please view my website for details and gift for your booking. Free sample vows just for the asking without obligation. Many reviews from the last 3 years can be found on RevMel.com