Home

Wedding Memories Of Omaha
About this Vendor
Personal, professional, modern.
Our cinematic wedding films will bring back memories of your wedding for years to come. Every package comes with an amazing highlights video, edited events from the day and we offer creative pieces such as same-day edits and love stories.
Details
Destination Weddings, Online Proofing, Digital Files, Second Shooter Available, Full-Length Video, Highlight Video, Video, Photo + Video
Contact Info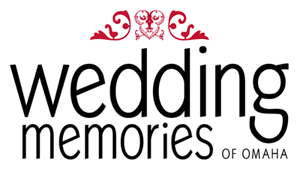 1111 N 13th St, Omaha, NE
Worth every single penny
Reviewed on

7/21/2015
I had always known that photography and videography were a huge part of a wedding, and that it can take up to a huge part of the budget too! When we got engaged we decided to pick the 4 most important things to us for our special day. My top pick was videography!! I looked at a lot of options and I loved all of the work that Wedding Memories had posted on the website. I went in to have a consultation with them and I was so comfortable. They laid out all of my options for packages and pricing, and showed me an example of each. I did not feel like I was pressured in anyway. We decided to go for the Diamond package with a Same day edit add on. The company was extremely easy to work with and I even received a discount for paying in full (5% I believe) A week before the wedding, they called me to go over the schedule of the day and to talk about what we really wanted out of our videography experience. I felt so comfortable and we completely trusted them. The day of the wedding arrived and they were filming shots here and there, but it felt like they were there to celebrate with us. They followed us around for photography and even made us laugh! They were always open to ideas and they had really great ideas themselves. We were never looking for them, they were just hidden in the back ground capturing amazing footage! We received our videos about 2 months later and we watched them and just relieved the day all over again!! I loved that we could re-live the vows that we wrote to one another and be able to talk about what we were thinking about when we were listening! I am beyond happy that we will have this footage to carry with us throughout our lives!
---
Remebering our day!
Reviewed on

12/17/2013
Lana
Wedding Memories did an excellent job capturing my special day. So much is going on on this busy day, that you tend to forget a lot of the details. Being able to sit back and watch the events unfold is something that we will cherish forever! We chose to upgrade our package for the same-day edit. It was worth it. It is my favorite part of our package. It was played at the ceremony and was amazing not only to us but all of our guests. Thanks again Wedding Memories :-)
---
Wedding Video
Reviewed on

6/22/2015
Molly H
We had a wonderful experience with Wedding Memories of Omaha. They were very professional and easy to work with. We had a lot of fun shooting our love story with the staff. We are so incredibly satisfied and impressed with our final product. They are talented and captured an amazing video of our special day.
---
Amazing Videographers
Reviewed on

2/26/2015
Ally N
Wedding Memories of Omaha did an incredible job at capturing our big day. They arrived early, and stayed late into our reception. I highly recommend the same-day-edit. We showed it at our reception, and our guests were blown away at the quality of the video in such a short period of time. Hands down best wedding video I have seen as well!
---
Very Satisfied
Reviewed on

12/06/2014
Wedding Memories were great to work with throughout the entire process. We used them to complete our love story and they did an amazing job capturing the entire ceremony and key pieces of our reception. The Deliverables were very satisfactory and I couldn't imagine not having a videographer of this caliber for our wedding experience. Everyone on staff from the sales team to the production crew were very easy to work with and went above and beyond for us on more than 1 occasion. We were very appreciative and happy with their work.
---
Great videographers
Reviewed on

6/19/2014
Steffany S
They have really great ideas and produce a great product! They were there for me every step of my wedding day :)
---
the best thing to do for your wedding
Reviewed on

2/28/2014
Chalsea H
Wedding memories of Omaha were AMAZING!! Everyone we worked with was super professional and helpful. Our video turned out great and it is honestly my favorite part of our wedding memorablia. I was hesitant to get a videographer due to the cost, buthinestly they are worth every penny.
---
Look No Further
Reviewed on

12/11/2013
John P
My wife and I knew that we wanted a Videographer for our wedding from the moment she said "Yes"! She had an idea of what she wanted, and did lots of research into who to work with. We finalized with Wedding Memories of Omaha, and now that the wedding is over and we're able to sit down and re-watch the entire day, we couldn't be happier with our choice. Planning weddings is -- not can be, is -- stressful. Mark and his team though were extremely easy to work with and did not really add any additional work on our end. We gave them some examples of other wedding videos that we enjoyed, and explained the style of wedding that we were having, so they could get an idea about the big day that we were planning. On the day of the wedding, we had a team of two Videographers. They were present, but not in the way, which is perfect. Their professionalism with us, the photographer, and the staff at our location was evident and helped relieve some stress of having so many people to worry about. My wife asked them to capture a few items in particular, which it turned out they had already done. On the ball! Our wedding was on a Friday, and they arrived around 11:30, and stayed through the end at 11:45. Can't ask for more than that! Post-wedding, Mark stayed in contact to keep us aware of the progress being made, so we were never really wondering how much longer. This was big as both my wife and I were anxious to see the video. Mark worked with us to perfect our "highlights" video as we wanted it. They were able to go through their footage to add or replace a few clips even. This was done promptly and Mark never once put off that he was annoyed by our back-and-forth! After that, it was a few more weeks to get the full-length video back.. Impressive turn-around considering our wedding was early June in the middle of their busy season. We went with the mid-tier package, which was one of the better prices we saw for the service we were receiving. Very, very fair pricing. The products that we received were extremely well put together and of high quality. All in all, we ended up with a flash drive for digital copies, 4 standard copies (parents and such), 2 blu-rays (one in a blue case which I found genius, and the other in a very nice "wedding-ish" case....think white and frilly). As for the videos.... Everyone we've showed loves the videos, and are very impressed with how they turned out. Your team did a great job of catching the spirit of the day, and then editing it into something that my wife and I will enjoy watching for years to come. The day flies by, so it was fun to get a reminder of some of the little things that happened. We also are looking forward to the day when we can sit down with our own kids and watch it. Weddings aren't cheap, but this is one item/service that we knew we wanted and were looking forward to seeing how it turned out. Wedding Memories of Omaha has provided a truly unique and cherished treasure from the biggest day of our lives. For that, I am extremely grateful. Good luck in all your wedding planning!
---
Wedding Memories of Omaha
Reviewed on

10/03/2013
Lisa D
Wedding Memories of Omaha received five stars in service, quality, and value from this bride -- er, wife -- because I was treated with the utmost respect from the day I connected with Mike to make a video of my wedding. I was 100 percent set on having a videographer. My husband, on the other hand, needed some convincing. That's a lot of money when weddings are already insanely expensive. Let me just say that the video we received was worth every penny, even per my husband! And I'm not just saying that. It's invaluable. That's a pretty general review about making the commitment to "splurge" on the video. Specifically why WMoO rocked the day of my wedding: warm personality; meticulous attention to detail; he's done 1000 of these prob, yet he was excited about OUR day; stayed very behind the scenes; great, professional chemistry with my photographer Why WMoO's service after the sale rocked: well, the video, duh. We watched, and I cried. I called my sister to come over at midnight because I wanted to watch her watch it. My husband got a candid picture of us while she was viewing it for the first time, we both had our hands on our hearts. I mean, he captured the ((true love)) of the day; the vows will not just be in our memory, we can listen to them anytime we want... or need; he captured my dear gram signing the guest book, my sweet nieces making silly faces at the photographer, my adorable step-daughter flower girl's dancing spirit, the sensitivity and truly loving looks and words from my husband, the closeness of my mom and sisters and I... the list goes on and on, and still gives me chills. He's very focused on making those special details be the video; we received the video in my inbox very timely (less than a month); cute, vintage packaging. All in all, it was an amazing experience -- my favorite investment to date! -- and Wedding Memories of Omaha exceeded my (very high) expectations. I would recommend them to any bride who wants to remember their day in the most upbeat, positive, and modern way. Choose Wedding Memories of Omaha, and I promise you won't regret it. See for yourself. Here's our video. http://vimeo.com/67366926 Enjoy your day, beautiful brides!
---
I CAN"T SAY ENOUGH ABOUT HOW MUCH I LOVE MY VIDEO!
Reviewed on

10/03/2013
Jasmine G
My husband and I were married August 3rd and recently received our wedding video and we absolutely love it! Alex was our videographer, he was fantastic! He introduced himself early in the day and honestly I don't remember seeing him after that (and I mean that in an extremely positive way). He was able to capture all our special without disrupting them. He really captured the feeling of the day. The editing of the video is great. He kept it upbeat and youthful because we are in our early twenties and so was the rest of our bridal party. If you are on the fence about hiring Wedding Memories or not sure if it's worth the money DO IT! They have been a dream to work with and are so creative and professional. I think you will regret it if you don't hire them to capture your big day. I know my husband and I will cherish our video forever. After the first time we watched it my husband turned to me all excited and said "I can't wait to show this to our kids!" (We don't have kids and are planning on waiting a couple years until we start trying lol) Thank you Alex and the rest of the Wedding Memories of Omaha crew! You guys are great and we can't thank you enough for being a part of our special day =)
---
Wonderful Video and Staff
Reviewed on

10/03/2013
Meg T
We were married on June 22, 2013 and had Alex as our videographer on our wedding day. What a great video he shot! He was extremely professional and managed to get great shots of our big day without being at all intrusive or even hardly noticeable. He even collaborated with our photographers to ensure as much of the day was captured. We let Wedding Memories of Omaha choose the music and creative theme of the video and it exceeded our expectations. We would certianly recomend having a videographer, especially Wedding Memories. -Meg
---
Best decision ever!
Reviewed on

10/01/2013
Beth H
I'm SO happy I chose Omaha Wedding Memories to video my wedding! They were very professional, I didn't even notice him on the day of my wedding. My highlight video brought tears to my eyes when I watched it! He included small details that were very special to me and moments I want to remember from my wedding. I will absolutely treasure this video forever. I'm SO pleased with my decision. I couldn't be happier!
---
BEST DECISION EVER!
Reviewed on

9/30/2013
Lauren F
Wedding Memories of Omaha was an absolute pleasure to work with! Our videos came out better than we ever could have imagined, and we're still getting gushing compliments from family and friends! We currently live in Iowa, but my entire family is in Hawaii, where we got married. Because most of my family has never even visited the Midwest, we wanted to be able to show them a little piece of our lives. To do this, we decided to have WMO film a "music video" of sorts, set to our first dance song, and showing us in and around our home here. WMO spent the whole day with us at our home, our favorite lake, and in downtown Omaha. The video came out better than we could have ever imagined! Mike and Alex, our videographers, felt more like old friends than vendors. The whole process was incredibly fun for us. Because we were so happy with our first dance video, we actually decided to have WMO film our wedding as well (we had not planned on having a wedding video at all, but changed our minds after seeing their work). To reiterate...we were getting married in HAWAII. To put it lightly, my parents were nervous about the logistics and cost involved in flying an Omaha-based company across the Pacific. Mike and WMO could not have made it any easier for us, however. Even after travel expenses, WMO was STILL the most affordable option for us!! And most importantly....our video is AMAZING!! Mike truly went above and beyond to not only help us capture and remember our special day, but he also got to know us as a couple, and was able to capture our true selves on film. Wedding Memories of Omaha was an absolute blessing for us, and any bride would be crazy not to give them a call!
---
AWESOME!!!!!
Reviewed on

8/29/2013
Jenny S
We could not have picked a better videographer to work with. Carrie filmed our whole day and Mike did our same day edit. We got so many compliments about our same day edit and how people thought it was so cool to see things that happened a couple hours ago. We recieved a copy the day of and I still watch it almost every day. I can't wait to get our highlights video back :)
---
Our Favorite Wedding Vendor
Reviewed on

8/22/2013
Amanda G
Hiring them was without question the best decision we made during our wedding. Besides our wedding highlight video, we did the Love Story, the get ready footage, the same day edit and played them at our reception and our friends and family are STILL raving about it, worth every penny and then some. They were so fun to work with and our wedding party loved having Mike as part of the day, he fit right in. The quality and of the video is incredible, it's like a movie, they do such great work and at a really good value. You have to use them!!!
---
Simply put...Amazing!
Reviewed on

8/21/2013
Misty L
I always knew I wanted a videographer to capture my wedding, but I was always worried about the "cheesiness" of some wedding videos. I will tell you right now, this was FAR from the case with Wedding Memories of Omaha. From the love story shoot, to the moment when we got to view our same-day edit everything was above and beyond what I could have asked. Colin was outstanding. He was patient, kind and wildly talented...then, just when I thought the whole experience couldn't get any better, Carrie came along. She did the editing portion of the video, and I honestly believe that she must have magic powers! This girl came and pieced together the most beautiful wedding video I have ever seen. She highlighted all of the most wonderful moments of the day...and I will say that, as a bride, you will want those moments documented. You will be so busy on your wedding day, that you wont have time to watch the beauty that is unfolding around you. Our wedding video is truly priceless, and I will recommend this brand to anyone who is getting married. Simply AMAZING!
---
Eh??!?
Reviewed on

8/19/2013
Dessie H
We are disappointed with our overall video. However, our highlights video is pretty good. We got the Platinum Package and did the add-ons with the "getting ready" footage and the "guest interviews." The amount of guests that were interviewed were so disappointing to us because they interviewed 6 people and 5 of them were from the brides side. Only 1 on the grooms side. My sister is getting married next year and I will not be recommending Wedding Memories to her and her fiancé. In conclusion, their prices keep increasing and their services and quality are decreasing. We are disappointed.
---
Worth every Penny!!!
Reviewed on

8/14/2013
Hilary S
Planning a wedding is an expensive and sometimes stressful time. However, having a videographer was something I knew I wanted to work into the budget, and it was definitely worth every penny! We love our wedding highlights video and now have an amazing keep sake to re-live the day for years to come! I highly recommend wedding memories of Omaha as well. They were affordable and very easy to work with. Julie kept in good touch and helped to work out all the details leading up to the wedding, and Carrie and her assistant we're so fun, and awesome to work with the day of! Couldn't have asked for a better experience :)
---
So amazing!
Reviewed on

8/14/2013
Lauren W
My wedding was very low budget, so I had to convince everyone putting in money that a videographer was necessary. None of them knew it was until we received our highlights video! It had us in tears, it was so beautiful. I wanted to get the more expensive package but am so pleased with what the wedding memories team came up with for us at such a great cost! My family now says they understand why I wanted to get the bigger package, based on what we got in the Highlights only package. We are so happy with the outcome! Our family and friends said it was like a mini movie, and many who weren't able to attend said they felt like they were a part of our special day. They really were able to capture the spirit of the day (the good parts)! Our wedding was outdoors, and after the ceremony and dinner, everyone got poured on in a rain storm! Our videographer was so helpful in all the chaos and had such a great attitude throughout changing locations and transporting everything across town. He even helped our DJs bring in equipment from the rain. I am more than impressed with the customer service and talent this company exudes. I will definitely be recommending them to any future couples getting married, they were worth every penny. I can't wait to share this with our children someday and keep the spirit and happiness in our hearts by watching the video any time we desire! I really just can't say enough how much we loved and appreciated the talent and service we received from Wedding Memories of Omaha. You won't be disappointed!
---
Best investment we made for the wedding!!
Reviewed on

8/04/2013
Megan P
Investing in Wedding Memories of Omaha was without a doubt the best decision we made for our wedding. Mike was so easy to work with, plus he was able to customize a video package that met our needs. We had such a great time with him and had no problem being at ease and ourselves on our special day. Since we've gotten our video, we have watched it countless times and every time can't help but tear up. Having the highlight video is so priceless, it captures the essence of the day and brings us back to the best time of our lives. Words can't explain how thankful we are to have this meaningful and beautiful video to remember our wedding day for the years to come!
---
Amazing
Reviewed on

7/30/2013
Janay C
One of the top things that I definitely wanted was a videographer at our wedding. My husband didn't think we needed one at the time but after watching what Wedding Memories of Omaha put together for us he definitely is glad we had one. Michael and Alex were great to work with and they did such a good job. They knew exactly what we wanted and everything turned out great! I would definitely recommend Wedding Memories of Omaha to anyone that is looking for a great videographer. They captured all the perfect moments of our big day and made them into a video that brings back all the happiness and love from that day. Thank you so much guys!
---
Creating A Love Story!!
Reviewed on

7/29/2013
Hayley O
Wedding Memories of Omaha did an incredible job capturing our wedding. The highlights video is unreal, it felt like watching someone else's beautiful love story! I really can't get enough of it. Every single person I worked with was phenomenal and the videographers were extremely comfortable and fun to be around. I couldn't have asked for a better experience working with this vendor!
---
AMAZING!
Reviewed on

4/20/2013
C M
Hiring Wedding Memories of Omaha was one of the best decisions my husband and I made about our wedding. Carrie did an absolutely amazing job with our video. The highlights video is spectacular. I've had so many friends and family tell me how much they love it. It had all the special moments that we'd want to remember forever. http://vimeo.com/62949446 here is the link to our highlights video. They have others of youtube and vimeo on their page. I would absolutely recommend Wedding Memories of Omaha to all of my friends.
---
Exceeded expectations!!!!!
Reviewed on

1/08/2013
Megan S
We did the highlights package and were completely blown away when we got our DVD. Their work was so amazing I called back to ask for more footage. This was some of the best money we spent and I would say a must for every wedding!!!!!!
---
AMAAAAAZING
Reviewed on

11/02/2012
Abby W
We were referred to Wedding Memories of Omaha through a high school friend. I was iffy about spending that kind of cash on a video but after talking to all my friends who recently got married that didn't have a videographer, I knew I had to have one. I did my research and talked to several videographers and Mark was our fit. Our day went so fast that I am so very happy we went with a videographer and now I have a video of my wedding, reception, and stories from our guests! Mark and his team were great the day of. Had many pointers for this 'first time bride' and I appreciated their input. This is one thing you definitely need for your wedding and these guys are the best! You won't be disappointed!
---
Send Message