Home

When In White
About this Vendor
When In White, what will you be?
When in White Wedding & Event Planning is here to ensure that every moment of your special day is planned and executed to fulfill your wedding dreams. With packages ranging from party/shower planning, day-of wedding coordination, and full service wedding planning, we are sure to offer the perfect option for you. Located in Charlotte & Raleigh, NC with ability to travel, When in White is the perfect option for your Carolina wedding affair.
Details
Engagement Party, After Party, Bachelorette Party, Bridal Luncheon, Bridal Shower, Day After Brunch, Rehearsal Dinner, Welcome Party, Rehearsals + Parties, Ceremony, Cocktail Hour, Reception, Rehearsal, Wedding
Destination Wedding Planning, Destination Weddings, Day-Of Coordination, Full Service Wedding Planning, Planning
Reviewed on

6/22/2017
Lauren W
Sidney and Paige were amazing!! I had a ton of questions throughout the planning process and a lot of tedious decor for them to set up and they pulled it all off with a smile! I really enjoyed working with them and truly can't believe they don't charge more for their services.... Read More They're very helpful and ultimately did a better job than I could have ever imagined. Hiring them was the best decision I made!
---
Reviewed on

8/03/2016
Emily Y
BEST DECISION I MADE FOR THE WEDDING! I'm an organized person, so I elected to do the "day of coordination" package. These girls went above and beyond what I expected for that package. 2 weeks prior to the event, they took care of majority of my last minute details. They... Read More were rounding up my vendors, confirming times and taking charge. They also gave great advice for decisions that I was too exhausted to make by the end of it all. They put all my decorations together the day of, made sure everyone and everything was where they were supposed to be, and even dashed to fix my bustle as it kept falling throughout the night. Sydney & Katie were amazing and the price was crazy reasonable. Would do it again in a heart beat! Probably will use them for future non wedding events too!
---
Reviewed on

7/18/2017
Alice T
Sidney and Paige did an awesome job helping me day of. They were on time and gave great input and advice.
---
Reviewed on

6/17/2017
Dawn M
We chose the day of services and I was very happy with the service we received. Everyone that I worked with was very helpful and easy to work with. When in White contacted all of my vendors and had an arrival schedule so everyone knew when they should arrive and was directed to... Read More where they should go. Sidney took care of making sure all of the decorations were out. All I had to worry about was getting married. Her and her assistant made sure that they guests got where they needed to go after the ceremony and reviews for the cocktail hour were great. Sidney was there the night before to help with the rehearsal as well. She helped to get everyone organized and made sure we knew where we were supposed to be. I do wish we would have gone through the ceremony with the music so that they timing was better planned. We were a bit off the day of but it was really cold and windy that evening and everyone was freezing so I understand the reasoning. I would highly recommend When In White if you are looking for a wedding coordinator.
---
Reviewed on

5/17/2017
Molly E
We worked with Amelia for our wedding and I can't say enough about how wonderful of a decision this was. She was absolutely AMAZING. I'm Type A & completely planned on handling things myself to ensure that they were done how I wanted them, but my mom, knowing I wouldn't have the... Read More time or the freedom to move freely in the venue once I had my dress on, convinced me to hire a day of coordinator. Amelia & her team were absolutely amazing. They embraced all the little details I wanted set up and handled and all the little extras I wanted worked into the wedding ceremony day and the reception day (they were two different days & they were completely on board for this). I was seriously not even an ounce of stressed on either day because Amelia had it under control. She allowed my family & I to relax and enjoy the special event that it was. Amelia also caved to my two 4 year old cousins who had already worn us out when they dragged her on the dance floor for a dance. We couldn't have been more thrilled for the break. She was professional, detail oriented, enthusiastic, and had great follow through. I would absolutely recommend hiring Amelia & When in White for your coordinator and if you're on the fence if you need one like I was - the answer is YES! Call her!
---
Reviewed on

4/30/2017
Allison B
Amelia did a fantastic job of making sure everything on our wedding day went smoothly as the day-of coordinator. I was so impressed with the way that she set everything up and made sure everything looked perfect! I was recommended to her by a friend who also used her for their... Read More wedding, and I would definitely recommend her to anyone looking to take some stress off our your planning and coordinating. I honestly wish I had went with the whole package instead of just "day of," as I feel like it would have been a tremendous help. I can't say enough to thank Amelia and the team for helping us make our day go perfectly!
---
Reviewed on

2/14/2017
Jordan G
I could not have done it without these girls! From the moment we met with Katie, we knew without a doubt that we needed them to help us plan our dream wedding. We worked mostly with Sidney, but all of the girls that helped were phenomenal. They felt like old friends and that was... Read More important since we were trusting them with this incredibly important day. I can't say enough about When in White. They made our day everything we dreamed of AND MORE! Thank you from the bottom of our hearts!
---
Reviewed on

11/01/2016
Blair v
Sidney and Katie from WIW, where do I even begin? From the moment I meant these two spectacularly professional, energetic, and knowledgeable team, I knew that our wedding preparation was in the best hands. They are phenomenal listeners when it came to hearing what our vision... Read More was for the wedding and gave guidance on how to achieve that expressed aesthetic. More than wedding prep, Sidney and Katie were always available for questions I had about etiquette spanning from bridal shower thank yous to bachelorette weekend ideas. They truly made me feel special and taken care of throughout the entire process. The amount of time they spent joining me for flower trials, dress fittings, bridal shower organization, and wedding run through can hardly be counted. I felt like I was their only bride when I know that is certainly not the case! When it came to the big wedding weekend, my husband and I were given schedules made by WIW and were consistently checked in on to make sure that we were doing well and if we needed anything. When I say anything, I mean anything. They were prepared for everything and the wedding went off without a hitch and I can honestly say it was the best weekend of our lives. WIW's coordinating services allowed us to just simply enjoy each moment and I can boast that we were never worried or stressed during our wedding weekend. I am forever indebted to Sidney and Katie for giving us the gift of peace of mind that everything that we ever planned, hoped, and dreamed for would be materialized. I don't know if many brides can say that they miss seeing their coordinators but I do! I wish I could give WIW more than 5 stars because they deserve all the stars in the world. Thank you again for the tireless effort and support you gave my husband, parents, extended family, friends, and myself. I love you!
---
Reviewed on

10/31/2016
Sara j
Seriously- I cannot say enough good things! We hired Amelia as our Day of Coordinator. I'm incredibly Type A and planned most of the weeding myself. I felt like we really didn't even need somebody for day of...... DO NOT MAKE THAT MISTAKE!!!!! They handled everything! They... Read More allowed me to be a bride and enjoy the moments that I could since the day goes so fast. They took care of every last minute detail I had forgotten (and some big ones). Without hesitation, they put together, set up and made every vision I had for the day come true. When it was over- I got to enjoy being a newlywed and our friends and family and they broke everything down and had it pretty much completely cleaned. Hire them. Knowing what i do now, they were the most worthwhile cost of our wedding and I would have paid more!
---
Reviewed on

10/31/2016
Sydney M
I hired When In White for day of coordination and it was the best decision I could have made for my wedding! Katie and Amelia were absolutely amazing!! Everything that night went so smooth and they kept us on our timeline. They made sure everything was perfect and did everything... Read More per my instructions to make sure I had the wedding I had always dreamed of and it was more perfect than I ever thought it would be!
---
Reviewed on

10/31/2016
Liz I
Amelia did a fantastic job as our "day of coordinator" for our wedding! We just so happened to get married the weekend of Hurricane Matthew, but Amelia came early and took care of EVERYTHING at our venue so we had no worries. She strung all the lights, set up our tables and... Read More centerpieces, and flawlessly coordinated the whole evening. I absolutely recommend When In White for your wedding!
---
Reviewed on

10/17/2016
Mrs. B
Sidney and Katie did a phenomenal job working with us months prior to the wedding well past the last guest left for the evening the night of the wedding. We strongly recommend that any bride and her parents, groom and his parents, etc. use When In White (specifically Sidney and... Read More Katie) for all their wedding season needs. We utilized Sidney and Katie for the planning of the wedding and reception, bridal luncheon, bridal shower, and bachelorette weekend. They really do whatever is necessary to make the wedding season happy and beautiful!
---
Reviewed on

7/19/2016
Jennifer H
The ladies were fantastic! Made our day a breeze and seamless.
---
Reviewed on

7/06/2016
Melissa D
Sidney and Katie were absolutely wonderful! With all the the drama that ensued from months before to the day of, they kept me calm and focused. The day of they did wonderful, they helped with keeping our wedding party focused ,we all know how that can go, and kept us on the... Read More time line we came up with. Note, I like to keep to a schedule :). Thank you ladies, you were great!
---
Reviewed on

6/06/2016
Krista M
Where to begin....my wedding was on Memorial Day Weekend in Monroe NC and God blessed me with these two AMAZING wedding planners, Katie and Sidney! From the day I met Katie and Sidney I knew that they had everything under control and that I didn't need to worry about anything!... Read More On the day of the wedding everything went PERFECTLY! I did not have a single complaint about ANYTHING! If I did have a question for Katie or Sidney almost every time before I finished asking the question... one of them already had the answer or had already taken care of the issue. These two girls had every detail of the wedding day taken care of, even the minor things that I didn't even think of that they advised me of and had already prearranged. I could not have made it through this wedding without the help of Katie and Sidney! Not only are they both sweet and kind but that have a true passion for their job that glows from both of them that gives you a very satisfying feeling at the end of the day! I cannot thank you both ENOUGH and would recommend these girls to any bride looking to hire a planner for their big day!!!!!!!!!!!
---
Reviewed on

5/26/2016
My daughter hired this wonderful team of professionals as day of coordinators and they were absolutely wonderful. Amelia did a wonderful job getting everyone ready for the big day at rehearsal and Sidney and Katie were so helpful and professional during the wedding and... Read More reception. They handled everything professionally. I can't say enough good things about them, from their recommendations of other vendors to the excellent attention they provided us with. I highly recommend them! Mother of the Bride!
---
Reviewed on

5/19/2016
Tracy C
Found through Facebook and met in person knew immediately would help me so much. I literally worried about nothing on the day of. Was so stress free. They packed and even moved my car to our hotel for us. Was so great. Totally recommend.
---
Reviewed on

5/14/2016
Lauren S
I booked When in White as day of coordinators so that all our families had to do day of was enjoy the day. They were great about making our meeting times and places convenient for me. Day of, you would have thought they planned the whole wedding with how spot on they were.... Read More They also didn't mind having a hands on bride (although I didn't need to be.) We had some issues with another vendor. After Sydney made a few phone calls, it was apparent that the vendor couldn't fix the issues in time. Sydney and Katie came up with quick solutions and no one ever knew the difference. After hair and makeup, I walked out of my suite and truly felt like I was in my own fairytale. Everything was perfect. One of favorite things they did was wear the colors of wedding. It was very subtle and helped them blend right in. They were great at keeping us pretty close to our timeline; letting us know when we were starting to get behind, but never making us feel rushed. At the end of the night, they did a great job helping us have a picture perfect send off. They were making sure guests got their favors and handing out bubbles for the send off. All Adam and I had to do was sit back and enjoy the show. These ladies were truly amazing. It is very apparent that they really do love the wedding industry. I would recommend them to anyone!
---
Meet The Coordinator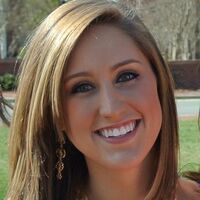 Sidney Kinsella
I'm a graduate of Elon University with a degree in Sport and Event Management and a former Intern for When In White. I'm a people person and I love talking to new people. I embrace new challenges with open arms and I'm not afraid to push myself to overcome said challenges. I make it my mission to use my creativity, organization and problem solving skills to make my Bride's vision become a reality. This is your day and my job is to make sure that you enjoy it by making this process as stress free as possible!