Home

White Traditions Bridal House
About this Vendor
White Traditions Bridal House
Hello, and welcome to White Traditions Bridal House! At White Traditions we strive to provide the customer service that a blushing bride expects and deserves! We would love to help you find the dress of your dreams! Call to make an appointment. We are open Tuesday through Saturday.
Details
Bridesmaid Dresses, Flower Girl Dresses, Wedding Dresses, Dresses, Fashion
Contact Info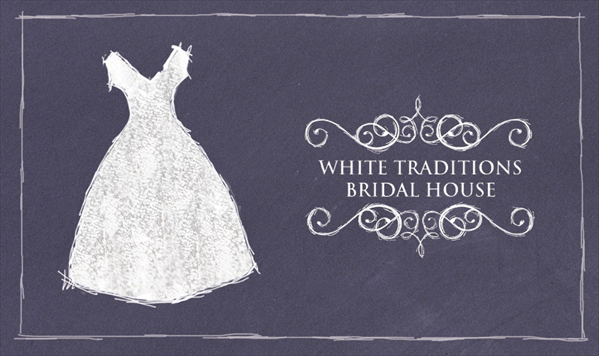 827 N 2nd St, St Charles, MO
Lovely
Reviewed on

6/24/2015
Erin W
I loved the intimate setting of the Bridal Salon, made the experience even better. The employees are all very nice and helpful. They ladies, knew the inventory and helped find the perfect dress for me and my bridal party. Thank you!
---
unique gowns & amazing service
Reviewed on

12/05/2013
Katie O
I went to 2 other places prior to coming to White Traditions and I'm so glad I did. It has a smaller, boutique vibe that is so relaxing to shop in. Not only were the dresses unique and affordable, but Jessica was beyond amazing to work with. She makes you feel very comfortable and definitely wants to help you pick the best gown for you instead of just making the sale. You also get a discount on bridesmaid dresses if you choose to get your gown there as well.
---
Amazing service, great selection!
Reviewed on

11/17/2013
Rebecca M
Best bridal shop experience ever! Jessica is absolutely wonderful. Even when the shop is busy, she makes you feel special and gives you the necessary attention needed! Discounts available for bridesmaids dresses when you buy your wedding dress there.
---
Reviewed on

7/25/2015
Brighton R
My sister found this wonderful shop for us and our experience couldn't have been better. Jessica and her staff are friendly and accommodating and have great taste in the gowns and designers they carry. You will not be pushed to make a decision or limited in the style or silhouette of dresses you can try on. You'll have fun! White Traditions really is a no-pressure bridal salon, and it's extremely likely you'll find "the one" and never have a moment's regret.
---
Reviewed on

7/19/2015
Alyssa N
I can't think of a better experience finding my wedding dress! When I was trying on dresses, they clipped the back so I could tell exactly how it would look in my size. The shop is adorable, beautiful dresses, and they are so sweet and helpful!
---
Reviewed on

7/02/2015
Jayme F
Amazing! The selection is amazing. The staff is amazing. The environment is amazing! These ladies really go above and beyond with customer service. Everywhere else I went, I was pressured to buy buy buy. They are very relaxed here, and want you to find the perfect dress for you. We had our entire wedding party dressed in white traditions!
---
Reviewed on

5/24/2015
Val
I can't express how much I loved my wedding dress and I found it at White Traditions Bridal House. They were incredibly sweet helping me try on gowns and even put in a special order for my dress to get it in as quickly as possible. My wedding was April 18th 2015 but I didn't go dress shopping until November 1st 2014 because my Fiance spent a good portion of October in the hospital. They were the only dress shop who didn't make me feel like I could never have the dress I wanted because I waited too long. Instead, they were compassionate about my situation and helped make sure that my dress was in in time for my big day! I got so many compliments on the dress and I felt so beautiful in it. I highly recommend them!
---
Worth every penny!!
Reviewed on

12/27/2014
Heather D
White Traditions is so awesome!! Every dress is so beautiful and the customer service is outstanding!! I had such a hard time picking out a dress because every one was so gorgeous! And then I finally found a dress I liked but I wasn't crazy about the neckline, so we decided to have them alter it, which made me really nervous because I didn't know how it would turn out. But it turned out amazing!! They were all so nice and very, very helpful!!
---
Amazing!
Reviewed on

11/07/2014
Lauren S
Amazing amazing amazing!! Love this place, almost every dress I tried was in my favorites pile. I always recommend White Traditions to my bride to be friends. Customer service is great and it's such a cute atmosphere at the boutique. Jess is great!
---
Best Bridal Experience Ever
Reviewed on

10/24/2014
Kasey Y
First of all, I can claim to be a professional bridesmaid because of the amount of weddings I have been involved in in the last 5 years. With that being said, I have been to every bridal shop around the St Louis area including White Traditions Bridal House. When we went to WTBH for my friend's dress try on, I knew that when it was my turn I would be getting my dress from there because of the assortment, price point and service. I made one single dress appointment knowing that between my friends, family and Jessica, the shop owner, that we would find THE perfect dress. At that single dress appointment, I went home knowing that I had found THE dress, THE belt and THE veil. Not to downplay the unique style and adorable atmosphere of White Traditions, the service is impeccable. Jessica and her staff make you feel at home, feel comfortable in all the dresses and always provide great feedback. Every bride should get the experience to be pampered like they do at White Traditions Bridal House and I would shout it from the mountaintop (if St. Louis had mountains) that it is by far the best bridal house in the entire St. Louis area.
---
Make this your only bridal destination!
Reviewed on

10/21/2014
Kelly B
I was so happy with the variety and quality of designers and styles, the price point was the icing on the cake. I found my dream dress during my first visit. The staff was extremely helpful and made my entire experience stress free. I was informed when my order was placed and when it arrived, well before the scheduled date which was an added bonus! I have been followed up with personally by staff after my wedding, which I found a very nice and professional touch.
---
Perfect Bridal Salon
Reviewed on

10/21/2014
Laura K
I recently visited White Traditions Bridal House to find my wedding dress. After first visiting a bridal store chain and not finding what I wanted at all, I decided to try a local store - White Traditions. I read the online reviews and booked an appointment. My shopping experience was 100x better here than at the chain store. I received one-on-one attention from the sales associate, and she helped me fit into any dress I wanted to try on. I loved that all of the dresses were out of their bags and not to mention drop dead gorgeous. As a size 14 jean size, I was also happy to see that most of the dresses were bigger and not all size 2. The sales associates made sure I felt totally comfortable in every dress I tried on, even though they weren't quite my size, which I really liked. It gave me a way better idea of how my dress would look on me. I ended up finding my dress after only a going through 4-5 dresses. I paid $1200 for a beautiful Allure gown with Swarovsk crystals all over it. I can't wait for it's arrival in a few weeks! If you are even considering going wedding dress shopping in St. Louis, you MUST go visit White Traditions!!
---
Good luck picking just one!!!
Reviewed on

10/21/2014
monica h
I absolutely loved my dress from here but I think the main reason is because the owner styled it for me by choosing a veil and sash to match and make it my own. I follow White Traditions on facebook now and every dress that gets posted makes me want to get married all over again!
---
I Only Wish I Could Wear It Again!
Reviewed on

10/21/2014
Melissa H
I bought my dress last fall in St. Charles because that's where my grandma lives. My mom, sister and I all met in St. Charles and the four of us shopped for my dress together. We had a wonderful experience at White Traditions and bought my gown from Jessica. I couldn't get the veil that I tried on in the store out of my head, so we called later and purchased it too! After the wedding was over, I told my new husband, Zach, that I didn't want to take my dress off because I knew I'd never wear it again and I loved it so much. So, we sat on the couch in our hotel room and just talked about how perfect our wedding day turned out.
---
LOVE WHITE TRADITIONS!
Reviewed on

10/21/2014
The search for the perfect wedding dress took me to White Traditions in St. Charles, Missouri and I am so glad I crossed the river from Illinois to find this gorgeous shop. From the minute I walked in, I knew it was unlike any other bridal store I had visited. The dresses were unique, there was absolutely no pressure to purchase, and no questionnaire to fill out. I knew immediately that I had found the right place. I received so many compliments on the uniqueness and unusual color of my dress. My family and I had such a wonderful experience at White Traditions and I recommend Jessica and all the wonderful ladies there any chance I get. Thank you to everyone at White Traditions for helping me find THE dress for our Best.Day.Ever!
---
Perfect Bridal Gown Experience!
Reviewed on

9/13/2014
Alicia L
I love, love, love this shop! I was nervous to start gown shopping, worried that I'd be pressured to buy the most expensive thing, or that the experience would be awkward . . . but White Traditions made the experience so stress-free and fun! First of all, the store is beautiful. Second, we had personalized one-on-one service (we did have an appointment). Third, the selection is excellent. Furthermore, I never ever felt pressured. Some places seem to focus only on making the sale, but at White Traditions our associate focused on what I liked or didn't like, and how I felt in certain styles. I shopped around but ultimately my top choices were at White Traditions. I came back and had a really hard time making my final choice between two gowns (and couldn't just come back later because I live far away and this was my last free weekend for dress shopping). Bless her heart, the store owner kept the shop open for an extra hour while I decided, and was so nice, supportive, and just focused on me feeling confident in my choice. I'm so thankful for her patience, because really that was the perfect dress for me! As a bonus, the accessories are beautiful and tasteful as well. I eventually ordered a belt and my veil from WT too! FYI, WT works closely with the tailors at Custom Alterations, and they are fantastic. Custom Alterations is ~40 minutes away from WT. However, 2 days a week the staff from Custom Alterations comes to White Traditions, so that's a convenient option for your fittings! Thank you, White Traditions, for a wonderful shopping experience, and the perfect gown!!
---
Love this shop!
Reviewed on

8/21/2014
Jessica did an amazing job helping me pick out a wedding gown. She gave just the right amount of guidance without being pushy or overbearing. Her gowns are priced very fairly. My only recommendation would be to avoid the alteration team that comes to the shop (terrible experience!). Otherwise, I had a wonderful experience here and have recommended this shop to many of my friends.
---
Soo many to choose from!
Reviewed on

8/05/2014
Claire C
After going to several bridal salons in St. Louis, I did not find nearly the amount of dresses to choose from as I did in this salon! At other salons I quickly narrowed down to 1-2 dresses max that I liked. At White Traditions, my narrowing down point had 8 that I liked! Because I was able to schedule an appointment on a Thursday, the salon was empty and Jessica was wonderful and patient as it took me an hour and a half to figure out the one! We did go back to pick up my dress and figure out accessories on a Saturday and it was packed! So I would recommend to everyone to try and go on a weekday! As a reference, I tended to like lace dresses, though they had a ton of variety!
---
Amazing!!!
Reviewed on

6/23/2014
Heather C
I absolutely loved White Traditions!!! It is a super cute boutique! I went in search of my dream dress. The problem being that I really didn't know what that was. They had a huge selection of dresses in a wide range of sizes, which was very unlike the other 3 shops I had been to already. The service was fantastic!!! The girls were very helpful, and not at all pushy. They allowed us to pull any dress that we liked, and were happy to make suggestions. They were also helpful when it came to trying things on because, of course, wedding dresses can be tricky. They made the entire experience so amazing!!! I would recommend White Traditions to anyone.
---
Fantastic Bridal Shop
Reviewed on

6/10/2014
Kinsey F
This shop provided me with the one on one service I was looking for. It was the only shop I went to and I knew it was the one where I was going to find my perfect dress. All the consultants are fantastic and Jessica, the owner, knew me by name every time I called and went in to the shop. It was great to work with someone so professional, but had a great, fun personality at the same time. On top of that I found the dress of my dreams. Their selection is amazing and they are always getting new dresses in. Wonderful shop and a must see for any newly engaged lady.
---
Perfect Wedding Shop
Reviewed on

11/07/2013
Lauren
The selection at White Traditions was not an overwhelming amount of dresses and they were all within my budget. I was happy to simply select one store where I could try on a variety of dresses within my price range and not be overwhelmed by endless decisions. When my dress arrived they steamed it and placed it in a very nice white zipper bag (not some cheap plastic bag.) I was very happy with my experience at this wedding dress shop.
---
Loved this dress shop!
Reviewed on

10/09/2013
Jordyn S
This is a beautiful boutique-style wedding shop. I loved how the dresses were all hanging without being in their plastic bags. It makes it more inviting to look at each of the dresses. They also allow you to browse and pull your own dresses at your leisure. They are laid back and make you feel very comfortable!
---
Excellent Staff and selection!!!
Reviewed on

9/30/2013
Lindsay R
I can't speak highly enough of the friendliness and willingness of these ladies!! They went above and beyond with their service. They have a wide variety of bridal gowns and bridesmaid dresses at excellent prices! They are quick to assist and are willing to help in any way they can!
---
You'll be sorry if you dont go here
Reviewed on

8/08/2013
Erin M
I cannot say enough wonderful things about this place. from browsing for dresses, trying them on, ther service, and even bringing my gown in for preservation. White Traditions is the place to go! Make sure to ask for jessica!
---
Beautiful Dress
Reviewed on

8/01/2013
Alissa C
This was the only store that I went to look for my wedding dress, and I absolutely love the dress! Jennifer has a lovely shop, and the dresses there are beautiful and affordable. I would definitely refer anyone there. Also, we purchased the bridesmaid dresses there. They also are beautiful! And I was referred to my seamstress through Jennifer, and she was also wonderful!
---
Send Message