Home

William Hendra Photography
About this Vendor
Real Moments. Real Emotion. True Beauty
You can be confident that I will capture amazing photographs while still going with the flow of your wedding day and allowing you to enjoy it to its fullest. I look at every wedding with a completely open mind for everything that happens and love making use of the lighting of the day and different angles of the locations to capture everything in an artistic way. Whether things are moving slowly or quickly, I thrive on searching for and capturing those the awesome moments that you will treasure for years to come. I want you to look back at the photographs I create and recall the full story of your wedding day with all of the anticipation, emotion, joy, and excitement that made it special.
Details
Artistic, Classic, Documentary, Dramatic, Lifestyle, Modern, Vintage
Bridal Portraits, Day After Session, Engagement
Getting Engaged, After Party, Rehearsals + Parties, Wedding
Destination Weddings, Online Proofing, Digital Files, Printed Enlargements, Printed Proofs, Wedding Albums, Photo, Second Shooter Available, Social Media Sharing, Photo + Video
Contact Info

Reviewed on

8/21/2017
Nichole L
Working with William: William was absolutely incredible to work with from the first skype call last summer all the way through the final photograph of our absolutely perfect wedding day. William is very professional and easy to work with prior to the wedding. We spoke with quite... Read More a few photographers and William was an easy pick for us because of his organization and knowledge without the added pushiness. The other thing to mention is that we were planning this wedding from afar and having someone who could remotely make us at ease was really important. In terms of style of photography, he was very flexible and very willing to listen to our preferences. Prior to the wedding, he actually had us put together an album of photos from his previous shoots to give him an idea of our preferred style. I can't emphasize how awesome William and his second photograph Andrew, were on the day of the wedding. The weather was really bad – the wind was blowing very hard (30-50 mph) and it was raining sideways all day. This made taking photos difficult and we had to do a lot of the photos on the fly and we had to change a lot of plans. This is really where William and Andrew shined. They both took control and came up with tons of unique and creative photos both in our chapel and outside in the rain. It can't be emphasized how important this was for us. We were already super stressed about the wedding going well and the weather just amplified all of that. William and Andrew being flexible and creative, while also being calming presences, made our day so much easier and allowed us to enjoy it all. They even spent 15 minutes with us in the crazy rain and wind at the end of the night to get pictures of us under an umbrella. It was just so awesome. The photographs: The photographs that we received from William are absolutely perfect. They are better than anything we could have ever imagined. We have received so many compliments about the pictures already and everyone is just obsessed with William and Andrew. The pictures of us in the rain are just stunning. The way that William took the photos made the white umbrella glow super bright with the rain drops all light up around us. It just amazing and super unique stuff. The pictures of all of our friends and family on the dance floor are also really awesome. I bring this up because prior to our wedding we were a bit worried about having tons of pictures of our friends drunk at the bar and dancing. If that was the case we wouldn't be able to post them on social media based on people's jobs and what not. However, the pictures that William took of the dance floor are really awesome and fun, yet classy. It showed everyone having a blast, but while being tasteful. We appreciated that and I'm sure our friends and family do to! Not only were the photos awesome, but it only took 3 weeks for William to get these amazing pictures back to us. He even sent us a preview photo of us in the rain before we left for our honeymoon. That was awesome of him and allowed us to show off our unique and stunning rain pictures to everyone in Mexico. Conclusions: In conclusion, we really couldn't give someone a higher recommendation than William. If you are in New Jersey and need a professional, talented, and caring photographer, who is also quite affordable, you'd be crazy to not book William. We will forever remember our wedding through the lens of William's camera and we couldn't be happier.
---
Reviewed on

10/16/2017
L S
The best investment of my wedding day!!Wedding- August 5th 2017. William Hendra provided the most amazing photography of my wedding. He arrived early and stayed late. He was professional and made EXCELLENT use of the time. I had a morning wedding and we were always crunched for... Read More time. William made every second count, I have a TON of gorgeous photos. He is worth EVERY penny spent. Everyday I look at our photos and I get excited all over again. His journalistic style is complimented by everyone who sees my photo album. His style is unique and makes you feel like you are center stage at the wedding each time you look at the photos. They look so natural yet so vivid. AMAZING.
---
Reviewed on

7/30/2017
Taylor O
All I can say is WOW. Will was so amazing. My now husband and I eloped, he replied to my original request almost immediately, and had been incredible to work with throughout the entire process! Our photos turned out more than beautiful and I will absolutely be working with him... Read More again. Give him a try!
---
Reviewed on

7/19/2017
Dina M
I'll be honest to say I didn't know what to expect when I initially hired William. Trying to plan a NJ wedding from VA has been quite the challenge so I rely on reviews and whatever I can find online. . I. here to now tell you that angles William takes and the expressions/... Read More moments that were captured is just phenomenal. And do you know what I loved the most? We will hardly even know he was there. He will go about his business capturing things that you never even got to see and memorialized them for you. He is so flexibility. He trekked to multiple locations to capture that special moment. William totally surpassed my expectations. If you want a standard photographer with standard poses, this is not your guy. If you want someone who creates a story in photography, then William is who you should hire.
---
Reviewed on

7/02/2017
Mary M
We had our wedding in Allentown, NJ on May 20th and William and his co-photographer Andrew were there to capture our big day! William and Andrew were both on time and accommodated what we wanted with two different locations and very early times as the wedding started early.... Read More William was responsive and easy to work with from the very beginning. The pictures came out amazing and really told our story of the day. I would recommend William in a heartbeat!
---
Reviewed on

5/30/2017
Jennifer M
One of the best decisions I made for my wedding day (besides of course saying yes and getting married!). William was calm, professional and incredibly easy to work with. In addition, he was very timely in his responses which made us very comfortable, knowing that capturing our... Read More special moments were going to be taken care of. We had a small, intimate ceremony on the beach and the weather was a bit touch and go for the few days leading up- William was so go with the flow if plans needed to change, not to mention just, he just hopped right in with the family to direct capturing some great shots. We also got our pictures back incredibly fast! Thank you to William, we are incredibly happy with the results.
---
Reviewed on

5/08/2017
Lauren A
Can't thank William enough for the amazing job he did capturing our wedding day (and our engagement shoot months before). From the creative posed shots to all the amazing candids that captured all the emotions of the day--our photos came out incredible. William was so easy to... Read More work with, always quick to respond to any questions we had and helped us feel at ease in front of the camera. Thank you for being part of our day!! William and his assistant photographer Andrew are highly recommended for their professionalism and creative eye.
---
Reviewed on

5/08/2017
Colleen G
William exceeded our expectations and our wedding photographs are phenomenal. My husband and I are both fairly awkward people when it comes to taking pictures but even the staged ones came out perfectly and didn't feel forced. William was really unobtrusive, which lent itself to... Read More amazing candid photos. Not only were the pictures themselves gorgeous, but overall, as a series, his photography and use of the natural light reflected the whole vibe and feel of the day perfectly. When I saw the pictures it brought everything back and made me feel like I could remember all of the details of the wedding even though parts of the day were a blur. The thing I appreciated the most was how he captured so many moments like the interactions between the guests (especially with my toddler son) that I wouldn't have noticed or even had the opportunity to witness myself. Since it's probably the only time all of our loved ones from both sides will be in a room together like that, it's really special to me. As far as pricing, you won't find a better deal for the level of talent and quality of work. William was willing to work with our budget and schedule and we were able to enjoy the day.
---
Reviewed on

3/11/2017
Terry L
I wasn't​ ​worried​ ​about​ ​photography​ ​at​ ​all​ ​on​ ​our​ ​special​ ​day​ ​because​ ​William​​ ​​was​​ ​​such​ ​a​ pleasure​​ ​​to​​ ​​work​​ ​​with​.​ ​He​ ​ensured​ ​the​ ​entire​ ​afternoon​ ​flowed​ ​naturally​ ​and​ ​remained​ ​totally stress​ ​free​ ​so​ ​that​ ​I​... Read More ​could​ ​give​ ​all​ ​my​ ​attention​ ​to​ ​my​ ​new​ ​husband!​ ​We​ ​had​ ​a​ ​fairly unconventional​ ​location​ ​and​ ​some​ ​pretty​ ​different​ ​events​ ​to​ ​our​ ​wedding,​ ​so​ ​it​ ​was important​ ​to​ ​us​ ​to​ ​find​ ​a​ ​photographer​ ​who​ ​would​ ​"get"​ ​the​ ​vibe​ ​and​ ​capture​ ​all​ ​of​ ​the​ ​great moments.​ ​I​ ​was​ ​very​ ​pleased​ ​at​ ​everything​ ​that​ ​came​ ​included​ ​in​ ​the​ ​package​ ​from engagement​ ​session​ ​to​ ​travel​ ​to​ ​the​ ​digital​ ​files.​ ​The​ ​photos​ ​were​ ​far​ ​above​ ​and​ ​beyond​ ​our expectations​ ​and​ ​were​ ​just​ ​amazing.
---
Reviewed on

3/08/2017
Olivia W
William​ ​exceeded​ ​every​ ​one​ ​of​ ​our​ ​expectations​ ​for ​our​ ​wedding​ ​day!​ ​We​ ​knew​ ​right​ ​after our​ ​engagement​ ​session ​that​ ​the​ ​wedding​ ​day​ ​would​ ​be​ ​just​ ​as​ ​great.​ ​It​ ​was​ ​clear​ ​how​ ​much he​ ​enjoys​ ​photography ​and​ ​was​... Read More ​very​ ​focused​ ​from​ ​the​ ​morning​ ​through​ ​the​ ​entire​ ​reception.​ ​He was​ ​extremely​ ​flexible​ ​and​ ​never​ ​overly​ ​pushy​ ​about setting up​ ​photos​ ​when​ ​we​ ​attending​ ​to other​ ​parts​ ​of​ ​the​ ​wedding.​ ​He​ ​still​ ​made​ ​sure​ ​we​ ​got​ ​everything​ ​important​ ​though!​ ​The photos​ ​perfectly​ ​represent​ ​all​ ​the​ ​moments​ ​from​ ​our​ ​wedding,​ ​from​ ​fun​ ​to​ ​emotional.​ ​His package​ ​prices​ ​were​ ​totally​ ​accurate​ ​all​ ​said​ ​and​ ​done​ ​and​ ​he​ ​did​ ​not​ ​try​ ​to​ ​upsell​ ​us​ ​on anything​ ​to be able to save our photos and make prints.​ ​He​ ​does​ ​an​ ​outstanding​ ​job​ ​and​ ​we​ ​highly​ ​recommend​ ​him!
---
Reviewed on

3/04/2017
Kristine G
William was amazing as our wedding photographer. We booked him after he photographed a friends wedding and hearing all of the good things they had to say about the experience! We really loved that he was willing to show us some full galleries of other weddings. We had spoken to... Read More some other photographers who just referred us to their website with just a few best images posted - we weren't sure how to judge based on that. He was super easy to talk with any time we had questions along the way about scheduling as well. We received our photos promptly and they all look great!
---
Reviewed on

3/01/2017
Sandy C
William and his team are a superb choice for wedding photography. He took plenty of time to communicate ahead of time so that everyone was on the same page. We received exactly the types of photos we wanted and the entire day ran super smoothly. From our meetings and phones... Read More calls to our engagement session and finally to our wedding he was always prompt and cheerful. We are both a bit shy when it comes to photos but we felt comfortable the entire time (the engagement session helped a lot for this). I love that all of our photos are a real moments and not staged, faked, or cliché in any way. We will cherish the images forever. Thank you William for doing a great job and being part of our wedding day!
---
Reviewed on

2/25/2017
Amanda P
William truly did a fantastic job at our wedding capturing all our special moments! He was flexible and let us enjoy our day while still getting great images the entire time from the hotel through our reception. He was a great value for the quality of his work and had a ton of... Read More really creative shots mixed in with everything else. Those creative ones are what we ended up loving the most and showing off to everyone! He even captured a ton of things that we didn't even know happened which were a ton of fun to look back on. My husband and I are very happy to have hired him and will recommend him to everyone!
---
Reviewed on

2/24/2017
Sally T
William arrived with plenty of time in the morning on our wedding and nothing felt rushed with getting together my hair, makeup, and the dress. In between everything with the girls, he grabbed some great photos of the guys as well. His recommendation for a first look was spot on... Read More and we got amazing portraits right at sunset. Our family photos were super quick and easy thanks to his prior planning. He captured all the moments we ever could want of our ceremony and reception. He sent us the images very promptly and we could share them super easily all with our family. The photos were great, he was great and we are ecstatic with how everything turned out! Thanks for being an amazing part of our wedding day!
---
Reviewed on

2/24/2017
Katy P
William has a magnificent eye for photography and a very accommodating style. We interviewed many photographers who seemed inflexible, wanted to run the entire wedding, charge extra for the digital photos, or seemed unnecessarily worried about family members taking photos during... Read More the ceremony. But, right after our meeting, we knew we found the right photographer. He said he could and absolutely did work around everything else going on at the wedding with ease. Out of all our vendors, he was the one we did not worry about at all. We are couldn't be any happier with our photos, everyone loves them, and all the ones we printed out look amazing!
---
Meet The Owner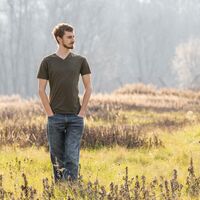 William
From having photographed hundreds of weddings over the past years, I know every wedding day is unique and begin without preconceived ideas of how things should be done. Instead, I make the most of what is happening every step of the way. Looking through past photo sets from years before, I can still recall being at each and every wedding from beginning and end and want you to feel the same way. Outside of photography; I love listening to music from all over the world, have people ask me what breed my giant white fluffy dog is, and walk my daughter to school every morning with her friends.