Home

XL Entertainment Systems Event Lighting & Draping Decor
About this Vendor
"Our Lighting & Draping Make The DIFFERENCE"
XL Entertainment Systems has been providing quality, professional lighting & draping decor to brides and grooms in Orange County, Los Angeles, and San Diego. Our goal for your wedding is the same as yours; to make sure every detail looks EXTRAORDINARY!
Details
Decorations + Accents, Draping
Contact Info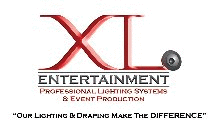 Beautiful Lighting & Draping Decor
Reviewed on

5/27/2014
Stephanie P
I hired XL Entertainment to do the lighting and draping for my wedding venue and it completely transformed my venue and it looked absolutely BEAUTIFUL. They also provided a canopy with a chandelier for my sweet heart table and it was such a beautiful detail to the décor. Also,... Read More Adrian was the person who met with me and he was so professional and was always responsive when I emailed him and he met with me a couple of times at my venue. Thank you for making my venue look elegant and beautiful. :)
---
Lighting & Draping
Reviewed on

8/09/2014
cecilia t
I used XL Entertainment for uplighting, monogram spotlight, and ceiling draping with chandelier. I was very happy with the overall service and quality of their products. Adrian was even able to accommodate a last minute request week before the wedding to setup draping and... Read More lighting for a photo op area during cocktail hour. Adrian is very responsive to emails and was very easy to deal with.
---
Wish I Had Done More!
Reviewed on

10/24/2012
Alex A
Adrian from XL Entertainment was great! I didn't know if I would have the budget to hire him until only a couple weeks before the wedding. His prices were AWESOME! Pretty much double the lights for half the price the hotel was offering. I wish I had even more of a budget to use... Read More some of the other lighting, draping, etc that they offer because they did a FABULOUS job. I almost did not get lights but it made a world of difference. Like I said, I wish I had the ability to use even more services. They were awesome!
---
Reviewed on

8/17/2017
Heather P
Great experience! The team was friendly, kind, easy going, and flexible. The lighting and draping was high quality and transformed the room. The team was very prompt and efficient with set up and tear down. Scheduling was easy, and questions were answered very quickly. Pricing... Read More was fair, as well. All around great experience!
---
Reviewed on

6/23/2016
Kim M
Adrian is super attentive and responses quickly to email and texts. Which is a plus. Our minus was we requested a DVD machine and a screen to play a dvd short that we used in conjunction with our first dance. The DVD machine at first did not work because the remote to get to the... Read More menu did not work. Even with replacing the battery. Then no sound. It took quite awhile to get it fixed. The lighting they provided worked out great and looked wonderful.
---
Perfect
Reviewed on

3/15/2015
Adrian and the crew were amazing! Even though we arranged all the equipment we used from Adrian pretty much last minute, he really took the time to make an appointment and respond to every request. He even took time to respond to every question I had while he was on his own... Read More personal vacation. We used him for our wedding reception for lighting and draping at Brea Community Center and it looked beautiful! The lighting and draping really gave the room the perfect environment for our wedding, I couldn't recommend him more! Thanks Adrian!
---
Beautiful lighting and draping work!
Reviewed on

12/10/2014
Carly N
XL Entertainment's lighting and draping was truly a beautiful piece of decor for our wedding. It really transformed the space and elevated the whole feel of the room. They were extremely professional and responsive and made things really easy. True professionals who wanted to... Read More make sure that they arrived early to set up our event to perfection.
---
Amazing Company To Work With
Reviewed on

12/09/2014
To begin, every couple worries about what could go wrong on their wedding day, as my wife and I did. And sure enough, things happen and most of the time, they are unavoidable. We had issues arise right and left, and we were warned by everyone whom had a big wedding to expect it.... Read More BUT this company delivered 150% with not one problem or concern. So I have to say that XL Ent. and Adrian were very impressive. I was nervous using a company not personally referred by someone I know and trust. But my level of comfort came the first meeting we had at the venue with Adrian, he is a very classy gentleman. His professionalism was pristine, he showed up early and most importantly he set the right expectation from the beginning. My wife and I told him our ideas, he explained what would and wouldn't work. He even gave us ideas that exceeded what we wanted. He even showed us how to save a few dollars in the process, which shocked me. Moving to the day of the wedding, our planner explained his staff was on time, professional, and respectful. They were the first ones there to set up, and they even had someone there to insure everything went according to plan. Upon my wife and I being announced to walk in the venue for the first time by the DJ, we truly experienced the "Wow Factor" as we purposely waited to view the set up. It blew my mind how awesome everything looked. The lights, draping, backdrops, pin lights on the center pieces, gobo lights on the walls in different patterns..etc. I could go on and on how happy I am with the service they provided. Great group of people and I would recommend them to anyone near and dear to me as I know they would deliver!
---
Highly Recommended!
Reviewed on

10/21/2014
Ashley G
We used XL Entertainment for draping for our wedding on 10.4.14 at the Brea Community Center. From the very beginning Adrian was very efficient and responsive! He set up a meeting with us at our venue and took his time going over all the details and options. On the day of our... Read More venue looked absolutely beautiful! Truly looks as good as the photos on his website. And the pricing is extremely reasonable! I was afraid with a large venue (2 91 foot walls) draping might be out of our price range but it wasn't at all and truly transformed the venue. Highly recommended!!!
---
XL Entertainment delivers quality!
Reviewed on

10/13/2014
Priscilla M
Adrian and his team at XL Entertainment are great!! From the beginning Adrian was prompt in responding to emails and inquiries. We saw his work on his website gallery and thought for sure the draping & lighting we wanted would exceed our budget but decided to contact them for a... Read More free quote. Adrian took the time to drive almost 45 miles from his office to our venue to meet with my husband and I. He was punctual, professional and friendly. He looked over our venue and asked us what WE wanted/envisioned, instead of just pushing his services on us; as we experienced with other vendors. Adrian worked with our budget, which not ever vendor does. He gave suggestions as to what would look best for our venue and took the time to speak with the on-site staff to make sure none of the venue rules/regulations were violated. When an issue arose with the venue regarding the decor set-up time Adrian made us feel at ease by assuring us that everything would work out and they would get everything done within the allotted time frame, which they did! The day of the event my husband and I were just in awe! The venue was completely transformed; it was soooo beautiful and elegant!! Adrian and his staff did an amazing job, their lighting & draping truly did make the difference and it was money well invested!!! We also contracted the DJ through XL Entertainment and he was awesome. Angel had our guest up and dancing the night away, he was always very prompt and attentive. We received so many compliments on how beautiful the venue looked and how much fun all the guest had at the reception. Adrian is a true professional which can be seen through the quality of his work!! Adrian, Manny and I thank you very much for making our day extra special and memorable. We have and will continue to refer you to all our friends and family and will definitely go back to XL Entertainment for our next event!!
---
Beautiful Draping!
Reviewed on

7/07/2014
Khassaundra D
Adrian did the draping for my wedding and it was beautiful! It looked exactly like the photos I showed him. He did an excellent job and was very nice. Thank you for helping make my wedding look beautiful!
---
Parents of the bride
Reviewed on

4/19/2014
Anna R
We contracted with XL Entertainment from home in North Carolina for an event taking place in Anaheim California, so you are always a little unsure when you don't have an opportunity to meet with the vendor. However, we couldn't be any more pleased. Adrian was fantastic to work... Read More with. He made great recommendations for lighting and draping that made an otherwise plain hall really stand out. His crew did exactly what he said they would and were very efficient. After they left, we had a concern with the direction of one of the light fixtures. We called Adrian to discuss it and he was back at the venue within minutes to help out. We can't say enough about how XL's help made our daughter's wedding so much more special. If you have any doubts about whether to do lighting at your event, we highly recommend it, and more so, we highly recommend XL Entertainment.
---
AWESOME LIGHTING CO, GREAT PRICE!
Reviewed on

10/16/2012
Ariana G
We hired XL lighting (Adrian) and his DJ crew for our wedding 2 weeks ago. I was more then pleased to say the least on how AMAZINGLY beautiful he made our venue. His motto is right, " Our lighting & draping make the DIFFERENCE". It really did make the venue elegant and... Read More romantic!!!! Everyone was raving about it, not to mention the DJ entertainment hired through him as well. DJ Angel C. rocked the house down. I loved working with both his team & look forward to hiring them again!!! ARIANA
---
Great Work!
Reviewed on

9/12/2012
Stacie I
They arrived early,got it all set up on time. Way better than I could have even dreamed. Looked amazing. DJ did great work, great mash up of songs I like as well as requested. Draping was amazing, pin spots and lighting were spectacular! Adrian and XL Entertainment really made... Read More it happen!
---
their lights completely transformed my wedding rec
Reviewed on

4/09/2012
Sonia G
I was worried that I hadn't gotten enough decor for my wedding reception hall but with the intellegent lighting and the uplighting provided by Adrian and XL Entertainment, there was no need for anything extra. . Everyone keeps telling me how fabulous the room looked. Adrian was... Read More my contact person and everytime I called him he answered and he just makes you feel very comfortable.
---
lighting
Reviewed on

10/14/2011
bernice s
He did a great job was so happy with his service and lighting. He made my venue look so good.
---