Home

Yellow Umbrella Events {Voted Best In TX - 3 Years!}
About this Vendor
Specializing in Private Property & Resort Weddings
Voted the Best Destination Wedding Planner in Texas for the last 3 years! We love family ranches and destination resort properties! Planning a Hyatt Lost Pines Wedding? Check out bit.ly/1uwnSuh first! Talk to Cheryl & Shea at #512-902-2743 - We can't wait to hear from you!
Details
Day-Of Coordination, Full Service Wedding Planning, Planning
Contact Info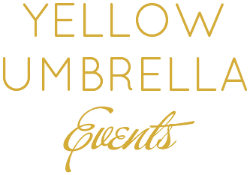 Austin, TX
Austin, Texas / Worldwide
Yellow Umbrella SAVED our wedding and made it PERFECT!
Reviewed on

6/23/2014
H M
Cheryl & Shea Bailey of Yellow Umbrella SAVED our wedding. No, really, they saved our wedding from certain disaster! I hired YUE as a month-of coordinator for our 90 p, outdoor wedding because I wanted to know that if I missed anything during the planning stages, they would fix it with a month to spare. I wanted to be sure that I wouldn't have to do anything on the wedding day except enjoy it. Little did I know how much I would need them, and how miraculously they would out-perform my expectations. From day one, I knew that Cheryl and Shea were at the top of their game. First, they're both a joy to work with, and it's clear that they love what they do. They're very organized, professional, responsive, and detail oriented. They have a lot of experience, so they always remembered the small things that I forgot and were quick with a suggestion if something I had thought of was logistically impractical. Second, they were always very quick to respond to the hundreds of questions I had, and they were very proactive in contacting all of our vendors in order to plan the wedding day down to the minute. That was especially helpful since ours was technically a "destination wedding" because I live in Houston. They also had great insight regarding which vendors to use, and because they had built good relationships with some of the best Hill Country vendors, we got discounted on certain rentals. For absolutely everything down to basic reassurance, YUE made wedding planning as painless as it could have been, and they started working out the details well in advance of the month-of coordination that we had booked. After planning for 18 months, with 2 weeks to spare, YUE's skills were tested to the limit. Basically, our first venue, the Wildflower Barn in Driftwood, became impossible to deal with, and with 2 weeks' notice we realized we had to find a new venue! It was very emotional and frustrating because the entire wedding had been planned around our first venue. But within 2 hours, on a weekend no less, Cheryl and Shea had found TWO beautiful venues that would host us with only two weeks' notice! Fixing our venue debacle became their priority, and they exceed our expectations by finding a gorgeous venue, Blue Rock Estate in Dripping Springs, with far more amenities than our first, as well as by smoothly transitioning all of our vendors, rentals, and the schedule to the new location. When our wedding day finally came, everything was beautiful, and the entire day ran perfectly. Honestly, I have no idea if there were any real problems because Cheryl and Shea kept everything running so smoothly. All of the guests kept commenting about how wonderful and relaxed the wedding felt, and I owe that to Cheryl and Shea. Had it not been for them, their experience, and their connections in Austin's wedding industry, our wedding day would have been incredibly stressful and heartbreaking, venue-wise. I could not have survived the last minute crisis without them, so I implore EVERY Hill Country bride to book Yellow Umbrella for at least month-of coordination. Even if nothing drastic happens during your wedding, the comfort of knowing that someone with experience will take care of everything is well worth the reasonable cost. Seriously, we never thought we would need them as much as we did, but now we're So glad we booked them. So save yourself unimaginable stress and book YUE to ensure that your wedding day is truly the happiest day of your life!
---
Mother of the Bride's Best Friend and Best Secret!
Reviewed on

8/22/2013
Our daughter grew up watching the Steve Martin version of "Father of the Bride". I watched our daughter grow up knowing that I did not want a "wedding planner" when our daughter met the man of her dreams and got married. We would be able to do the planning ourselves. When I got married, I did not have a planner (other than my mother and we did exactly what my sister had done when she got married three years before. Hey! It was a different time.) Our daughter met the most amazing man beyond her dreams and they eventually got engaged. She waded through all the vendors and chose the ones she wanted. I think it was about three months before the wedding that we started to think that maybe we wanted someone to help on the day of the wedding. I was surprised at the prices being quoted for someone to be around to make sure the bridesmaids went down the aisle in the right order and the male wedding party was at the alter before the girls went down the aisle. After interviewing many vendors, our daughter selected Yellow Umbrella Events. We are so happy with that choice! I first met Cheryl and her team when we did the tasting for reception. I was very impressed with her questionnaire and all the details she covered. I cannot imagine going through the rest of the wedding prep after the tasting without having Yellow Umbrella Events on board. She covered every detail and the timeline. The bride and I were both so happy that we had them on our side as we prepared for the wedding. The best part of having Cheryl and Yellow Umbrella Events on our team was the Thursday before the Saturday wedding. We met at the reception venue to go over the details. I was able to hand over clear bins with colored labels of everything from the ring bearer's pillow, my grandmother's cameo for the bouquet,the name cards for the tables at the reception, the bridal portraits, the ribbon wands for the exit from the reception and everything else for the wedding to Cheryl and her team. (I am a planner and organizer professionally.) I was able to take a big breath and realize I did not have to worry about those details again. I was able to be part of the amazing party of people including being with my siblings who had not been all together since my father's funeral five years ago. The team did such a great job with getting everyone where they needed to be the day of the wedding and getting everything ready for the reception. We were just able to enjoy having such an incredible gathering of two extended families and lots of wonderful friends and important people in the lives of everyone associated with the wedding. A wedding is such a an important event in the lifetime of families. It is family history. One family story of thirty years is the wedding where the family had to clean and mop the floor after the wedding. I wish Yellow Umbrella Events had been around then. We would be still talking now about how great the party was instead of mopping the floor!
---
Best wedding ever!
Reviewed on

5/09/2013
Lisa W
My daughter's wedding on April 19 was absolutely wonderful in large part to the collaboration with our wedding planners Cheryl and Shea Bailey of Yellow Umbrella Events. They are insightful, experienced, and direct enough to keep us focused yet creative, thoughtful, and out-of-the-box enough to let our vision truly bloom - and bloom it did! My daughter wanted a rustic garden party at a beautiful ranch venue near Dripping Springs, Tx Her vision: an eclectic combination of down home comfort balanced with vintage elegance overwritten with large doses of fabric, florals, and family quirkiness. Unbelievably Cheryl "got" this vision from the start - and worked with us to make it perfect. She offered opinions, encouragement, and skillfully edited our Knot/Pinterest obsessions :) Countless times she helped fine tune our ideas for the better. If we were stuck on some detail, she would do research on it and find a brilliant solution! For instance, we wanted a friendly welcome but could not quite get the details right. Cheryl's interpretation: a vintage truck, tailgate down, with 3 flavors of lemonade to refresh the harried rush hour traveler. The happy couple left in the truck as well so this solved two problems in great style. Initially we were overwhelmed with vendor choices. Cheryl and Shea's expertise and experience lifted us out of the mire and gave us direction, all the while letting us individualize our selections to fit our needs. They personally attended meetings, followed up with revisions, and worked the logistics behind the scenes. Their reputation with our vendors helped us get the most for this wedding- all of the vendors they suggested proved to be professionals who provided exceptional quality and service. Finally, when it came to the wedding - they were amazingly hands on. I should have said this earlier, but it was an unexpected benefit to have a male perspective/skill set. With so many details, it would have been easy to let a few go, but nothing seems to have been forgotten - down to the special personal mementos placed at each parents' place setting. These two solved the unforeseen and let the happy couple (and MOB) be blissful throughout the day - stress free! Woo hoo! The goal at Yellow Umbrella seems to be making each wedding an event to be remembered for both immediate family and guest. They obviously did their job very well because every day we get comments from those who attended saying it was the BEST WEDDING EVER! Cheryl and Shea - You are truly amazing. Thanks from the bottom of my heart, Mother of the Bride (MOB)
---
Beyond amazing!
Reviewed on

5/06/2015
Molly W
My husband and I don't live in the states, but we did get married there (in my parents' backyard). Our florists recommended Cheryl and her husband (Yellow Umbrella Events) almost immediately when we said we were looking for some help and it was THE BEST DECISION WE EVER MADE!!! Cheryl and Shea were absolutely fabulous and truly made our dreams come more than true...it was such a magical day! And beyond that, they are now good friends. I cannot recommend Yellow Umbrella Events enough and cannot wait to live states-side so we can plan more events and hang out more!
---
Cheryl was AMAZING
Reviewed on

2/27/2015
Michele J
I hired Cheryl as my full-service wedding coordinator. She was indispensable in the weeks leading up to the wedding, throughout the wedding weekend, and over the course of the year of wedding planning. She helped with vendor selection, coordinated with vendors, helped with decor choices, made small money-saving suggestions here and there, kept me on track, kept things VERY organized, and the list could go on. She truly thinks of EVERYTHING down to bringing dinner and dessert to the hotel room for a midnight dinner! Her husband, Shea, was also great. None of the boys knew how to tie bow ties, and he ensured they all looked wonderful on the day of the wedding! I think wedding coordinators are a must-have, and Cheryl was wonderful! Hire her, and you won't be disappointed!
---
The folks at Yellow Umbrella Events are the best
Reviewed on

11/26/2014
Ciri H
The team at Yellow Umbrella Events was so wonderful to work with -- I would recommend them for any couple looking for a little or a lot of help with their own wedding. We brought in Yellow Umbrella after our photographer Lisa Woods recommended them. While my now husband and I were very comfortable doing a majority of the planning for our big day, we did realize very early that we wanted to bring in someone who could help us execute the day as we had envisioned it. After chatting with Cheryl about Yellow Umbrella's day of services and how the team operates, I knew that they were just what we needed. Even though Cheryl and Shae were primarily there for us on the day itself, they prepared a detailed timeline of the event and reviewed the various other vendor contracts, to make sure that all the services were being accepted as they were ordered and the day went as smoothly as possible. It was incredibly comforting to have them be a part of our day -- but most importantly, they really helped us enjoy the entire day to its fullest. From what I had heard from my other friends who had recently gotten married, there was always something that they felt they missed or something that went wrong that ultimately stressed them out. With Cheryl and Shae by our sides, there was no stress whatsoever (which is a tall order for a detail oriented personality like myself) and the day really was even better than we had envisioned it. If anything had gone wrong, our dynamic duo handled it so that we never even knew about it. Even though we only brought them on for day of services, I would highly recommend Yellow Umbrella for any of its services. I'm so thankful that they were involved in my husband and I's big day. We really couldn't have done it without them!
---
Planners to the Awesome is right!
Reviewed on

6/04/2014
Kallie L
Cheryl and Shea from Yellow Umbrella Events were amazing. We found them during our search for venues in Austin. During our first meeting, the two of them completely understood our wedding vision. On our way to the car right after the meeting, my husband said, "We have to hire them." Throughout the entire wedding experience, Cheryl and Shea were there to help us with everything. Even during frustrating parts of the planning process, Cheryl was there to mediate, which was so extremely helpful. They helped us choose amazing vendors and look over their contracts. It felt nice having their opinion and the knowledge. On our wedding day, Cheryl and Shea were even more amazing (if that's possible) than during the planning process. Everything went off without a hitch. Everything I envisioned they made happen. I would happily and confidently recommend them to any bride who is getting married in ANY state. I'd say these two became much more than just our planners in this experience, they truly did become our friends.
---
Details, details, details.
Reviewed on

1/04/2014
Kimberly M
From my first conversation with Cheryl, I knew this relationship would be a good one. Cheryl and her husband have worked in various areas of the service and hospitality business and know their industry in and out. They know the nooks and crannies where evenings go bad and they know how to avoid them with a wide berth. As a type A person, I thought I had covered all of the details that mattered and had put together entirely too many lists and checklists and this and that and the other. When I spoke with Cheryl closer to the wedding (we hired them only for day-of coordinating), I realized how much I had not thought about. Cheryl and Shea brought each of these details to our attention and explained our options, the pros and cons, and offered their opinions based on years of experience. Having never planned a wedding through to fruition, we decided to listen to them. It paid off plus dividends. Our wedding weekend was flawless and beautiful. We were able to enjoy our entire weekend without incident and without having to lift a finger. Everything was organized with such ease and aplomb by Cheryl and Shea that I wish I could hire them to coordinate my life. Alas, I don't think they offer that particular service. At the end of the day, our wedding was fantastically fun, we never wanted for time together, plenty of nibbles, and plenty of drinks thanks to Cheryl and Shea. They coordinated the weekend to ensure we could enjoy it without worrying about a single matter. It was perfect and exactly what we wanted in coordinators. Many thanks to them for masterminding the perfection!
---
Unbelievable Day-of Coordination (and peace of mind)
Reviewed on

11/13/2013
Martha D
Amazing. Helpful. Organized. Kind. Gets it done. Experienced. Fun. We used Yellow Umbrella for the day-of coordination for our small, intimate wedding in the Texas hill country. We worked primarily with Cheryl and Leah and both were amazing. They always were available to provide vendor recommendations, help us navigate any possible wedding planning drama, and created a fantastic timeline for the day of the wedding. One thing I really appreciated was the attention to detail and organization - something which is invaluable in a planner! We truly felt that Cheryl and Leah were invested in our big day. When I got stressed out, they would listen to me and always calmed me down and made me feel better. I think they find a perfect balance between a get-it-done attitude (I knew if something went wrong they would fix it!) but also being genuinely excited for the biggest day of your life. For our big day, Leah and her sister were there. And they were fantastic. They helped everything run smoothly, even when part of the wedding party was late. They kept me calm! Leah was super sweet carrying my dress around while we were tromping around outside taking pictures. She made sure the groom and I had time to eat during the reception, and made sure I always had a drink in hand! I know that wedding planning can be stressful, but with Yellow Umbrella, it was so much better. And our wedding day was absolutely perfect, and I attribute a large part of that to Cheryl and Leah. If you think you don't need at least a day-of coordinator, you're wrong. You do. And if you think you want to go with any other planners, you're wrong. My husband and I say that one of the best decisions we made was hire Yellow Umbrella for the wedding. You won't regret it.
---
Day of Coordinator
Reviewed on

11/04/2013
Tania w
We used their day of services...Cheryl kept the timeline on track and let me enjoy my day. I didn't worry about anything and if something came up it was handled! Cheryl contacted all vendors prior to the wedding and that was really helpful too! She has questionnaire that really helped us put together a timeline that made the whole day stress free...the questions were things I had never thought about but were very important!
---
Rockstar Planners!
Reviewed on

10/06/2013
Katherine M
Cheryl & Shea are the real deal. You couldn't ask for a more prepared and enjoyable team to work with! Not only do they manage your event successfully from beginning to end, but they also have solid relationships with area event vendors to make the overall experience stress-free. They put their heart & soul into their clients' weddings and it shows through their work.
---
Flawless
Reviewed on

7/22/2013
amana b
My wedding day was perfect. I met with Cheryl and Shea a couple months before my wedding. They took amazing notes and knew just what I wanted. On the wedding day, they had everything under control. Little things that you normally wouldn't think of were taken care of. The entire day went very smooth and i have them to thank. When me and my husband got back to the hotel room after the wedding was over, I realized just how hungry i was and out of habit opened the fridge. Much to my surprise, they had put together a plate of food for us. They really think of everything. I would recommend them to anyone with an upcomming wedding.
---
The best gift you can give yourself for a wedding, is a wedding planner
Reviewed on

7/12/2013
Lauren G
Cheryl and Shea are worth their weight in gold. We originally hired Yellow Umbrella as the "day of" coordinators. That quickly changed 3 months before the wedding when my mom and I started falling behind on tasks, and frankly...had no clue what we where doing. We called Cheryl and she sprang into action. From that point on, she handled everything. I had emails of "do you like this or that one?" on a daily basis. Phone calls whenever I needed. Cheryl was so sweet and took care of everything. When vendors wouldn't answer my calls, Cheryl had it solved within 30 minutes. My mom and I actually, and lovingly, gave her the nickname The hammer of Thor. I just love Cheryl. When our caterer went awry 3 weeks before the wedding, Cheryl had a new one lined up and a full tasting in 2 days. When we lost our DJ the day before the wedding, Cheryl told me not to worry, she had it under control. And when we were sawing into the fake tier of the cake, Cheryl was there to tell us "the real part is that tier right there". The wedding was amazing and I loved every minute of it. We jumped in the limo and were starving...of course there were 2 to-go boxes waiting for us. Our reviews from out guests weren't just about how much fun they had, but how they couldn't believe the attention to detail. That was all Cheryl. Everyone should have a Cheryl in their life, and I feel so lucky that I had the chance to. The saddest thing about the wedding being over, was not having Cheryl...I guess I'll have to start planning something else!! =)
---
Two words...absolute perfection.
Reviewed on

5/08/2013
Lyndee B
I'm a florist in the wedding industry and because of this I felt there was a very high level of expectation for my wedding...not only from people who knew our work as florists, but from myself as a creative mind. Eek, it was finally my turn to be on the other side of the table...it was my wedding! :) I knew I absolutely needed someone to help me pull off a dream that had been brewing for some time, and I could NOT have chosen better partners in crime to make my vision, this one night of my life, come to life. Cheryl and Shea...they really are the answer, and they really are a dream team. They were able to amplify the concepts we brought to the table, and they added so many perfect touches that it was hands down one of those events to remember...and we heard this from guest after guest. From a wedding professional every time I see an event coordinated by Yellow Umbrella Events I take notice. They have this flawless level of execution that will help you create exactly what you want, and possibly even more than you could have imagined. From a bride, whoever is reading this, I wish I knew you so I could rave about them in person. They really are delightful duo, and I was so very lucky to have had Cheryl and Shea in my corner. Thank you, thank you, thank you so very much!!! :)
---
Truly the best day of our lives!
Reviewed on

4/20/2013
Katie F
Soon after my engagement came the news of a move outside of the state of Texas. However, I couldn't imagine getting married anywhere else than Austin, TX; where my fiancé and I met and started our lives together as a couple. A little nervous to be planning a wedding from another state, I decided to hire a full service wedding planner. As I researched vedors, Yellow Umbrella Events kept showing up! And once I met Cheryl and Shea I knew immediately that I wanted to work with them. It's not often you meet a married couple who work so well together and truly work as a team! I was pretty specific on the details of my wedding and Cheryl delivered on my vision. She absolutely understood what I was trying to accomplish and suggested the perfect vendors who not only delivered on my vision, but we're dependable, professional and overall fun to work with! I literally felt no stress regarding the wedding details! Months prior to the wedding, my fiancé and I shared our vision for the wedding and the only thing I felt I needed to do was show up! The entire day was an absolute dream! Cheryl and Shea are the most down to earth hard working people I have met in a long time. Beyond their amazing planning and delivery capabilities, I feel as if we have made new friends for life. Whether planning a wedding, a great party or a formal gathering, Yellow Umbrella Events will deliver an amazing experience. I can't thank you both enough for your commitment to making our day so special - it truly was the best day of our lives!
---
MUST USE THESE GUYS
Reviewed on

3/24/2013
Alexandria D
I loved Cheryl and Chea! They made our wedding day perfect! Great service all around. They made my vision come together perfectly. The day of the wedding was stress free and beautiful. Everything was done beautiful and on time,which is huge to me. I will use them in the future should we have any other large events. I would recommend them 10 fold. Its a service you can't do with out. And what better than a beautiful and happy couple. PERFECT PERFECT PERFECT!!! THANKS A MILLION TIMES over.
---
Money Well Spent
Reviewed on

3/13/2013
Donna Q
My son and daughter-in-law planned their wedding in less than 6 months. They wanted to do everything themselves, but with working full time jobs it was impossible. We live 1700 miles away and could not help them other than making phone calls and providing money. I contacted Cheryl Bailey and discussed the event. My son and daughter-in-law met with Cheryl, but were not convinced she was a necessity. Cheryl coordinated the delivery and setup of the food, cakes, DJ, photographer, and flowers. She and her husband Shea coordinated the rehearsal the night before the wedding and were there every step of the way. Cheryl and Shea were at the venue first thing in the morning the day of the wedding to set up. They provided food for the bride and bridesmaids as they had their hair and makeup done, which was a godsend since they hadn't eaten that morning. Cheryl and Shea coordinated and assisted each vendor as they arrived. They made sure the day ran smoothly and were on top of the caterer to make sure there was enough food, utensils and beverages. They made sure the bride and groom had food and beverages throughout the day. There was no way the wedding could have been run that smoothly without them. My son and daughter-in-law now know what an awesome asset Cheryl and Shea were to them. They were amazing!!
---
Avoid!!
Reviewed on

2/20/2013
Sarah x
I decided to go with Yellow Umbrella based on the great reviews and meeting Cheryl. Unfortunately, the day I signed the contract was the last time I saw or spoke with her. We ended up getting handed off to an assistant that did not mesh with our style or take care of the things we had discussed up front needing help with. The day of (and for many after) our wedding we received comments about her inappropriate attire and lack of performance. Overall, it was useful to have someone to help with picking up flowers, making sure everything was delivered, keeping things moving, etc - but after I realized how much my guests had stepped in doing things I had assumed she had taken care of I was appalled.
---
Simply the Best!!
Reviewed on

11/06/2012
Kerry K
What can I say; Yellow Umbrella Events was simply the best!! I was unsure how to navigate the wedding planning process and after attempting to do it myself for one day, I knew I needed help. From my first conversation with Cheryl I knew I had found the right wedding planner. I could tell that Cheryl and I were going to be on the same page in the planning process. At our first official meeting it was such a great surprise that we would be working with not only Cheryl, but her husband Shea. It was comforting knowing that my fiancé would be able to have someone paying close attention to him as well in the wedding process. We planned our wedding in 6 months and the first hurdle was finding a venue. After 12 hours of calls by Cheryl and Shea we had a venue. That is time I could not have spent finding a venue myself. Cheryl and Shea did it all, they found the venue, lined up the florist, cake maker, linens, chairs, DJ and string quartet. Cheryl even came with me to help pick out my wedding dress. She really was with me every step of the way. I knew I could call at anytime and she would have an answer. I feel like all of the vendors she guided me to were great and in the end the wedding was wonderful. People kept telling me that I seemed like a stress free bride and I would always respond with the same answer "It is because I have an amazing wedding planner". The planning process is only half the story. Cheryl and Shea were amazing on the wedding day. I really was able to sit back and enjoy the day. I had complete faith that they were taking care of everything. The wedding day ran smooth, I was unaware of any issues and people were telling me how seamless it all seemed. I owe a lot to Cheryl and Shea. I know for years to come I will look back at my wedding as a joyous event, I only have positive memories. I cannot recommend them enough if you want to make sure your wedding day is everything you ever wanted!!
---
Great people, amazing results
Reviewed on

11/03/2012
Ashleigh S
We had such a positive experience with Yellow Umbrella Events. They are so friendly and really worked well with me and my husband! We interviewed a few but they were the most personable and offered a variety of packages you could choose from. We chose the full package because we weren't that familiar with the Austin area. They would research a few vendors in each category and then have me meet them and figure out what exactly I wanted. They really ran with all of my ideas, gave me a few and helped me try and find the cheapest approach that gave me the best outcome. ON the day of, they were wonderful, they had a detailed plan, let everyone be on the same page! They really helped me have a stress free day! When problems arose, they handled it. They really were wonderful to have at the wedding to help everything run smoothly! I would recommend Yellow Umbrella Events to anyone! If you want a team that runs with your ideas, and makes all of your wedding wishes come true, hire Yellow Umbrella Events!
---
AWESOME Coordinator!!
Reviewed on

11/01/2012
Elizabeth R
I would highly recommend Yellow Umbrella Events to coordinate any wedding or event, big or small. They truly went above and beyond to make sure our wedding was just as we wanted it and that all the details were taken care of. I hired them to be our day-of coordinator but they did so much more than that. As soon as we hired them (about 6 months before the wedding) they made a trip to see our wedding venue and scoped out options for the rehearsal dinner. They recommended vendors and even offered to get quotes for us. Always keeping our budget in mind, they suggested ideas for us to save money along the way. They completely took the reins the week of the wedding, taking tons of stress off of us. After I met with Cheryl about a week and half before the wedding, I felt so much more relaxed and felt completely confident that she was on top of things and would make sure everything was taken care of. She even took another trip to Bastrop the week of the wedding to meet with our caterer and walk through the venue with us to make sure she knew how everything was to be set up. Her catering experience was really, really helpful in dealing with our caterer and helping us make decisions about food and drink choices and logistics. They contacted all of the vendors the week of the wedding to confirm their arrival time and iron out any last minute details, taking so much off of our plate. On the wedding day, they brought a crew of three and rolled up their sleeves to make sure everything got done. Since Cheryl insisted that I relax in the Bride's room all day, I'm sure I don't even know the beginning of what all they did. I do know that they worked their butts off and did so many things that were not their responsibility to make sure that everything was done before the guests arrived. They did a great job keeping the ceremony and reception on schedule and making sure everything ran smoothly throughout the night. (They even had awesome secret service-like earpieces so they could communicate with each other.) Our wedding was quite large with over 300 guests and required lots of set-up and decorating and they handled it beautifully. I feel confident that they would do a wonderful job coordinating any wedding or event. I definitely could not have done it without them and HIGHLY recommend Cheryl, Shea and Yellow Umbrella Events as a day-of or full-service coordinator.
---
Excellent Excellent Excellent
Reviewed on

10/31/2012
Alejandra D
Yellow Umbrella was the best decision I made. Cheryl and Shay made everything so easy for my husband and I, not to mention we had our wedding of our dreams. The wedding day was perferct nothing went wrong and I recieved so many compliments from everyone. If I were to re-do my wedding, the first thing I would do is hire Yellow Umbrella again. For all you brides out there that are looking for a wedding planner make sure you call Cheryl and Shay first at Yellow Umbrella. You will thankful you did... :)
---
DREAM TEAM
Reviewed on

10/23/2012
Leslie C
Yellow Umbrella came in at the last minute for my best friends wedding and saved the day! Not only did they help with all the event planing duties; they helped them with a dj, caterer and many other items. Both Shea and Cheryl were more than accomadating. The night could not have been done without them. They truly listen to what you want and know exactly how to get from point a to point b. LOVE THEM! CHECK THEM OUT!
---
Playful Elegance
Reviewed on

10/19/2012
Beverly M
This wedding was beautifully planned and was flawless in every way. As the Aunt of the bride, I was prepared to scrutinize every detail. It was the personification of perfection from the welcoming arrival to the departure of the happy couple. I was touched by the kindness and the professionalism of Cheryl and Shea. They paid lots of attention to small details that tipped the final translation "over the top." I would recommend Yellow Umbrella Events to anyone planning the wedding of their dreams without the stress. Thank you Cheryl and Shea for all the little things you did to make this wedding extra special.
---
Exceptionally Talented Coordinators!
Reviewed on

10/16/2012
Caitlyn C
Three weeks before my wedding, I was a complete wreck. Wedding plans had not gone smoothly (that's an understatement!) and I was faced with some major gaps in vendors and already over-budget. Enter Cheryl and Shea and the Yellow Umbrella Crew. Like an assertive fairy godmother, Cheryl and Shea stepped in and skillfully guided me through the decisions that needed to be made. Never once did I doubt that they wanted to help my husband and I have the wedding of our dreams and they went above and beyond to make that happen. From vendor selections, contract reviews, design brainstorming, and exceptional coordination services, Yellow Umbrella was there for us when we needed them most. It takes true talent to navigate some of the unique social issues that arise when planning a wedding and savvy to handle the involvement of so many individuals and vendors. Cheryl and Shea have both talent and savvy in spades! Whether it was picking bugs out of the many layers of my Vera Wang dress (watch out, girls! Tulle and outdoor photos = bugs in May!), managing delicate social interactions among guests, or ensuring that my new husband and I had a few precious moments together to soak everything in, they did it all. Cheryl and Shea were available every time we needed them and hold themselves to the highest of professional standards. My husband and I also loved the unique male and female perspectives that they provide and their ability to be with both parties. In our case, we had a very short amount of time in which to save a very important day. Cheryl and Shea asked all the right questions and made all the needed connections in an impressive amount of time, while maintaining a major focus on getting to know our needs and wants and advocating for us, when needed. I cannot speak highly enough of this company. They truly saved our wedding and created something that brought me to tears - it was more than the wedding I'd always dreamed of and better! If you are looking for superior coordination services from a talented team, I have three words for you: Yellow Umbrella Events.
---
Send Message