Home

Zbest WorldWide
About this Vendor
Excellence in Wedding Transportation
On the most beautiful day of your life, leave the transportation to the professionals. Our dedicated sales staff will consult with you and make recommendations on the best solutions for all your event day transportation needs. Zbest has over two decades of experience in the wedding industry as well as a very diverse fleet of the latest model vehicles. Call or visit us online and see the wide range of services and vehicles ZBest can offer you.
Details
Rehearsals + Parties, Wedding
Service Staff, Limousine + Sedan, Shuttle Service, Trolley, Transportation
Contact Info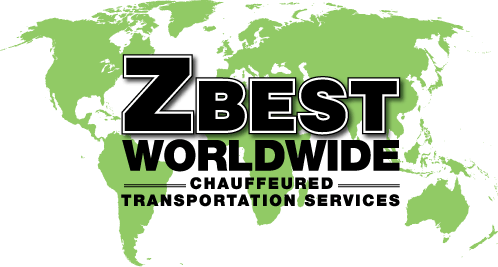 6809 Ritchie Highway, Glen Burnie, MD
Baltimore, DC and all surrounding areas
Exactly what we needed
Reviewed on

8/12/2015
Emily C
We were looking for a bus to take guests from the hotel to the venue and back. We ended up having a bigger shuttle the day of which we of course didn't mind since we payed for the 30 passenger and got the 35. We were able to add time at the last minute so we could use the... Read More shuttle to get the bridesmaids to the venue and it worked out just fine. The only issue we had was that I told the driver ahead of time how many people to expect on the shuttle and that our guests would be meeting at 4. He left at like 4:02 and some people missed the shuttle. Other than that we were very satisfied with ZBest and the service they provided.
---
What a great company!
Reviewed on

1/05/2015
Mary K
We needed a limo bus for our large wedding party as well as a vehicle to move guests from the hotel to the reception, and so we rented a 23 passenger limo bus from ZBest. From the very beginning, they were very attentive to be sure they understood what we needed and had the best... Read More value for our request. They also made sure that my husband and I were comfortable with the choice, and were very flexible with the drop off and pick up times and locations. As great as the company is, our driver, John, was outstanding. He went above and beyond what I consider good service, and made sure that our day went smoothly and that everyone was transported safely. At the end of the night, when my husband and I were the last to leave the reception, he offered to come back and pick us up since the hotel didn't send a shuttle. Luckily he didn't have to make an extra trip, but he certainly made me want to recommend ZBest to everyone I know.
---
Great Service!
Reviewed on

9/29/2013
Stephanie D
We booked a limo for our wedding on 9/7/2013. We got married at the same venue for the ceremony and reception and were only looking for a limo to transport the bridal party from our apartment where we were getting ready to the venue (about 50 minutes away). We initially had... Read More trouble finding a company to work with, as many claimed they do not budge from their 3-4 hour wedding packages. However, Zbest was willing to work with us and quoted us a lower rate designed as a 1-way transport which fit our needs perfectly. I was very nervous to even book a limo as I have been to wedding where the limo was late or even where it did not show at all. However, the day of the limo was 10 minutes early so we even had time to take pictured outside with the limo! Our driver was familiar with the limo and had no trouble getting us there with time to spare! I would definitely recommend this company!
---
Great service
Reviewed on

8/13/2015
Ellon S
We got a bus for our wedding through Zbest and it worked out great!
---
Company no show for viewing
Reviewed on

11/03/2014
Amanda L
My fiance and I traveled 4 hours to see the trolley as we live in Pittsburgh, but are getting married in Baltimore. I confirmed with the wedding planner the date and time we would come see the trolley and make the deposit. When he, my mother and I arrived on time, we were told... Read More the Trolley was out on a job, and would not be back before the main office closed. When I asked why no one called us to let us know there was a last minute trip request, the response I got was "the wedding person isn't here. We didn't know." If a company isn't able to communicate properly with their staff for a simple viewing, why would I trust them to communicate the day of my wedding?
---
Definitely Recommended
Reviewed on

10/19/2014
Kate V
Prompt, professional service. Driver was on-time and knew exactly where he was going. Limo was clean and perfect for our day.
---
ZWorst...Malfunctioning Bus - Worst Customer Service
Reviewed on

10/12/2014
Terri O
Zbest was booked the week of the wedding when we found we needed additional transportation. The $800 price was for a 28 psg bus, well above what other transportation vendors charge. The bus arrived on time. The drivers were not sure where they were going and needed... Read More directions. 1/2 hour into the ride, the a/c broke. This bus was used for the Bridal Party pre ceremony pictures. The groomsmen were sweating through their tuxes. The Bridal Attendants makeup/hair worse for wear. Zbest was contacted the morning after. No follow up until a week later, which was explained as a computer glitch, at which time $150 refund offered. Since hair and makeup for 7 attendants cost well over $700, I felt a full refund was in order, not to mention the Groom and Groomsmens discomfort. Another week has gone by - all follow up has to be initiated, as calls are not returned in a timely manner (days) . They've offered a partial refund, which I find unacceptable. At this time it was pointed out I signed a contract stating Z Best is not responsible for mechanical. I feel a broken down bus, flat tire qualifies as a mechanicals. A fee of $800 should ensure the comfort of the guest. I requested the owner contact me... he/she has not. Definitely book Z best at your own risk.
---
Fun trolley ride
Reviewed on

9/26/2014
Allison K
Our guests loved the trolley ride in between venues and back to the hotel. They were professional, efficient, and a fun addition to the wedding. Definitely would recommend them!
---
Pretty Good
Reviewed on

10/14/2013
Gretel M
I was pleased with the customer service I got however it took the driver an hour to drive 12 miles round trip and kept my guests frustrated because of the long wait to get back to the hotel. I even told the driver a shorter way to go but apparently he didn't want to listen
---
Not good.
Reviewed on

10/09/2013
Ashley C
We hired a shuttle to circle from our hotel to the ceremony venue for the wedding, and then from the reception venue to the hotel after the wedding. The communication with this company was horrible. You spoke with a different person each time, and had to constantly re-explain... Read More what you needed. They didn't make suggestions based on their experience, and then swapped out our driver last-minute, so we had the wrong driver's contact info when our shuttle never showed up after the 2nd loop. We ended up getting put through to the company answering machine. We had to start our ceremony late. Guests who waited for the 2nd shuttle had to take taxis to the ceremony because they thought they might miss it. And the worst part is that after all of this happened, they blamed the miscommunication on us and told us that they were not at fault for anything. I'm not a hard person to deal with, and I realize everyone makes mistakes, but not apologizing was unreasonable. I will not use this vendor again.
---
Great limo service, shuttle just okay
Reviewed on

10/09/2013
Meg W
We used Zbest for wedding party limo on the day of, as well as renting shuttles for our guests the night before the wedding and on the wedding day. If my groom hadn't caught the error, the night-before shuttle would have shown up to a hotel 45 minutes away from where it was... Read More supposed to be! In addition to that, the shuttle driver waited outside, pulled up way past the door where the guests couldn't see him, so there was some confusion as we waited for people to arrival at the rehearsal. Aside from those hiccups, which weren't disasters, the service was very good. The limo brought out a red carpet and everything, and had champagne after the ceremony.
---
Loved Z Best!
Reviewed on

8/14/2013
Jaime A
We used Z Best for our wedding and we were very pleased. We used the 37 passenger shuttle bus and booked them for 2 blocks of 3 hours each to transport our guests. When I called to originally set up the reservation, I spoke with Gwen, who was really great to work with. She... Read More returned my emails very quickly and worked with me to find the most cost effective option for us. She was very flexible with a few changes that I wanted to make and was just a pleasure to work with. The day of the wedding, the shuttle was promptly there to pick up the bridal party. The rest of the time, it just made loops back to the hotel to transport guests to the ceremony site. The bus was absolutely beautiful and looked to be BRAND NEW & sparkling clean. Our driver Larry went above and beyond to make sure our guests were all at the ceremony and not back at the hotel. He communicated with one of the bridesmaids when he was on his way back with the last load of guests so we knew that we had to delay the start of the ceremony by a few minutes. If it weren't for him communicating that, about 30 people would have been walking in late to the ceremony. I would highly recommend Z best, they were a joy to work with and went above and beyond the day of the wedding.
---
A hassle to work with, but no problems on day of
Reviewed on

7/23/2013
Kim H
I used ZBest because they were the only company that ever responded to my requests for quotes, otherwise I would have gone with someone else. The people I spoke with on the phone were often snide and impatient, and during my honeymoon they called me repeatedly to ask me to take... Read More a survey rating their service, even after I asked them to stop (I was in Mexico, and didn't want to use expensive phone time on that!) However, the drivers themselves and the vehicles were great. We booked a shuttle bus for our guests and a sedan for ourselves, and had a good experience with both.
---
Riding In Style
Reviewed on

7/23/2013
Victoria T
Very friendly to deal with on the phone or in person. The driver showed up on time as requested and transported the bridal party to the venue safely.
---
Fast, safe & reliable transportation
Reviewed on

7/02/2013
Molly E
ZBest Limousines was extremely reasonable, professional and their shuttle services were great. They showed up on time and provided safe, reliable transportation for my bridal party and guests. My only complaint is that the air conditioner didn't work, but when our wedding ran... Read More late, ZBest didn't charge us for the extra 45 minutes that we needed their shuttle services. They are a great company and I would definitely use them again.
---
Very Timely and Efficient
Reviewed on

6/08/2013
Miranda R
They were on time and very polite to our guest. They were very affodable also. We used them as a shuttle from our hotel to the venue.
---
Wonderful Service!
Reviewed on

6/02/2013
Rebecca K
To get everyone from the hair salon to the venue, I tried to find an easy to deal with transportation company to use. After some talking to vendors, we decided Zbest stood out! They were responsive, had a lot of options for cars, and had the best customer service! On the day of... Read More the wedding, the car we were supposed to have got stuck in traffic, but when they called me they already had a (newer) car on the way! It was totally stress free!!
---
Helpful and professional
Reviewed on

10/24/2012
Linda V
The limo arrived right on time and the driver was very friendly. He was very helpful in getting me and my big dress in and out of the limo without rubbing up against anything that might get it dirty.
---
Worst EVER
Reviewed on

10/23/2012
Amy V
The limousine was unable to show up to take me to my wedding because it was stuck in traffic due to the Baltimore Marathon. I knew this event was going on the day of my wedding so I called a few days before to give them an alternate route to my house so that they would not get... Read More caught in any of the traffic or road closures. On my wedding day, the limo driver called 10 minutes before he was supposed to arrive to tell me he was stuck in traffic. He said that he was never given alternate driving instructions. He never arrived. I was taken to my wedding in my friend's 1999 Corolla. At least the company was apologetic and gave me a full refund with no hassles.
---
Reliable
Reviewed on

10/18/2012
Kelly E
My husband booked a limo to transport 14 people including ourselves to the ceremony. They picked up half of the wedding party at a neighborhood hotel and them must the rest of us at our hotel. After getting some pictures we all packed into the limo and traveled to the chapel.... Read More The driver was courteous and professional. The limo was a bit crowded for 14 but would have been perfect for 12. I would recommend this limo company to other couples in need of limo service. The company even called us later to ensure we had good service.
---
Worst Company!
Reviewed on

10/18/2012
Lauren N
This company was recommended by our venue. The only form of transporation we were considering for our wedding was a historic trolley. This company gave us the run around for months! They told us they had a trolley for us, then they said they are buying a new one that we will... Read More use, then we tried contacting them for weeks numerous times a day and no one would return our calls that could help us. Ultimately just 2 weeks before our wedding, they said they did not have a trolley for us, despite having told us they did for months! I was heartbroken!
---
Very deceptive
Reviewed on

9/04/2012
Shannon C
We originally booked the white jaguar limo months before the wedding and one week before the wedding ZBest called me to tell me that they were having issues with the Jaguar and they would have to replace it with the 300C. I was fine with this but asked if we would receive some... Read More type of discount since it wasn't what we booked. The woman ranted on about how this limo was much bigger and way more expensive so we were getting a great deal already. Okay so no big deal. I looked at the 300C on the website and saw that it wasn't bigger and nowhere near as fancy, so I called back as a random customer and asked about the prices. Needless to say, the woman had lied to me and the 300C was way cheaper than the Jaguar. I was not very happy about being lied to, I was cool with switching the vehicles but not with being cheated.
---
Wonderful Experience
Reviewed on

8/14/2012
Stacey H
We got the new Jaguar Limosine. Very nice! Our driver went above and beyond. He fixed my dress, carried items for me and told me that he was there if I needed anything. I absolutely would use them again!
---
Review
Reviewed on

7/31/2012
Hisani M
See star rating
---
Best driver
Reviewed on

6/27/2012
Britni B
We loved James
---