Our Story
Marietta Homecomings
Leah and Aaron actually first met in 2007 when Leah first came to Marietta College. Aaron had already been on campus for a couple years at that point and was an orientation leader for the Leadership program they both were in. Their friendship started when Aaron found out she liked the Cleveland Indians and was thinking about joining the band. Aaron found out that Leah played the trumpet (as did he) and he promised to help her find her way to band when classes actually started. They both ended up switching to a different instrument (the euphonium - *think smaller version of a tuba if you're a non-band person). They each were with different people at the time, but a strong friendship was still established.
Fast forward to Homecoming 2011. Aaron had graduated two years before that and Leah just the previous May. Aaron was hanging out at the football game that afternoon when Leah came up to Aaron and started talking to him. She left and Aaron's friends Mark (a groomsman) and Luke (officiating the marriage) all but hit Aaron upside the head asking why Aaron wasn't talking to her. Aaron never really saw through the notion of Leah being more than a friend until that very moment. For Aaron, that's when you could say everything changed...
That night, Aaron, with the help of his friend Bo (another groomsman) set out on a mission to make sure that the football game wasn't the only interaction the two had that night. They tracked down Leah at a local establishment known as The Marietta Brewing Company where they talked for what seemed like the rest of the night. Following that evening, they were officially dating within a month.
Fast forward to Homecoming 2014, Aaron comes back to Marietta's campus after having graduated 5 years ago. A lot of his friends were coming back and he is planning on spending the majority of the weekend with them and Leah with her friends. Fear not, fellow readers, the separation in experiencing homecoming is by design. Leah and Aaron know they have different Marietta experiences outside of the band. So the plan was to separately have fun reminiscing with each other's group of friends and then to meet back up for a meal at the fine establishment known as the Harmar Tavern on Sunday and then head home. Aaron had other things on his mind.
No, but seriously, Aaron was so shaken up at the idea of what he was about to do that during the walk over the bridge into Harmar Village (across the Muskingum River), that Leah was asking him whether or not everything was okay. She even asked during the meal which was fried bologna by the way. It's a fan favorite of the city and Leah and Aaron.
Following the meal, they are walking back over the Muskingum River, when Aaron tells Leah that the night before Luke and Mark had done something crazy and that he had caught it on film. The film wasn't anything crazy but it was the two of them recounting the story of the football game and how they had to point out the obvious to Aaron that he should be talking to Leah. Once they were done basically calling Aaron an idiot, Leah looked down at Aaron who was on one knee on the Harmar Bridge asking Leah if she'd be weird with him forever. Yes, they both were crying, but Aaron claims it was the light rain that was falling.
The Wedding
Saturday, May 28, 2016
5:30 PM
Attire: 1920s Themed! Feel free to dress up for the occasion! (Hint: Think The Great Gatsby!)
Ceremony and Reception
The Skylight
85 E Main St, Newark, OH 43055, United States
Buffet includes beef tenderloin, pork tenderloin, pasta in oil and garlic, jalapeno au Gratin potatoes, green beans, and strawberry pecan salad.
Other Events
Rehearsal Dinner/Out of Town Gathering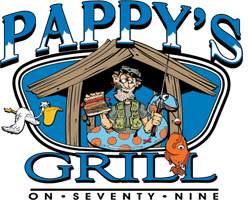 Pappy's Grill on 79
1122 Hebron Rd, Heath, OH 43056, United States
For friends and family in the wedding party or who are travelling a great distance and will be in town on Friday, we would love to hang out with you and see you before our big day. We will be enjoying each others company at Pappy's Grill located in nearby Heath, OH.
Please RSVP so we can look forward to who we'll be seeing Friday night. (We also need to make sure there is enough food!)
Wedding Party
Luke Haumesser - Officiant
Luke Haumesser will be the man charged with marrying Leah and Aaron. So he would like you to know that without him, none of this would be possible. Luke knows the bride and groom extremely well as he went to Marietta College with them. He knows Leah by playing on the college's Ultimate Frisbee team with her. Just so you're aware his nickname on the team was Squeeks. It doesn't have any relevance to the marriage, but it's funny nevertheless. He knows Aaron from being an RA with him in Mary Beach Hall, and also spending a summer living with him and groomsman Bo Richardson in Marietta back in 2008. Their place was located next to a McDonalds and they only allowed themselves to eat their once a month. That plan backfired when they would then eat $20 worth of McDonalds in one sitting. #ImNOTLovingIt
Eric Young - Best Man
Aaron met Eric in the Summer of 2012 as he started working with him at the University of Mount Union. Both of them were resident directors and were in charge of two buildings across the street from each other. Right away, they knew they had a lot in common. Eric always makes Aaron want to be a better man. Eric and Aaron ended up being pretty inseparable throughout the rest of grad school and remain very close. They both can often be found at The Q cheering on the Cavaliers, and even in their professional lives they actually hold the same job as Assistant Directors of Admissions at universities close by. Eric and his wife Katie welcomed their first child Noah into their family back in June.
Craig Berger - Groomsman
Craig is Aaron's brother. 2 years older (actually 23 months and 8 days older to be exact). Aaron shares a lifetime of memories with Craig. Craig was a Senior in school when Aaron was a Freshmen and is probably responsible for Aaron not getting messed with at the time. All joking aside, Craig has been there to offer guidance throughout the times Aaron needed it. Between Craig and Aaron, the inside jokes span their entire lives. They bond over their love of their cats (Aaron's is named Atticus, and Craig's is named Poe), reliving memories of their childhood where Aaron used to quit everything Craig was better at than his brother (just about everything), old school baseball movies like The Sandlot, Little Big League, and Rookie of the Year, as well as old-school Jim Carrey movies such as Dumb and Dumber, Ace Ventura Pet Detective, and Liar Liar. Don't let the intellect (or lack thereof) of these movies fool you, they both have Masters degrees in the same field - Higher Education and Student Affairs. Craig works at a university down in the Baltimore area working with student government and involvement on college campuses.
Jeff Kimble - Groomsman
Aaron and Jeff were pretty inseparable from the time they matriculated in Marietta College in 2005 to the time the graduated in 2009. Then Jeff ruined it all by moving to Nebraska. Just kidding! Actually Jeff has been there for Aaron in good times and bad and they have too many memories together to remember. In all seriousness, they tend to remember a story that happened and will have to remind each other of it, and find themselves laughing about it all over again. Like this one time, Aaron went to Jeff and his now wife Katie's county fair for the first time wearing flip flops, obviously not really knowing what kind of "world" he was about to step into. On their way to the fair, Aaron was contemplating his poor decision when he looked up in the mirror to see the police lights signaling the beginning of the event called "Jeff Gets His First Speeding Ticket".
Bo Richardson - Groomsman
Bo Richardson is also one of Aaron's closest friends from Marietta College. The memories that they have from their college years were numerous and really tough to peg down into one measly paragraph. Instead, Aaron would like you to know that Bo really helped Aaron out when he shared his family with him while Aaron was living and working in Marietta following their graduation. Bo had graduated with his MBA from Ohio University and moved back to Marietta to live with his wife Jenna in 2010. Aaron would often find himself at the newly formed Richardson house playing games. Not only did that happen, but Jenna and Bo also shared their families with Aaron. Martha and Dan Richardson welcomed Aaron into their home one evening where the Famous Euchre Loner Debacle occurred when Bo's dad Dan had Aaron and Bo dead to rites on a loner. Bo and Aaron were down to their last card, while Dan was busy trying to figure out which one of his two he was going to play next... Jenna's family, The Houcks, were like an extended family to Aaron. Aaron would often find himself up with the Houcks camping at Seneca Lake or out at their house in Fleming, OH to share a meal. To share his family, especially when he was fortifying that bond with them himself, was one of the most selfless things anyone has done for Aaron and he will always be grateful.
Mark Hirschfeld - Groomsman
Mark Hirschfeld and Aaron also met at Marietta College. What drew them together as they entered Marietta together in the Fall of 2005? The Pittsburgh Steelers. Mark is from Pittsburgh and with the beginning of school also comes the beginning of football season. The two hit it off. That year the Steelers won the Super Bowl. For the first time ever, Aaron skipped class to drive back with Mark for the parade in Pittsburgh. They were lucky enough to do this again when the Steelers won the Super Bowl again their senior year. Mark and Aaron were in the same major at Marietta and were also members of the same Fraternity. Mark is also the person who told Aaron he was an idiot for not talking to Leah. A point he and Luke like to make quite frequently.
Peter Mendenhall - Groomsman
Pete and Aaron met shortly after Aaron started dating his sister back in 2011. Aaron was a little wary of meeting him but as anyone who has met Pete before could tell you, you can't find a nicer guy than Peter. Pete and Aaron have become pretty close over the last four years. They often quote movies together, and Aaron can be seen enjoying watching Pete in the two bands he plays with. Aaron is incredibly happy to have Pete in his life. In 2016, not only will Aaron and Leah be getting married but Pete and Aaron will be celebrating 60 years of wisdom between the two of them as both turn the big 3-0.
Emily Mendenhall - Maid of Honor
Emily is the sister of the bride and her closest confidant. Through countless fights over mirror space, baby dolls, and who was driving to school in the morning, Leah and Emily have formed a deep-seated friendship. The girls stayed close through college and graduate school, sneaking in epic hugs and visits when they could. Now that Emily lives in Washington D.C., visits are sparse but exciting with lots of new experiences. Throughout their lives, Emily has been more than just a sister to Leah. She has been her close friend, laughing buddy, and most honest critic. Leah could not have asked for a better sister, and there is no one Leah would rather have standing next to her on the big day.
Ashley Knight - Bridesmaid
Leah and Ashley first met at Marietta College in 2007, but did not become particularly close until 2009. The girl's were both in the Chi Omega fraternity, the Marietta College Early Childhood Education program, and were both very active on campus. As their similar activities brought them together more and more often, Ashley and Leah realized how much they had in common and began a fantastic friendship. Their junior year of college, Ashley and Leah roomed together in their fraternity house, which further cemented their bond. Ashley is one of Leah's closest companions and is always planning new and exciting adventures! She is fearless in life, overcomes all obstacles thrown at her, and has always been a role model for Leah. Ashley is a loyal friend, and is never hesitant to share love and advice. Leah is ecstatic to have Ashley by her side for the wedding, and could not imagine the day without her! The photo shown with this bio is from nearly four years ago, however it is a mutual favorite of both Leah and Ashley. It was taken in the room at the Chi Omega house where the girls roomed together their junior year.
Jennifer Haughn - Bridesmaid
Jennifer Haughn is Leah's oldest friend. In fact, their friendship began when Leah was an infant, and Jennifer could only pronounce Leah's name as "EDA". She was Leah's next door neighbor and constant companion while the girls were growing up in Sugar Grove. Leah and Jennifer played together nearly every day, going from dolls, to Barbies, to swing-sets, to painting each other's nails, and more. As they grew up, Jennifer and Leah became closer while they both participated in a flag and baton group called the Cadets, and they are still very close to this day. Jennifer and Leah cannot get together without laughing, sometimes at nothing at all. And now, as a new mother, Jennifer has added a new burst of happiness to the girls' friendship in the form of a wonderful baby named Grant! Leah cannot remember a time in her life when Jennifer was not her friend, and is so happy that Jennifer is going to be a part of the wedding. The photo shown with this bio is from Jennifer's wedding, which Leah was a part of.
Celia Brockway - Bridesmaid
Celia and Leah met at Marietta College in the fall of 2007. They were just acquaintances until a mutual friend, who knew Celia was in search of a fourth roommate, linked the girls together. It was the start of a great friendship! The girls lived together their sophomore year of college, and were roommates again senior year as well. The girls realized they had a lot in common, including a love for baseball, and continued to become closer and closer friends. Leah and Celia have shared many adventures together, including a road trip to Minnesota to see Celia's hometown (the photo included is from this trip), and a rousing visit to the Fairfield County Fair one Fall Break. There is never an absence of fun and laughter when these two get together. Since becoming friends, Leah has always cherished Celia's kind heart and calm personality. Celia is truly a one-of-a-kind friend, and Leah feels so lucky that their mutual friend could see what the girls could not (but certainly do now). Leah is thrilled that Celia will be standing next to her on the big day, and could not imagine the day without her.
Kisha Smith - Bridesmaid
Kisha has been a family friend of the Mendenhall's for nearly thirteen years, and during that time, she has become an older sister to Leah and Emily. Kisha's kind heart, smart wit, and ability to talk to anyone made her a role model for Leah as she was growing up, and she is still someone Leah looks up today. Leah's favorite things to do with Kisha are dance and laugh, which they both are very good at, and are excited to do at the wedding! Leah is so happy that Kisha agreed to stand up front with her on the big day, which would not be complete without her! Maybe, they will finally get a photo of just the two of them!
Heather Doyle - Bridesmaid
Heather and Leah first met in the fall of 2009 at Marietta College. They quickly became friends through the Ultimate Frisbee Team, which they both played on. Heather eventually joined the same fraternity as Leah ( Chi Omega) and became Leah's "Little Sister" in Chi Omega shortly after. Heather and Leah became great friends throughout the next two years at Marietta and have continued their friendship long distance, as Heather has worked and lived in several states over the past three years. Heather is a fiercely loyal friend, and a very loving and adventurous person! The photo shown with this bio is of a zip-lining adventure Heather initiated and Leah joined in on! It was awesome! Leah couldn't be happier that Heather has agreed to part of her and Aaron's big day, which will allow Leah and Heather to see each other in person for the first time in over three years.