Our Story
Our Engagement Story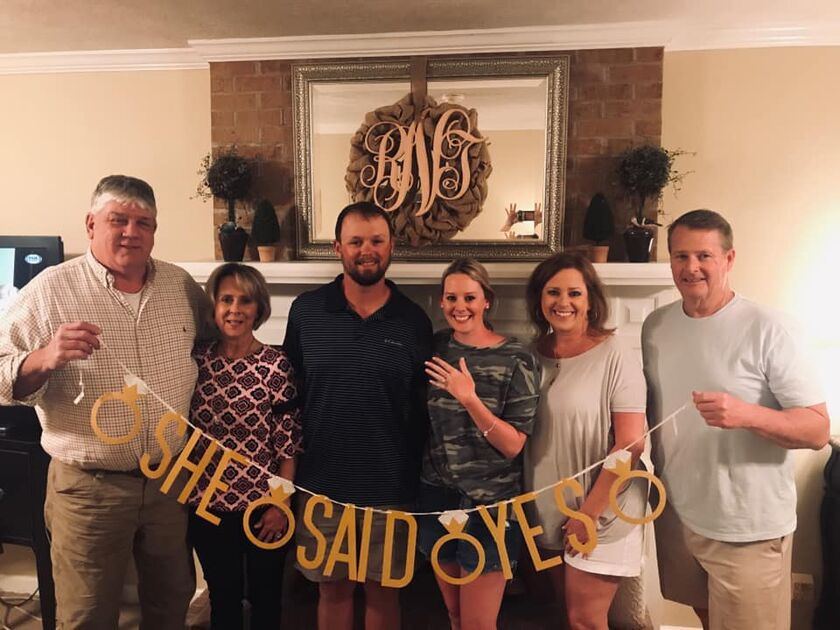 May 30, 2019
My parents and I planned a birthday dinner at my house to celebrate my 28th birthday. We invited Marcus' parents, grandparents and my cousin Hannah. We ate my favorite (steak dinner) and moved to the back porch to open presents. After opening all the gifts, I realized I didn't have one from Marcus. At that moment, Marcus got down on one knee in front of our families! He opened a white box from Jared with a beautiful solitaire white gold diamond ring. He said, "Will you marry me?" and wasn't even nervous! I was thrilled and said yes. Hannah made me a few chalkboard signs that said "She said Yes" and "Future Mrs. Hunt". We all took pictures, ate desert and shared the news with family and friends!
THE NIGHT WE MET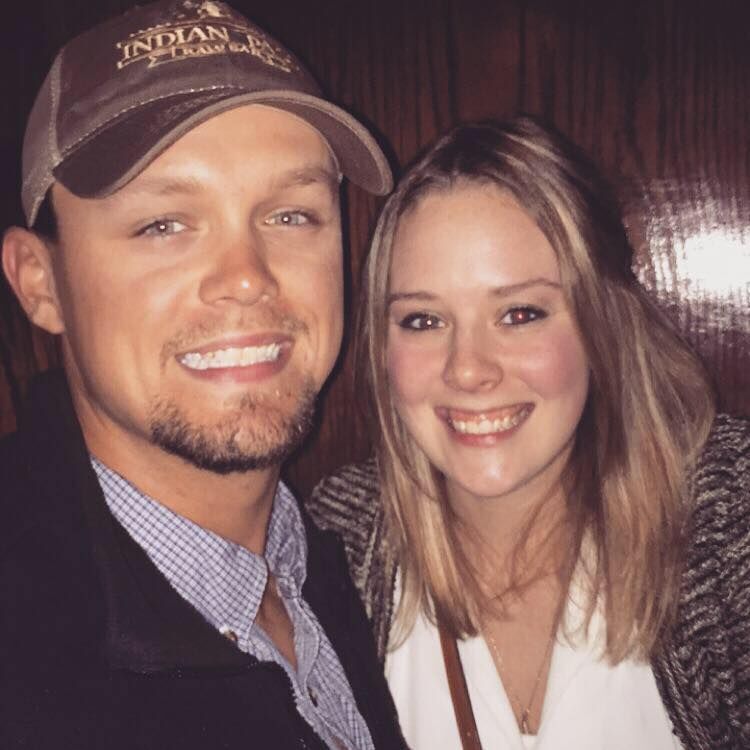 November 26, 2014
Marcus and I ran into each other the night before Thanksgiving at Brickhouse in LaGrange. Every year, people go out the night before Thanksgiving to catch up. The next day, he sent me a facebook message saying, "Out of all the people I saw last night I believe I enjoyed seeing you the most. Glad you are doing good and Happy Thanksgiving!" I replied, "You are too sweet, it was nice running into you too!" A week or two later we hung out for the first time at his house, talking about high school times and listening to music. Marcus and I immediately connected through our mutual friends and the interests we shared. We both found out quickly that we loved the same music, the beach, the lake and our dogs. We both enjoyed each other's company and families while wanting the same things in life.
The Wedding
Saturday, May 30, 2020
Ceremony
First Baptist Church On The Square
100 Broad Street, 207 W. Haralson Str., LaGrange, GA 30240, USA
Reception
Del'avant
141 Main Street, LaGrange, GA, USA
Wedding Party
Hannah Austin - Matron of Honor
Hannah and I are 6 months apart and we are first cousins. Our dads are brothers and we were the only grand daughters growing up together. We became even closer when she and Houston were married in 2013. We have been on many beach trips together and she is always there for me when I need her. She played a huge part in our engagement by buying gifts, making signs and keeping the secret. I know she will make my wedding day perfect. I enjoyed every part of helping her on her wedding day and I'm lucky to have her as my Matron of Honor.
Alyssa Cantrell - Matron of Honor
Alyssa and I are cousins and we were very close growing up. Her dad and my Memaw were brother and sister. I spent every weekend at her house, making sugar cookies or cinnamon rolls at midnight was part of our routine. Her mom, my aunt Dianna, always had crafts for us to do everyday during the summer. I was also saved at her house at the age of 9 and will always remember that. Alyssa is married to Josh and they have 2 children, Lylah Kate and Sawyer. I love going to their gymnastics/baseball games. I was in her wedding and I am excited to have her as my second Matron of Honor.
Hillary Davis - Bridesmaid
Hillary and I became friends in the Spring of 2018. I met her through her late husband Corbin and Marcus' friendship. They enjoyed hunting and talking about football and baseball while we enjoyed walking her dogs, spending time at the house and cooking together. After Corbin's passing in the Fall of 2018, we have remained friends. While she has moved to Kentucky with her sweet baby Rhett, I'm blessed to have her in my life and a bridesmaid in our wedding.
Alicia Bilbo - Bridesmaid
Alicia and I have known each other since we were in high school. We went to the same church together and her mom was my Sunday School teacher. We became close friends when we both started working together at Hogansville Elementary in 2016. We both have the same love for teaching and could talk for hours about our careers. Her husband Travis and Marcus have become close through their same love for fishing. We enjoy spending time with them and their baby Weston at their lake house.
Emily Highnote - Bridesmaid
Emily is Marcus' cousin. Her and Marcus have always been close like brother and sister. I have known Emily since we went to high school together. We enjoy hanging out with Emily, her husband John and their precious girls Ida and Darcy at their house. We usually grill while Emily cuts Marcus' hair and then our night ends on the back porch singing or talking into the late morning.
Zoey Norris - Flower Girl
Zoey is my first cousin and Hannah's younger sister. She is 6 years old. I can't wait to see her and her twin Zayn walk down the aisle together as flower girl and ring bearer.
Sarah Beth Snider - Bridesmaid
Sarah Beth and I have known each other for a long time, we grew up in the same church together. We became really close after high school. We've been on many trips and concerts together. We always have the best time when we are together. Sarah Beth lives in Atlanta now, but I still consider her one of my best friends and I'm glad she is in our wedding!
Denver & Dillon Norris - Ushers
Denver & Dillon Norris are Abby's first cousins. We couldn't have our wedding without including them!
Mark Hunt - Best Man
Mark is my dad and my best friend. I am the only child so we have always been really close. He has taught me to love the Lord, life on the farm and how to duck hunt. We enjoy hunting and fishing together. I wouldn't want to have anyone else by my side on my wedding day.
Cole Sims - Groomsman
Cole has been Marcus's best friend since middle school. They've taken many beach trips and hunting trips together. His dad, Todd, is one of his dad's good friends. Marcus caught the garter at Cole's wedding in 2017.
Chase Baker - Groomsman
Chase has been Marcus's friend since daycare at First Baptist Church. Growing up, their parents used to buy them the same Christmas gifts so that one wouldn't be left out. They have the longest friendship and still do a lot together. Their favorite things to do together is hunt, fish and go to the beach.
Levi Woody - Groomsman
Levi and Marcus have been friends since middle/high school. They enjoy hunting and fishing together. Levi is a friend that will always keep you laughing. Levi is also related to Abby.
Tanner Hicks - Groomsman
Tanner has been a close friend for years. Marcus and Tanner went to high school together and enjoy hunting and watching football games together.
Nathan Koutsky - Groomsman
Nate and Marcus have been friends since high school/college. They will both say their favorite time spent together would be in Destin. Nate currently lives in Louisiana.
Trevor John Norris - Groomsman
Trevor is Abby's younger brother. He is 21 and is currently in college at the University of West Georgia. We couldn't have our wedding without Trevor included standing up there with us.
Zayn Norris - Ring Bearer
Zayn is Abby's first cousin and Hannah's younger brother. He is 6 years old.
Colton Norris - Junior Groomsman
Colton is Abby's first cousin. He is in the 3rd grade.