Our Story
Like it was fate...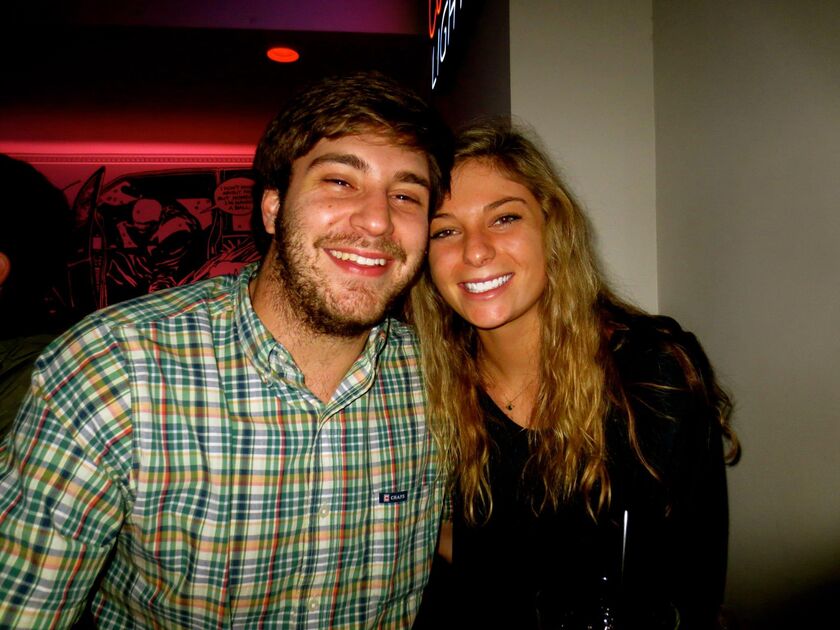 The story of how we met begins like so many others, "we met at a bar." On a whim, my roommate at the time (and now bridesmaid), Kelsey, and I decided to go out on a Monday night. When we got to our destination, we realized that a big group of Chi Phi boys were there celebrating a birthday. Drinks were flowing and debauchery ensued, but I hardly noticed. All of my attention was focused on this cute, funny guy that I was pretty sure had served me a blue cup or two. Carson and I didn't stop talking until our friends were more than ready to head home. I've had a lot of fun nights in Chapel Hill, and this was no exception, but I was surprised to find that I just couldn't stop thinking about Carson. We had exchanged numbers, and I was giddy when Carson texted me the next day. To this day, I don't think we've stopped texting since.
We took each other to a few parties, and every time was the same: we were so engrossed in conversation that we basically ignored everyone around us. It's hard to explain, but from the moment we met, there was an immediate connection. As cliche as it sounds, I felt like I had found my other half. After each time we got together, we became more and more inseparable. And the rest is history!
Sealing the deal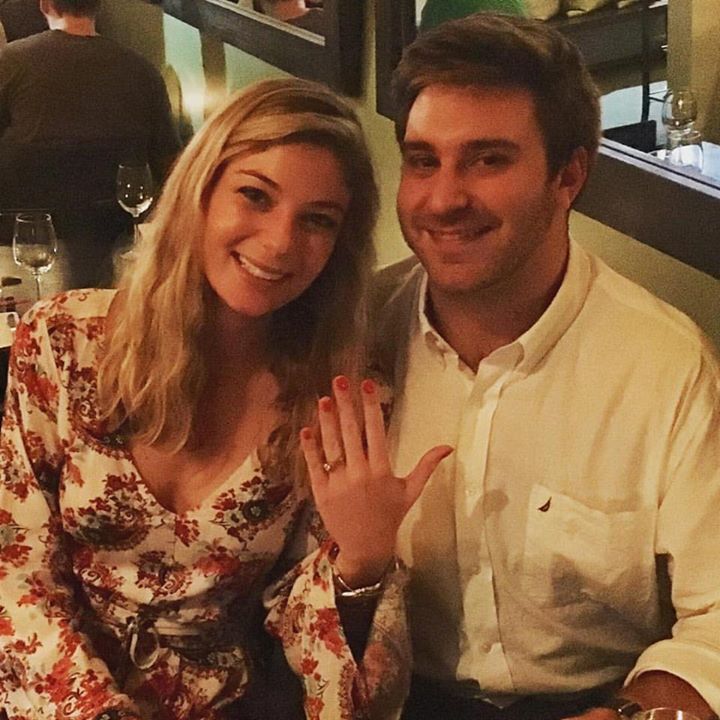 After dating for 3 years, I had absolutely no doubts that Carson is the man I was meant to marry. We had been supporting and loving each other in good times and bad times, in sickness and in health... all that was left was to make it official!
When Carson told me we had plans for the night of December 22, I honestly thought it was a Christmas party that I had forgotten about. Little did I know that he had planned the most perfect proposal. Carson asked me to put a blindfold on and took me to the Old Well, an iconic landmark on UNC's campus. When I took it off, Carson was down on one knee with our dog, Dean, sitting beside him. Standing there, in my favorite place with my favorite person and our furry child, the feeling of love was palpable. Of course, I said yes, and Carson pulled my favorite flowers and a bottle of champagne out of the azalea bushes. I couldn't have imagined anything more romantic or special to us!
I can't wait to spend the rest of my life with such a caring, handsome, funny man, who just so happens to be my best friend!
The Wedding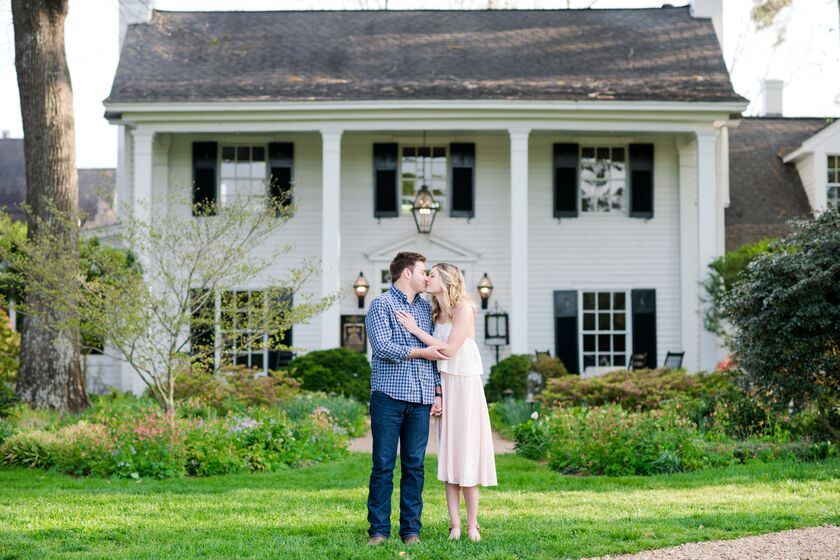 Saturday, March 4, 2017
4:30 PM
Attire: Semiformal
Ceremony
The Gardens at Fearrington Village
2000 Fearrington Village Center, Pittsboro, NC 27312, United States
Reception
The Barn at Fearrington Village
2000 Fearrington Village Center, Pittsboro, NC, United States
We will be having our ceremony and reception at Fearrington Village. After a short ceremony in the beautiful gardens, guests can start the party with drinks and hors d'oeuvres during cocktail hour, and keep it going with dinner, drinks, and dancing in the historic barn steps away. Please remember to bring your ID if you would like to take advantage of the open bar!
With a mix of antique charm that harkens back to old English villages and luxurious modern amenities, we knew Fearrington Village was the perfect place for our wedding. I particularly fell in love with Fearrington as soon as we drove in past the Beltie cows. I developed a special fondness for Beltie cows from as young age, as I used them as a landmark on drives to and from Raleigh to visit my grandparents. As a little girl, I would giggle with delight as I watched the "stripey cows" pass by from my car seat. To this day, I still use the cows as a marker to let my parents know how far away I am when I'm driving home from school in Chapel Hill. On our drives back to Greenville together, even Carson has gotten to know the stripey cows and indulges my pointing them out every time. How could we say no to having Belties at our wedding venue?!
If you'd like to learn more about Fearrington's history, current goings on, or about all of their Beltie animals, click here.
Other Events
Let's Get this Wedding Weekend Started!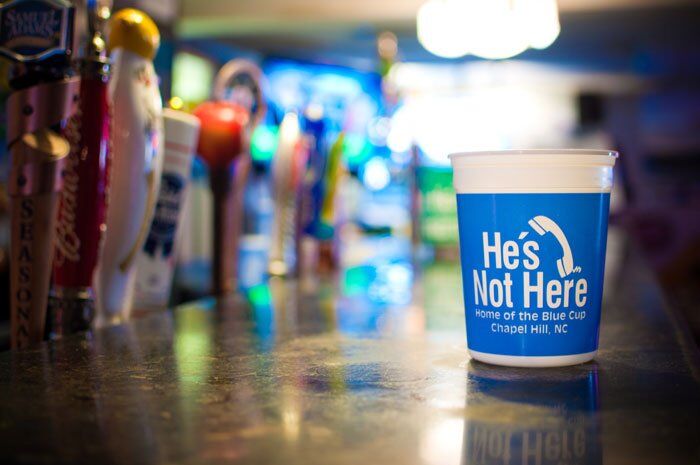 Friday, March 3, 2017
9:00 PM
He's Not Here
112 1/2 W Franklin St, Chapel Hill, NC 27516, United States
We will be having a pre-party at the bar most near and dear to our hearts, He's Not! Help us kick off the celebration Friday night at 9PM with an iconic blue cup.
Carson worked at He's Not during undergrad and grad school, along with many of the members of the wedding party and guests. For those of us that never "officially" worked there, we probably spent enough time there to be on the pay roll!
Wedding Party
Haley Kabus - Maid of Honor
Haley is one of the most driven, stylish and worldly people that I've ever had the pleasure of knowing. We immediately clicked when we met at UNC, and I knew that she was a friend I could count on forever. While taking the advertising world by storm in NYC, she has managed to be the best maid of honor I could ever imagine. I can't wait to for her to stand by my side as I marry the man of my dreams!
Caroline Coggins - Bridesmaid
Caroline is Carson's younger sister and has been so welcoming of me not only into the Coggins family, but as her friend! I have always admired Caroline for her incredible resilience and knack for unapologetically being herself, and I am so thankful for her friendship and support. I can't wait to officially call her my sister!
Christina Pittman - Bridesmaid
Christina and I became fast friends after spending the majority of the summer before our senior year together (along with fellow bridesmaid, Meghan Cunningham) either at the pool or at He's Not Here. She is one of the most genuine people I've ever met, and I am so lucky that she is taking time out of graduate school to be with me on my wedding day!
Elizabeth Falconer - Bridesmaid
Elizabeth, otherwise known as Falc, and I met during our first year of law school at UNC and have been friends (and carpooling) ever since. It's hard to put into words how much her friendship has meant to me, but it's safe to say that I wouldn't have made it through law school without her. From making exam survival kits filled with red bull and tabs to always knowing when someone is having a bad day, Falc is a truly caring and considerate friend. I am so lucky that she is a part of my life and our wedding!
Kelsey Schneider - Bridesmaid
Kelsey and I met during our freshman year at UNC, and were roommates junior and senior year. From watching Chopped marathons on the food network, to listening to Britney Spears and the Backstreet Boys, and dancing with Tyler Hansbrough at Fitzgerald's, my favorite college memories are shared with Kelsey. She is a true friend, and I am so lucky to have by my side!
Meghan Cunningham - Bridesmaid
It didn't take spending much time around Meghan to realize that we would be friends. We have nearly identical personalities and interests, and some of my favorite memories are from the "supper club" we formed during college. She is always someone I can count on, regardless of the situation. I couldn't imagine marrying Dean's dad without her by my side.
Sarah Vega - Bridesmaid
Sarah and I met during law school, and managed to become friends despite the fact that she attended d00k for college. All joking aside, Sarah is one of the kindest and truest friends I've ever had and I wouldn't have made it through law school without her. Between snow days in Glen Lennox, watching UNC-Duke games together, and having Carson pick us up from school (sometimes with a pitstop at He's Not), Sarah is huge a part of my most favorite law school memories. I couldn't imagine marrying the man of my dreams without her by my side!
Matt Yovanovich - Best Man
Matt and I have been close friends since the day we met. There are only a handful of people in life that seem to know you as well (if not better) than you know yourself, and Matt is absolutely one of those people for me. I can't even begin to count the number of adventures we had in our time at UNC and in the last few years, but I do know I'll always remember them fondly (even if a few are a little hazy). You'd be hard pressed to find a more genuine, loyal, or caring individual than Matt, and the fact that he agreed to be my best man is the second best news I've gotten in the last year (I'll let you figure out what number 1 is.)
Alex Holloway - Groomsman
Even though we're only cousins, Alex really is the closest thing I've ever had to a brother. Some of my earliest memories are with my cousin and despite growing up living in different parts of the state, we've always been partners is crime. From running around his backyard in Durham playing "war" as kids, to the many weekends Alex came to visit me in Chapel Hill during undergrad, I've always considered myself lucky to have such a great person as a cousin and I'm honored to have him stand with me for the biggest day of my life.
Jeremy Klopfer - Groomsman
Beyond being trilingual, generally brilliant, and possessing the wittiest sense of humor I've ever come across, Jeremy Klopfer is a true friend and good person. From the early days of visiting Matt and Jeremy's room on the seventh floor of Granville South, I knew Klop was an old soul in a young man's body and have personally learned more from our numerous conversations than I did in 95% of my classes at Carolina. I couldn't be more proud to call him a friend and to have him lend his time as one of my groomsmen.
Jeremy Sullivan - Groomsman
Jeremy and I have been good friends since arriving in Chapel Hill in the fall of 2010, despite being very different individuals. I've always admired people who posses strong convictions and who aren't afraid to share them, and that fits Jeremy (Jason) perfectly. I've never met someone as competitive as Jeremy and I'm pretty sure he could still tell you who holds the upper hand in our lifetime NBA2K series without having to think too hard (It's him). All joking aside, I'm extremely lucky to be able to call Jeremy one of my best friends and to have him be part of my wedding.
Oliver Salman - Groomsman
My friendship with Oliver is a perfect example of why first impressions aren't always that important. The first time I met Oliver, I remember thinking "I'm not so sure about this dude". To this day I still laugh about how completely wrong I was. Oliver is that rare mix of "life of the party", all-out workhorse, and "ride-or-die" companion that you usually only hear about in rom-coms or super hero movies. Not only is he currently serving our country on top of completing Ranger School, he's also one of the most intelligent, passionate, and loyal friends I've ever had. Even if he is a diehard Broncos fan.
Owen Hunt - Groomsman
One of the proudest moments in my life came in my first year of Grad school when I made the decision to step away from the "manager" position at He's Not Here. I was proud because I knew I was leaving the position to someone who could do a better job than I could and to someone I had been able to pass my knowledge and love for the old dive bar to- Owen Hunt. In my four years behind the bar I never saw a harder worker or more dedicated employee than Owen, and while all that is great, I value his friendship even more than his work ethic. I can't wait to celebrate the most important day of my life with one of the most important people in my life.
Will Alred - Groomsman
If there's a kinder or more generous person in the world than Will Allred, I have yet to meet them. Will, or "Goose" as we lovingly call him, has always gone out of his way to to be inclusive and make those around him happy. He was one of the first people to call and congratulate Allie and I on our engagement and while his timing was impressive, the true testament to the type of friend Will is was that he seemed even more excited about it all than either Allie or myself. I couldn't picture getting married without having Goose standing up there with me, and I look forward to many future trips to Atlanta to see him and his dog-son, Maverick.