Our Story
How We Met
Patrick and I met in Las Vegas, Nevada on January 10th, 2014. I was out at Surrender nightclub for a girlfriend's bachelorette party. Our group of girls ordered bottle service, and were having a fun night dancing, when another bigger group sat down at the table next to ours. Some of my friends started talking to some of Patrick's friends, and immediately, I was interested in Patrick, and only Patrick. He waved, motioning for me to come over and talk to him, so I got up the courage and walked over to his table.
I sat down and asked him how he ended up at a nightclub with his friends. He explained that during the week he had been busy at the Consumer Electronics Show, and that it was finally the last night of the show, and a great time for his fellow colleagues to go out and relax after the week-long show. He explained that he was a technology executive, and he asked me a lot about myself and my life. We talked for hours at Surrender, and then he asked me for my phone number. He mentioned that I was "too young for him" but that I was "a really cool girl" and asked if we could be friends.
After my girlfriends and I left the nightclub that night, I started texting Patrick immediately. I was so attracted to his mystery and interest in me, and I couldn't get it out of my head that I was "too young" for this incredible, caring man. He text back, and told me that him and his friends were gambling at a nearby casino and asked if I wanted to stop by and gamble a little. I broke away from my group of girls and went to meet him.
As soon as I parked at the Wynn hotel where I was supposed to meet him, I text him, and got no response. I text again, no response again. I called him and it went to voicemail, and I figured he was having too much fun to worry about me. I went to bed, and woke up to a text message from him the next morning apologizing that he had gotten so tired, and headed to bed while I was on my way over. He explained that he did want to see me, so I asked where he was. His response, "The airport for another hour before my flight home. If you want to come by the airport I would love to see you!" I was nervous to see him again, but my heart was fluttering and I couldn't say no. I took a cab to the airport and there he was!
We talked at the airport for an hour before he had to leave for his flight back to San Diego, and then he put his hand on my cheek, and kissed me. I never expected it, and I fell for him right then and there.
How He Asked
Once we had been dating for a few months, and he had met my son Kyen, and I had met his children Ella, PJ and Shea, we all decided to go on a family trip together to Park City, Utah where Patrick owned a vacation home. It was a gorgeous summer week, and we spent time playing cards, bowling, and going tubing and water skiing on the boat!
On July 3rd, 2014, we attended a charity event at the Promontory Clubhouse (the community where his home was located in Park City) and danced to the lovely music while meeting new friends and eating delicious food. As the event was winding down, we took a walk around the building and onto the golf course nearby. We sat down on the edge of the green, and started talking about our lives and where they were heading. Suddenly, he told me to stand up.
I had no idea what was going on, but I slowly stood up. He stood half way up, and I looked down, realizing that he was on one knee. As he took the box out of his pocket, I thought to myself, "Is this really happening?!?!" I had remembered seeing the movie Knocked Up, and figured like that movie, this box would probably be empty or something. This couldn't really be happening. As he said the words, "Amanda, will you marry me?" my heart melted, and I couldn't believe it. I slammed the box shut quickly and said, "Shut up!!" but it was real. He opened it again, and I just stood there with the biggest smile on my face. "Are you serious?" I asked Patrick. He explained to me that he wanted to show his deep commitment and love to me, especially if I was ever going to consider moving to San Diego to make this relationship work. "So, will you marry me?!" he asked. "Of course!!" I said, with tears starting to run down my face. He got off his knee, and took the ring out of the box. He slipped it on my ring finger and it fit absolutely perfectly. I couldn't stop crying and smiling.
The next day, we told the kids all about what had happened, and what it meant to our newly connected family. We all celebrated our engagement by watching the 4th of July fireworks there at the Promontory Clubhouse, and the rest is history! :)
The Wedding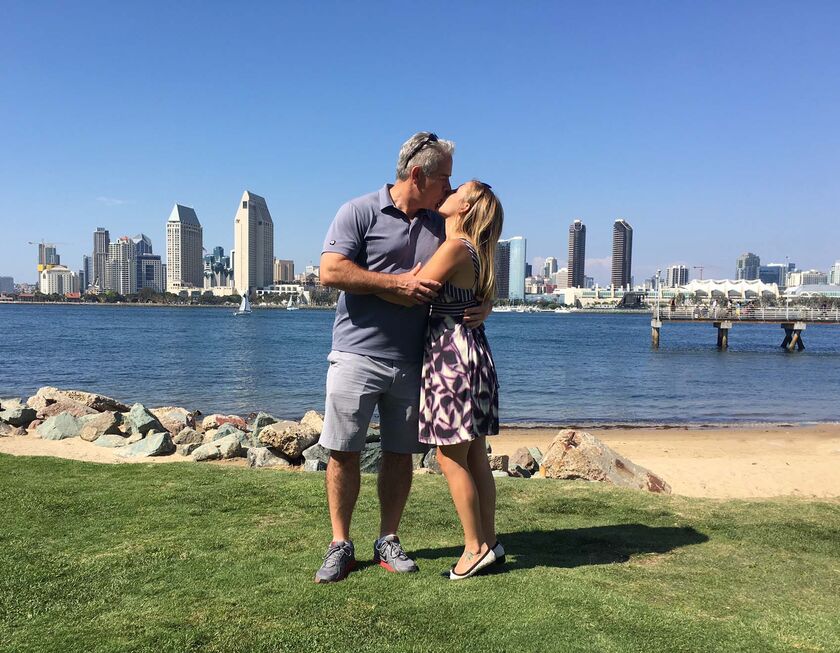 Saturday, August 12, 2017
11:00 AM
Attire: Semi-Formal
Ceremony
Centennial Park
1101 1st St, Coronado, CA 92118, USA
Reception
Il Fornaio Coronado
1333 1st St, Coronado, CA 92118, USA
The ceremony will be held at Centennial Park in Coronado, and after, guests can easily walk over to Il Fornaio restaurant for the reception luncheon on the restaurant's outdoor patio.