Our Story
The One Where They Met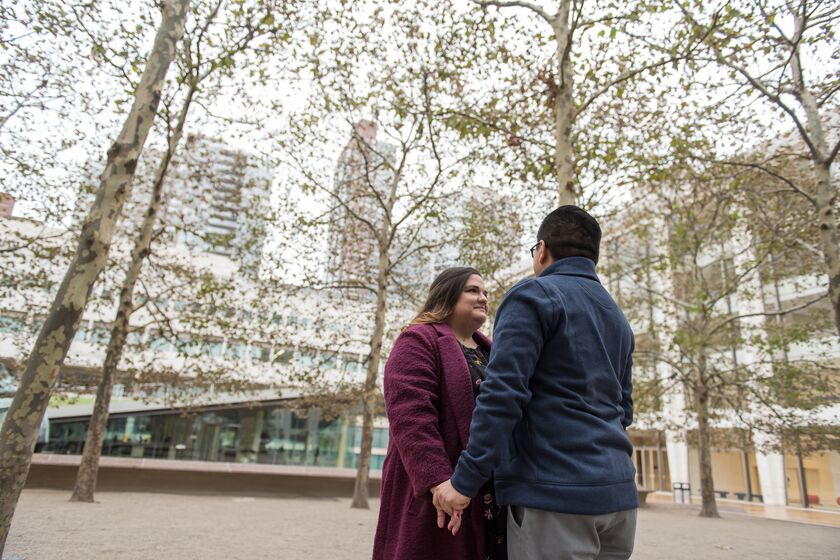 Rolando and Amanda will always say that fate played a major part in making them a couple. In November of 2010 they both attended the Kings of Leon show at Madison Square Garden. Amanda was down in the GA section with friends and Rolando was with his sister in the 200 level seating. Weeks later while browsing OkCupid Amanda happened to check another users profile only to have Rolando's profile pop up as a suggested match. But according to OkCupid's stats they weren't a match for each other and had a 0% chance of even being friends. But the first thing Amanda noticed was Rolando's profile picture of him at the KOL show. Amanda made the first move and messaged Rolando and asked how he liked the show. This conversation lasted a full two weeks until Rolando suggested that they finally meet in person.
Their lives changed on December 15, 2010 when they both walked into an empty bar in the East Village, Bar None. Wait...an empty bar?? What bar is ever completely empty in NYC? It was here during their first date that even with a moment of awkward silence there were sparks flying. They both left that evening to call friends and family saying, "I think I just met my new boyfriend/girlfriend." So where did fate play a part in bringing these two lovebirds together? It wasn't until a year after dating between NYC and Philadelphia and watching Friends reruns together that Amanda found out Rolando was never supposed to attend the KOL show with his sister back in November of 2010.
Rolando Was Ready To Put a Ring On It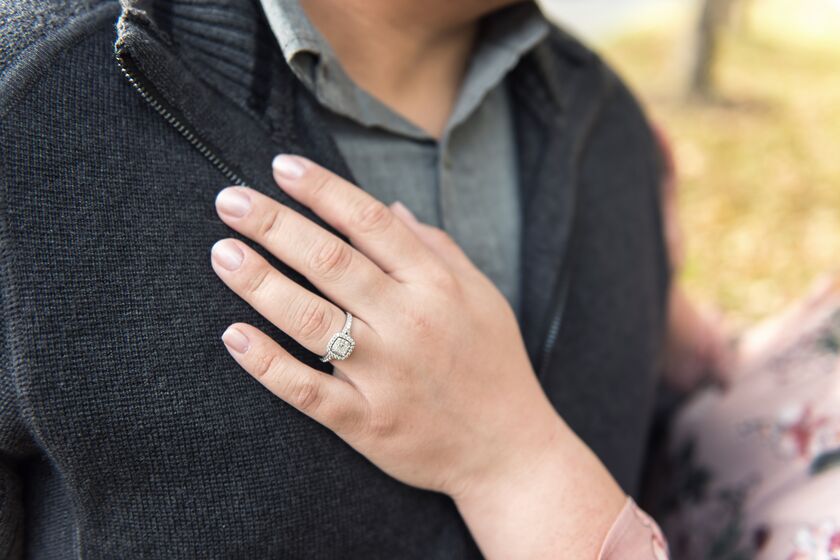 On February 19, 2017 we were visiting my mother in Philadelphia helping her with moving into her new apartment. It was a long tiring day for all of us! That night Rolando asked me to please get off the couch and stand up. I refused- he knew I was exhausted and did not want to be bothered. A few minutes before we were to leave to catch our Amtrak train back to NY Rolando grabbed me by my left hand with both of his hands and got down on one knee. The words "I know I should have done this a long time ago" were heard and in a state of shock I just looked up at my mom and went, "What?!?" Tears just started rolling down my cheeks and then Ro started crying I don't even remember anything else he said until he took out this ring box and said, "Amanda Daniela Johnson, will you marry me?" Through the tears of course I said YES! The moment was made extra special because Rolando knows how important my mom is to me and to do it in front of her in her new apartment it was the best first major family event to have in her new living room. Now we can't wait to share our wedding day with all of our loved ones and finally become husband and wife!!
The Wedding
Sunday, September 23, 2018
5:30 PM
Attire: Formal
Ceremony and Reception
Normandy Farm Hotel and Conference Center, Silos Ballroom
1401 Morris Rd, Blue Bell, PA 19422, USA
Wedding Party
Chylon Lee-Chipman - Matron of Honor
In 1985 we moved from Denver, Colorado to Philadelphia. Once we settled in Philly we went to the Conshohocken congregation and that's where we met the Lee family. At that time I was the baby at the hall and Chy took me under her wing as her baby sister since she had all brothers. Of course being 7 years younger I bugged her a lot, but we got over it once I was a teenager. We've been family ever since and we always talked about my wedding day together. I'm so happy to not only have Chy but her daughters, Kyra and Scarlett, to be a part of our special day.
Nicole Figliola - Matron of Honor
Nicole and I met wile I was an intern at MSG and we've been best friends ever since. She's the one I have the most inside jokes with, I know what she's thinking without her saying it out loud, and we've become each others "person" (We're Grey's Anatomy fans). Nicole was the first person I thought of as part of my NYC family. I was part of her bridal party and I always knew she'd be a special part of mine!
Diana Samuel - Bridesmaid
Diana and I met freshman year of HS. We shared our love of boy bands, Backstreet Boys was the best band ever, we laughed during our lunch breaks, and had our share of inside jokes. We kept in touch every so often throughout college but then the universe thought we needed to be present in each other's lives more often and brought us back together. Our GHS sisterhood is the real deal!
Shari Wohl - Bridesmaid
Shari and I became BFFs in HS...probably because we were so close to the same height. We shared so many life events together that I knew she would be a part of my bridal party long before I even knew who the groom would be! She'll always be family to me. She's also the one you want by your side on the dance floor! Trust me!
Katherine Zuniga - Bridesmaid
Kathy is the best future sister-in-law a girl could ask for. From the first day I entered Ro's life she welcomed me into the family with open arms. I'm so looking forward to having a sister and blending our families together!
Kyra Chipman - Ring Bearer
Scarlett Chipman - Flower Girl
Brian Lin - Best Man
Brian is my best man and one of the greatest people I know. He''s a huge anime fan and one day I'll have the courage to go to a Con with him. He's a great drinking buddy and a great friend. I am looking forward to having Brain next to me at the wedding.
Michael Lorenzo - Groomsman
This guy right here gave me my first hit of my current addiction. Of course I'm talking about collecting Funko Pops. I don't think I would have passed networking class without his help. He is a good friend and a very caring guy.
Xavier Rodney - Groomsman
Xavier was my roommate at Stony Brook and my pledge brother when we both pledged to Sigma Alpha Mu. I have never met a more determined man. The man is such a comedian and also a great friend. You can currently see him starring in Marvel's Jessica Jones.
Dana Lee - Groomsman
Dana is one of the several brothers-in-law that I will get and I couldn't be more happy about it. Even though he's an Arsenal fan I can get past that. This man has a huge appetite and just as big of a heart. I have huge respect for this man and is one of the bravest people I know.
Jeffrey Li - Groomsman
When I met Jeffrey I was taken aback when he spoke Spanish. A Puerto Rican Asian, who would have thought.This man though, he's a great friend and by far one of the smartest people I know.
Raymond Nunez - Groomsman
This man is a whole party to himself. Always the life of the party and quick with a joke. But when its time to get serious he's there too with good advice, which is why I consider him a good friend.