Our Story
How We Met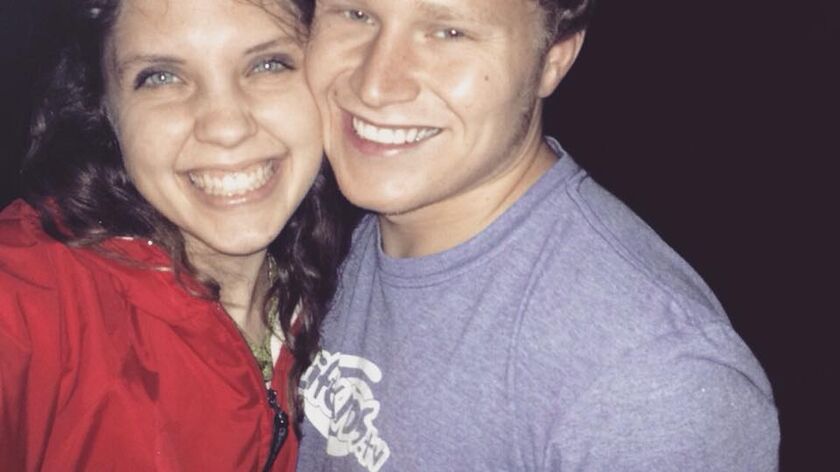 As told by Ben...
When I was very little, my family and I went on a vacation. I don't remember much about this vacation, but there's a good chance it was filled with me wrestling my older (and admittedly stronger) brother, getting piggy-back rides from my Dad, and holding my mom's hand while she explained what sites we happen to be touring that day. The first site she explained wasn't exactly a site, and happened even before we left the airport. The "site" that caught my eye was a man, standing only about 30 feet from us in the terminal. This man had a white pillow with him, which he was carrying on his backpack in such a way that both sides of the pillow stuck out behind him. To my little brain, the pillow made this stranger appear to have white wings. Lo and behold, not only did this man have wings, but he had a shirt on that read "God's Army" on the front. After seeing this man, I tugged on my mom's leg and pointed him out. Indulging me, she said "Oh, yes, I see him, Ben! You know what? Maybe's he's an angel!" Something in my little mind was amazed...could this really be an angel? Well, let's see. Does he have wings? Check. Does he love God? Check (You can assume a lot from a shirt). Did my mom say he was an angel? Check. All these affirmations made my little, imaginative mind believe he was a truly an angel. Is it more than possible he was a sleep deprived Pastor coming back from a mission trip or even just a man who owned a pillow and a "God's Army" shirt? It's possible. But something about my young mind made me believe he was an angel. And you know what? A large part of me still agrees with my younger self.
On May 10th, 2015, the life group I helped lead had to meet at a house other than our usual location. Our usual meeting spot was at Andrew Godfrey's house (aka "The Cabin"), but Godfrey was fortunate enough to not be taking a Maymester, so he wasn't in Abilene during this part of May. Lucky enough, we had some very hospitable people in our life group and finding a place for life group that Sunday was no problem. Laura Perez kindly offered up her house (aka "The Nest"--naming your house is a big trend among college students if you haven't picked up on that). Also, through this story and many other stories, you'll pick up on the fact that we serve an amazing God, who, through his wisdom, somehow led this relationship together. He truly is behind all of this.
So, like any other Sunday, I headed over to life group, only difference being the location. I walk in and say hi to Laura. Efrain, another guy in our group, walks in shortly after. Laura tells us that she needs to go pick up someone to give them a ride to her house, so she leaves me and Efrain alone in her house. Efrain and I begin chatting at the counter and a couple minutes into chatting a girl with groceries and glasses comes floating in. I open up with the classic "Hi, we're in Laura's life group, so we're supposed to be here. We're not just some strangers in your house." I've always been a tad awkward. We exchange some pleasantries and she begins putting her groceries away. I carry on my conversation with Efrain and mention how I live in Washington, D.C. The floating-groceries girl, in her black shirt (she says it was green, but I thought it was black. Let's be honest though, she's probably right) turns to me and says "Oh, you're from D.C.? I'm from Virginia!" The next words out of my mouth would be the start of a long list of obstacles I had to overcome in order to make this black/green shirted girl my wife. "Wow! I'm actually from Virginia, too! I live about 30 minutes outside of D.C., actually", I said. I didn't know it at the time, but Amy, one of the proudest Virginians you'll ever meet (she even carried the Virginia flag at the Parade of Flags at ACU's opening chapel...twice) was taken aback by my words. You see, to Amy, if you live in Virginia, you say you're from Virginia. Not D.C. You be proud of Virginia. But to Amy, I did not do this. Somehow she was able to look past my mistake. The next interaction I had with Amy that day was when she took the life group weekly photo. I didn't know it at the time, but this would be the first of many photos she will take of me.
A couple of days later, I was still thinking about this proud Virginian. Wanting more time with her, I concocted a smooth (or not-so-smooth, you can be the judge) plan. I texted two of my friends and asked them if they would want to go bowling with me and a group of people, in order to get more time with Amy. Actually, I have the text.
"sooo if i text laura combs to see if her and her roommate amy and maybe some other people wanna go bowling wednesday night would y'all be down? :)"
Yes, I know what you're thinking. That is a smiley face at the end. Well, technically, it's an emoji. And while the text didn't explicitly say my intentions, the emoji did. The boys were on board.
Being the great guys that they are, they were more than happy to help me create an excuse to see Amy. I texted Laura (Amy's roommate and friend) if she wanted to get a group of people to go bowling with me and my two friends. Actually, I still have this text, too.
"Hey Laura! So me josh and selvin were thinking about getting some people to go bowling Wednesday night! Would you and like your roommate Amy want to come? And maybe Evan (our friend) or someone too!"
To me, I didn't care much if "like your roommate Amy", gave away my intention. I wanted to see her. Bowling was a go.
I can't tell you what I bowled that night. It probably wasn't great. I can't tell you exactly who all was there. I can't even say how long it lasted. But I can tell you that somehow (okay, probably not "somehow", I'm sure our friends had a lot to do with it) Amy and I ended up sitting at the same table. And we talked. We got to know each other. It wasn't one of those stay-up-all-night-and-pour-out-your-soul kind of talks (those would come later), but it was the most important conversation of my life. Little did I know this would be the first time learning about the person I would spend the rest of my life with. Little did I know this would be the first time I would laugh with the person I would laugh with forever. Little did I know this would be the first time I tried to impress the girl I would try to impress for the rest of my life. And little did I know this was the second time in my life being in the presence of an angel...but this time, she would be mine.
How He Proposed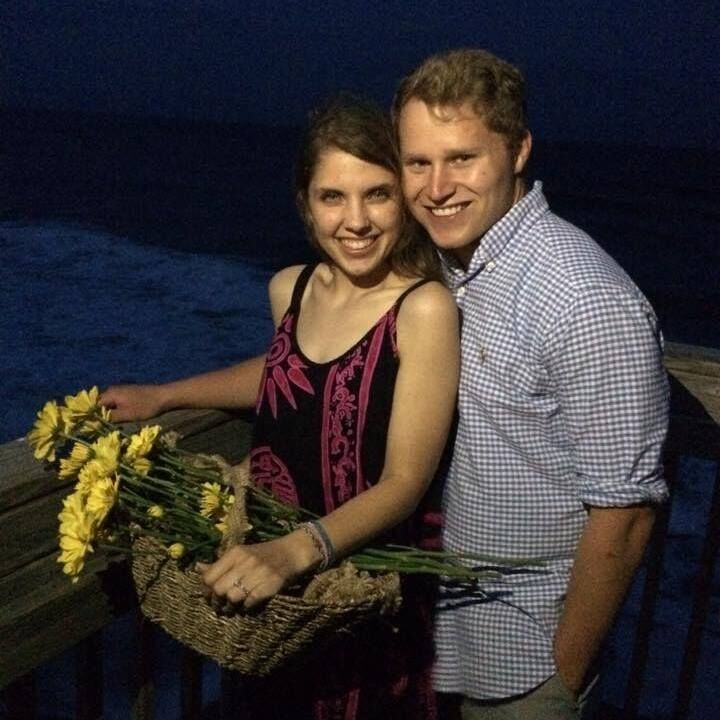 As told by Amy...
While spending the week of July 4th in the Outer Banks of North Carolina, I had suspicions that Ben was going to ask me something pretty important...
Ben had planned out a very detailed day in order to make promises to me regarding our future together.
Our first stop was "on the mission field" trying to heal one of our Spanish-speaking patients (played by Stephen, Ben's brother). Basically, Ben wanted us to try to help this sick man just like we hope to do in our future of medical missions. Unfortunately for all of us, I speak very little Spanish. This was pretty funny because I had no idea what was going on! But in the end, Ben was able to make a very sweet promise to me. He promised to stand by me as we serve the Lord in any place on this earth.
Next, we headed to the beach for an unforgettable lunch. As many of you know, my body is unable to handle gluten. Ever since this change in my life, I have always feared traveling due to cross contamination. To counteract this fear of mine, Ben made six delicious meals from various countries around the world. His promise to me was that he will support my gluten intolerance regardless of where we live.
After this, we went to an arcade with lots of fun games and go-karts! Ben wanted to recreate our first date, which was at an arcade in Abilene, Texas. We spent some time acting silly and enjoying the "5-year old" sides of us. Ben then promised that we will always be silly together, regardless of our ages.
Our last stop of the day was at the beach. At this point, Ben wanted each of us to write a letter to one another full of what we believe marriage is and what we promise to God in our marriage. I was under the impression that we would be reading these letters to each other... But instead, Ben had this idea that we would sail these letters off into the ocean with the letters written on our hearts. Yet, that was pretty impossible considering the ocean waves flow toward the shore. So Ben proceeded to throw the little boat across the waves into the ocean! We had quite the laugh after this.
We walked down the beach until I could see familiar faces coming into view. He had invited so many special people in our lives to be part of this wonderful day. Our families and many of our closest friends made the trip to North Carolina to play a part in our commitment to one another. Ben picked out several Bible verses that will be vital for our marriage. As we walked down the line of loved ones, our family and friends read verses to us before giving me a flower.
After many hugs and tears, we walked a little further down the beach. Ben began to tell me the many reasons that he wanted me to be his wife. He began to speak encouragement and love over me as he always does. He then placed sand all over my feet, saying that life will get dirty and difficult at times. He began to lead me to the water and explain that he will choose to lead me to the Lord when life gets tough. So instead of cleaning my feet for me, he will lead me to God for cleansing because He is our ultimate strength. To represent this, he led me to the ocean waves so that my feet could be clean again. Ben recognized that we need to be there for one another, but it is the Lord who needs to be at the center of our marriage.
Finally, the love of my life got down on one knee to ask me to be Mrs. Amy Cobb. And although many may describe me as indecisive, I never have made an easier decision in my entire life.
The Wedding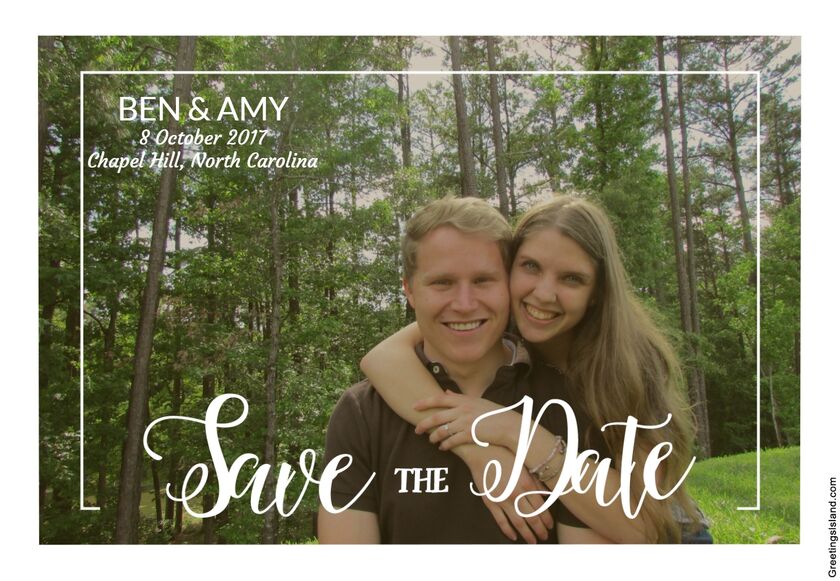 Sunday, October 8, 2017
2:30 PM
Attire: Semi Formal
Ceremony and Reception
The Barn of Chapel Hill
7316 Morrow Mill Road, Chapel Hill, NC, United States
Wedding Party
Christina - Maid of Honor
This beautiful friendship with Christina began in 2002 when Amy transferred schools in the middle of second grade. Christina, being the sweet and caring person she's always been, was one of my first friends in this new place! Growing up with Christina has been one of my very favorite things. As I reminisce over our many memories, I think of our late night sleepovers consisting of choreographing dances to classic NSYNC songs. I think of learning to ride a tandem bike together and drinking Mocha Moolates on Saturday nights. I think of the the tough times full of tears and the silly times rolling with laughter. Over these many years of growth and change, Christina has taught me what it means to be joyful, to be generous, and to be loving. She has cheered me on in every step of life up to this point. I know she will continue to encourage me and remain by my side as I step into this new adventure of marriage with Ben.
Alexis - Bridesmaid
There are not enough words to describe how grateful I am that we both went "potluck" at ACU (meaning we had never met before living together). Meeting Alexis my freshman year at ACU was one of the biggest blessings I have received. From day one, Alexis has been a true friend who listens with a caring heart, who speaks with kindness, and who loves without hesitation. Memories with Alexis are one of the biggest reasons I miss my time at ACU. Whether it was a late night Whataburger run, a cookie dough filled dance party, or an evening spent talking about our futures, there was never a dull moment. Alexis has helped my faith in God to grow and expand in ways that I never expected. She tries daily to live like Christ with her generosity, humbleness, and patience. I am confident that the Lord smiles on this friendship, and that it will be lasting no matter where the Lord leads each of us.
Laura - Bridesmaid
Laura is family. No one has invited me into their home as generously as this lady. I have grown to know the beauty in this friend over the two years of living in the same dorm, another two years living under the same roof, and the four Thanksgiving holidays spent at her home in Austin. All this time together comes with so much laughter, shared tears, and memories that will last forever. I couldn't forget memories like our many many roadtrips (that I never fell asleep on), our annual holiday baking with every candy imaginable, and late night talks using only emojis. Her gentle spirit shows me how Christ wants us to love people. I'm so thankful Laura is going to stand up with us on my big day, especially since she had A LOT to do with the reason I met Ben. (Check out his story on how we met!) I'm so excited to see this friendship grow even more as we step into this same chapter of life!
Alexandra - Bridesmaid
Alexandra is a genuine friend with a vibrant personality. Her love for Christ radiates through her actions and through her speech. She teaches me to chase after the Lord with everything in me. Her passions and her drive are influential to so many around her. I'm so thankful that we were both placed in Gardner Hall 5 years ago! We've had so many fun adventures like taking music-filled road trips to Plano, talking for hours about anything and everything over dinner, and even trying to push the car out of sticky mud for two hours! Alexandra is someone I know I can depend on in times of trouble and in times of utmost joy. Time with her is always a treasure, and has been missed so much since we've been apart! But even with distance, she will always be a treasured friend that Ben and I can lean on.
Katelyn - Bridesmaid
My friendship with Katelyn is one that means so much to me. We've had adventures up and down the East Coast- adventures that started at Chuck E Cheese in the great city of Chesapeake. We've spent some of the coldest hours of my life standing outside in Time Square on NYE. We've vacationed in the beautiful Outer Banks spent swimming, baking, and resting. And after many years of friendship while living in different states, sharing my very first apartment in Raleigh with this lady has been such a blessing. She has taught me true hospitality, which is a wonderful thing to learn before marriage! She has such a kind and generous heart. Katelyn is someone I can continually turn to in times of grief or in times of joy. She will always lend a listening ear or share some words of wisdom. Plus, we can always enjoy these moments with our mutual love for Reese's Cups. My friendship with Katelyn is one that I can always count on, so I know that will remain true throughout this lifetime.
Rylan - Ring Bearer
Rylan is my sweet nephew who always knows how to make me laugh! He gives me an excuse to watch kid's movies and to play with leggos again. Rylan always brings out my silly side and has given me one of my very favorite names ("Aunt Amy"). He shows me the importance of learning and growing in every stage of life. I'm so excited that this kiddo, who is so special to me, will be carrying the symbols of promises that will last forever.
Lydia - Flower Girl
Lydia is my "mini me". Some may even call us twins! My friendship with Lydia grew during my time working at Camp Rudolph. She has taught me to love and appreciate the life that the Lord has given us! Lydia is always challenging me with her questions and her comments that go far beyond her age. She teaches me that there are always new things to learn! I'm so excited to have this sweet girl celebrate love and life with us this October!
Josh - Best Man
Josh Bosley (6'3", 200 lbs, Best Man) has been there for Ben since they were born. Josh has influenced Ben in so many ways, ranging from introducing him to the honey mustard sauce at Red Robin, to helping Ben grow in his faith in God. Don't let Josh's love for baseball fool you--he's actually a really smart guy. Josh has been by Ben's side when eating insanely messy popsicles on the Fourth of July as toddlers, while in the same cabin (B Boys!) for church camp all those years growing up, while making amazing YouTube videos as teens, to being classmates at ACU, to being right by Ben's side during his proposal to Amy. Even though Josh's sock game might steal the show, Ben cannot wait for the trend to continue and to have Josh at his side during this amazing day.
Alex - Officiant
Alex Sergio (6'3', 195 lbs, Officiant) is no ordinary officiant. Alex is part of the trio of friends (Alex, Josh, and Ben) that Ben holds so close to his heart. Ben is lucky Alex became a Youth Minister. This way, he could have Alex officiate the wedding while Josh be his Best Man. Otherwise, it would have been a difficult decision, since both Alex and Josh are so close to Ben. Alex has been a lifelong friend of Ben's, even putting up with Ben as a roommate for four years in college. Alex and Ben have an absurd number of inside jokes and this number will assuredly grow. After living with someone for four years, you get to see what they're really like, so it says a lot about Alex's character that he still wants to officiate Ben's wedding. Alex is truly a man of God and someone Ben looks up to immensely. Ben is super grateful to not only have Alex in his wedding, but to have Alex, one of Ben's closest friends, lead the promise Ben will be making to Amy on this amazing day.
Stephen - Groomsman
Stephen Cobb (6'1', 230 lbs, Groomsman) is the brother of the groom. Stephen has always been smarter, stronger, and taller than Ben, but Ben has always ben funnier (or so he thinks). Stephen and Ben have shared many memories together, some good (directing and producing the "Funny Brothers" shows in the backseat of their mom's car) and some not so good (The Pencil Story), but at the end of the day they can always sit back and share a meal at Chipotle together. Ben would be very proud if he can bring even half the ambition, determination, and passion to his marriage that Stephen brings to life. Ben will have his Brothers-in-Christ surrounding him during this day, but it really is special having his own, true brother with him on this amazing day.
Kyle - Groomsman
Kyle Pinegar (5'10", 170 lbs, Groomsman) is the sister of the bride and a great friend of Ben's. Ben knew he had a lot in common with Kyle before he met him (Amy knew they would be great friends), but Kyle started showing Ben how great of a guy he was when he invited Ben to live with him while Ben started graduate school. Since living together, they've both grown in their love for the enclosed patio at their house, their frustration with their respective NFL team owners, their love for all things Keto, and their never-ending search for food challenges. Along with all these endeavors, Kyle and Ben have gotten to join the same church and small group, strengthening their friendship even more. Along with their hate for UNC, their love for God is what connects Kyle and Ben. Ben cannot wait to hear "Gud Morning" from Kyle on the morning of this amazing day.
Andrew - Groomsman
Andrew Godfrey, aka "Godfrey" (5'10", 150 lbs, Groomsman) is one of the friendliest people you will ever meet. Ben knew him as "that kid that sat in front of Alex and I in Bible class" for a semester, but then got to know the true Godfrey when they moved next door to each other in their dorm sophomore year. From then on, Godfrey and Ben's friendship has grown exponentially. Godfrey led Ben to the church Ben would call home throughout college and has been a role model for Ben since he met him sophomore year. Godfrey and Ben's friendship grew from Ben "being the guy whose head sleeps three feet from his head every night" (which is how Godfrey introduced Ben to his friends, since their beds were right on the opposite side of the wall from each other), to searching for Oscar (long story), to attending the same church, to leading life group together. Honestly, if you haven't met Godfrey, you really, really should. Look what happened after Ben met him. They became great friend and Ben cannot wait to have Godfrey being excited for him on this amazing day.
Logan - Groomsman
Logan Sartain (5'10", 170 lbs, Groomsman) was the first friend Ben made at ACU. After meeting during Welcome Week in Group H5, it was apparent their love for all things football would propel this friendship to the goal line. Logan and Ben have been involved in so many of the same activities throughout college since they needed something to do while everyone else was doing club activities. From coaching flag football, to playing Intramurals together, to attending life group and Midnight Worship together, to rating the best burgers in Abilene while all our friends were busy pledging, to being in each other's weddings and creating a life long friendship, Ben knows he will always have a friend in Logan. Even though there will be football games on during the wedding, Ben knows Logan wouldn't want to be any other place than with Ben during this amazing day.
Kevin - Groomsman
Kevin Schwarz (5'9", 170 lbs, Groomsman) and Ben have had a lot of very memorable experiences together. While meeting during freshman football and even playing the same position (weak side inside linebacker for those who care), Kevin and Ben's friendship didn't really take off till they both helped to create a Bible study their Senior year of high school. Not only during this time was their Bible study created, but Kevin and Ben also interned in the Senate for the same Senator that Spring. During the Bible study, God led Kevin and Ben to become even closer, quickly increasing the bond between them. Since then, through many awkward eye encounters with John McCain to Thanksgiving football games to grabbing Chipotle, Kevin and Ben's relationship has grown even when they've been in different states. There is one thing in particular Kevin does that means the world to Ben. About every week and a half, it's basically a guarantee that Kevin will send a text asking "Hey, how's it going?", or "Hey, how was ______?" Being in a different location usually makes friends grow apart, but, because of Kevin, their friendship has actually grown. Needless to say, Ben is very grateful and excited to have Kevin in not only the same state, but in the exact same location as him during this amazing day.