Our Story
For those who have not heard our story.....
We met one wintery evening in Chelan, Wa. The Vogue to be exact.
It had snowed the day of January 17, 2015 in Chelan. I drove in from Renton to Wenatchee. I hadn't gone out with my friend Lisa in years. We wanted to check out the Winterfest Chelan boasts about. We arrived a little late for the outdoor venue and decided to go into the Vogue for awhile. It was packed with dancers and liquid loungers. Somehow we found a seat. We sat down with our wine glasses and giggled at the fellow seated near us, who had a lot to talk about. The breakdown of the outdoor set brought more people inside the Vogue. One person in particular, looked at my smile and ventured close to ask for a dance. We danced, and laughed, and parted for awhile. I noticed a woman standing over him, seeming to have some serious words to impart. What I didn't know...She (Winnie) was asking him (Kevin) "What are you going to do about that?!" She coerced Kevin into at least getting my phone number. We were both nervous, but somehow as he passed his phone to me, I managed to type in Anne (I explained to him, with an E- which later became my name to him). So what happened to Kevin from Chelan? The timing wasn't quite right. Timing is everything. We texted for a short time, but then it stopped.
Fast forward to June 16, 2016. A text from Kevin from Chelan. He was checking in to see if I would be in Chelan over the Fourth of July weekend. He was in a band that was playing in Chelan. I was indeed going to visit my Mom. Perhaps we could visit with each other-maybe a walk? Well, we decided, wouldn't it be nice to meet each other beforehand-on the west side where we live? We went out for Thai dinner and talked and laughed.
But I want to say, that it all began at the Hard Row to Hoe Winery on July 2, 2016. The Kevin Jones Band's very first song was pivotal. As I heard the first notes, it hit me. The band was playing Neil Young! I leaned over towards my Mom sitting next to me and said, "He had me at Neil Young"
I think my Mom was right there with me on that one!
I will ask Kevin tell you the rest of the story.
Well, Anne has the facts all correct… I just walked in the Vogue and saw her. And yes, Winnie approached me and urged me to keep in contact with her. Winnie's words were "I've never seen her, don't know if she lives here, she is beautiful and you two looked like you were enjoying each other dancing… you're going to want to keep track of this person". It was a year and a half later that we connected. I do remember the night at the Vogue like it was yesterday. I had just walked in the door and saw her. She made an impression on me that is hard to describe other than instant attraction. Her smile was magnetic and I was most certainly drawn in. When we did finally connect we had a fantastic first date. It was like I was talking with a dear friend. So much in common and we laughed through our dinner. The KJ Band had a gig at Hard Row To Hoe in Chelan (our first picture was taken there, see below). People said we looked like we had known each other for years. I agree…. It did feel that way. After the show, she and her family left the winery and I found myself scanning the area and kind of disappointed we didn't make plans for afterwards. A half hour later I got an invitation to join the family for burritos and libation. Of course, I accepted. That evening I met who were going to be my family soon and felt very welcomed. Anne and I played pool (she won) and had a fantastic evening. Fast forward to a few months into our dating and one day I heard a sweet (in tune) lovely voice singing along with Alison Krauss on Pandora…. At this point I can say "she had me at Alison" Well, way before that really J . I approached her and said "you've held out on me! You sing wonderfully". We have shared music together and even a few performance stages which has included singing for her family for the first time which has been…. Like so many things we've shared together….. a wonderful, loving, and exciting journey.
First photo....
The Wedding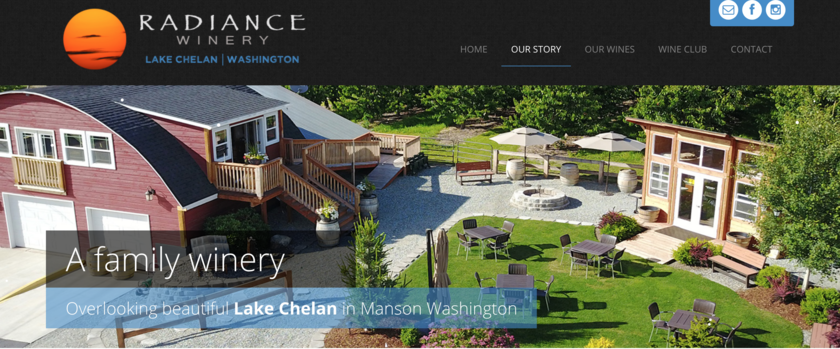 Saturday, July 7, 2018
5:00 PM
Attire: Comfortable attire, Lake Style
Ceremony and Reception
Radiance Winery
546 Klate Rd, Manson, WA 98831, USA
Other Events
Wedding Party Rehearsal
Friday, July 6, 2018
6:30 PM
Radiance Winery
546 Klate Road, Manson, WA, USA
Short gathering on location for rehearsal.
Followed by pizza and beverages.
Wedding Party
Kelly Gibson - Bridesman
Kelly currently resides in Southern Oregon. A professional student, and fine guitarist. We are truly looking forward to hearing his gift.
Yvonne Lopez - Matron of Honor
Best Girlfriend since high school. We shared many good times, including some shenanigans together.
Amazing chef and beautiful lady.
Mike Cooney - Officiant
Our dear friend Mike is going to marry us. We are very excited!
Maddy Jane Jones - Groomswoman
Groom's lovely daughter. I hope we hear her beautiful voice!
Owen Jones - Groomsman
Groom's son. All the way from New York City!
Dylan Jones - Groomsman
Groom's son. Recent graduate UCSD!
Austin Jones - Groomsman
Kevin's eldest son, and new daddy!
Doyle Wood - Man of Honor
Brother from another Mother,
Fastest Mandolin Player in all the Land,
Killer taco chef.