Our Story
The Story of Us: The Beginning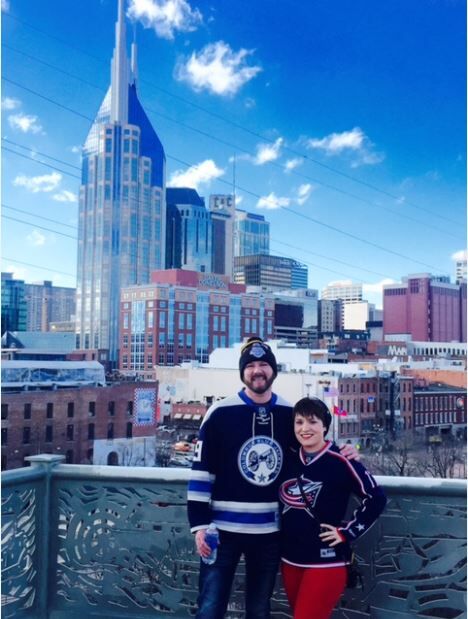 Our story begins in June 2012 in Columbus, Ohio. New to the city and eager to meet new friends, Annie hung out where she felt at home the most, laying out by the pool. Eric, stressed after a hard day's of work, went to relax and have a few beers by the pool with friends. The apartment complex, they both lived at, threw a pool party in late June. Finally Eric got the nerve to talk to Annie. Immediately both knew something was there. Not long after the party both were at the gym. Eric left to run Bailey, his boxer, and Annie stayed to finish working out. Once she left, she actually ran into them both and Bailey ran right up to her like she always knew Annie would be a part of her life.
After just a couple months of casual dating, both knew that this was more than just a fling. And not long after they fell in love. Eric took Annie as a date to one of his closest friends, Nathan Hyest, wedding in Ft. Lauderdale, Fl. This trip was Annie's first time actually being in the ocean. They knew then that if they were to get married, they were doing it at a beach. Since that first beach trip, they have shared many other beach vacations including: Sunset Beach, Jamaica, Kiawaii Island, Isle of Palms and Hilton Head Island.
As divided sports fans, Eric always for Cincinnati and Annie a homer for Pittsburgh, Annie introduced Eric to a taste of her favorite sport, hockey. Although Annie followed Pittsburgh Penguins before she moved, she quickly became a Blue Jackets fan because of the heart the team had. They spent a lot of their time going to games and following the Jackets. After Annie won the designated driver of the year with a paid trip to Nashville for the 2016 All Star game, Eric knew exactly then that he was going to make that weekend even more special by proposing there. He took her up to the pedestrian bridge that overlooked the city and asked her to marry him where she obviously said yes.

The Wedding
Monday, May 15, 2017
6:00 PM
Attire: Beach Semi-Formal
Ceremony and Reception
Hard Rock Hotel & Casino Punta Cana
Km 28, #74, Bv. Turístico del Este, Punta Cana 23000, Dominican Republic
The wedding will be on the beach with the reception elsewhere in the resort.
Men can wear shorts or linen pants and a button up or collared shirt
Women can wear a sundress, skirt or something comfortable but semi formal.
We recommend wearing flats such as flip flops or sandals since there will sand.