The Wedding
Saturday, June 5, 2021
1:00 PM
Attire: Black Tie Optional
Ceremony
St. Mark's Church
54 Kuhn Road, Rochester, NY, 14612, United States
Reception
Hyatt Regency Rochester
125 East Main Street, Rochester, NY, 14604, United States
The ceremony begins at 1:00 pm. It does not include a full mass. Please see our FAQ page for the most up-to-date COVID-19 guidelines for our reception. Cocktail hour will begin at the Hyatt at 6:00 pm. Dinner to follow. If you post a picture, don't forget to use our hashtag! #CupellOfRineharts
Wedding Party
Daniella Cupello - Maid of Honor
Daniella is one of Ariana's maids of honor. Besides being a great cousin, she is a brave traveler (who is very generous with her standby passes) and a caring friend.
Christina Cupello - Maid of Honor
Christina is another maid of honor and Daniella's twin, making Ariana the honorary triplet to these beauties. Christina is incredibly focused, but also always down to party.
Jaclyn Michel - Bridesmaid
Jaclyn is David's older sister and mother of the Ring Bearer, Teddy. Jaclyn is always the life of the party and should never be trusted with secrets.
Leanna Theophanous - Bridesmaid
Leanna is David's older sister. Leanna is one of the top three smartest Rinehart children and loves to host family parties.
Holly Yako - Bridesmaid
Holly is one of Ariana's closest college friends and past roommates. She's a great travel buddy (unless you're going into the ocean) and is always down to host a great party.
Emily Dicks - Bridesmaid
Emily "Dicks" is the girl who dragged Ariana through the treacherous time called a Mechanical Engineering Bachelor's Degree Program. Dicks is super smart, but she also watched every Bravo show Ariana introduced her to, so who's to say which roommate outsmarted the other.
Emily Rector - Bridesmaid
Emily is one of Ariana's oldest friends. They grew up on the same street together, and have countless memories from bike to bus rides, so even after being apart for months they can always pick up where they left off.
Brianna Cafarelli - Junior Bridesmaid
Brianna is another one of Ariana's cousins. Brianna is very outgoing and will talk to anyone, and she's fearless on a stage or dance floor.
Olivia Riley - Flower Girl
Olivia is one of Ariana's second cousins. She has a beaming smile that is sure to light up the aisle, and she'll probably show off some killer dance moves during the reception.
Niko Ruhe - Best Man
Niko is David's college roommate and friend. Niko can be relied on for great food, drinks, and unfounded confidence.
Anthony Cupello - Groomsman
Anthony is Ariana's younger brother. He has a big heart, is always dressed to impress, and has great skills on the soccer field. Ariana taught him everything he knows.
Nick Michel - Groomsman
Nick is David's brother-in-law (via Jaclyn) and father of the Ring Bearer, Teddy. Of all the groomsmen Nick has the longest relationship with David and shares many of David's most memorable moments.

Stelios Theophanous - Groomsman
Stelios is David's brother-in-law (via Leanna). Stelios is always at the ready with Greek food and an unbreakable good attitude.
Ryan Weir - Groomsman
Ryan is David's college roommate and friend. Ryan provides an incredible amount of useless knowledge and is perpetually available for late night shenanigans.
Ryan McMerrill - Groomsman
Ryan is David's college roommate and friend. Ryan's unquenchable thirst for video games is a cornerstone of the college friend group.
John Cupello - Groomsman
John is one of Ariana's cousins. He's a nice guy and a movie fanatic, so Ariana is always able to go see scary movies with him and can leave David out of it.
Michael Cafarelli - Junior Groomsman
Michael is Ariana's youngest cousin. He is sometimes too cool to smile in pictures, probably because he's strategizing for his next soccer, basketball, football... etc. game.
Theodore Michel - Ring Bearer
Teddy is the son of Jaclyn and Nicholas Michel. Teddy is a well known milk aficionado and can be trusted with carrying expensive items short distances.
Our Story
Coming Together
David lived on the same floor he had his first year at The University of Akron: Honors Complex Floor 2. Ariana, a freshman, was randomly assigned to the same floor. After meeting everyone around, the two became friends, often spending time together in the social lounge. Ariana moved into a room across from David, and the two got to know each other even more. She often sought him out for engineering textbooks and computer assistance. Eventually, David asked Ariana on a date. On February 13th they went to Bricco for dinner and watched some movies afterwards. After midnight, he asked to be her Valentine, and their 4+ years of dating began.
The Engagement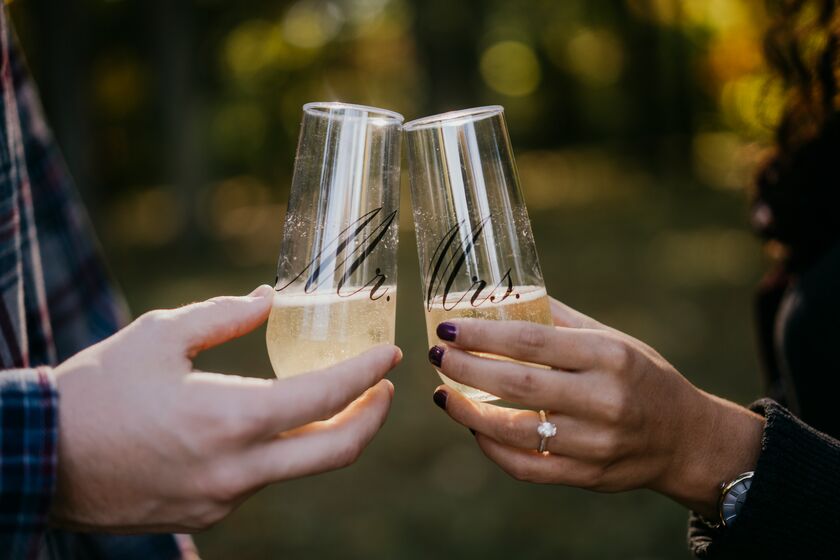 The two went out for breakfast on a chilly Sunday morning in Cleveland. Then, they tried going to the West Side Market, but since it was closed, Platform Brewing sufficed. Afterwards, David took Ariana to Lakewood Park. They went for a brief walk and sat atop the Solstice Steps. It was almost completely silent and still when David decided to break the ice. He talked about his love for her and how great their future together would be, took a box from his coat pocket, got on his knee, and asked, "Will you marry me?" Without hesitation, Ariana said "Yes!" She put on the ring, hugged and kissed her husband-to-be, and continued to watch the water as they both processed their excitement and joy. They were eager to tell all of their loved ones the good news and are looking forward to sharing their love and future with great friends and family.