Wedding Update
Wednesday, August 18, 2021
3:30 PM - 10:00 PM
Ethereal Gardens
8561 W Lilac Road, Escondido, CA, 92026
Attire: Semi-formal
Dear Friends and Family, it's the news you have all been waiting for! Thank you to all of you who have been praying for Adam and I during this uncertain year. On August 20 of last year, we were legally married at a beautiful wedding with a few close family and friends. We have been waiting for the day that our original venue would open back up and allow weddings, and that day has come! We will be sending out new e-invitations to our newly planned wedding celebration on Wednesday, August 18th at Ethereal Gardens in Escondido. If you are someone who still held on to your RSVP card from our last invitations, we would really appreciate it if you'd send it back with your reply. We will be following a similar RSVP situation as before, so please send back your response promptly either with the paper RSVP card or respond to the e-invitation. If you have any questions, please feel free to reach out to me (Arianna) at
[email protected]
Sincerely, Arianna Quiroz & Adam Quiroz, Tim & Kim Shell, Alex & Yolanda Quiroz
Our Story
(A.Q.) x 2 = A Happy "I Do"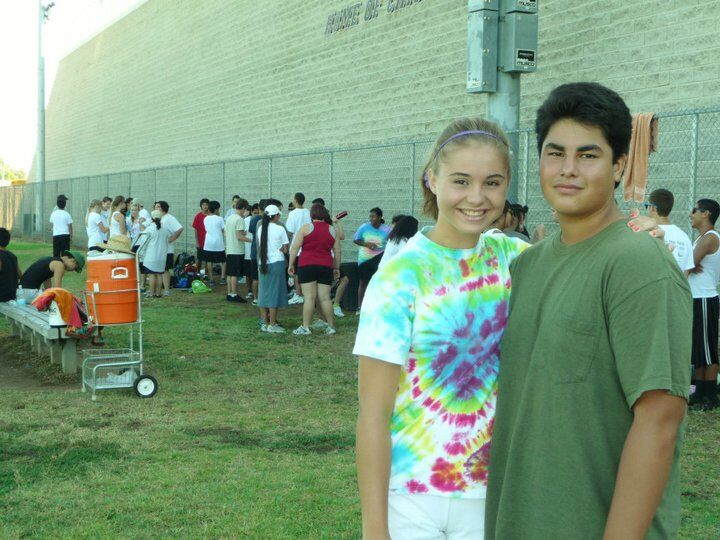 I want to start you off with a mental image. A young blonde girl who wore volleyball kneepads far too often and cheered way too loud during marching band competitions, and a boy with long curly hair, wearing either a bass drum harness or a football helmet. This story begins in the year 2010. Arianna had just started Escondido High School and it was her first year of marching band. Being the band nerd she is, she was determined to end up with a boyfriend in the drumline. Coincidentally, one of the drum line boys sat behind her during concert band season, playing the saxophone. It began with Adam walking Arianna to class, slyly glancing at her during marching band practice and finally getting her phone number. At this point, Arianna had really started to like this Adam boy. After several months of texting, calling and seeing each other almost every day at school, they knew their connection was far deeper than music and sports. Adam made Arianna laugh harder than anyone she knew, and listened to all the stories about her day. After building a strong friendship, Adam asked Arianna to be his girlfriend. They then shared fun high school memories, and Adam soon graduated and started to attend Palomar college. After graduating herself, Arianna attended Cal State San Marcos for two years. In 2016, Arianna transferred to Azusa Pacific University. Shortly after, the Lord placed it on both their hearts to spend some time apart. After doing some needed growing, both spiritually and mentally, they both came to realize it would be way harder to be apart then they thought. After all, it's hard to separate a couple, let alone best friends. While Arianna was away, she and Adam slowly started to once again spend late nights talking about their hopes and dreams in life. Adam would visit Arianna at school, and they began to form a brand new relationship. After Arianna graduated APU, she soon got a job offer to be a news reporter in Yuma, Arizona. Arianna will always remember the feeling of having to tell Adam, not knowing if they would never see each other again. Adam realized, it was now or never, he couldn't let her get away. Adam took her to the beach, and after sharing a picnic dinner, Arianna said yes to Adam's request to be his girlfriend once again. If only she knew the next yes she would tell him, would be the window to the rest of her life. While working out of state in Arizona, Adam was patient and supportive, secretly planning a proposal. After several failed plans of proposing in their favorite place: Julian, CA, buying a ring, and asking Arianna's parents for her hand, the day finally arrived. To Arianna and Adam, Yuma holds a special place in their relationship. "If it weren't for Yuma, we wouldn't be where we were today," said Adam. Adam planned for Arianna's co-worker to film the whole proposal. Adam walked Arianna towards Downtown Yuma, where they had shared countless dinner dates and star lit walks down main street. "That moment was so special, it was like I had fulfilled the purpose God had for my life. It felt like I was meant to be in that very place. The Lord led me to the magnificent feeling of proposing to Arianna. It was like the world stopped as I went down on one knee. It was more than just the four words I asked her that day. I realized I was doing what the Lord has called me to do, to live life for him, which led me to her," said Adam. Whenever she looks at her ring, Arianna thinks of the curly haired drummer boy whose eyes crinkle when he laughs, and can't help but smile. For Adam, he remembers the young blonde girl from band and smiles back. Because they know, how far they have come, and how far they will go.
Ecclesiastes 4:12: "Though one may be overpowered, two can defend themselves. A cord of three strands is not quickly broken."

The Wedding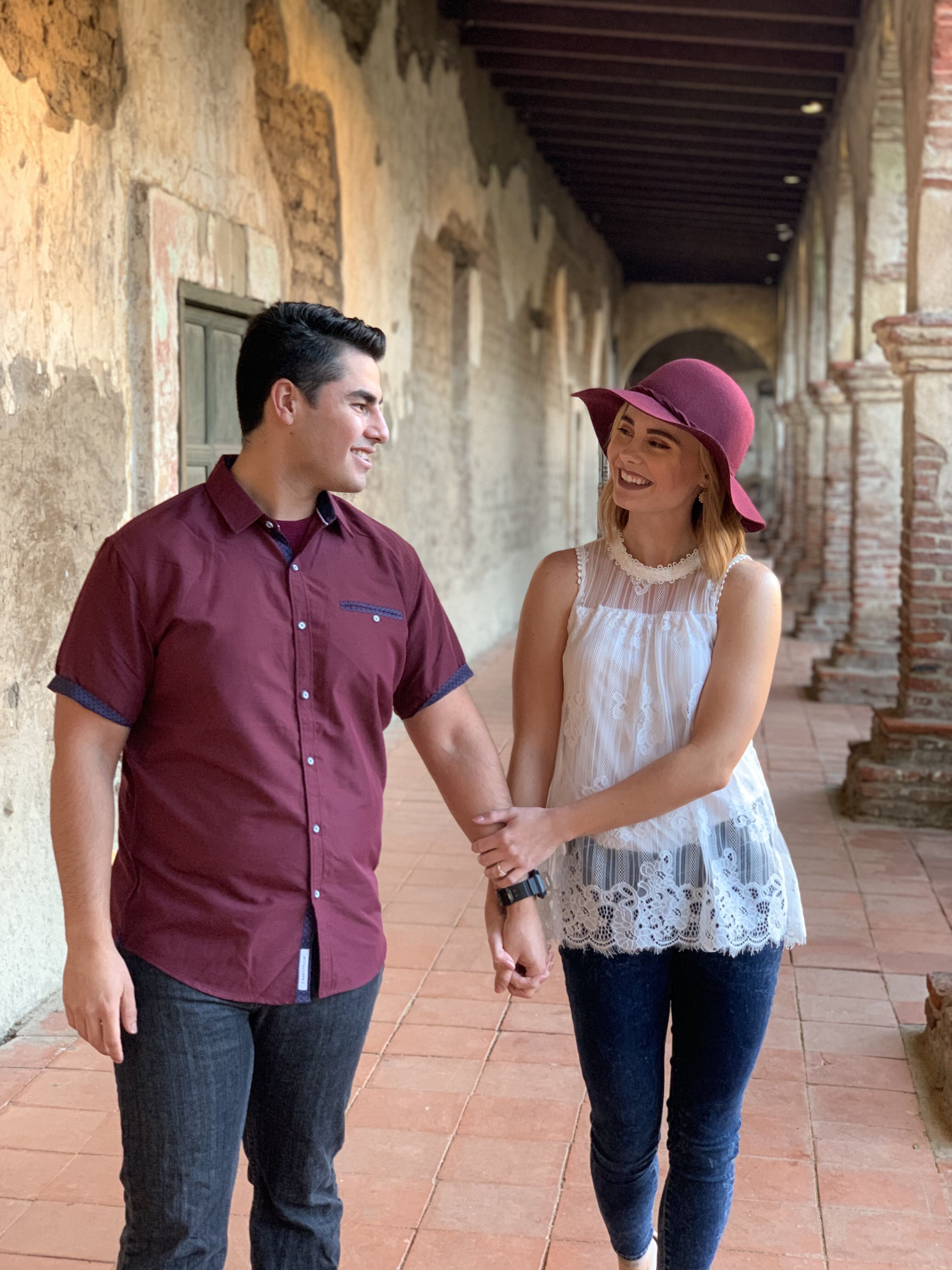 Wednesday, August 18, 2021
4:00 PM - 9:00 PM
Attire: Semi-formal
Ceremony and Reception
Ethereal Open Air Resort
8561 W Lilac Road, Escondido, CA, 92026
Wedding Party
Sena Trusley - Maid of Honor
Though Sena is a newer friend of the bride, Arianna feels she is a friend that was always meant to be. Arianna and Sena both attended Escondido High School and bonded over their time spent at their Alma Mater. Sena and Arianna have shared a memorable trip to Disneyland, two gingerbread house creations , and countless late night talks. Sena is a wonderful listener and is always quick to check up on Arianna when she needs it. Sena has been a huge help to the bride, being a local liaison, while Arianna finishes out her contract in Yuma.
Heidi Cortez - Bridesmaid
Heidi and Arianna have shared a life-long friendship that began at Emmanuel Faith Community Church. From sharing inside jokes after summer camp trips, ("GO BENNY") to cozying up on Heidi's couch to watch movies at a sleepover, Arianna will always have fond memories with Heidi. Heidi is one of the strongest girls Arianna knows, and she is so blessed to be able to call her a friend. Being a newlywed herself, Heidi has been a huge role model to Arianna when it comes to planning a wedding and being a Godly wife.
Kaylin Embrey - Bridesmaid
Kaylin is also one of Arianna's oldest friends. The girls met at Emmanuel Faith church as well, but their friendship grew stronger when they attended Escondido High School together. They even played high school and travel volleyball together. To Arianna, Kaylin has always been a wise friend that was someone she could count on. After already sharing many late night laughs over the years, Arianna knows those good moments will only continue.
Christy Richey - Bridesmaid
Christy and Arianna met in college while they were playing their instruments in the Palomar college concert band. Then, they happened to have the same Spanish class together at Cal State San Marcos. Arianna will always remember when Christy sat down next to her one day and said, "do I know you somehow?" It took them both about 15 minutes to realize they recognized each other from band. From there on, their friendship blossomed. Even though Christy is a science girl and Arianna went the communications route at CSUSM, they always had their connection to music. Though Christy is a wife and new mom, she always makes time to check in with Arianna. Arianna likes to fondly think of Christy as a sister she never had.
Haley Goulet - Bridesmaid
Haley and Arianna have a friendship that stems back to when they met in the college group at EFCC. Arianna remembers Haley's now husband, and Arianna's soon to be husband, goofing off in the back of youth group. They both took this as a cue that they would all some how end up close friends. Haley and Arianna have shared Disney trips, Hume trips and late night sleepovers filled with laughs and tears that Arianna will forever remember. Haley is a friend that has gone through Arianna's up's and down's with her, a testament to a friendship that will stand the test of time.
Sam Burt - Best Man
One of his earliest friends, Adam met his best man in 5TH grade when they lived next door to each other. Together they have fond memories of being in the high school marching and drum line, as well as working fun shifts at Toys R Us when they worked together. Regardless of time that passes between each visit, they never skip a beat when meeting up again. Sam's energy and concern for Adam's well being is nothing less than phenomenal. Adam is lucky to have him as a friend that reaches out and isn't afraid to say "I miss you Bro".
Connor Schroeder - Groomsman
Becoming closer after high school, Connor and Adam kept the early stages of their friendship alive through email while Connor was living in the Philippines. Connor, who now lives in Utah, does not let distance keep him from continuing to deepen his friendship with Adam. Connor and Adam have traveled to many places together. From having loads of fun in Utah, camping and fishing across Alaska, and being adventurous (and some times risky) boys with their good friend Wes and his brother Kyle. Together, they have stories to tell and memories to cherish.
Nate Goulet - Groomsman
For Adam, it was love at first sight when it came to Nate. He knew from the start he wanted to be friends with him during winter camp a few years ago. Adam looks up to Nate as a man with a constant positive attitude. From random road trips, to a trip to Pepperdine planned the night of, to fun stories about a gingerbread man, Nate has opened doors to a field of fun and life long relationships.
Joseph Shell - Groomsman
Not only is Joseph the bride's brother, but now also Adams' little brother. Early on, Adam knew he wanted to be close to Joseph. Joseph and Adam's relationship supports a no judgement zone, a safe place where one can talk, and the other will listen. Adam looks forward getting a new brother and having a continued relationship in Godly brotherhood.
Nicoli Quiroz - Groomsman
Though Nicoli lives in Oakland, it doesn't stop him from coming down and visiting his family. He honors the saying of "family comes first." He does not hesitate to ask if Adam has some free time to catch up. Nicoli shows constant interest in Adam's changing life, and looks forward to his big brother's new chapter.
Vincent Quiroz - Groomsman
The eldest of Adam's twin brothers, Vincent enjoys rock climbing and showing Adam a thing or two on how to do it. Though busy lives keep them on opposite schedules, they still manage to share late night conversation and watching movies together. As an older brother, Adam is always supportive of Vincent's ideas and aspirations.