The Wedding
Saturday, August 1, 2020
11:00 AM - 3:00 PM
Attire: Semi-Formal
Our Story
How we met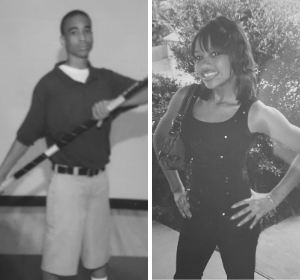 We love telling people how we met — people are always so surprised when we tell them that we met when we were kids. We've known each other for 13 years, since 8th grade to be exact. It was fall semester of our 8th grade year, we attended different middle schools in DeSoto, so it wasn't until we ended up at the same DeSoto High School sports game when we saw each other. Jabril knew Jazmyne (from summer camp since 2nd grade), and Jazmyne was my (Ariel) best friend. Jabril made the first move and told Jazmine that he thought I was cute and wanted to meet me, so like the good best friend Jazmyne was (and still is), she did just that. We exchanged numbers and shortly after we became "boyfriend and girlfriend" (whatever THAT was in middle school LOL). Even in middle school, we were long-distance dating, we figured that that was probably God giving us a glimpse of our future together because that's exactly how we would date 11 years later.

It wasn't long before our little middle school romance came to an end. We estimate that it lasted all of two months, before I (Ariel) would do something very foolish, which was break Jabril's heart. If you want to know more about what exactly I did to cause Jabril to remind me of this heart break everyday during high school then ask us the next time you see us. Jabril will be HAPPY to tell you. LOL

It took us both attending the same high school before Jabril would speak to me again. But there was no avoiding me since we both hung out with the same group of friends, but throughout high school Jabril didn't allow himself to get close to me again and kept himself busy by falling in love with a new girl each school year LOL. And some would say I stayed busy by breaking some more hearts. (It was a phase, thank God!)
How we reconnected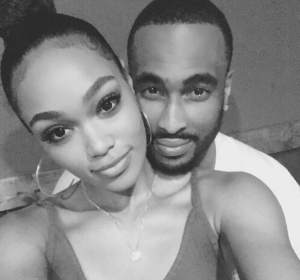 After high school graduation, Jabril went to Lubbock to play basketball and I went to Louisiana to run track. Six years would pass before we would see each other again.
[Ariel's narrative] It was July 4th, 2018. I had met some friends of mine from bible study (Chloe, Carissa, Mel, and Desiree) for a quick meet up. We talked and talked and somehow the conversation shifted to who we were crushing on at the time (most of us were single at the time). It was during this conversation when I shared, for the first time after purposely not dating anyone for 6 months, that I had a crush on someone. Shock and intrigue came on the girls' faces.
Yes, you guessed it...I was crushing on Jabril from afar. The feelings were very new and I hadn't had them for long, but they were strong. I showed the girls his Instagram, and them being the good christian friends they were, told me to pray on it and ask God for a sign before I reached out to him. So, I did just that. Leaving them to get ready for a July 4th pool party, I was in the car and I quickly prayed to ask God to send me a sign if Jabril was the guy He had for me. It wasn't like me to do anything like that -- It was my first time ever making such a request in my prayer. All year, our bible study group leader repeatedly told us to do that. His words: "Pray before you act. When you think you like someone, pray about it first, and if or when you get confirmation from God, is when you should act on it but not before."
Well, I'm glad I prayed about it, because 5 hours after that prayer I saw Jabril at the same pool party that I was at. I was SHOOK! I couldn't believe how fast God responded to my prayer. (I know this sounds unbelievable and weird, but I got receipts hahaa lol, but trust me, I'm not lying.) After I calmed down, I walked over to him and he was just as excited as I was to see me. We hugged twice after he asked for a second hug, because "it's been so long," he said. We talked for a good 60 seconds before he was interrupted by his friends, because one in particular wanted to meet me. But his friend wasn't who I prayed about -- I had tunnel vision at this point and all I could see was Jabril, so I had to make it very clear to him. Well, it's probably too late to say this, but...long story short LOL. That night we talked on the phone, caught up, and the rest is history. <3
[Jabril's narrative] The day we reconnected, changed my life forever, but what if I told you I wasn't even supposed to be at the July 4th party? I was at my friend's Avery house for a family barbecue because that's usually what we did on holidays. It wasn't until Avery told me and C Bo that he had plans with his girlfriend to be with her for the day, so me and C Bo had nothing to do. Our other friends were at this party downtown and told us to come so we went. The fee to enter the party was $20 and we were not paying that for a party, but luckily we knew a couple of people that let us in for free. Imagine if those people didn't let us in that day, I would have never seen Ariel.
I'm enjoying the party and I see Ariel come up to me and I'm shocked and surprised so I rushed into a quick hello and hug, but for some reason that wasn't enough for me, that's why I told her I needed another a hug. Around her was all her friends and I remember her telling her friends, "this is the guy." Her friends began to stare and smile, I wasn't sure why, I was just happy to see my first love again. Long story short, I "played hard to get" even though Ariel was giving me all the signs that she wanted me — I just wasn't quite sure, yet. We said our goodbyes and I left without getting her number. I remember getting in the car with C Bo saying, "Dang! I can't believe I didn't get her number!" but I also remember saying "Maybe she will hit me up on Instagram," lol which she eventually did that day (Well, her friend did on her behalf because she was fasting from social media). I was so happy — I called her immediately! The rest is history.

Wedding Party
Jazmine Johnson - Maid of Honor
Bestfriend of the bride since middle school.
Brittney Cain - Matron of Honor
Older sister of the bride.
Jade Thomas - Bridesmaid
Friend of the bride since college.
Nadia Durham - Bridesmaid
Younger sister of the groom.
Ashley Barros - Bridesmaid
Co-worker and friend of the bride.
Victoria Bowie - Bridesmaid
Friend of the bride since college.
Tymerian Carrathus - Bridesmaid
Kalisha Richard - Bridesmaid
Journey Carrathus - Bridesmaid
Darrell Foster - Best Man
Bestfriend of the groom since five years old.
Isaiah Durham - Man of Honor
Younger brother of the groom.
Avery Lomax - Groomsman
Bestfriend of the groom since high school.
Karrington Ford - Groomsman
Friend of the groom since high school.
Matt Jones - Groomsman
Friend of the groom since high school.
Chace Franklin - Groomsman
Friend of the groom since high school.
Roderick Winkler - Groomsman
Friend of the groom since college.
Manny Watkins - Groomsman
Friend of the groom since college.