Our Story
How We Met
Arielle and Glenn first met in 2009 at the University of Delaware when Arielle went to visit one of her best friends from home, Alyssa (and one of the bridesmaids!). They remained acquaintances throughout the next several years and reconnected in 2014 when their separate paths brought them together again in Baltimore.
Their rekindled friendship started on the soccer field when Glenn recruited her to play on his co-ed soccer team (because he knew Arielle was a rockstar sweeper in her childhood days). Over the following year, their relationship grew from being acquaintances to becoming best friends.
Even as friends, Arielle and Glenn had an appetite for travel. In November 2015, they took a cross-country trip to California to meet up with some of her friends. Three cities and 6,000 miles later (there and back), Arielle and Glenn realized the potential for their friendship to grow into something more. Two weeks later they went on their first date and never looked back!
Now, after knowing each other for 12 years, and together almost 6, we couldn't be more excited to tie the knot and celebrate with our favorite people!

How He Proposed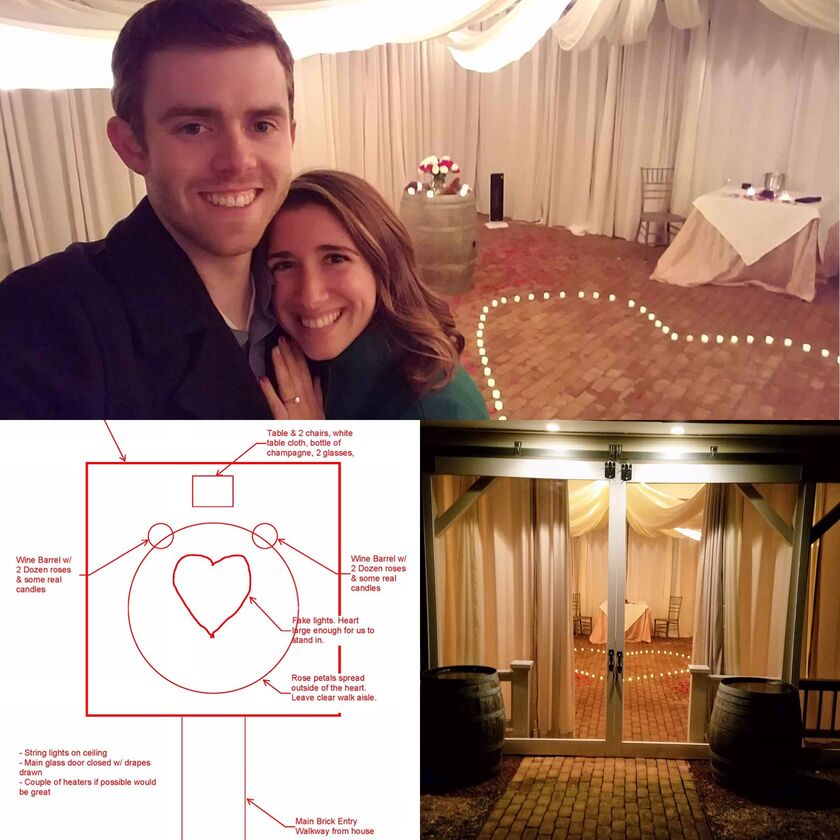 Months before the proposal, Glenn had already decided on the location - the Farmhouse at Veritas Vineyards, where they had spent many long weekends since their first dating anniversary.
As the 2018 holiday season got closer, Glenn suggested they plan a getaway for the days between Christmas and New Year's, knowing Arielle would immediately jump on the opportunity to go back to Veritas. Unbeknownst to her, Glenn was in regular contact with the Farmhouse Manager over the next month planning the perfect proposal.
Leveraging his Mechanical Engineering background, he drafted a blueprint of how he wanted the enclosed gazebo (the "garden house") to be decorated, and sent the drawing to the manager along with rose petals, candles, and 4 dozen roses.
Upon arrival, Glenn and the Farmhouse Manager had no issues with luring Arielle outside on a chilly December evening. The manager simply mentioned there would be a wine tasting event beginning in an hour in the garden house, and Arielle was ready to be the first in line.
Glenn led Arielle to the "wine tasting," and when he opened the doors to the garden house, Arielle did not see any tasting bars or bartenders. Instead, she found candles shaped into a heart on the floor, flowers and rose petals scattered throughout, and champagne waiting to be popped.
With Arielle frozen in place and (happy) tears forming, Glenn took this opportunity to drop down to one knee and asked her to marry him. She, of course, said yes! After taking it all in and snapping a few photos, calls to family and friends followed as well as a private wine-pairing dinner inside the Farmhouse to continue the celebrations.
The Wedding
Saturday, September 25, 2021
6:15 PM - 12:00 AM
Attire: Semi-Formal/Cocktail
Ceremony
Veritas Vineyard
151 VERITAS LN, AFTON, VA, 22920
Reception
Veritas Vineyard
151 VERITAS LN, AFTON, VA, 22920
Other Events
Welcome Party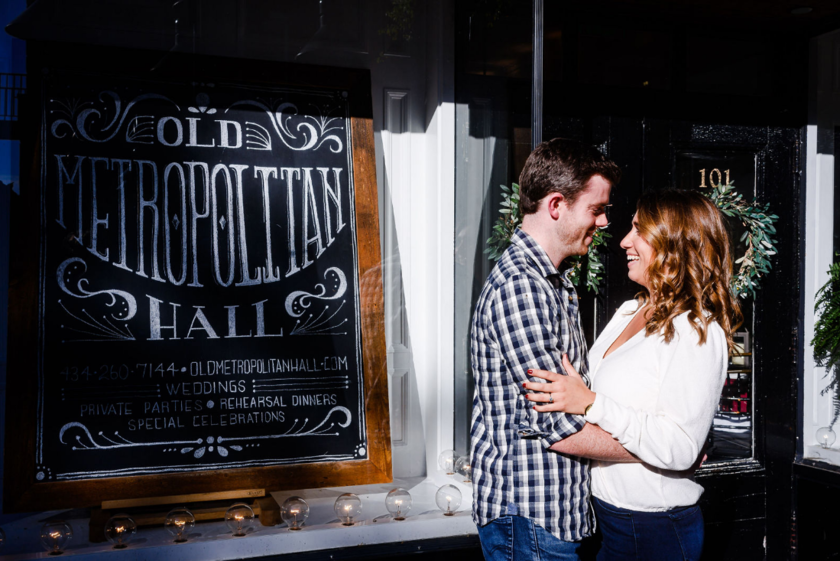 Friday, September 24, 2021
8:00 PM
Old Metropolitan Hall
101 East Main Street, Charlottesville, VA, 22902
Attire: Dressy Casual
Guests arriving Friday night are encouraged to join us at Old Metropolitan Hall in downtown Charlottesville to help us kickoff our wedding weekend! Light fare, desserts, and drinks will be provided. The official event is from 8 PM - 10 PM but we'll likely continue to celebrate afterwards.
Wedding Party
Heather Biringer - Maid of Honor
Childhood friend (since Pre-K!)
Alyssa Brown - Bridesmaid
Jacqueline Dwyer - Bridesmaid
Lisa Wallace - Bridesmaid
College friend (Roommate)
Elizabeth Lubben - Bridesmaid
College friend (Big Sister in Alpha Phi)
Kris Gallagher - Best Man
Bill Moreland - Groomsman
Gaston Alvaro - Groomsman
Brandon Alvaro - Groomsman