Guest Accommodations
Omni Charlottesville Hotel
212 Ridge McIntire Rd, Charlottesville, VA 22903, USA
434-971-5500
Check-in:
September 24th, 2021 |
Check-out:
September 26th, 2021
Rate:
$259.00/night + taxes & fees
Located directly on the downtown mall and just a 3-minute walk to the Welcome Party!
Fairfield Inn & Suites by Marriott Charlottesville Downtown/University Area
401 Cherry Ave, Charlottesville, VA 22903, USA
434-295-0100
Check-in:
September 24th, 2021 |
Check-out:
September 26th, 2021
Rate:
$189.00/night + taxes & fees
About a 5-minute drive or 10-minute walk to the downtown mall and Welcome Party!
**Click "Book A Room" link below to reserve a room at the Fairfield Inn.**
Mention the Alvaro-Stearns wedding at any of these hotels to receive the reserved block rate for either Friday, September 24th and/or Saturday, September 25th nights. The blocks are only held until August 10, 2021. Any rooms booked after this date will be charged the regular hotel rate for the stay.
Transportation will be provided from both hotels as they're located in Charlottesville (about 30 minutes from Veritas). Please refer to the FAQ section of the website for shuttle schedule information.
Traveling to Charlottesville
Charlottesville–Albemarle Airport
100 Bowen Loop #200, Charlottesville, VA 22911, USA

Charlottesville-Albermarle Airport (CHO) is located approximately 20 minutes outside of downtown Charlottesville. American Airlines, Delta, and United offer daily nonstop flights to CHO from the following cities:
Charlotte (CLT)
Atlanta (ATL)
Chicago - O'Hare (ORD)
Philadelphia (PHL)
New York City - LaGuardia (LGA)
Washington, DC - Dulles (IAD)
Richmond International Airport
1 Richard E Byrd Terminal Dr, Richmond, VA 23250, USA

Depending on where you're flying from, Richmond International Airport (RIC) may be another great option. About 1.5 hours from the Downtown Mall, Southwest, United, American Airlines, JetBlue, Delta, Spirit, and Allegiant all offer direct flights to RIC from the following cities/airports:
Boston (BOS)
New York City area - LaGuardia (LGA), John F. Kennedy (JFK), Newark (EWR)
Philadelphia (PHL)
Washington, DC area - Dulles (IAD)
Detroit (DTW)
Chicago - O'Hare (ORD)
Minneapolis/St. Paul (MSP)
Denver (DEN)
Nashville (BNA)
Charlotte (CLT)
Atlanta (ATL)
Dallas (DFW)
Houston (IAH)
Orlando - Orlando International (MCO) and Orlando Sanford Internatinal (SFB)

Sarasota-Bradenton (SRQ)
Tampa - Tampa International (TPA) and Tamp St. Pete-Clearwater (PIE)
Punta Gorda (PGD)
Ft. Lauderdale (FLL)
Miami (MIA)
Charlottesville Amtrak Station
810 W Main St, Charlottesville, VA 22903, USA

If arriving via Amtrak is a better option for you, the Charlottesville Amtrak station is only a 10-minute walk from both the Omni and the Fairfield Inn & Suites. Guests traveling from areas north of Washington, DC may need to transfer at Union Station.
Driving from Baltimore/DC Metro Area
For those driving from the Baltimore/DC metro area, estimated travel time (traffic dependent) is approximately 2.5-3 hours. If possible, avoid traveling through DC/Northern VA during rush hour, or drive west on I-70 to I-81 South as an alternate option (which is our preferred route).
Driving from areas north of Maryland
For those driving from NJ, PA, DE, CT, and NY, estimated travel time is approximately 5-6 hours. If possible, avoid traveling through DC/Northern VA during rush hour, or drive west on I-70 to I-81 South as an alternate option (which is our preferred route).
Things to Do
Monticello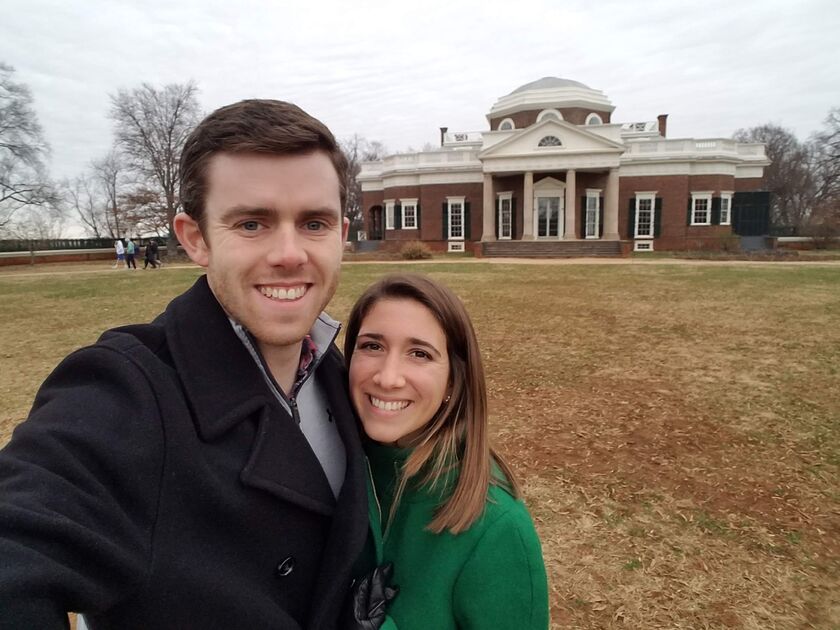 931 Thomas Jefferson Pkwy, Charlottesville, VA 22902, USA

The day after we got engaged we decided to do something different (i.e. not a drinking activity) and made a trip to Thomas Jefferson's home, Monticello. We started our visit learning about slavery at Monticello and then continued onto the house tour. We highly recommend putting this on your list of places to visit during your stay in Charlottesville!
Visit the website for more information on tour options and ticket pricing. Allow for approximately 3 hours.
Humpback Rock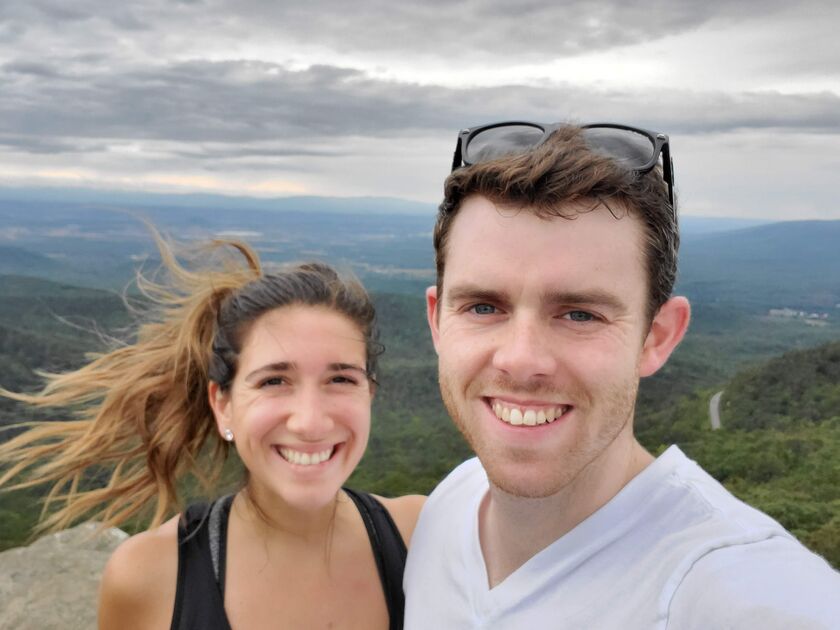 Humpback Rock, Rockfish, VA 22920, USA

One of our goals is to be more outdoorsy and explore more of nature's beauty. In anticipation of our trip to Zion National Park, we headed to the trails and hiked to Humpback Rock. (Fun fact: this was one of our first hikes together.) At the end of this short (but strenuous) 1-mile hike were the most breathtaking views of the Blue Ridge Mountains and the surrounding area!
The initial trail is approximately 2 miles round-trip with the option to continue down another trail once you reach the peak. Allow for approximately 1-1.5 hours for the 2-mile hike.
Skyline Drive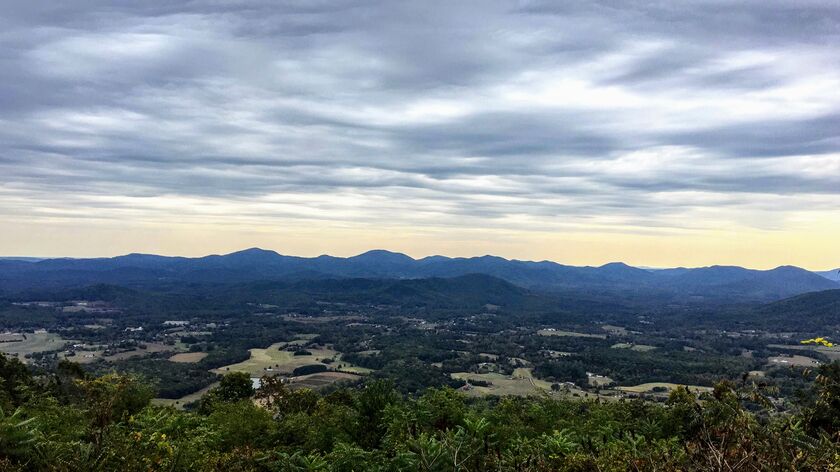 If hiking does not sound appealing, you can still take in the incredible views of the Blue Ridge Mountains on Skyline Drive! There are plenty of overlooks along the way where you can pull off, snap some photos, and take in the scenery. As you can see from our picture above, even on a cloudy day the views along Skyline Drive will not disappoint. For more information on access points, please visit the website.
Nelson 151 (Boozy) Trail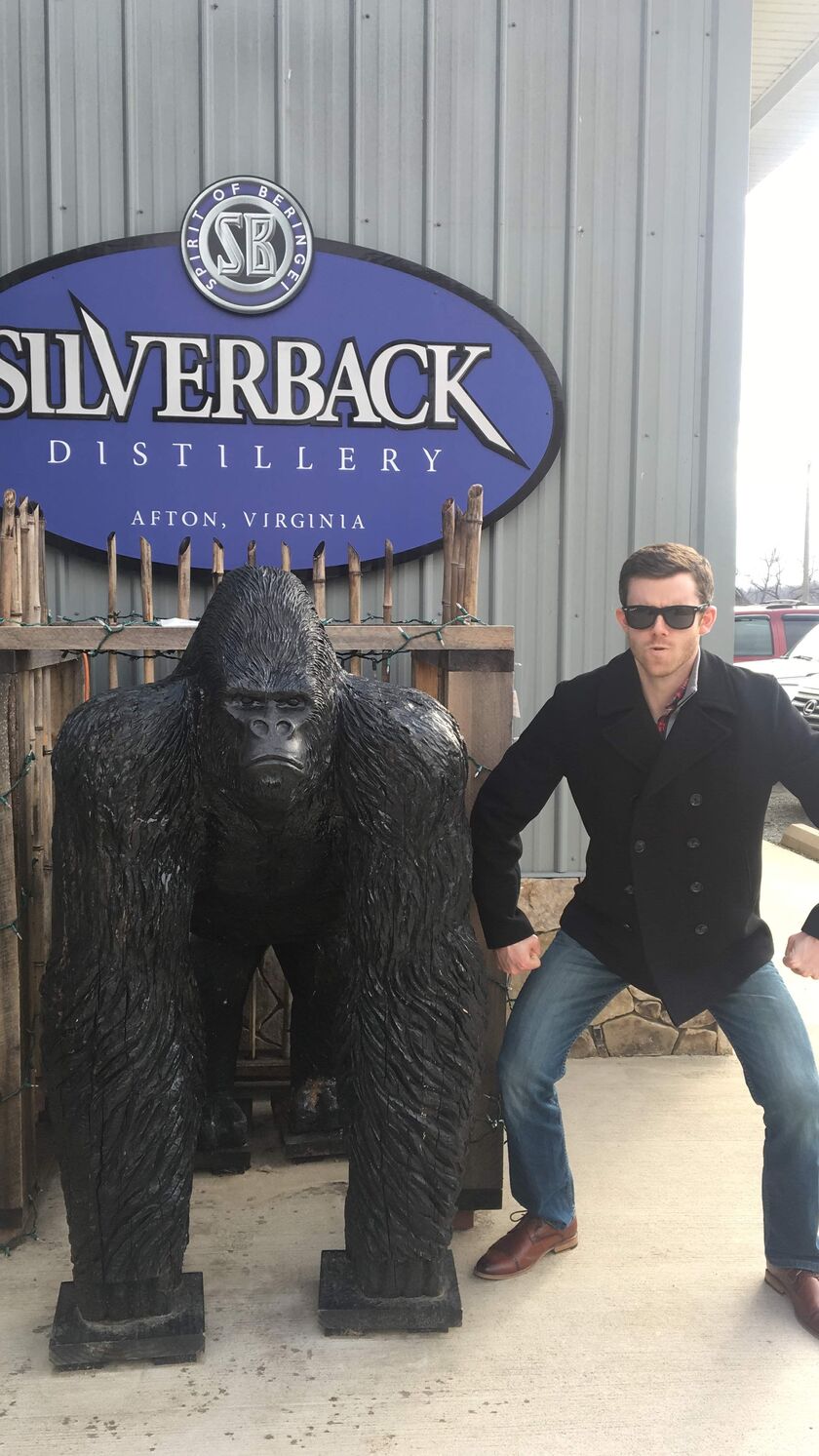 Did you know that Virginia has over 300 wineries around the state and is the 5th largest wine grape producer in the US (can you guess 1-4?)? Not only is Virginia known for their wines, but they're also winning medals for their area breweries, cideries, and distilleries.

With so many options in the Central Virginia region, we have really grown to love the stops along the Nelson 151 trail.
Some of our favorites are:
Veritas Vineyard & Winery
Afton Mountain Vineyards
Silverback Distillery - try their Honey Rye and the Smoked S'mores cocktail (see picture in our photos section)!
Blue Mountain Brewery
Devils Backbone Brewing Company
Other favorites not on the Nelson 151 trail:
Pippin Hill Farm & Vineyards
King Family Vineyards
Pollak Vineyards

Downtown Mall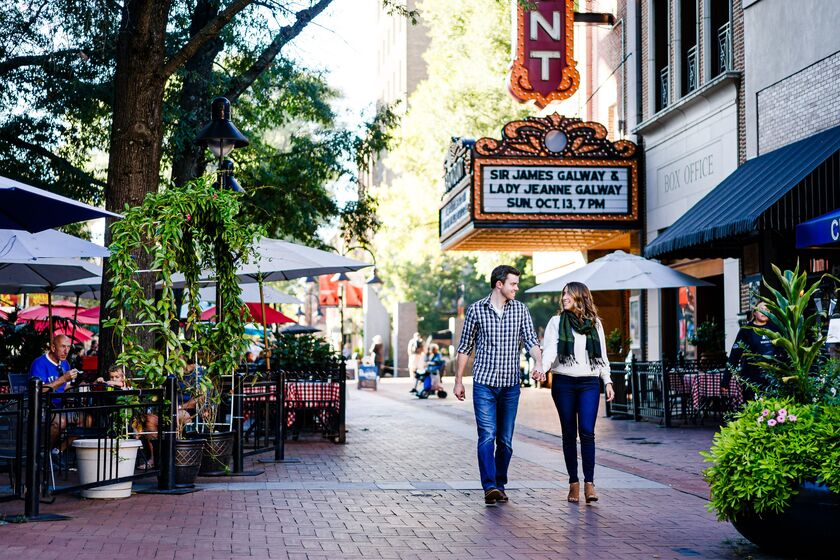 Charlottesville, VA, USA

Charlottesville's dining, entertainment, and shopping district! The pedestrian mall is located in historic downtown Charlottesville with many unique boutiques, great restaurants (many with outdoor seating), and live music. See a concert at the Jefferson Theater or catch a local performing arts show at the Paramount.
Our favorite dining spots on the mall are:
Alley Light - A hidden speakeasy with great cocktails and food tucked away in the side streets of the downtown mall. Hint: Look for the gaslight lantern in the alley off of 2nd St SW.
Brasserie Saison - French- and Belgian-inspired cuisine. We loved this restaurant so much we ate here two nights in a row one weekend!
Grit Coffee - Our favorite coffee shop for a quick breakfast and coffee when you're on the go. Some tables are available for those who prefer a sit-down meal, but all orders are placed at the counter.
Not on the mall, but within walking distance:
Orzo- A Mediterranean restaurant with a focus on a fresh seasonal menu from the regions of Spain, Italy, Greece, and the South of France. In addition to their classics, each month they feature a collection of new dishes from a different region of the Mediterranean! Tip: If you see their clam linguini on the menu - get it!
Lampo - Local pizzeria serving gourmet pizzas and delicious meatballs (we love the ambiance, too!). This is a VERY popular restaurant and, unfortunately, they do not take reservations so the wait may be long.
Tip: To pass the time, put your name on the list and head next door to Potter's Tasting Room to sip on some cider while you wait - just let the host know and they'll come grab you when your table is ready!
Tavern & Grocery - A farm-to-table restaurant known for their fresh, local cuisine and rotating seasonal menu. Inside Tavern & Grocery is another speakeasy called the Lost Saint where you'll find very interesting and unique cocktails. If the light behind the host stand is on, the speakeasy is open and seating guests.
If you're interested in exploring other neighborhoods in Charlottesville, we also enjoyed the quaint historic Belmont neighborhood (about a 20-minute walk from the pedestrian mall or a 5-minute drive). Some of our favorite dining locations in this area, include: Mas (Spanish Tapas) and Tavola (Italian restaurant connected to a really great (but small) cocktail lounge).