Our Story
How we met...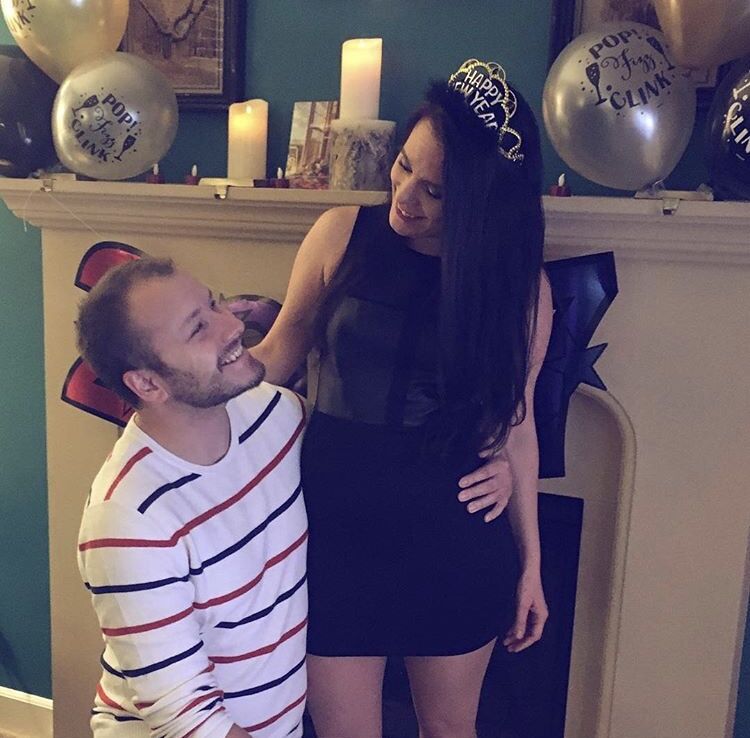 We have slightly different versions of our first encounter, but here it goes..
Ashley: I was serving at a bar on the Danforth (shout out to Factory Girl for your cupid-esque ways) and I knew there was this regular that everyone always talked about who lived upstairs. My coworker said "go ahead, take his order, he's a good tipper". First encounter..pleasant. He ordered a Keiths... beer drinker..cute. About 10 minutes later I went to ask if he would like a refill and to my recollection (although Dana will argue this point lol) he said bluntly, "I'm good thanks". So I transferred the table...never did find out his tip percentage on 2 beers, but I was assured it was...excellent. Flash forward 1 year later, after several what I consider to be mild flirtations across the bar (I was bartending, he was drinking), I bought him an Irish car bomb shot, we shared a cab to Gracie's (yes...Gracie's..shout out to 2013!), and the rest is history. Love youuuuuu baby!
Dana:
I'll never forget the moment I met Ashley, it was like a bomb went off inside me and I knew nothing would ever be the same:
After working all day, walking Finn, and going to the gym, I decided to treat myself to a relaxing adult beverage at a local pub. I didn't think anything of it, I just went downstairs, sat away from the usual bar crowd and waited patiently to be served.
I remember being intensely focused on a complex, post-modern novel (or newly purchased Playstation Vita) and then feeling like I got the wind knocked out of me when I looked up and saw my server. She had the most beautiful eyes I had ever seen, behind serious, dark make-up.
She asked if I wanted a drink.
"I'm sorry, what?" I was struck dumb.
So she asked again, and I was able to spit out:
"Ahhhhhh, Keiths?"
It was not particularly smooth.
I knew in that moment I had zero chance with this cool, edgy, new server and that I should do mankind a favor and just be kind and generally polite for every recurring encounter between us for the rest of our lives.
"Do you want another beer?"
She asked (several minutes after I had finished my first ). For me the service was never particularly good there.
"I'm good, thanks!"
I probably sold the line a little too hard, and I didn't see her again for the rest of the night. I took solace in my novel (again it was actually a portable gaming machine as I am not cool) and the knowledge that I was right.
But then something amazing happened...
The Proposal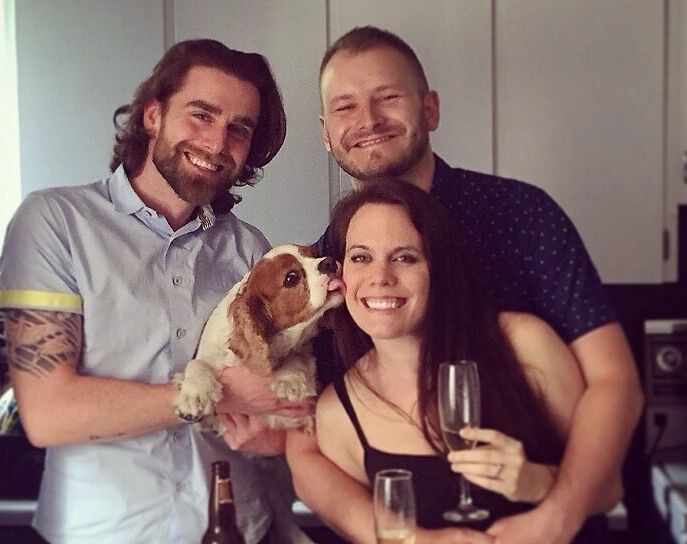 I think we both agree that this was a magical day..
Dana: She should have known something was up when I showered before walking Finn (we usually keep that pretty casual). Or maybe when I "forgot" something in our apartment and had to go back in while they were waiting outside. The weather was less than ideal and I was awkward - it had rained all night, the park was empty, and Ashley thought that I was being odd: overly serious and introspective. I feel I was acting pretty cool, considering the circumstances, it's nerve racking to ask the woman you love to marry you. But, when the moment finally came everything was perfect... I called Finn over, got down on one knee and found the courage to ask Ashley for her hand in marriage--
She didn't know what to say.
There was a lot of "oh my god," and "are you serious?" But after I assured her I was serious, and this was - in fact - for real, she eventually said "yes!" It was one of the best moments of my life.
Ashley: I was quite hungover that morning (shout out to Sean and I's impromptu bbq/beach party in the rain the night before...that was an expensive Uber...), and I knew we had a family lunch later in the day at a bar near our place, but didn't suspect anything. We did our usual routine, Starbucks, walking Finn to the park. As we were about to leave, Dana called me over to where Finn was playing, and all of a sudden he's down on one knee, on the green grass in the sunlight in one of our favorite places in T.O., with little Finn-pupp also sitting by his side. He starts talking, and it was just all very surreal. I think I said "wait, what, is this for real, whats happening??" a few too many times lol. I was just very surprised and very happy! After I (obviously) accepted (whilst wearing what could only be described as one step above pajamas, with smudged eyeshadow on my face, and hair oh so messy), we went back home to get ready for the family lunch (oh I forgot to mention this was with Dana's family..or so I thought). I did the usual round of "I'm engaged" phone calls, and remember being somewhat alarmed that Ally was kind of ushering me off the phone, and not nearly as shocked I expected. Mom, meanwhile, displayed superb acting skills. I had NO IDEA Mom and Ally were not at home in Miramichi, and Irvine, respectively. So Dana and I excitedly went to our lunch, and as we stepped inside the restaurant I saw balloons. So I figured Dana's fam was in on it. Then out of nowhere, out walks Tim (Ally's husband, my bro-in-law who I though was in Germany at this point at a conference!), and casually says "Oh, hey Ash". I freaked! So shocking! Then Ally and Mom walk out and I'm just beyond surprised and emotional. It was perfect :) We drank a lotttttt of champagne that day!!
The Wedding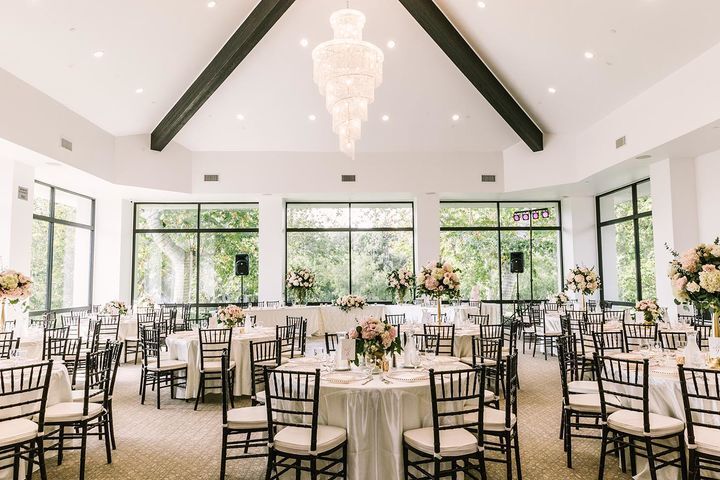 Thursday, June 27, 2019
5:30 PM
Attire: You know the drill
Ceremony
Wedgewood Weddings University Club
801 E Peltason Dr, Irvine, CA 92617, USA
Reception
Wedgewood Weddings University Club
801 E Peltason Dr, Irvine, CA 92617, USA
We love this venue!
-Ceremony, Cocktail hour, Reception/Dancing :)
Other Events
Brunch @ Newport Beach
Friday, June 28, 2019
11:00 AM
TBA @ Newport Beach
Location TBA (but most likely Baja Sharkeez on the Pier). Come breathe in that breezy sea salt air and cure that post-wedding hangover with some bloody mary's, extremely sugary mimosas, beer, and fish tacos. MMMMM.
Wedding Party
Allison Curtis - Maid of Honor
Twin sister of the bride. PhD (c). Biomedical Engineer. Wine enthusiast. Horror movie enthusiast. Once an amateur documentarian (just ask ;) ). Best advice giver. Best kitchen party dancer. iPhone DJ extraordinaire. Ashie's Best friend :)
Victoria Gaynor - Bridesmaid
Ashley's bestie since Sicilian days. Also a wine enthusiast and dare I say #foodie. PhD (c). Loves religious history, law, psychology, amongst other fun cocktail conversation pieces. Best hug giver :)
Emily Underwood - Bridesmaid
Ashley's bestie since the Sunnybrook days. Only one to love The Office as much as Ash. Funny as hell. MSc. Science-nerd. Beer lover. Wonderful human being :)
Em- I have no photos of us so here you go - santa beach babe! :)
Mike Pereira - Groomsman
Friends since grade 10, Mike and I have had so many (mis)adventures together it's hard to keep track: Countless house parties, trips to spring training, random days as Finger Eleven roadies - there isn't much we haven't been through together. Mike is everyone's best friend, and the most stand-up guy I know, which is why I'm honored to have him standing in our wedding. Tier two Mint Boy.
Jarboo Hatfield - Groomsman
His name is Jarrod, but I call him Jarboo (a combination of his mom's two pet names for her son: Jar and Boo), because I love him. Another high school friend, Jarrod and I grew up together. (Literally. I feel I owe his parents rent.) We don't get to see each other much, but when we do it's like no time has passed, and we are so excited to have Jarrod with us on our wedding day.
Jade Stollar - Groomswoman
My sister and best friend, Jade and I have been through everything together. Bubba (I call her Bubba) is a gregarious spirit, a fierce friend and a real high-talker. She is also the best sister. We are lucky to have her in our lives, and grateful to have her in our wedding.