Our Story
Our Engagement Story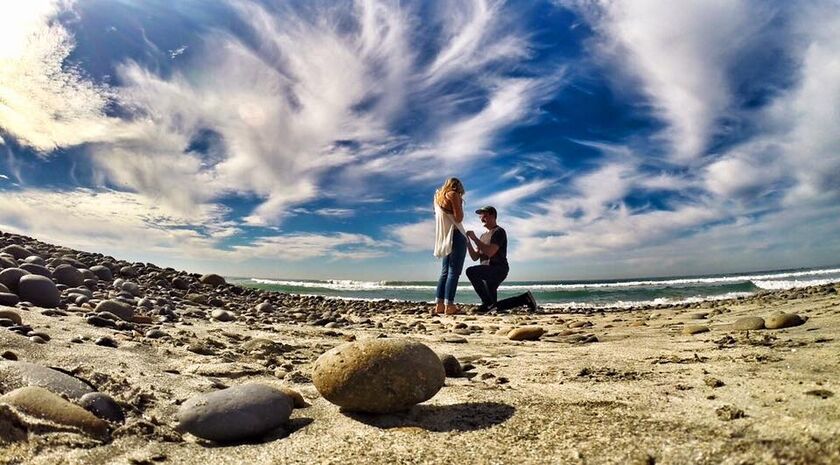 See photos from our engagement here

I'm not a fan of taking it way back when it comes to telling stories, but ours is so unique. Zack and I were both born at Long Beach Memorial Hospital in California in 1990, him in February and me in November. From there our lives would go in so many different directions. I would go to San Diego until I was 14 and he stayed in Orange County until he was 24. I moved to Virginia because of the military and stayed here up until now. Zack moved to Virginia to take a full time Student Ministry Director position at my church, the same ministry I volunteer in. After a few months of him working at Spring Branch, we got to know each other and began to hang out socially (that sounds so adult-ish). Our stories aligned in so many places. I couldn't believe it. He, like anyone else moving across the country, struggled adapting to the weather and culture but it was fun to walk alongside of him as I once had to do the same thing.
We started dating September 20th, 2014 and haven't looked back.
Ok, now on to the engagement. That's what you're here for. We flew to California to visit his family for Christmas/New Year. This is us on Christmas Day flying first class because the airlines messed up our flights. We got a ton of money in flight vouchers and I ate lobster macaroni and cheese. It was a weird day.
We spent a lot of time going to different beaches, our favorite southern California restaurants, and meeting up with friends and family. We even spent time with my Dad and sister. It was gearing up to be the best trip ever. I went shopping all day with Zack's mom and went to the movies to see "Sisters." Zack told me he was out and about with his dad, so I didn't think anything of it. Little did I know they were out having an engagement ring custom made just for me. Zack knew that I loved the look of a pear-shaped diamond, which is a lot harder to find than you think. He also said that I'm a unique and creative woman who deserved something just as unique.

New Years Eve rolled around and there was no movement on the forefront. Here's the thing though, I wasn't expecting anything. I knew that rings were expensive and I wasn't sure Zack was at a place financially to move forward on that. I mean, we both work at a church. In essence, we both make for great window shoppers most of the time. He also led me on saying things like, "I'm going to have to take on a 2nd job if I'm ever going to get you a ring." Cruel right? The whole time he knew it was happening and that he was going to propose to me in California.

When Zack and I were planning our trip to California, we came up with all the places we wanted to go. One of my top choices was Torrey Pines Beach. It was my absolute favorite beach to go to when I was growing up in California. I spent so many summer days there catching sand crabs, being an awkward teen in my first bikini, learning to surf, and watching hang gliders take off from the the cliffs. So, like the great guy Zack is, he made sure we went there. It was Saturday January 2nd. He said we were going to Torrey Pines. I invited his parents because it was a Saturday and they deserved a day at the beach too. They agreed, even though they knew Zack was going to propose and were worried he wanted it to just be us two. Leave it up to me to make everything a party! Again, I had no idea what was happening. I hadn't brushed my hair that morning or even put makeup on. I thought we were just heading down to San Diego to catch waves.

We walked up to the beach and it was beautiful. The sky was like a painting and the water was just as beautiful as it was when I was 14. It had been 10 years since I've seen that beach and I couldn't help but tear up in the nostalgia. We found a perfect spot to set up camp. I started setting up all the chairs, towels and surfboards with Zack's parents. Little did I know, Zack walked 10 feet away to set up a Go Pro in the sand. I was still catching my bearings when he grabbed my hand and pulled me aside. My exact words were, "What the heck are you doing?" The next 30 seconds of him pouring his heart out to me were so special and emotional. I love keeping that part of the story to myself because it makes it mine. It makes it ours. With his shaky voice and hands, he asked me to marry him and put the most gorgeous ring I have ever seen on my hand- that was just as shaky. I didn't cry at first. There was a lot of shock that was still setting in. I said YES and hugged him harder than I ever have before. I looked over at his parents as they were crying. I started to cry tears of joy. They would soon be part of our beautiful journey.

I first called my mom and told her I was engaged! Zack had called her for permission to marry me a little while back, so she knew it was coming but didn't know when. My Dad and sister knew as well. It seems like everyone knew but me! We celebrated by going to Old Town in San Diego and eating Mexican food with his parents and sister.
It was the BEST. DAY. EVER.
Before we left California to come back home, we went to Barnes & Noble and sat on the ground looking at a dozen different wedding books sprawled out on the carpet. It was so fun and exciting, and it still is as we start planning this huge day. Leslie and little Hayden picked us up from the airport in Virginia.
Hayden asked, "when Zack kisses you,will you be married?"
I love a children's view on love. It's so beautiful and new and pure.
I of course agreed with Hayden. That's definitely how it works.
Wink Wink.
I never would have imagined all the amazing things God had up his sleeve. He took two people born in the same year and the same hospital and sent them on a journey.
He had us mature and learn hard lessons. He had us move all over the country. We had to date the wrong people, make mistakes and feel pain. In the end, God brought us to an opportune moment to choose grace. He brought us to this moment to choose a foundation built on Him and he chose us to do that together. Our paths that once separated in 1990 have joined as one and I can't wait to see what happens next.
The Wedding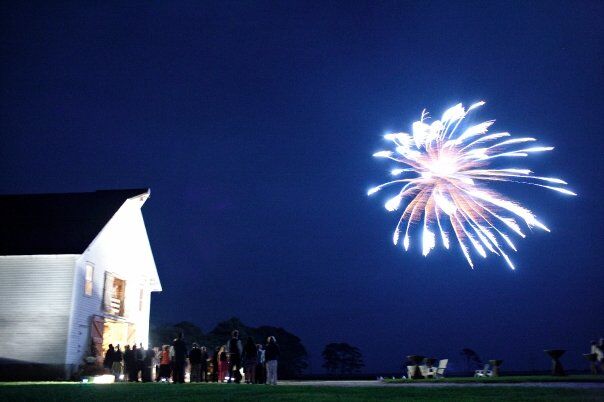 Sunday, October 2, 2016
4:30 PM
Attire: Come ready to dance the night away
Ceremony and Reception
Seaview Creek Farm
24021 Seaside Road, Cape Charles, VA, United States
Our wedding will take place at an 1884 historic barn, originally built by Marion Scott Sr. as a plow horse barn for his potato crops. Today it stands as one of the few remaining barns of its era. It overlooks the Virginia Coast Reserve Seaside Barrier Islands and bay. Seaview Creek Farm adjoins a pristine oceanfront natural area. The second floor of the barn boast high cathedral ceilings with the original pinewood flooring. It emulates rustic romance and a free spirit.

Wedding Party
Hayley Gillies - Maid of Honor
My maid of honor is none other than my gorgeous sister. How fierce is she? She also happens to be one of the funniest people I know. Apparently her confetti push pop malfunctioned, but I think it was user error. I can only say that because shes my sister and I know she probably won't read this. WINK WINK. She lives in Florida and is enrolled in a Radiography program(hope I got that right). Growing up we had our struggles as most sisters do who are within 2 years of age of each other. She has matured in so many ways and is so focused on her future. It's hard to believe she's my little sister. Even though we hardly get to see each other, I am always refreshed by our phone calls, texts, and our random snap chats. I can't wait for her to bring some humor to a surely emotional day in my life and of course to stand by my side as my sister, soul mate, and maid of honor.
Noelle Smith - Matron of Honor
My matron of honor is the always classy Noelle Rogers Smith. She is happily married to the most humble athlete, Ben Smith. I met Noelle awhile ago after joining CrossFit Krypton. She was someone I gravitated towards and is the kind of person who will always make you feel appreciated. I most of all looked up to her relationship she has with her husband and the morals and values they share as a couple. Not very many people get it right, but they are two people who do. Of utmost importance- girl knows how to have fun, and that is an absolute MUST on my wedding day. I watched her go from Rogers to Smith and it was the most exciting time. I can't wait for her to be part of my day as I go from Gillies to Neelands.
Alexis Cesarini - Bridesmaid
My Junior Bridesmaid is my absolutely stunning/way less awkward than I was in middle school- cousin, Alexis! I remember when she was just a little girl and thinking, "I can't until she's old enough to go shopping with me and talk about boys and _______(insert favorite girl band at the time). Now shes a teenager and I'm proud to say that we are both equally obsessed with Taylor Swift. My dreams have come true. She will be traveling all the way from Florida(and probably having to skip a day of school. oops!) with her hot mama. I'm so grateful they are taking the trip to be with me on my wedding day. I couldn't say "I do" without her there!
Nicole Neelands - Bridesmaid
Of course, one of my bridesmaids is my future sister in law Nicole Neelands. I met Nicole for the first time when Zack and I flew to California in Dec/Jan of this year. I was so nervous to meet her as I know a lot of older sisters definitely have tough standards. I was overly-relieved when I realized that she was so easy going and absolutely hilarious. We only got to see her a couple of times, but both those times she had me belly laughing so hard. It was then that I realized that she was a lot like my sister, and that's when I knew that she would make an amazing sister in law. I'm so honored to be welcomed into her family and so grateful that she will be flying from California to be in our wedding!
Megan Fenton - Bridesmaid
Everyone meet Megan Fenton. Most of the world knows her so I don't feel like she needs an introduction. I truly think anytime we go somewhere, someone there knows Megan Fenton. I have known her for a long time and could tell you a hundred reasons why she's amazing. We have led small groups together, vacationed together, and are both best friends with Taylor Swift. I use the term "best friends" loosely. She's absolutely the easiest person to talk to and is the greatest friend to so many people. Most of all, she is so spiritually supportive of my journey and I know I can always talk to her about my struggles and triumphs. She's away at grad school being awesome, but has agreed to come back for my wedding to be my Bridesmaid. Thank goodness! Love you Megan!