Our Story
Love Me Do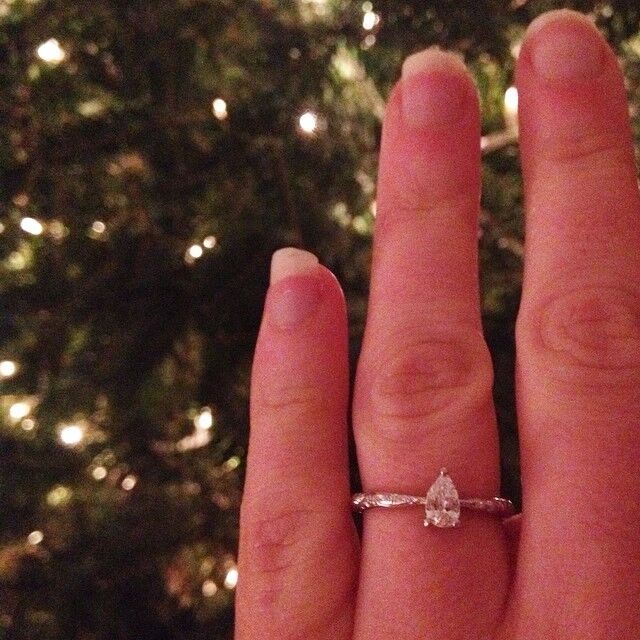 A long time ago, before engagement, friendship and love, Emily and Ben met in a tiny coffee shop named Chapters. They barely interacted at this initial meeting and neither of them remember it very clearly. But from a distance, over the next few months, they began to hear tales of the other's character and kindness from mutual friends. Eventually, with these mutual friends, they went on a couple of outings, eating sushi and watching Frozen in December of 2013. The evening they saw Frozen in theaters, Emily was sick and Ben empathetic, and the tiniest of seeds was planted.
Then little happened for months, though Emily and Ben occasionally saw each other around Newberg: in Chapters, in the house of their mutual friends, or at church. One of "Ben and Emily" was oblivious, the other gave up on him and searched elsewhere.
But as the summer of love arrived, the wedding of these friends (Jacob & Samantha) was to occur, with Ben as best man and Emily as a bridesmaid. Only weeks before the wedding, Ben discovered that Emily met with a group of girls for Bible study in Chapters, and tried visiting Chapters that same day the next week in hopes of seeing Emily again. And then again, the week after that.
Approaching the wedding, they again met in Chapters and engaged in a longer conversation over tea (or coffee for Emily). Most of the days that week, Ben and Emily saw each other: at rehearsal, rehearsal dinner, and wedding preparation. Love was in the air. Emily cleverly nabbed Ben's number to text him photos of the rehearsal dinner, and dragged him into dancing at the wedding.
After the wedding, Ben and Emily texted a bunch. And the next day, Ben invited her for their first ever "just the two of them" hang out- to read at the park near his new house.
Six hours later, after spontaneously making dinner together and watching Battlestar Galactica, they made plans to hang out again- the next day. This hangout again lasted six hours. Shortly thereafter, Bemily began.
Summer and Fall 2014 was a season of lots of walks, reading out loud to each other(The Chronicles of Narnia, Mary Oliver), and getting to know each other's people. Emily was drawn to Ben's gentleness, and Ben to Emily's joy. They discovered shared love for deep friendships, close-knit family life, books, and Newberg. And they also discovered a growing depth of comfort found in the other's presence. (They also found out they held massive differences in definition of "introvert time": for example, that for Ben it usually means not being around other people.)
And then in December, months after that first time reading together at the park, Ben and Emily celebrated a Christmas season day. They drove into the hills and sawed down a Christmas tree "together" (Ben sawed, Emily snapped photos and tried to encourage Ben to smile for a selfie as he sawed). They set up the Christmas tree in Emily's house to the sounds of Christmas music on Pandora, and then went to Ben's house for dinner. At Ben's house, hundreds of pictures were hung up along the walls, the table was set with a wreath and some lovely candles, and Emily's favorite nostalgic food (bagels and lox) was prepared. After Emily cried and looked at all of the pictures, Ben made her eat dinner, then made her make frosting for the cinnamon rolls ("don't you have anything else to ask?" "no, what else would I want to ask?"), before giving her a Christmas present and proposal. She cried some more and said yes (actually, she said "uh-huh" but the hugging and smiling gave it away.)
And now? We're getting married. Come celebrate with us.
Our Wedding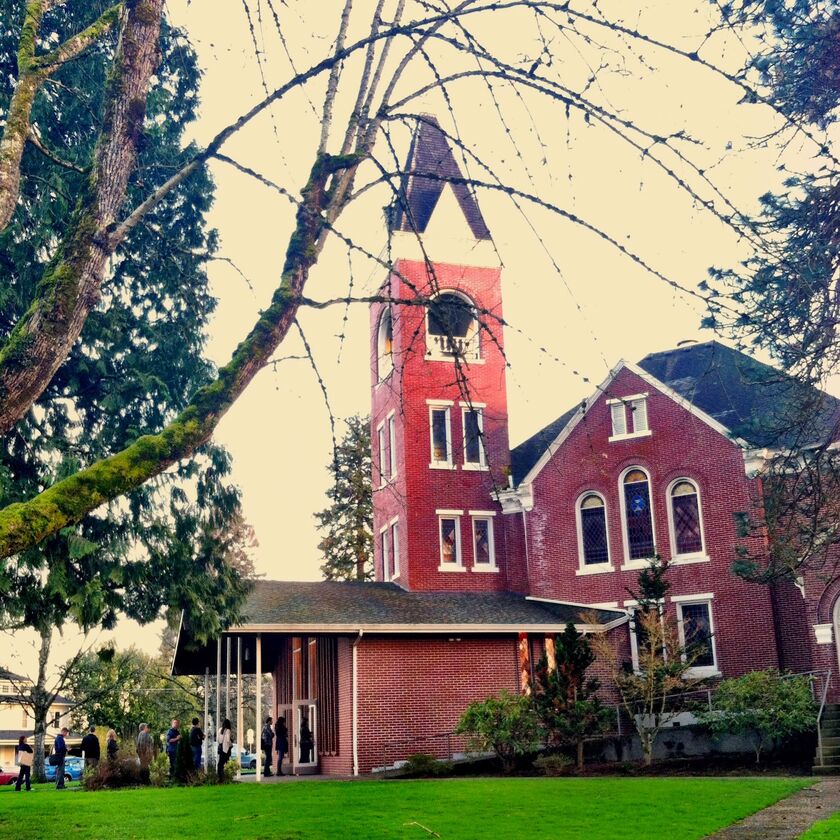 Saturday, July 11, 2015
4:00 PM
Attire: Dress Casual
Ceremony
Newberg Friends Church
307 South College Street, Newberg, OR 97132, United States
Reception
West Chehalem Friends Church
16700 Northeast North Valley Road, Newberg, OR 97132, United States
Our ceremony will be held in our own beloved church's beautiful 150-year-old building. We'll celebrate together afterwards in the lovely and spacious backyard of another church in our community, nestled right in the hills of Newberg which both of us love so much.
Reception will be immediately following ceremony. Hearty appetizers, a casual dinner, and delicious dessert will be served, all provided by the amazing Red Hills Market.
Come in the mood for eating local seasonal food, hugging the bride and groom a lot, playing board games (yup) and probably lawn games, hanging out at tables, couches and chairs, and picnic blankets, and... reading (What?! You'll see.).
We are working on figuring out parking for our reception site, but we know it will be somewhat limited, so please plan to carpool as possible!
Other Events
Sunday Brunch?
There will very probably be some sort of brunch held the day after the wedding for out of town guests. All details TBD, but just fyi as you think about travel plans!