Our Story
A Love Story for the Tinder-Hearted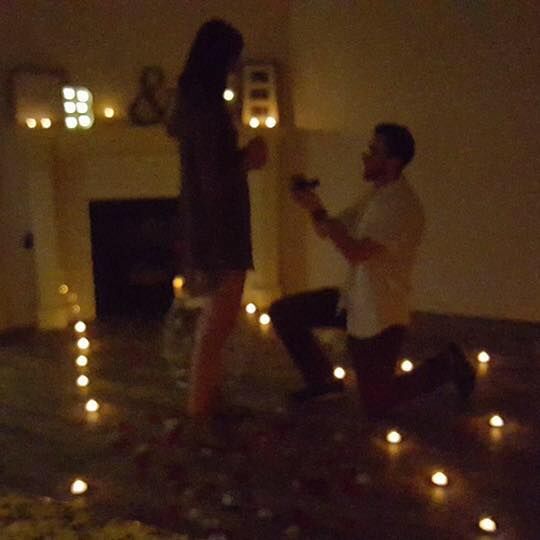 Our story is a little different than most. We met on a little app called Tinder. Some may say that is really weird, but we now say it was really perfect. Everyone always told both of us that God had a plan and would make it happen on his time and when we least expected it. That was definitely the case because we both used the app more for entertainment than anything. Little did we know, God had a really unique way for us to meet. A couple days after talking we met at Starbucks, she listened and fake laughed at my Vegas stories and that was all she wrote. Ok, maybe not, but it did go well enough that we talked and hung out 3 more times that week. The second week of knowing each other she came to my homecoming game and met my parents. That just kind of happened and of course they loved her.

We continued to date and have a blast together, shared our first and probably the best kiss of her life on Valentines Day 2015. Two and a half months in our relationship I finally got to meet Rory. I knew it was perfect, not only because she has the number 1 golfer in the world's name, but because she is an amazing kid and we hit it off immediately.

Katherine and I took a trip to California where we stayed with some family friends who are amazing and spent some time relaxing on the beach. This was the best trip of my life. At that point we started talking about marriage, and I had her believing it would be atleast a year before I proposed. But on October 15, 2015, I surprised her believing she was going on a double date. I set up candles in the shape of a cross with flowers and a note in the middle in our new living room of the house we had just purchased. She was instructed to push play on the phone to play our song when she finished reading the note and at that point I walked out and took a knee. Then, I asked, and she said YES!!! Best moment of my life. She is a perfectly made woman just for me and I get a bonus in having Rory as well! Both are amazing and we are beyond blessed God allowed us to meet and do life together.
THE WEDDING TIME ON THE INVITATIONS IS WRONG!
The invitations are incorrect, the wedding is at 5 p.m! Sorry for the confusion.
The Wedding
Sunday, May 29, 2016
5:00 PM
Ceremony and Reception
The Ravington
293 N Main St, Centerton, AR 72719, United States
There will be a reception to follow the ceremony.