Accommodations
The Birchwood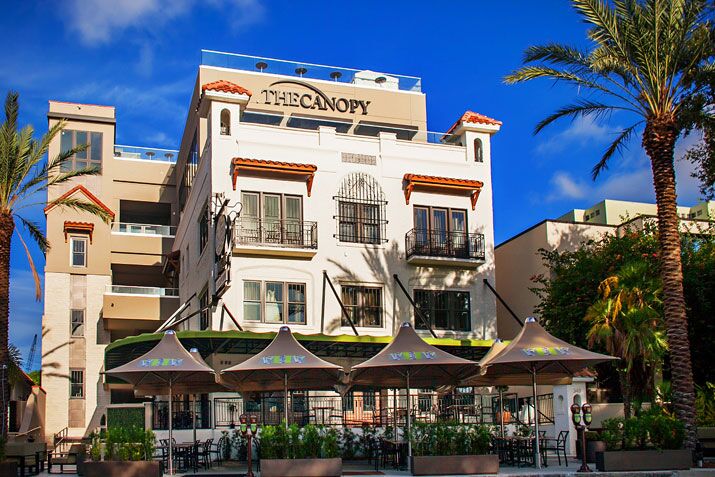 340 Beach Drive Northeast St, St Petersburg, FL 33701, United States
727-896-1080
This gorgeous 1920's inspired boutique hotel is the location where the wedding reception will be held, so what could be better than to stay right where the party is?! With elegant rooms, an amazing restaurant (Birch and Vine), and a rooftop bar complete with spectacular views of downtown St.Pete, you'll be right in the middle of all that this beautiful city has to offer! All rooms have been blocked for our wedding guests to reserve. Inform hotel representative that you would like to make a reservation for the Schaefer/Rush wedding when calling.
The Vinoy® Renaissance St. Petersburg Resort & Golf Club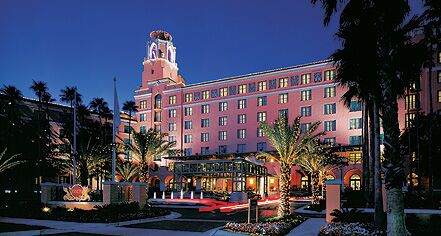 501 5th Ave NE, St Petersburg, FL 33701, United States
727-894-1000
This spectacular resort is hard to compare anything to! It is hailed as a historic landmark in downtown St.Pete. This beautiful hotel has so much to offer including five restaurants, a full-service spa , a gorgeous 18-hole golf course, fitness center, amazing outdoor pool, and gorgeous rooms! It is located right down the street from the Birchwood Hotel, so it would also be a great option to stay at. It is located right across from the water and you're still within walking distance of all of the restaurants and nightlife downtown St.Pete has to offer. The Vinoy does not offer hotel room blocks unfortunately, however this is a much larger hotel and should be able to accommodate wedding guests if reservations are made in a timely manner.
Courtyard St. Petersburg Downtown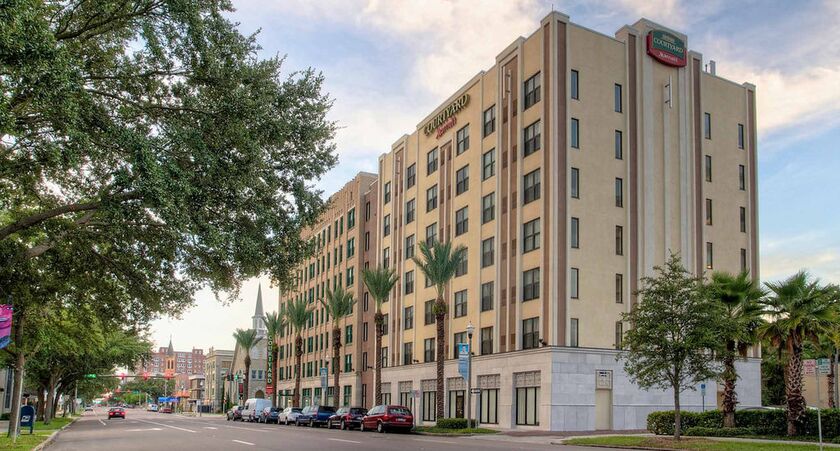 300 4th St N, St Petersburg, FL 33701, United States
(727) 450-6200
The Courtyard Marriott St. Petersburg Downtown is one of a kind. Built in the newly renovated and historic Pennsylvania Hotel, the Courtyard Marriott is centrally located to all the great restaurants and attractions that St. Pete has to offer. Even more ideal for our wedding guests is the fact that the hotel is located right across the street from First United Methodist Church. Complimentary shuttle service is provided within 3 miles of the hotel.
Hilton St. Petersburg Bayfront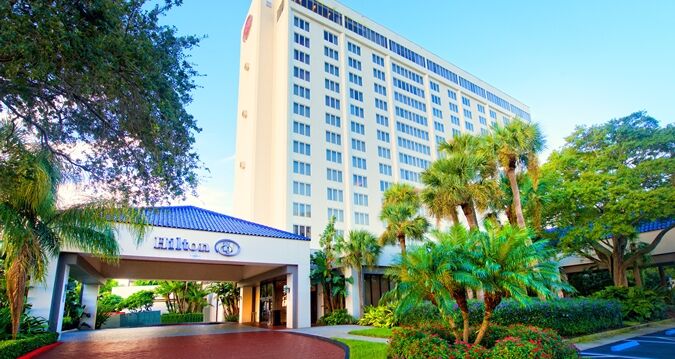 333 1st St S, St Petersburg, FL 33701, United States
727-894-5000
This is another great option that's located right in downtown St.Pete's waterfront district. It isn't as close to all of the restaurants and nightlife on Beach drive, but it is a quick 5 minute drive or a quick Uber ride to all of the wedding festivities. This beautiful, newly renovated hotel offers great views of downtown and has everything you could want in a hotel including spacious rooms, a complimentary shuttle that can take you to places within a 3 mile radius, an onsite restaurant called Tangerine, a Starbucks on site, and you can sip a cocktail at The Dali Bar.
Travel and Transportation
First United Methodist Church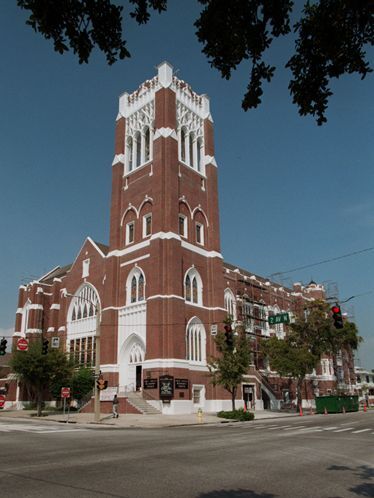 212 3rd St N, St Petersburg, FL 33701, United States
(727) 894-4661
Ceremony Location - Built circa 1925, the First United Methodist Church is significant for its highly artistic, academically correct use of the Gothic Revival with a strong English Gothic influence. According to the City's Florida Site File records less than ten buildings in St. Petersburg are designed in the style and seven of these are churches dating from 1887 to 1925. All of the windows in the sanctuary are made of leaded stained glass, manufactured in 1926, by the George Hardy Payne Studios of Patterson, New Jersey. These windows are in the Tiffany style, which incorporates multiple layers of opalescent colored glass, often faceted, with the traditional painted and fired glass. The sanctuary is typical of the Gothic Revival style of design. It is laid out with pew seating facing the altar. Balconies form a "U" shaped ring around the upper portion of the nave facing the altar. The most impressive feature of the interior of the sanctuary is the amount of colored light flooding in through the Tiffany style glass windows. Parking is available in the back of the church and guest may enter either through the main back parking lot entrance or the front entrance on the corner of 3rd Street North and 2nd Avenue North.
The Birchwood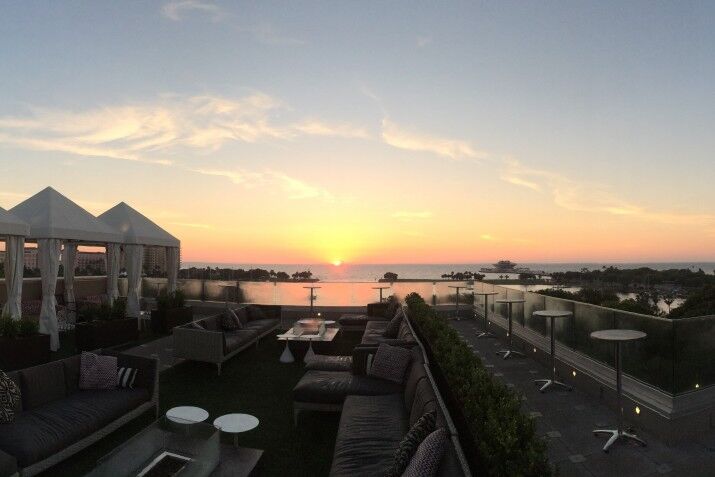 340 Beach Drive Northeast St, St Petersburg, FL 33701, United States
(727) 896-1080
Cocktail Hour and Reception - Located along beautiful beach drive, the Birchwood Hotel is in the heart of the downtown scene. The Birchwood was originally constructed in 1924 as the Lantern Lane Apartments and the only apartments along Beach Drive facing the waters of Tampa Bay. The Spanish Mission-style building, listed in the National Registry of Historic Places, underwent a renovation of historically accurate dimensions with the addition of two floors. The Birchwood boasts the only rooftop bar on beach drive, The Canopy, and one of the tops restaurants in the bay, The Birch and Vine. Valet will be provided in of The Birchwood on Beach Drive. Cocktail hour will take place on the first floor of the Birchwood within the Beach Drive patio and adjoining rooms, with the Birch and Vine bar serving up delicious libations, and the reception will be in the grand ballroom on the 4th floor.
Things to Do
The Canopy
Beach Dr NE, St. Petersburg, FL 33701, United States

This is the amazing rooftop bar that is located on the 5th floor of our reception venue, The Birchwood!! Here you can enjoy tapas and amazing drinks while enjoying the beautiful view of all of downtown St.Pete and Tampa Bay.
Chihuly Collection
400 Beach Dr NE, St. Petersburg, FL 33701, United States
727-822-7872
Right down the road from The Birchwood, you will find the Chihuly Collection, a stunning permanent collection of world-renowned artist Dale Chihuly's unique artwork in a magnificent 10,000 square foot setting, designed by award winning architect, Albert Alfonso. This presentation is unique as it is the first installation of Chihuly art in a building designed specifically for that purpose.
The Dali Museum
1 Dali Blvd, St. Petersburg, FL 33701, United States
727-823-3767
The Dali museum shares an expertly curated collection of Salvador Dali works to delight and educate visitors and provide unique inspiration. As former visitors of this amazing collection of artwork ourselves, we highly recommend checking it out if possible!

Breweries of St.Petersburg
If you don't know it yet, St. Petersburg has become a mecca of breweries in recent years! A few we would suggest checking out would be Green Bench Brewing Company, 3 Daughters Brewing, Cycle Brewing, St. Pete Brewing Company, The Ale and the Witch, and for a more German themed beer garden, check out Hofbrauhaus St. Petersburg!! There are a few more breweries in Tampa and Dunedin as well if you feel like traveling a bit that are well worth the drive, including Dunedin Brewery, 7venthSun Brewery, Mad Beach Brewing, Tampa Bay Brewing, and Cigar City Brewery.

St. Pete Beach, Treasure Island Beach, and Madeira/Redington Beach
Make sure to enjoy the most beautiful beaches our area has to offer while you're in town! Treasure Island beach is by far the longest beach from the beginning to the water, so there's always plenty of room there for catching some rays. Parking is always an issue everywhere you go, so make sure to go early!! Make sure to pack the sunscreen! It gets hot out there fast, so bring some water with you too!
Sundial St. Pete
153 2nd Ave N, St. Petersburg, FL 33701, United States

This newly updated block of shops, restaurants, and a Muvico movie theater is amazing and definitely something to check out too!
The restaurants are delicious and they include Sea Salt (where I recently held my Bridal Shower, and I highly recommend it!), Locale Market and Farmtable Kitchen are a must to check out, and Ruth's Chris Steak House!
The shops include Tommy Bahama, Tracy Negoshian, Swim'n Sport, White House Black Market, Chico's, Happy Feet Plus, L.O.L Kids, Diamonds Direct, Jackie Z, The Shave Cave, Florida Jean Company, Jux*ta*pose, John Craig, and the Marilyn Monroe Glamour Room