Our Story
It all started with the Red Sox...
One day, Naomi was invited to a Red Sox game. Her good friend Emily was urgently looking for an extra person to come, Emily was meeting up with a friend from New York and she wanted to show him a good time! Just as a good friend should do, Naomi agreed to join. She never cared about baseball, but at least it might be a fun evening!
On that same day, Cameron received a call from Ian Woolverton, a friend from New York who was planning a quick trip back to Boston for the evening. Ian had extra tickets to the Red Sox game that night and he hoped that Cam might come along. Little did he know Cam hated baseball, Cam would much rather meet for a beer after the game, but for the sake of a friend, he opted to endure a couple hours of mediocrity.

As the story is told, Emily, Ian, Naomi and Cam all met at Landsdowne Pub. The hours passed with Cam and Naomi learning about all the things they had in common and realizing they had a very similar (odd) sense of humor. After watching none of the baseball game (wonder who won), they walked out of Fenway Park together. Cam built up the courage to ask Naomi on a date, and the rest is history.
The Wedding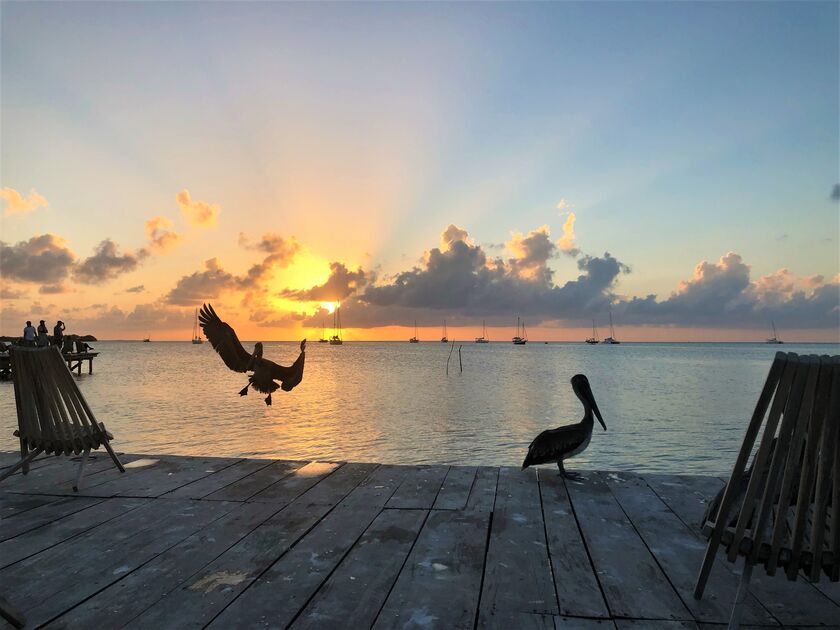 Saturday, January 15, 2022
Attire: No Suits Allowed!
Ceremony
Iguana Reef Inn
Belize, Belize
Reception
Iguana Reef Inn
Belize, Belize
Join us on this momentous day as we celebrate our oceanside wedding on the beautiful island of Caye Caulker, Belize! Once you get to the island, you won't have to worry about traveling anymore… the evening will be spent on one of our favorite beaches in the world, known for its seahorse sanctuary and the pelicans that inhabit the waters. After the main event, we will enjoy an evening of drinking and dining as the sun sets over the horizon. Robert, our favorite Belizean bartender will be serving refreshing drinks all night! Just make sure you're wearing comfortable shoes... or no shoes at all.
Events List
Sunset Cruise
Thursday, January 13, 2022
6:00 PM - 8:30 PM
Carlos Snorkeling Tours
Attire: Bring a long sleeve shirt just in case
We want to start this weekend off right. To get everyone into the Caribbean mood we invite you to join us for drinks on a sunset sail around the beautiful island of Caye Caulker.
Reception Dinner
Friday, January 14, 2022
Il Pellicano Cucina Italiana
49 Pasero Street, Belize
We'll be kicking off the weekend of events at our favorite restaurant. Dinner and drinks and live music in the beautiful locale of Il Pelicano, there really could be on better way to enjoy a Friday night!