Our Story
CHELSEA'S STORY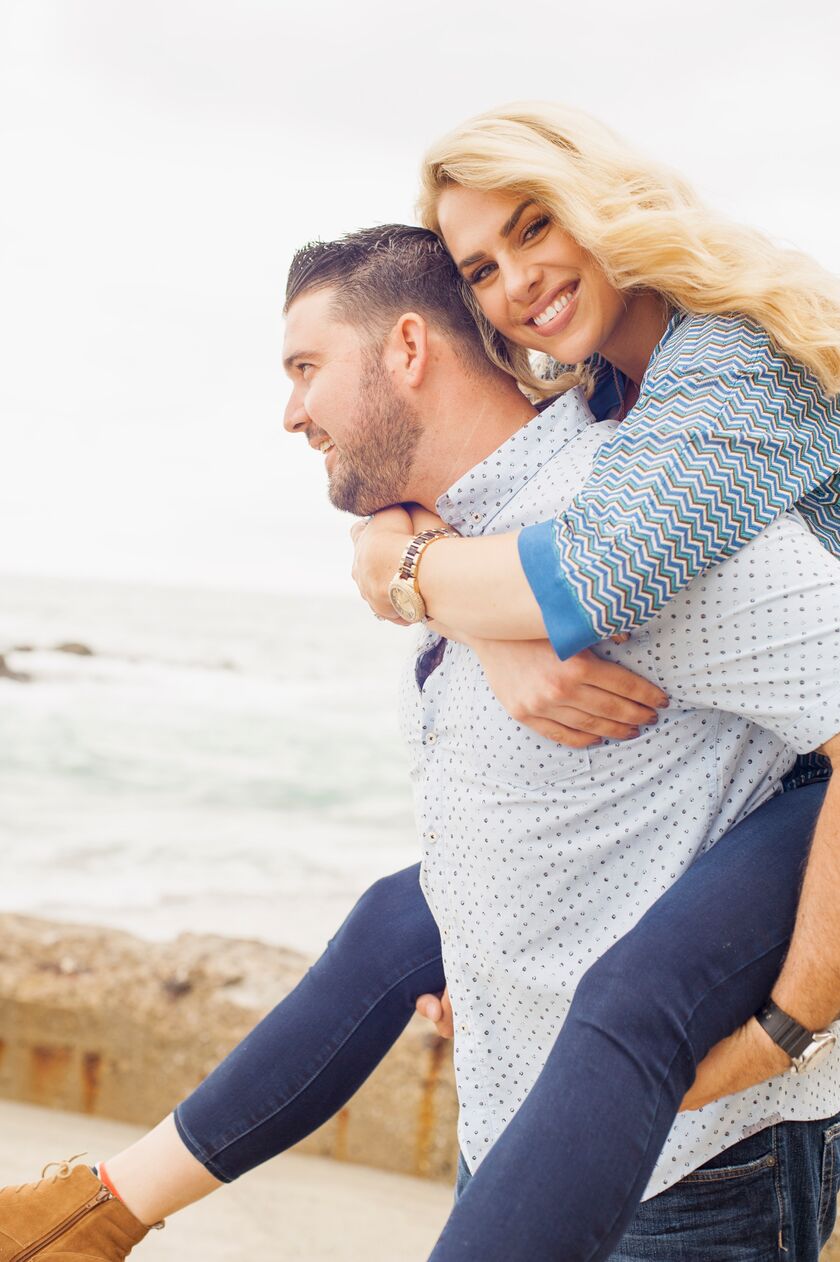 I had pretty much given up on finding Mr. Right. Prior to John, I had spent my 32 years single - like really single. Although I had gone on countless first dates, I usually knew within the first two hours that the guy in front of me was not the one for me, and that would be that. Months before I met John, I remember remarking to my mom that I was finally okay with being single. I knew I couldn't settle - I wanted a man who loved God, who was kind and smart, and selfless. Those qualities I had learned were in short supply. So I had decided that I wouldn't worry about the future or finding Mr. Right. I told her I would move forward with buying a house on my own. I would still travel the world - probably with my sister, Ashley, who is always down for an adventure. I would learn to be okay - like really okay - with going alone to weddings and Christmas parties. I would maybe even adopt a child by myself. In short, although I wanted to get married, I knew I would be okay if God had other plans for me – even if His plan meant another 32 years of singleness. But fortunately, that wasn't the plan. Phew. ;)
Although I had a new outlook on dating, after some prodding from friends and family, I decided to dip my foot in the ubiquitous world of online dating, and joined Match.com in December 2014. I remember my first few days on Match being overwhelmed by the sheer number of emails, winks, pokes, and random (often inappropriate) comments potential "matches" left on my pictures. I almost immediately closed my account. But thankfully, I persevered for a few days, and within a week, I got an email from John. His was the only email I responded to.
John's profile was not a profile that I would normally be drawn to. He was clearly an outdoorsman as nearly every picture he had on his profile featured some sort of dead animal. I, on the other hand, have never been hunting or fishing, and no one would dare describe me as "outdoorsy". I love make-up, fashion, and fine dining. He lives in flannels, whereas I live in business attire. He is an Iraq war veteran, a former rescue swimmer in the Coast guard, a tugboat captain, and thrives on the open seas. I have spent most of my life in the class room, and in an office. He has tattoos (lots of them), while the closest thing I ever got to a tattoo was a fake one at the County fair. Suffice it to say, on paper, we are a picture of contrasts.
Yet, there was something about John that drew me to him. I saw in his profile - in the way he talked about his son, Brayden; in his evident love and admiration for his family; and in his obvious love for God/commitment to his faith - a depth that I had seldom, if ever, saw in other men my age. There was a warmth in his eyes, a good naturedness conveyed through his smile, and a kindness that I saw in him even before we met. There was something that stirred inside of me and I knew he was someone I wanted to get to know. So I emailed him back, and within a week, we had made plans to go on our first date.
I remember walking up to the restaurant where we were having our first date (December 19, 2014), and seeing him leaning against a wall – with his long beard; his oversized flannel; and his Levis, and thinking, "oh my, he's cute, but what have I gotten myself into?!" He was unlike any guy I had ever dated, but, at the time, so much like the one I had envisioned in my head - tall, rugged, athletic, not pretentious, and down-to-earth.
That first date we talked about everything – our families, our professions, Brayden, past relationships, hobbies, and, most importantly, our shared faith. We learned that we share weird commonalities - like the fact that both of us were homeschooled, or the fact that we both love Medford, Oregon - me, because it's beautiful and that's where much of my family lives; him - because it's beautiful and...there's great hunting and fishing in the Rogue Valley. We found out very quickly that we share a love for God that is foundational to who we are, and who we want to be. I immediately felt at ease with John – I did not have to be more than I am; I felt comfortable in my own skin because, even on that first date, he looked at me and treated me as if I was the woman he had waited and prayed for. He instantly made me feel like I was unlike anyone he had ever met, and that I was a treasure worth holding onto. On that first night, I started falling in love with John. And it's a love that has grown to a depth that I did not know possible.
Our romance has undoubtedly been a quick one – it has flourished with a speed that has taken many people, including myself, by surprise. But I guess it's true what people say – when you know, you know. John is the most honest, thoughtful, loving man I have ever met. He demonstrates to me daily sacrificial love – the kind of love that is constantly thinking of others above himself. He has a tremendous capacity to love, and loves me so well. Every day I find new things to admire about him – from his self-discipline to his ability to fix almost anything to his boyish good naturedness. He is undoubtedly an answer to years of fervent prayers.
When I think about John, there are so many qualities he has that I did not even know to ask God for, but yet these qualities are what make John so right for me. For example, I have a tendancy to worry about the future; John, on the other hand, is even keeled and tends to live one day at a time. I can hold grudges and withdraw when I am hurt; John pursues me when I withdraw and holds no record of wrong. For him, once a fight is over, it is forgotten. I have often heard that we are broken in relationships and healed in relationships. There is no doubt that John's love for me has brought me tremendous healing - he loves fully and without condition; he sees the best in me (and in others); He puts God first and completely understands my desire to do the same. Yes, God knew what I needed even better than I did, and His provision in giving me John to love and cherish is a constant reminder to me that He is faithful, and His timing is perfect.
John, I cannot wait to be your wife! And to all who read this, each and every one of you is special to us. We cannot wait to celebrate with you!
JOHN'S STORY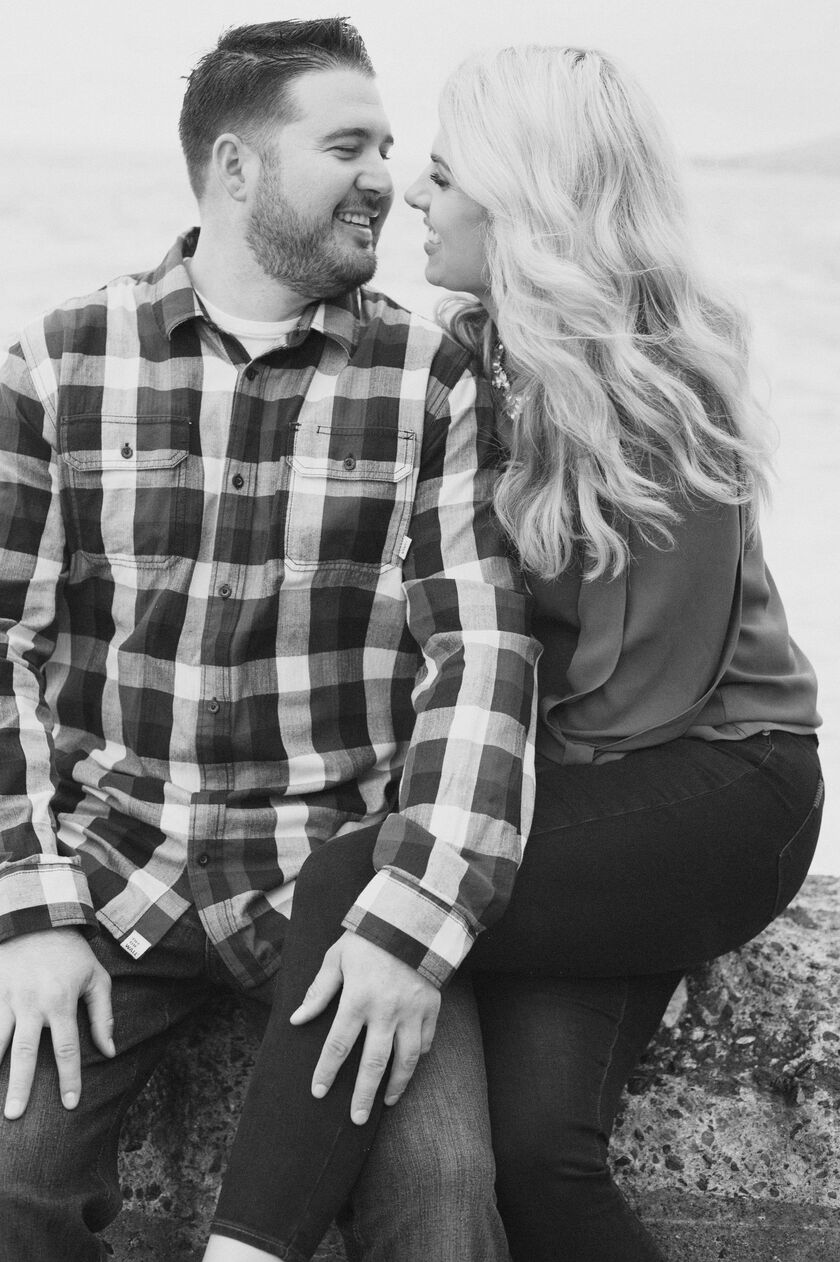 JOHN'S STORY:
I met Chelsea in the middle of December 2014 on match.com. It was my first foray into the world of online dating. I had never really thought about online dating because I am an easy going, extroverted guy who had never had a problem talking to girls. But despite the numerous dates, and the smattering of relationships I had had over the past eight years, I had trouble finding the right girl. I never found what I was looking for because what I was looking in a partner is very rare. While I wanted to get married, what I wanted more than anything was a woman who had a heart for God; who was kindhearted and selfless; who had a level of depth that is hard to come by these days; and who loved and accepted my son, Brayden, as her own. I prayed for a wife who wanted more than just someone to marry, but who wanted to become something better, individually, and together in marriage. I wasn't sure if I would ever meet that kind of woman.
But I did. God went above and beyond in answering my prayers and bringing me Chelsea. She is a total God thing. Like the woman I prayed for for so many years, she loves God with all of her heart; she pushes me to be a better man; from the moment I told her about Brayden, she has loved him (and boy, does he love her!); and she is kind, smart, humble, and loving. I knew from the moment I met her that she was the girl God sent for me and I have not looked back since that first date on December 19, 2014. I love her with all my heart and I love the fact that she is constantly challenging me to be the man God has called me to be. In my opinion, a great marriage is something that will allow you to become the person that you could not become without your partner. Chelsea is the kind of partner that will push me, encourage me, pray for me, and help me become something better than I was without her. I know this to be true because it has already happened in the seven months that I have known her.
And I will do the same for her. I will stand by her side and encourage her through the toughest parts of her life. I will celebrate her successes and mourn her losses. I will love her unconditionally, and will pray daily for her. And together, and with God as our center, we will achieve higher goals, ones that we never imagined we could achieve. But we will do it all, because we will do it together.
Chelsea - I cannot wait to make you my wife!
Wedding Party
Ashley Trotter - Maid of Honor
Ashley is one of the wisest, smartest, and most independent/adventurous people I know. I am blessed to have her walk beside me as my maid of honor. She has been my main side kick through all of the wedding dress shopping, the planning, the organizing, etc., and her sense of humor, her vision, and her friendship has kept me smiling and on track the entire time. Everyone who knows Ashley knows that she is fiercely independent and adventurous. She is always down for spontaneous weekend trips to the mountains or impromptu trips to Chicago. She has traveled the world; has spent summers in Romanian orphanages; has taught English in Korea and China; and has more recently found her stride as an 11th and 12th grade teacher at Riverside Poly (praise da Lord, she's finally local!!).
Although Ash's sense of adventure and independence is often what people notice the most (well, besides her bulging biceps), her compassion, sense of duty, and faithfulness should not be overlooked. When my mom got sick a few years ago, Ash was teaching English in China at the time. Katie was finishing up school and I was working in Orange County and neither of us could care for my mom like she needed. Ash, without hesitation, wrapped things up in China, got on a plane, and for the next year and a half took my mom to nearly every one of her weekly (and sometimes daily) appointments, organized meals, encouraged my mom when the rest of us couldn't, and was the rock that my family needed at that time. She never complained. Never looked back. And never questioned that God had called her to sacrificially serve and care for her family during that time. Ash has always been someone who will unquestionably do the right thing even when it means sacrificing her independence to serve others. Ash, you inspire me all the time. I love you more than you could possibly know!
Kaitlyn Trotter - Co-Maid of Honor
Kaitlyn is one-of-a-kind. Since she was a child, she has kept my family laughing with her quick wit, her sarcasm, and her perfect comedic timing. And she kept on doing that during the wedding planning process. For example, one day, Kait and I were sitting at our parents kitchen table talking about the guests lists and everyone who had already RSVP'd (even before the invites went out!). Kait, in a complete deadpan, quipped: "Your wedding is like the Virgin birth. Everyone wants to see it because it's a miracle." Touché, sis, touché.

Like Ash, Kait is wise beyond her years. She loves hard; is loyal, compassionate, and one of the funniest people I know. She hates being late to anything (case in point, every morning she leaves for work two hours before she needs to be there just to account for every possible catastrophe/circumstance that could potentially cause a delay to her 30-minute commute). One of the things I love most about Kait is her ability to care for, love, and show up for troubled children. For the past two years, Kait has worked at a children's home for severly troubled kids. These kids are often wards of the state, unwanted, with no support network, no parents, and some would say, no hope of a future. Kait pours her heart and soul into these kids. She never complains...even when she's been bitten, slapped, spit on, and cursed at. She's gone to the ER I don't know how many times because of work place assaults. Yet she continues to show up for them day after day, believing that they are worth the investment, and loving them even when they are unlovable. Not too many people could do what Katie does.
Christy Mawdsley - Matron of Honor
Christy and I have been best friends since tenth grade. Although our paths diverged many years ago - she is the mother of three and has lived all over the world, she has remained my best friend, and one that I will cherish for a lifetime. Since the beginning of our friendship, Christy and I have shared an intense spiritual, intellectual, and emotional bond. She is one of the smartest persons I know. Even as tenth graders, we would read and debate C.S. Lewis together, and talk about life, death, faith, meaning, purpose, social issues and everything in between. We took ourselves so seriously! Yet, at the same time, we were total and utter train wrecks - disorganized, goofy and boy crazy, prone to volatility, ridiculously messy, and loud. We would get into epic fights in which our parents, teachers, and even high school principals would try to mediate and broker a truce. We would often go on "diets" in which the majority of our calories would come from frozen yogurt, cookie dough, and/or muddy buddies. Our bedrooms looked like tornadoes had blown through and we both were always looking for our misplaced keys, our homework, our purses, etc. Our laughter, at any given time, could be immediately followed by tears. Somehow, we have always worked (and thankfully we have both mellowed out in our old age :)). Christy has understood me like few have. She knows me better than I know myself; she has remained constant and faithful in her friendship even when we have been separated by oceans and thousands of miles; and she is most often the person I turn to when I just need to talk. I love her like a sister, and she, perhaps more than any other friend, has helped shape who I am.
Christy has taught me so much about God, faith, love, and intellectual curiosity. She is a wonderful mother to Eden, Paxton, and Shephard; a loving wife to Andrew; a constant learner of new things; and someone who is constantly challenging me to fight the tide of complacency/mediocrity. We will always share a deep love for learning; a hunger to know and experience God; and a compulsion to live meaningful and purposeful lives. At the same time, she will always be that person that I can turn to when I just need to laugh (or cry), when I want to gorge myself on donuts or chocolate, or when I just need to talk about nothing. I am so thankful to have had Christy as a best friend for the past 18 years. I am better because of her. I love you, Christy!
Kalee Vandergrift - Bridesmaid
Kalee and I met in a church Bible Study, and were instant soul sisters. For the past four years, she has been one of my most faithful, loving friends - seemingly always there at just the right moment with the right words of encouragement. I love Kalee for her wisdom, her depth, her caring spirit, and her love of God. The past four years have been among the most challenging in my life, and Kalee has been there every step of the way - loving and encouraging me, as well as so many others. She truly is a gift to everyone she comes into contact with.
There are so many things to love about Kalee. I think one of the biggest testaments to what a great friend Kalee is is the fact that she seems to be everyone's choice for a bridesmaid. I have lost count of how many weddings Kalee has been in. Kalee makes people feel special; she is never too busy (even when she is) for a phone call or coffee date; when you talk to Kalee, she listens, like really listens, and is a constant source of encouragement. She loves people and makes them feel heard. And she has loved me, prayed for me, and been a constant source of encouragement to me since I have known her. She truly has one of the most beautiful, caring, and loving hearts. Kalee, you are my soul sister. Thank you for loving me as I am; for seeing the best in me; for always encouraging me to love, follow, and trust in Jesus; and for praying for my man (even before I/we knew him). I love you, and am so glad you are standing up there with me!
Jaelynn Mayer - Bridesmaid
Jaelynn and I met through John because she happens to be his sister-in-law! When John and I first began dating, she and John's brother, Joe, lived 20 feet away/directly across the street. So nearly every night I got to hang out with her, Joe, and their two hilarious sons, Jett and Jax. Almost immediately upon meeting Jae, I knew that we would be lifelong friends. In the short time that we have known each other, she has become one of my closest girlfriends. We have bonded over our love for all things beauty, our love for Jesus, and our love of Mayer men. We have also had the unique experience of having mom's who have similar illnesses, which immediately formed a deep, connecting, and prayerful bond.
Jae is one of the most caring people I know. I have learned so much from her in terms of how she loves and serves her husband, as well as cares for her two rambunctious boys. She is the kind of person that will drop everything if I need to "chat"; will show up when I need her most no matter how much she has going on. She is truly one of the most beautiful people I know inside and out.
Jenean - Esposito
Jenean is my soon-to-be sister-in-law, and is one of the toughest and funniest persons I know. I guess being raised in a house with John and Joe (who, by all accounts, were terrors growing up), one would have to learn to a) be tough and b) have a sense of humor. Jenean has both in spades. What I love about Jenean, though, is that there is so much more to her than meets the eye. Every time I hang out with her, I am surprised by something I learn. For example, at 18, she left home and traveled abroad to London and Africa where she lived for seven years as a missionary for YWAM. She loves to read and is full of unexpected, yet brilliant, advice (especially when it comes to marriage). She hunts, and can keep up with the boys. She has a quiet strength about her, and is never one to boast, but, at the same time, has lots of stories to tell. She's unique and fearless, and that's what I love about her. Jenean, I cannot wait to hear more of your stories, and couldn't be happier to be gaining you as a sister. Love you!
Joe Mayer - Best Man
When it comes to my brother it is impossible to sum it up in a short story but I will try. Joe and I have been best friends our entire lives. From walking together to school as kids in the rough area of Long Beach, to getting in fights with other neighborhood kids as well as each other, to each becoming tug boat captains for Foss Maritime, we have been each others constant companion, side kick, and best friend. Joe has been a protector to me my entire life in more ways than one. He has made sure that I have learned from his mistakes, and has ensured that I did not have to struggle in ways that he did. He has been my cheerleader, advisor, mentor, and confidant. Along with all of that he is also a strong mentor to me through my professional occupation. I don't know where I would be in this world without my brother. Joe is happily married to my beautiful sister-in-law, Jaelynn, and together they have two boys - Jett and Jaxon - both of whom the family is very proud of (even though Jax can be a pain from time to time ;)).
Danny Garcia - Groomsman
Danny and I have been friends for over half our lifetime. We met sophomore year in high school. The first time we really interacted, I convinced him that it was a good idea to take his carburetor apart and fix it during auto shop. We barely managed to get it back together so that he could drive to water polo practice. It was thanks to Danny that I ended up playing alongside him for three years on our high school's water polo team, and our friendship has led to some pretty incredible adventures. In high school, Danny and I were constantly getting into mischief - from toilet papering unsuspecting houses, to sneaking out at night to ride around in our cars, to getting beat up by each other's older brothers, we were constant sidekicks. And that friendship has endured for the past 15 years. Since high school, and despite his mischievous past :), Danny has become one of the most honorable, hardest working, and kind individuals I know. Our friendship has grown from that of two young, water polo loving goofballs, to an enduring friendship based on mutual trust, love, and respect.
James Tarin - Groomsman
James and I became friends thanks to our profession. Although we had a few mutual friends, our friendship did not begin until we were both working in El Salvador, 1000 miles away from our hometowns of Long Beach. You have all heard the expression - "don't judge a book by its cover"? Well, that is absolutely true of James. While he may look like a tatted supermodel, he is one of the hardest working men I know and is an absolute pleasure to be around. His hard worth ethic and attitude made him impossible not to like. Three weeks after we returned from El Salvador we continued our relationship on shore. Shortly after that we became roommates along with my older brother Joe. Together the three of us lived and a beautiful two-story home just blocks from the beach in Belmont Shores. We called it the shore house and to this day it was some of the best times of our lives. After my brother got married all good things must come to an end ;-) James and I move to another area in Long Beach where we continue to live together for almost 7 years. He's been a great inspiration to me by showing me that the world is what you make of it. Growing up in A challenged environment James was forced to become an adult at such a young age. You would never know it based on his attitude and overall outlook on life. He's all smiles all the time. His loyalty to his friends and family is incomparable. He is now happily married and the by the time the wedding is here he will be a proud father of two.
Brayden Mayer - Groomsman
Brayden is my son, and my greatest blessing. He's been by my side since birth. When Brayden was very young, I worked for the US Coast Guard, and, fortunately, my schedule allowed me to spend lots of time with him. I even had a baby backpack and would literally take him everywhere with me. At three months old, I would pick him up, put him in my kiddy backpack, and we would hike miles of trails together to secret "fishing spots". Perhaps that is why Brayden today loves to fish and is fascinated by nature. Since those days on the trail, Brayden and I have had an incredibly strong bond, and that is in spite of the fact that he and I are very different. Although we both love fishing and the outdoors, Brayden is more studious that I am; he doesn't enjoy sports like I do; and he's not much of a daredevil but always practices safety first. That being said, I love Brayden more than I could have ever thought possible. He has taught me much about curiosity, compassion, and purity of heart. He loves deeply and purely, and I admire and learn from those qualities every single day. B-Rad - I am so proud of you, and I could not be more proud to be your dad. I love you.
Andrew Mayer - Groomsman
Andrew is my cousin, aka twin #2. His father, Fred Mayer, and Mother, Sue Mayer, have been a great inspiration to me my entire life, so naturally their son Andrew has become close to me as well. Andrew and I grew up on opposite sides of the country. He is from New York I am from California. We spent most of our times bonding together as young kids on family fishing trips with our fathers in Sag Harbor New York where my father and Uncle Fred were born and raised. As I grew up I was fortunate enough to spend summers with Andrew at his Family's House in Sag Harbor. His family and I are very close. 3 years ago Andrew flew out to California to participate in a Tough Mudder event; in case you did not know, this is an obstacle challenge anywhere from 10 to 13 mile obstacle course, often being held in the mud or in tough in harsh conditions. I was skeptical in the beginning, however we ran this in memory of a fallen soldier who was a Purple Heart receiver and childhood friend of his. Since then we have participated in four of these events together. It's an awesome way to raise awareness for wounded soldiers. They are challenging and they are tough. However we're pretty tough as well ;)
RSVP
Thursday, September 3, 2015
4:30 PM
Ceremony and Reception
Serendipity Garden Weddings
12865 Oak Glen Road, Yucaipa, CA, United States
Please RSVP by no later than August 10, 2015. Thanks!