Attire: Church Formal
Ceremony
Saint Anne Catholic Church
2337 Irving Avenue, San Diego, CA 92113
Reception
Cottonwood Golf Club
3121 Willow Glen Drive, El Cajon, CA 92019
2pm Nuptial Mass at Saint Anne Catholic Church
5pm Cocktail Hour, Music, and Kids Activitites at Cottonwood Golf Club
6pm Dinner and Dancing
PARKING: Please plan to arrive at the ceremony venue early to have time for parking. Saint Anne Catholic Church has a very small parking lot, so most guests will have to find street parking.

Our Story
How we met
Chuck and Ashley met while playing a pickup game of ultimate frisbee.
"Love hath so wrought in me since I have known its sway, that all within me, whether good or ill, it makes subservient to the end it seeks, and soon transforms my soul into itself."
Wedding Party
Anthony Cutietta - Groomsman
Chris Tominna - Groomsman
Mauro Colabianchi - Groomsman
Darin DeLozier - Groomsman
Taylor Lewis - Junior Groomsman
Alicia De Paulis - Maid of Honor
Amy De Paulis - Maid of Honor
Peggy Tacchino - Bridesmaid
Dawn Jeagers - Bridesmaid
Rina DeLozier - Bridesmaid
Destiny and Julia De Paulis - Junior Bridesmaids
More About the Wedding Ceremony
The Extraordinary Form of Mass
St. Anne Catholic Church offers an old form of the Mass that is celebrated according to the Missale Romanum of 1570. While this Missal was codified at the Council of Trent, it was in use at least since the time of St. Gregory the Great. English missals will be provided so that guests may pray along with the Mass.
The Feast of The Immaculate Heart of The Blessed Virgin Mary
In two passages in the Gospel of Luke we have reference to Mary treasuring and pondering in her heart the events in the life of her Son. Devotion to the Heart of Mary can be traced to the twelfth century. In 1944, after consecrating the world to the Immaculate Heart of Mary, Pope Pius XII extended this feast to the universal Church. The devotion honors Mary's perfect purity of heart in virtue of her Immaculate Conception, and the perfect union of her heart–on fire with love for God and his children–with the heart of her Son Jesus. In the extraordinary form, the feast of the Immaculate Heart of Mary is celebrated on August 22.
St. Anne's Choir
Saint Anne's Choir is committed to encouraging the study, appreciation and use in Divine Worship of the traditional music of the Latin Rite including particularly Gregorian chant and sacred polyphony. Typically, the Saint Anne's Choir consists of twenty voices, fifteen female and five male with organ accompaniment. Each Sunday, and on special occasions, the Choir provides the liturgical music for High Masses offered at St. Anne Catholic Church. The bride and groom are both former members of St. Anne's Choir and are very grateful to their choir friends for the prayerful music they will offer to glorify God at their wedding.
Church Attire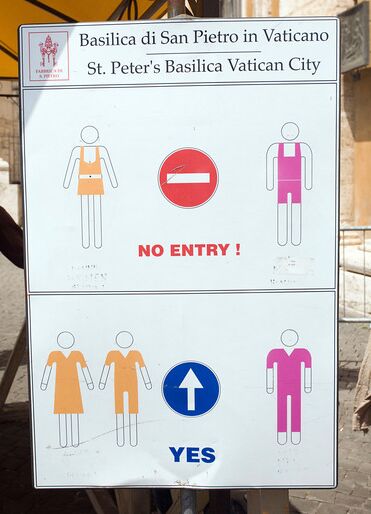 Saint Anne Catholic Church observes the same dress code as St. Peter's Basilica in Rome.