Our Story
How We Met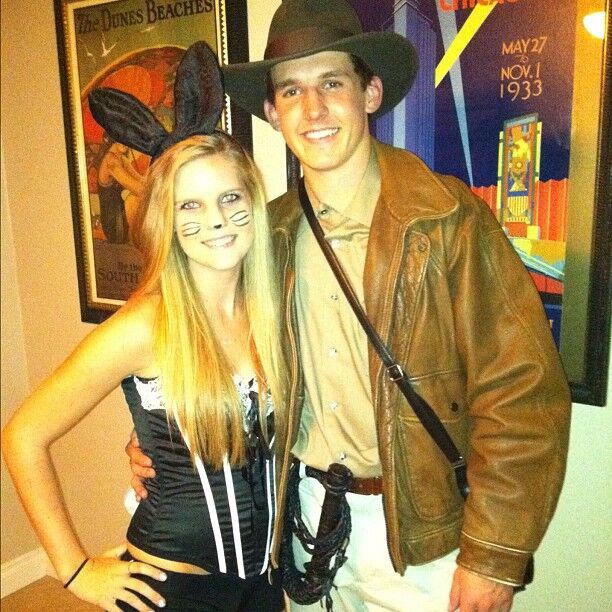 Chris and Courtney met on October 29th, 2011 at a Halloween party for the Cal State Fullerton lacrosse team. Courtney was living in the freshman dorms where a lacrosse player (friend of Chris) who lived across the hall invited her and a few friends to his team party. Courtney walked in to her first college party, with a crowded room full of people, and little did she know she was about to meet the love of her life and future husband. Chris was dressed up as Indiana Jones and Courtney was a bunny, yes just a regular bunny. Chris being the wonderful and confident man he is walked up to Courtney and started a conversation by saying he had skittles in his Indiana Jones satchel (hangover movie reference). Courtney laughed it off thinking it was just a joke trying to break the ice, when he actually opened his satchel and pulled out a bag of skittles. Anyone who knows Courtney is fully aware of her sweet tooth problem and skittles just so happen to be one of her favorite candies. Chris offered to share his bag of skittles with Courtney and just like that sparked an interest. They talked most of the night and towards the end, Chris asked to take a picture with Courtney. Afterwards, Chris showed her the photo and asked if she wanted him to send it to her. Courtney actually liked the photo, which is a rare thing for her because it usually takes about 20 attempts to get a picture she actually likes. So she gave Chris her number to send the photo, which was very smooth on his part by the way, and the rest is history!
The Proposal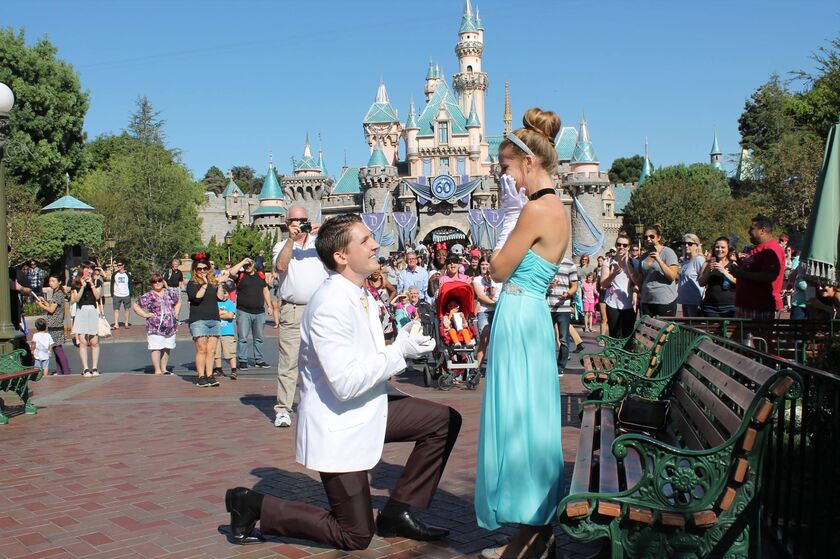 Where to even begin on what can only be described as one of the greatest moments in our lives. First a few things you should know...Chris and Courtney love everything Disney. Second, they met on Halloween so naturally they love dressing up and celebrating the holiday. And third, Chris is the master of all planners. So when Halloween came around and it was time to decide on an outfit, Courtney's favorite princess is Cinderella and she knew right away that was her first choice. Chris agreed to be prince charming and just like that, Chris put his plan into motion. Chris knew he wanted to get Courtney a real glass slipper that would actually fit her foot, which is a hard task in and of itself since she could not actually be present for her foot to be molded. Chris stole a spare heel of Courtney's to take with him and began tracking down numerous glass blowers all around Orange County and LA. With no luck, it seemed like he would not be able to make it happen. But that was not a possibility for Chris. He stumbled upon a glass blower in Japan who made a glass slipper for Taylor Swift and he just so happened to have a friend visiting Japan who could be the middle man for Chris to get this glass slipper. And just like that, the day is here. October 29th, 2015, the 4 year anniversary of when Chris and Courtney met. Chris and Courtney started walking towards the castle in Disneyland when he pointed out that it was 11:11 and she needed to make a wish (disclaimer: Courtney always closes her eyes and holds her breath while making a wish) so when she made her wish and opened her eyes, Chris pointed out his brother walking towards us in costume, with a glass slipper on a pillow. He finally reached us and said he was there to present Cinderella with her glass slipper. Chris sat Courtney down on the bench and put the glass slipper on her foot...and it fit her perfectly!!! She was beyond excited to have a real glass slipper just like Cinderella and could not believe the amazing anniversary present she was given. Then Chris stood Courtney up and went to hand the glass slipper back to his brother when his brother turned over the pillow to reveal the ring box he had been holding underneath the entire time. Courtney was in complete shock and speechless as his brother handed the box to Chris. Chris got down on one knee, made every dream of Courtney's come true, and it was the easiest answer to any question she had ever been asked...YES! Our family and friends surprised us at the park and continued to celebrate the day with us. We will forever be thankful for this amazing day and for everyone that made it possible. It was a real life fairytale.
The Wedding
Saturday, November 11, 2017
3:00 PM
Attire: Formal
Ceremony and Reception
Coto Valley Country Club
23331 Vía Venado, Trabuco Canyon, CA 92679, USA
Other Events
And the party continues!
Sunday, November 12, 2017
1:00 PM
27752 Greenfield Drive, Laguna Hills, CA 92653, United States
We want to keep the celebration going and enjoy more time with everyone partaking in this special day with us. We will be hosting an "After Party" at our rental house in Laguna Hills, the address is provided. Starting at 1pm, bring your bathing suits and any drinks you would like to enjoy. We will be providing a taco cart for some yummy food! Can't wait to continue the party with you all!
Wedding Party
Amanda Bernhardt - Matron of Honor
Caitlin Albin - Bridesmaid
Tawny Andersson - Bridesmaid
Bethany Houser - Bridesmaid
Candace Eden - Bridesmaid