Adventures of D & K
Our Story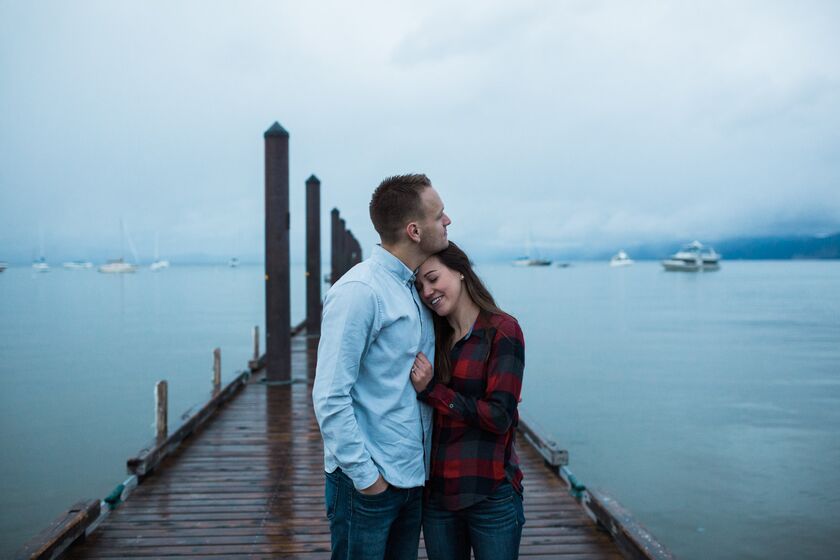 Our story begins when we both, individually, tagged along with our twin friends to their annual "Twin Group" camping trip on the shores of D.L Bliss State Park in Lake Tahoe, California. Right from the beginning, we were both attracted to one another, and spend the whole weekend getting to know each other, while simultaneously being "set up" by our friend's 12 year old sister... Check box "yes" if you think she's cute! Kristina tried to impress Dean by jumping into the freezing, snow lined Angora Lakes. Disclaimer: she hates cold water and has not jumped into another cold body of water to this day. Dean impressed Kristina with his knowledge of Pokemon and rock climbing skills. Through all the impressions trying to be made, we soon found out we grew up 10 miles away from each other, went to rival high schools, and had much more in common than having twin-best friends. Before parting ways, we traded phone numbers, and it was Kristina who asked Dean out on their first date!

While Kristina was the one who asked, Dean planned the whole date starting with a bike ride on the Davis Bike Loop in Davis, California (Dean's alma mater). While making a pit stop in Barnes and Noble, we found our way to the travel section, and proceeded to tell each other our "bucket list" travel destinations. Kristina said, "Croatia" and Dean said, "Switzerland". Not quite one year later, we were backpacking through Europe together, adventuring in 11 countries, two of which happened to be Croatia and Switzerland.

It's now been 5 years of adventuring together. We have lived in San Francisco for 2 years, hiked 6 National Parks together, stamped 13 countries in our passports, visited 29 UNESCO World Heritage Sites, and made countless memories with friends and family!

The Proposal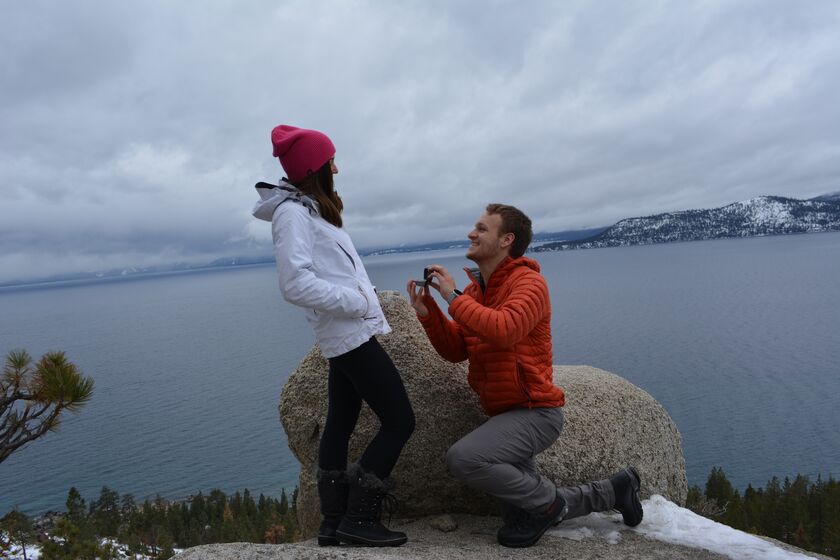 Fast forward 4 ½ years, and Dean had been planning to propose to Kristina in Lake Tahoe during a weekend cabin trip. They headed out on the snow covered Flume Trail on Friday, January 22. Thirty minutes into their hike, Dean could no longer wait to get the ring out of his pocket and onto Kristina's hand. He pulled her to an overlook of Lake Tahoe where he set up a camera to take pictures in 2 second increments. After taking a picture of the two of them, Dean turned Kristina to look at the lake and reminisce where they had met 4 ½ years ago. He said all the right things before getting down on one knee and asking Kristina to marry him. She said, "of course" and with that, they were engaged!

We then spent the rest of our hike in exhilaration and shared all the secrets that had been a part of the engagement planning, including letting Kristina know that 20 of their closest friends would be sharing the weekend with them at a cabin. They then spent all weekend celebrating and rejoicing with their closest friends, which included their friends who helped set them up all those years ago!
The Wedding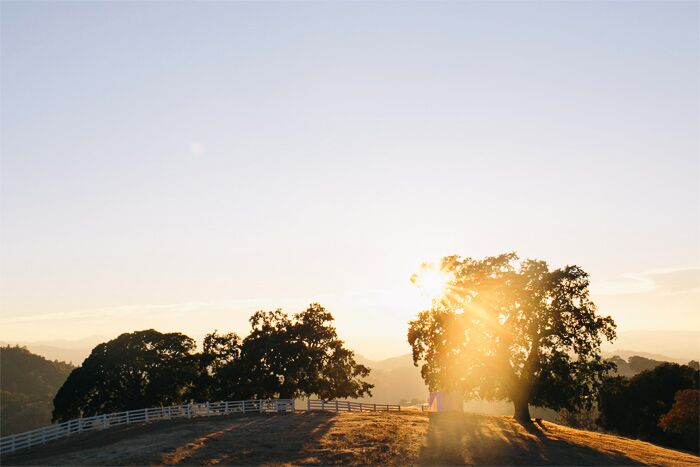 Saturday, June 10, 2017
5:00 PM
Attire: Casual
Ceremony
Diablo Ranch Events
1453 N Gate Rd, Walnut Creek, CA 94598, USA
Reception
Diablo Ranch Events
1453 N Gate Rd, Walnut Creek, CA 94598, USA
The ceremony will take place down a dirt path, under a beautiful Oak tree. The reception is mostly on patio - plan your footwear accordingly. Additionally, it will be warm during the day, and cool off during the night. Bring a sweater or jacket to keep yourself warm.
The road to Diablo Ranch is long and curvy. Please allow yourself 30 minutes to drive to the venue from the North Gate Entrance of Mount Diablo State Park. Please, drive safely...we love you all!
Wedding Party
Jill Anderson - Matron of Honor
Jill, or "Bill" as I affectionately call her, is one of the best friends you could ever hope to have in your life. We became friends during High School, specifically through our youth group, and spent more time together than with our own families. After countless sleepovers, phone calls, wine nights, holidays, and shared adventures, it's a surprise we have anything new to talk about these days! Yet our phone calls are never shorter than an hour. Jill has a heart of gold, and is the most intentional friend, always putting others before herself. She's a badass nurse, a loving wife and the best Matron of Honor you'll find!
Sarah Larson - Maid of Honor
Lars and I connected through our High School youth group after we learned we were neighbors (our families literally still live across the street). From that day on, we called one another "neighbor" and grew our friendship. Now we are more like sisters: our parents no longer recognize the other as "company" and our presence will not stop arguments, chores or family time. Lars was the first person I would call for the good and the bad, but unfortunately, has now been booted to #2. Sorry Lars, but Dean's moving up. She is the most creative and loving Kindergarten teacher, and the most loyal friend in the world. Having her as my Maid of Honor truly is an honor!
It's a beautiful day in this neighborhood. A beautiful day for a neighbor. Would you be mine? Could you be mine? Won't you be my neighbor?
Kara Turnbloom - Bridesmaid
Kara and I went to Middle School and High School but really sealed our friendship when we became roommates in Chico, CA. Living together brings a friendship to a new level: you're fighting for DVR space, cooking late night nachos when you've come home from the bars, and watching terrible chick flicks snuggled on the couch. Kara is such an amazing cook, she always brings the fun and goofiness, and she has the ability to figure out a solution to any problem. This girl kicks butt at event planning and she is always up for an adventure! I'm so excited to have her looking good in a bridesmaid dress!
Erica Jennings - Bridesmaid
My sister "ruined" my 2nd birthday by being born 3 days before I turned two. But in all seriousness, my sister has always made me laugh, is one of the most hardworking people I know, and has always looked out for me, even though I am the older one. It's made me so happy to deepen our friendship outside of sisterhood in the last couple of years. She lives in Portland, OR and is back in school to get her Nursing degree. Dean is excited to have another sister, and promises to "never finish the salad again!"
Lisa Achelis - Bridesmaid
The first time I met Lisa, my friends and I showed up unannounced to her home in Aptos, CA after meeting Dean and his friends on the beach during a Fourth of July weekend. I am beyond excited to be getting such a wonderful Sister-In-Law as Lisa! She is such a bright light in the world, and has such a happiness for life. I love all our time spent together and she is the best sidekick to have at Achelis family events. Lisa is amazing being a Speech-Language Pathologist and a beautiful mama to my niece, Bryce!
Caralee Spafford - Bridesmaid
Dean and Caralee have been friends since Middle School and the early "theater days." She has been a sister to Dean and a great role model (which I am thankful for every day). Therefore, just like any best friend, I had to be approved by Caralee. The first time we met, Dean, Lars and I had been driving up from a wedding in SoCal and stopped in Ventura to see Caralee. I remember being so excited and nervous to meet this powerful woman I had heard so much about. As it turned out, Caralee and Lars talked the majority of the time over shared interests (both went to Azusa Pacific and were becoming teachers) and left Dean and I to laugh at how well our best friends got along. A sure sign that we had the same values in friendships. Caralee is the best first grade teacher you'll find and a extremely talented actress and singer. Dean and I are both so happy to have her supporting us on on wedding day!
Mackenzie Guinon - Bridesmaid
Dean remembers Mackenzie watching his team during Las Lomas volleyball practices, and jumping in to steal the show! She is a sister to Dean and continues to be the ultimate volleyball partner! Mackenzie and I got to know each other in between volleyball games during local grass tournaments. She is such a creative artist, an adventure seeker, and a devoted friend. Mackenzie is a lifetime friend and I'm looking forward to the years of friendship ahead of us! She's moved back to the Bay Area (yay) and is following her passion to work in Sustainability.
Eric Achelis - Best Man
Growing up I knew him as BoBo. He's the best brother and the best man. Eric excels at every random activity you can think of- hacky sack, pool, that 3 sick juggling game, unicycling, rebuilding engines, and most recently mountain biking. Also, nobody can make crazy faces like my brother. He sets the best example of how to be a great husband, father, brother, and goofball.

Here's what we were like as kids:
https://www.youtube.com/watch?v=htW-rtXToFU&t=1s
Jake Adkins - Groomsman
A best bud and all-American since the 6th grade, Jake and I have been through a lot together. When Jake transferred to Davis, we became roommates and pushed our beds together to share the MEGABED! Jake's thoughtful, charismatic, ridiculously athletic, and has a voice of gold. Soon to be a dentist himself, he's slowly curbing my distaste for all Dentists.
Kyle Adkins - Groomsman
Since the ripe age of 13, Kyle's been my my saxophone band partner, fantasy honors Geometry adversary, cross-country road trip companion, and heartthrob man-crush. He's witty, possess perfect comedic timing, stupid athletc, and has an uncanny knack to find lost items. Soon he'll be my doctor!

Zachary Eng - Groomsman
Sometime in high school I discovered Zack was more than the tall-dark-and-handsome sculpture of a man he appears. Zack taught me to love and explore music as we followed each other to Davis. He's my lifelong favorite pepper partner, who's probably touched my butt (via celebratory Volley butt slaps) more than Kristina or any other person on this world. Zack has the highest emotional intellegance of anyone I've met which makes him a natural leader. He also posses a rare combination of a free spirit and an strong work ethic.
Michael Jennings - Groomsman
Getting to know Michael has been one of the best surprises about falling for his sister. I'm lucky he's such a nice guy, because I have no doubt he could beat my ass with his martial arts background. He's a gifted musician and unbelievably smart with a quick sense of humor. I'm sincerly looking forward to inheriting such an amazing guy as a brother.