Our Story
How We Met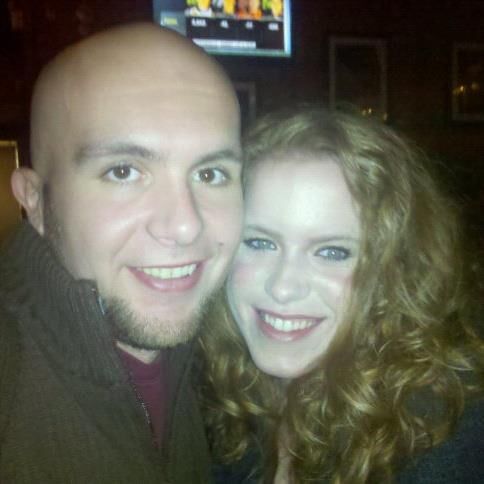 We met on a popular dating site after Jeff sent me an instant message asking "So, are you gonna be my girlfriend or what?"
Who the heck is this guy? We started our relationship with some friendly bickering - just like my parents did when they met at work in 1977! (My parents were arguing about Bob Dylan's singing voice, though.)
After a few weeks of talking, we had our first date at Tusca, a tapas and wine bar in South Side in Pittsburgh. After a starry October night of red wine, garlic-laced small plates, and probably a Starbucks latte or two, Jeff and I became completely inseparable. In the our nearly five years together, we haven't spent more than a week apart.
In our years together so far...
- I have started eating steak and hamburgers, thanks to Jeff.
- Jeff has discovered the miracle that is Indian food, thanks to me.
- We've been to Canada and Bermuda together.
- We've had 2 apartments, 3 cars, and countless smartphone upgrades.
The Proposal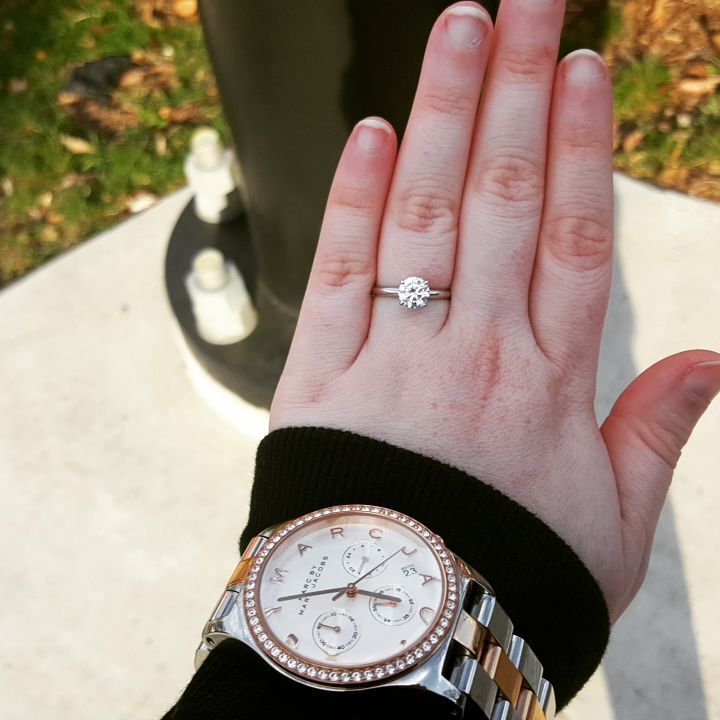 After over four years of dating on Christmas Day 2014, Jeff got down on one knee under our Christmas Tree in our living room and proposed. Completely swoon-worthy. Completely perfect for us in every way.
Anyone that knows me and Jeff well know that I've been bugging him to propose since the minute I met him. When you know, you know. And for the longest time, I waited (im)patiently. Now, when I ask Jeff what made him decide it was "time" to pop the big question, he isn't really sure what sealed it. He says one December morning, he just decided to buy me a diamond ring and propose. The minute it was in his hands he wanted to ask, but he (im)patiently waited for the perfect moment.
I remember a not-so-perfect moment he tried to propose. It was the Monday before Christmas, and he called me at work. (That NEVER happens. Looking back, I should've been instantly suspicious.)
"How's your day going, sweetie?" Jeff asked.
"Horrible. Today sucks. I don't want to talk to anyone the rest of the day. I just want to get home, get into my PJ's, and go to bed. I don't even care if I eat dinner," I whined.
"Oh..." he stammered. "Well, I was thinking we should try a new restaurant and go to dinner."
"That sounds really nice, but I just want to stay in tonight." I said.
That was NOT the time to propose. Luckily, he didn't try to push the issue. Instead, as patient as he is bald, he waited until our perfect Christmas morning together in our apartment.
We woke up late on Christmas morning. I kept begging him to come look at the tree so we could open presents, and he kept asking me to stay in bed. He made the coffee. He got breakfast together. And he told me to wait in bed until he was ready and the heat was at the perfect temperature for us to be in the living room. (We have 2 heat/AC units. To save money, we heat the areas we're not in very sparingly.)
"Honey, it's time for Christmas!" he shouted.
I walked into our living room with my mug of coffee, blanket, and phone. I was in my PJ's, glasses, no makeup, and had morning coffee breath. But, I stopped right in my tracks. Under our perfectly-lit Christmas tree, Jeff was on one knee, with a small black box opened and containing the most perfect solitaire diamond engagement ring. With a few sweet and meaningful words, Jeff asked me to marry him. (I'm still swooning.)
The rest of the day, we kept the engagement our little secret for a few hours, cocooned in our apartment as we drank coffee, ate Christmas cookies, and feasted on a meat & cheese board before breaking the news. But, everyone already knew. Jeff was patient, but couldn't contain the news in the days leading up to it. He told all of his co-workers, asked my friends, and told his and my family ahead of time. He even told the Starbucks baristas near his work. He also called my dad to ask permission to ask for my hand in marriage. It was a sweet, unexpected gesture that still makes me smile just thinking about it.
Today, we are bursting with excitement to be starting this new journey together. We are so honored to have you all take part in our special day, whether you travel from far away or are there in spirit. Thank you for your continued support and important role you've played in our relationship.
Our Wedding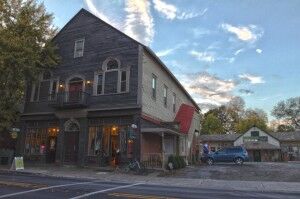 Friday, September 30, 2016
5:00 PM
Attire: Cocktail Attire
Ceremony
Wood Street Park
Wood Street, Harmony, PA 16037, United States
Reception
The Center of Harmony Opera Hall
253 Mercer Street, Harmony, PA 16037, United States
The ceremony will be held at the quaint community park by the Connoquenessing Creek, right behind the reception venue. Transportation to and from the ceremony will be provided to all guests. Please see the Transportation Page for more details.

The reception will be held at The Center of Harmony Opera Hall, which is nestled in the heart of historic Harmony, Pennsylvania. The opera hall has been renovated with modern lighting and A/C, while still maintaining the historic, rustic charm of its original state. Hardwood floors and a dramatic spiral staircase entryway make this spot a real find.
On the ground floor of the opera hall is Wunderbar Coffee, proudly serving La Prima Espresso, fine coffee and tea drinks, crepes, and gourmet grilled cheeses. It is the perfect spot to grab a snack in between the ceremony and reception. Visit www.TheCenterOfHarmony.com or www.WunderbarHarmony.com for more information.
Adults Only Ceremony and Reception
Other Events
The Pittsburgh Cookie Table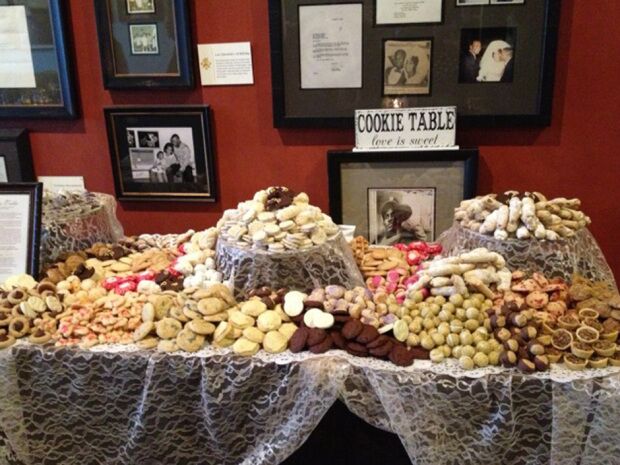 Thursday, September 29, 2016
1:00 PM
The Center of Harmony
253 Mercer Street, Harmony, PA 16037, United States
Wedding Party
Grace Harnett - Maid of Honor
Jenn Cross - Maid of Honor
Alicia Sciaretta - Bridesmaid
Katie Trupiano - Bridesmaid
Rebekah Laslow - Bridesmaid
Jason Stanley - Groomsman