Our Story
Solon Sweethearts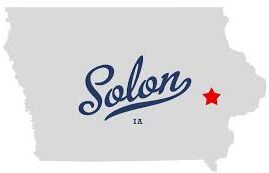 Cody and Emily both grew up in rural Solon, Iowa, a town of about 2,000. Their families have known each other for years, but it wasn't until much later that Cody and Emily would really get to know each other.
Emily and Cody's families used to trail ride together long before they ever started dating. Brent and Donna were even in attendance at Tom and Emmie's wedding! Cody is 5 years older than Emily, so they weren't close in school but Cody can remember coming to Wears Auctioneering auctions with his dad as a kid and being fascinated by how fast Brent could talk. Emily remembers going to football games in middle school and watching number 44 score touchdown after touchdown.
It seems that their relationship is a match made in heaven, it just took them a few years for their lives paths to cross again. Both Emily and Cody love the West, but in the end they found themselves back in the small town of Solon.
Western Romance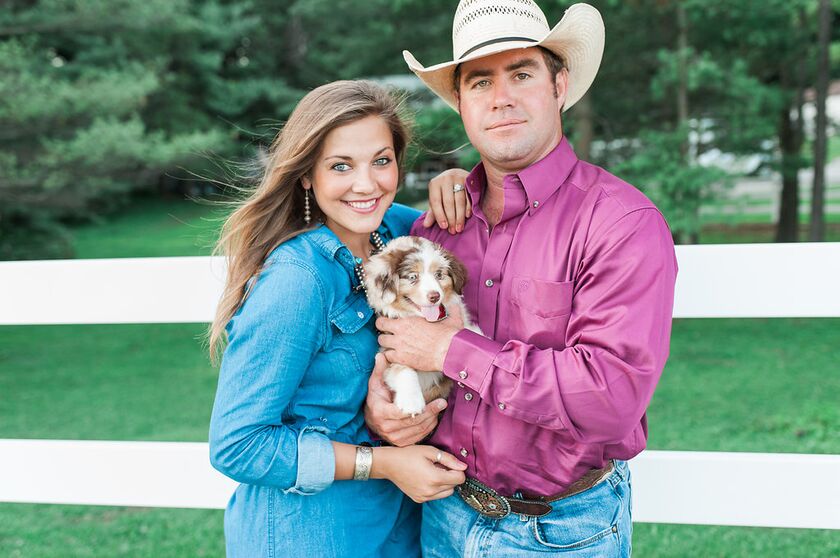 After graduating from Solon, Cody moved out to Cheyenne, Wyoming to rodeo and attend Laramie County Community College. After graduating from LCCC with an Ag Business degree, Cody moved to Salmon, Idaho. He lived in Salmon for almost 8 years working as a ranch hand and helping his cousin run cattle in the area.
After 7 years of ranching, he decided to try his hand in the professional rodeo arena. Thus started Cody's endeavor as a PRCA steer wrestler, keeping him on the road 300 days a year for the last 3 years.
Emily's life took her in a similar direction after high school; she went West. After spending a year at UNI, she decided to pack up and move out to Laramie, Wyoming to attend the University of Wyoming. After 4 years in pursuit of a Business Management degree, she graduated and moved to northern Wyoming, a town called Buffalo. Emily lived there for a year working as a waitress, doing leather work and working auctions whenever she could. After a year in Buffalo, she decided to try and pursue the auction career more aggressively, an objective that took her to Cheyenne where she started doing online auction with friends in the area.
Cheyenne ended up being the link that eventually brought Cody and Emily together.
In June of 2015 Emily was overseas in Thailand and India to attend a good friend's wedding, it was there that Cody and her started talking and catching up on years missed. Upon returning to the States, Cody happened to be in Greeley for a rodeo with a few extra days to spend relaxing (ironically, a luxury that is very few and far between in his line of work). They decided to meet and have dinner and catch up.
It didn't take long after that and they were dating.
One year later and they're engaged!
The 'Pup'osal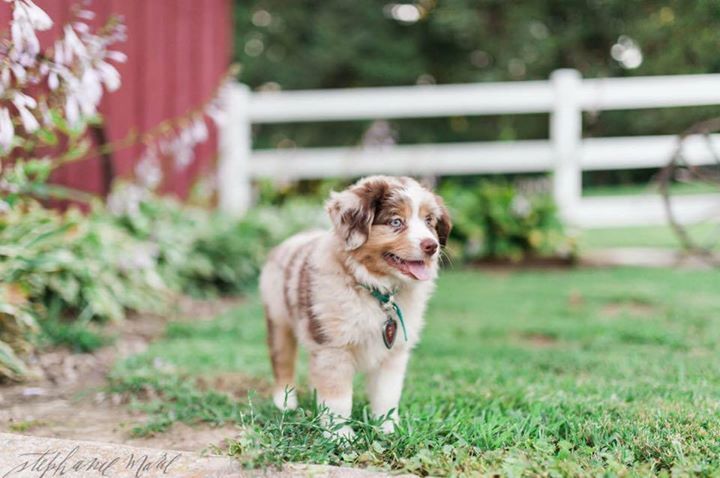 Anyone who knows Cody may have guessed that he isn't an overly sentimental romantic guy. He outdid himself with his proposal.
It had been a full month since we had seen each other, schedules were busy for both Cody and I, and it just hadn't been conducive to seeing each other. So, the weekend of July 9 and 10th was already exciting because I was traveling up to the Twin Cities with Cody's parents to spend the weekend with him at a few rodeos. The weekend proved to be even more exciting that I could have imagined.
He didn't waste any time...
Emmie, Tom and I left Cedar Rapids at 7:00 after Tom got off work and drove for 5 hours to Loretto, Minnesota where Cody was staying for the night. We arrived just before midnight and Cody was there to greet us in the driveway. With arms full of clothes and bags, we all walked to the trailer to drop off our things. I was the first one to open the door and I climbed in and set my bag down on the upper bed. Emmie followed me in and Tom was on his was through the door when I looked over and noticed a precious little mini aussie puppy sitting on the bed looking at me. I was so shocked, I was thinking, who's dog is this? Then she came over to me and crawled into my lap and I noticed a diamond ring on her collar. I looked at Cody and asked him what was going on, he responded, "Well, did you read the collar?" So of course I read the collar. She had a heart charm on her collar that said "Will You Marry Me?" on one side and "Yes or No" on the other.
I SAID YES!
We named the puppy Loretta to remember our special day.

.....Dad's response.....
I called my parents right away, knowing I would be waking them up. I don't remember a lot of the conversation, but I do remember telling my dad I got a puppy and that Cody proposed and he asked me if I was going to keep them both.
The Wedding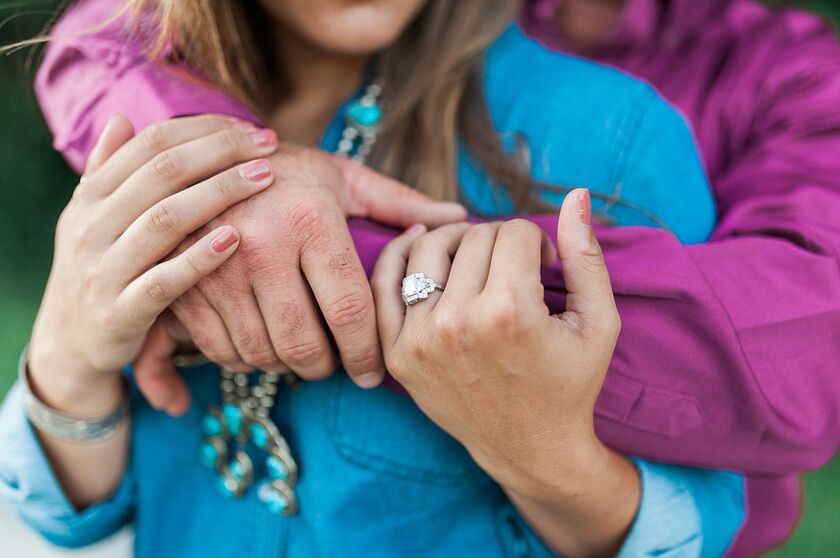 Saturday, May 6, 2017
3:30 PM
Attire: Western Casual
Ceremony
Wears Home
1826 Mehaffey Bridge Road NE Solon, Iowa 52333
Reception
Regal Crown Receptions
1003 N Washington St, Lisbon, IA 52253, USA
The wedding will be held at the Wears Home in the afternoon on May 6th, 2017 with family.
Reception, dinner and dancing will follow in Lisbon, Iowa at Regal Crown with doors opening at approximately 5:00 PM for all friends and family of the couple.
Wedding Party
Laura Bucklin - Maid of Honor
Laura and Emily have been friends since preschool. They remained friends all through elementary and high school. Laura and Emily bonded through the mutual love of music. From and early age they have been playing and singing together, all through high school they were in music together, and in the more recent years have started performing together in public arenas. Laura was with Emily in Thailand when her and Cody first started talking, so it seemed only fitting that she be the maid of honor since she's been there from the very beginning.
Nic Bedell - Best Man
Nic and Cody have become very good friends over the years. Nic grew up and went to school in Lisbon, only a few miles down the road from Solon, a town with whom Solon has always had a friendly rivalry. They met through mutual friends and started spending time together whenever Cody was back in Iowa. Now, when Cody is home they make sure to get together and fish, play euchre or sit around a campfire at least a few time before he heads to the next rodeo. Nic just got married in May of 2015 so Emily and Cody enjoy getting together with him and his wife Thea whenever they can.
Nick Jedlicka - Officiant
Nick Jedlicka will be marrying Cody and Emily. Nick is married to Amber Jedlicka, Cody's first cousin and Nick is also a member of Emily's extended family. Nick and Amber have played an important role in Emily and Cody's relationship and they were very honored that Nick agreed to officiate the wedding.
Tracy Tompkins-Thomson - Bridesmaid
Tracy and Emily are first cousins and have always been very close. Being about 14 years older than Emily, Tracy was an older cousin that Emily always looked up to as a young girl and Tracy spent a lot of time curling Emily's hair, making her raspberry pancakes and tolerating her tagging along everywhere she went. Now that Emily is older, they are best friends. Tracy has always been supportive and encouraging of everything Emily did and Emily has loved Tracy's boys since the day they were born.
Jacob Talley - Groomsman
Cody and Jacob have become very close as they spend over half of the year together in a horse trailer on the rodeo road. Jacob and Cody became travel partners a few years ago and have been good friends ever since. In the off season and winter months Cody lived and worked on Talley's ranch near Shreveport, LA. Jacob has been a strong support system for Cody through cancer treatments and has always been a selfless and generous friend to Cody.
Lauren Carter - Bridesmaid
Lauren and Emily have been friends since Lauren moved to Solon in elementary school. Like Laura, Lauren and Emily especially bonded through music in High School. Lauren, a Soprano I was always the high note to Emily's alto. Through Jazz Choir, Musicals, many Solo and Ensemble groups and various performances, Emily and Lauren grew to be very close friends. When they graduated the two both decided to attend UNI in Cedar Falls. They decided they didn't want to be roommates but that they wanted to live close to each other, so on their roommate request form they put all the same answers but didn't request each other as a roommate. It seemed fate had decided they were destined to live together when the college wrote back and said they were going to be roommates after all! Thousands of miles have since separated them physically but their friendship has stayed as strong as ever.
Matt Kroul - Groomsman
Matt and Cody are first cousins only a year apart in age, their dads being twins. Not only were they close by relation, they have lived just down the road from each other all their lives. Somewhere between Cody's house and Matt's the split between school districts prevented the two from both attending the same high school. Matt went to Mount Vernon and Cody to Solon. Solon and Mount Vernon have always had a friendly rivalry and it was no different when the Kroul boys were in attendance. They both played football and other sports and enjoyed getting to compete against each other. Matt and Cody have always stayed close and spend quite a bit of time together when Cody is home.
Amber Jedlicka - Bridesmaid
Amber Jedlicka is Cody's first cousin. Amber and Nick's kids Bella, Gabby, Jack and Sophie have always been special to Cody and now to Emily too. Since meeting Cody, Emily and Amber have become close friends spending time together running in the mornings and hanging with kids in the evenings.
Aaron Hadenfeldt - Groomsman
Cody and Aaron have been long time friends. They were in the same class at Solon and competed in multiple sports together. After graduating, they went separate ways but remained friends over the years and still get together whenever Cody is home to fish or play euchre.
Colton Wears - Usher
Colton is Emily's brother. Her only sibling and 2 years younger, Colton and Emily have always been close. Growing up in the family business they worked together and Emily loved cheering Colton on as his team won a state title in football every single year he was in high school and as a thrower in track - advancing to state and Drake multiple times.
Natalie Mick - Attendant
Natalie is Emil'y Soon-to-be Sister in law! Just a few days after Cody and Emily's engagement, Colton and Natalie got engaged as well. Natalie already feels like part of the family since she and Colton have been dating for over 3 years, so we are glad Colton finally made it official.
Tyler Kester - Usher
Tyler and Cody became friends through rodeo. Both are part of the Great Lakes Circuit and rodeo in the midwest. Tyler, a steer wrestler also, often competes against Cody at local rodeos. Cody frequently stops and visits Tyler on his way through Nebraska and always looks forward to seeing him at rodeos.
Thea Bedell - Attendant
Thea is married to Nic, Cody's best man. Emily and Thea have become close friends since Cody and Emily started dating and she met the couple. With Cody gone a good part of the year, it has been nice to have local friends that Emily can spend time with, Thea and Nic have been two of those good friends.