Local Food
A running list of local places to eat in Chesterton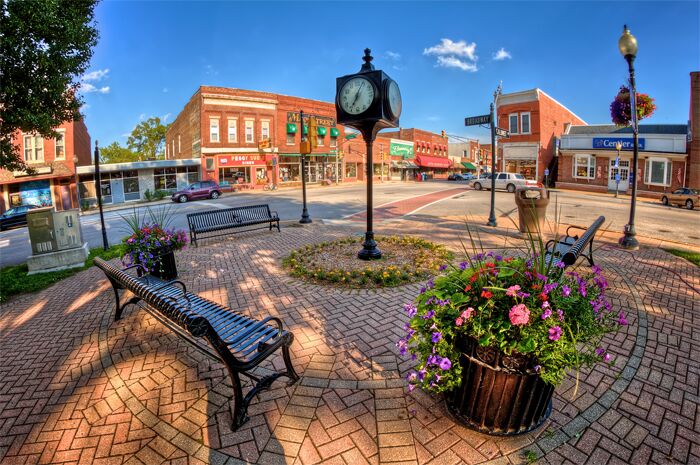 > Octave Burgers (love it!)

> Lucrezia Cafe (Italian... a little more expensive, but great food)
> Red Cup Cafe & Deli (local coffee shop)
> Dog Days Ice Cream
> Wagner's Ribs (mmmm)
> Tao Chen's (Chinese)
> Sunrise Family Restaurant or Round The Clock Restaurant (Breakfast)
> Duneland Pizza, AJ's Pizza, Gelsosomo's Pizza
> El Salto (Mexican)
> Bartlett's Grill & Tavern (Near the Dunes)
> Volstead (brand new, fine dining & craft cocktails)
A running list of local places to eat in Valparaiso

> Schoop's Hamburgers (Burgers, Dogs & Shakes)

> Industrial Revolution Eatery & Grill
> Don Quijote (Spanish/Tapas)
> Kelsey's Steakhouse (look for the big cow out front)
> El Salto (Mexican)
> Le Peep (Breakfast)
> Gelsosomo's Pizza
> Valpo Velvet Shoppe (Ice Cream)
... more will be added soon
Things to Do
Indiana Dunes State Park
1600 N 25 East, Chesterton, IN 46304, USA

There is a reason we are having our ceremony at the Dunes State Park. If you have extra time, it is definitely worth it to hike one of the many trails or just go visit Lake Michigan. The fall colors should be awesome at this time of year, especially if you take the "Three Dune Challenge."
Chesterton's European Market
220 Broadway, Chesterton, IN 46304, USA

Spend your Saturday morning exploring downtown Chesterton. Booths that include arts & crafts, food, and other goods. The soft pretzels alone are worth the trip!
Valparaiso Market
63 Lafayette St, Valparaiso, IN 46383, United States

While not quite as good as Chesterton (we are bias), Valparaiso has a market as well that features fresh local produce, handmade products, plants/flowers, and food vendors.
County Line Orchard
200 S County Line Rd, Hobart, IN 46342, USA
219-947-4477

Get into fall by picking apple/pumpkins, exploring their corn maze, or visiting the kids farm.
Lighthouse Place Premium Outlets
601 Wabash St, Michigan City, IN 46360, USA

Need to escape for some outlet shopping? Visit Lighthouse Place which now has a North Face Outlet Store.
Coffee Creek Watershed Preserve
2401 Village Point, Chesterton, IN 46304, USA

Another great place for a hike in Chesterton to see some wildlife. Our last hike there we saw deer in about six different locations along the path.
49'er Drive-in
675 N Calumet Ave, Valparaiso, IN 46383, USA

While we are not sure exactly how late in the season it is open for, this is a classic drive-in theater that shows first-run movies.
1933 Chicago World's Fair Century of Progress Homes
127 W Lake Front Dr, Michigan City, IN 46360, USA

After the 1933 World's Fair in Chicago wrapped up, they put these "homes of the future" on barges and shipped them across Lake Michigan. We like the Florida Tropical House that is painted pink.
Brauer Museum of Art
1709 Chapel Dr, Valparaiso, IN 46383, USA
(219) 464-5365

Located at Valparaiso University, the museum's permanent collection, numbering more than 3,700 pieces, includes works by such internationally recognized artists as Frederic Edwin Church, Asher B. Durand, Childe Hassam, Georgia O'Keeffe, and Ed Paschke.
Taltree Arboretum & Gardens
450 W 100 N, Valparaiso, IN 46385, USA

This was on our list of places to host the ceremony, but it was unavailable. Still worth a look and has a Railway Garden featuring dwarf plants and model steam engine trains, the exhibit showcases the impact steam engine trains had on early 19th century US railroads.
Beach Sunset Guided Bike Tour
1215 State Highway 49, Porter, IN 46304, United States
219-921-3085

For $10 per person, spend a Friday or Saturday night on a scenic bike ride to the State Park beach and to see the sunset over the Chicago skyline. Includes bike, accessories, and guided trail tour. The ride is 20 minutes each way. Probably a good idea to book ahead of time!
Indiana Dunes Outdoor Adventure Festival
1215 State Highway 49, Porter, IN 46304, United States

Just happens that there is a festival Oct. 6-8 at the Indian Dunes. The festival showcases the region's natural and cultural significance through hiking, paddling, biking, and other activities such as geocaching, photography, birding, and orienteering. The festival has events for everyone including families, beginners, experts, and those with limited mobility.
Lots more on their website, including an overnight backpacking trip.
Valpo Velvet Shoppe
55 Monroe St, Valparaiso, IN 46383, USA
(219) 464-4141

The building is painted with multi-color cows and has been making ice cream for more than 60 years. Take a tour or just buy some ice cream from the Parlor.
Hoosier Bat Company
312 N 325 E b, Valparaiso, IN 46384, USA
(877) 711-0410

The 3rd largest producer of wooden bats in the world that are used in the MLB. Call ahead to set up a tour and maybe even pick up some baseball themed jewlery.
The Brassie Golf Club
1110 Pearson Rd, Chesterton, IN 46304, USA
(219) 921-1192

There are several golf courses in the area, this is one of the most frequented for the Kroft family in Chesterton.
Aberdeen golf
245 Tower Rd, Valparaiso, IN 46385, USA
(219) 462-5050

A favorite golf course in Valparaiso.
Zao Island
1050 Horse Prairie Ave, Valparaiso, IN 46385, USA
(219) 462-1194

Go-karts, mini-golf, laser tag, video games, batting cages, etc.
Inman's Bowling & Recreation Center
3201 Evans Ave, Valparaiso, IN 46383, USA

Bowling, pool tables, go-karts, roller skating, video games, mini golf, etc.
Fireflies Fun Zone
1505 S Calumet Rd, Chesterton, IN 46304, USA

Laser Tag, Playground, & Arcade
Amhurst Asylum
Looking for a haunted house?
Haunted Hills Hospital
6090 US-12, Portage, IN 46368, USA
219-241-9498

Not sure if this one is will be active this year, but another haunted house option.
Travel and Transportation
Chicago Midway International Airport
5700 S Cicero Ave, Chicago, IL 60638, USA

The best airport option for getting to Northwest Indiana, it is about 1 hour from Chesterton.
American limousine Service

1-800-729-1623

American Limousine services the Chicago, Gary, and Indianapolis airports.
Coach USA Bus

1-800-248-TRIP

Serving Northwest Indiana and Chicago's suburbs, the Coach USA bus leaves from a stop in Portage, approximately 15 miles north of Valparaiso, running every hour, and travels to and from O'Hare and Midway airports. At the airport, be sure to get on the bus going to Northwest Indiana.
South Shore Line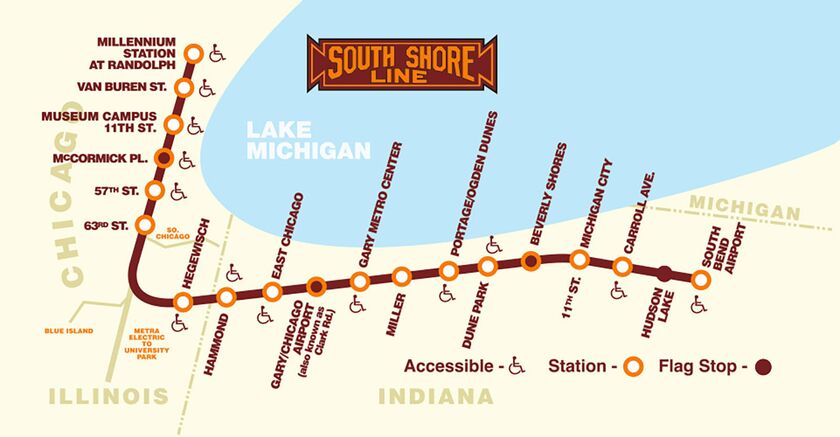 This is a train that runs between Chesterton, IN and Chicago. It does not service the airports, but provides an easy way to get downtown that takes approx. 1hr 20 minutes.