when you get more than clean teeth from your dentist
Our Story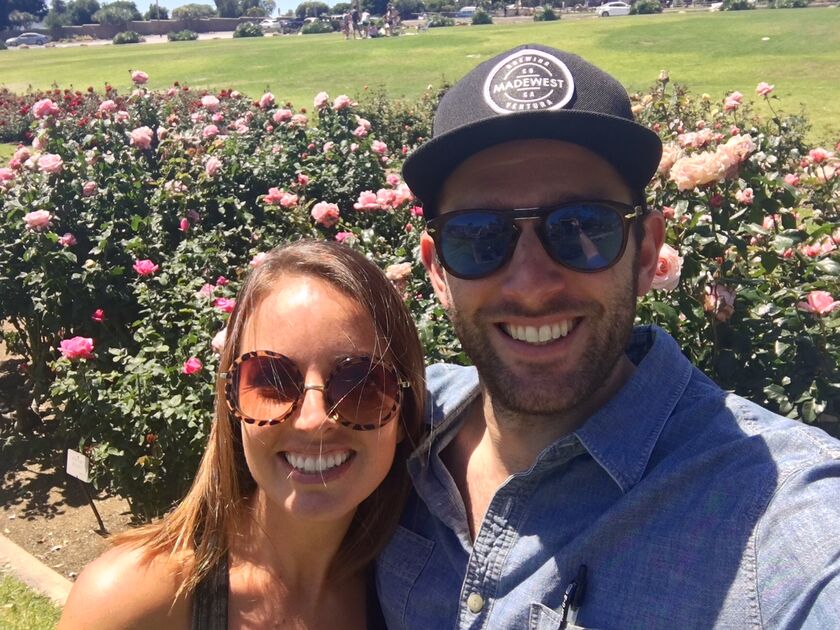 Well, as it happened, upon moving to Santa Barbara in 2013, Luke was searching for his bride. He had finished dental school and found his new home where he wanted to start his career as a dentist. While Gigliola is a Santa Barbara native, Luke grew up not far away from Santa Barbara in Agoura Hills. Gigliola always knew she would end up back in Santa Barbara to have a family and true to her word, she came back after 3 years in NYC upon completion of her Master's degree to become a Family Nurse Practitioner.
The story has a fairytale quality to it-- while exploring Santa Barbara, Luke stumbled into a tall tower, where up top was Gigliola, locked away from the from the rest of the town suitors (or so Luke thought). Luke scaled the tall tower and rescued Gigliola. She vowed to love him forever.
As it turns out, Luke and Gigliola were supposed to be introduced via a mutual acquaintance in town. Despite minimal efforts over 6 months time and Facebook stalking on Luke's behalf, it never materialized. Fortunately, Gigliola needed to see the dentist and Dr. Sharron was "in-network" and available to see her before the end of the year, on December 30th, 2015 while she was on break from working at the UCSB Student Health Center. It turns out the tall tower was really Luke's dental chair in his office and it was love at first cleaning.
Luke immediately recognized the name of the Italian bachelorette he had been briefed on when he saw his schedule; Gigliola is not a name you forget! The only problem was he did not know how to pronounce it correctly. He very charmingly mispronounced her name, but his kind touch, engaging eyes and vibrant curls were too much for Gigliola to deny. Luke had heart eyes when he saw that Gigliola had perfect teeth! Clean healthy gums and no cavities. The two knew they were meant to be together forever. Thanks to encouraging friends who supported the dentist/patient romantic relationship, they went from the dental chair to the first date within a couple week's time.
After one and a half years of fun travel, many family gatherings, amazing celebrations with friends, adventuring in living together, and over-eating at Gigliola's mom's Italian meals, Luke proposed at Gigliola's family lake house at Lake Nacimiento on Memorial Day Weekend of 2017. He surprised her after a sweaty evening stroll on one of her favorite trails--although they had reached the end of the trail and were on the street corner when Luke finally mustered up the courage to lunge onto one knee and pop the big Q. They are now not only crazy enough to host a huge family and friend wedding, but they happily have taken on a Fixer Upper "first home together" project in Santa Barbara all in under one year. Thank God they have already adjusted to living together for over half the year :) They cheers you all to a fantastic and special time in life - full of adventure, fun, love, and happy teeth! The countdown is on! :)
The Wedding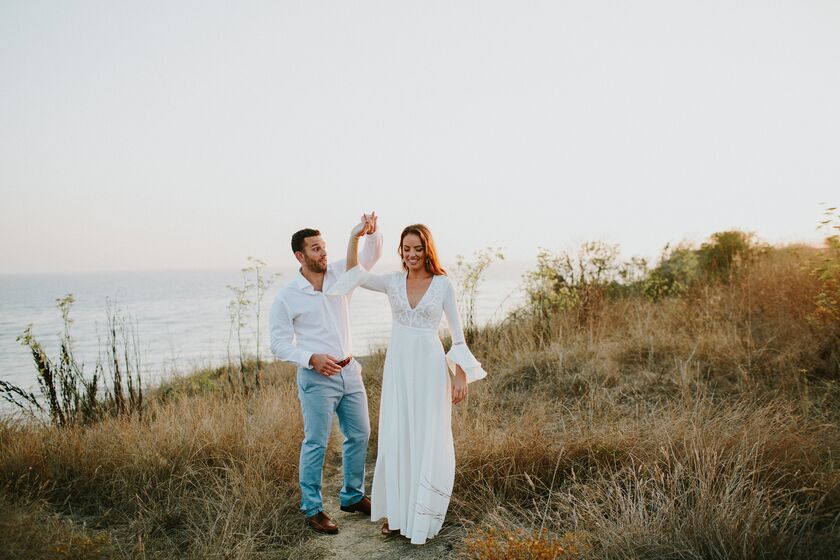 Saturday, April 28, 2018
3:00 PM
Attire: Semi-Formal Attire. Rugged outdoor "natural" grounds! Ladies may want to consider a block or wedge heel for maximum comfort & danceability!
Ceremony and Reception
The Dos Pueblos Orchid Farm
Gaviota Coast, Santa Barbara
Although we love your little ones, this is an adult only affair. We appreciate your understanding our decision to make the wedding children-free and hope you take the opportunity to let your hair down and celebrate in style!
Other Events
Welcome Meet & Greet
Thursday, April 26, 2018
6:30 PM
Brass Bear Brewing & Bistro
28 Anacapa St e, Santa Barbara, CA 93101, USA
We invite ANY & ALL guests in town to come meet and mingle with us for an evening of fine food and drink at Brass Bear Brewing. We want everyone to have a great time at our wedding and encourage both our local guests and those traveling from places far and wide to meet and get to know one another before the wedding so we can all party hard together on the big day!
Light bites will be provided- but additional menu items, beer & wine will be available as you desire!
Wedding Party
Sabrina Bernardi - Maid of Honor
My wisest and oldest sister ;) Sabrina is a huge support to me and has put up with the little sister junk for most of her life! She is organized, spicy, and strong! She is a hairstylist & mommy to two pups Champ & Bear :) She loves to get the family to go on trips - and she's good at it! She and I have zumba dates weekly- the best kind of sister date there is! This must date back to her forcing me to dance to Paula Abdul with her circa 1989.
Angelina Knothe - Maid of Honor
One of the bestest sisters a bride could ask for- full of knowledge, experience (12 years of marriage!), and gave me the two best kids in the world to be an auntie to- Ava (8) & Dallas (5)! Also a dog mom to Ally & cat mom to Muffin! She is SB's best realtor and a pretty incredible mom! We have a history of laughing at things uncontrollably and making up weird dance routines to the B52s (also circa 1989). She's the trouble maker- in the best way possible!
Jennifer Sharron Richardson - Bridesmaid
Luke's oldest sister. She's amazing! Also organized (a big sis thing maybe?!), funny, caring and a total badass. She is an executive producer for Jimmy Kimmel Live and basically is a girl boss. Also has added two nephews for Luke (and me!) to enjoy- Ethan (3) and Nolan (1). She lives in Woodland Hills and has special skills in bribery & guilt trips :)
Jessica Sharron - Bridesmaid
How cool is that? No matter which family I am with I always get two sisters :) Jessica is an awesome one to be getting. She is extremely dedicated, a boss lawyer, has tons of fun interests and she's a joy to be around. She lives in Santa Monica & is mommy to Frenchie pup, Duke.
Nealy Shvil - Bridesmaid
One of my college BFFs! We met freshman year at UCSD. Inseparable since. She is just shy of 5 feet tall but has the personality and spice of an NBA basketball player. She is literally the best friend a girl could ask for. We have been through ALOT together and she holds the key to many forbidden stories ;) She is a veterinarian and lives in San Diego. Nealy is also is a mommy to the cutest mini-her pup, Cricket. Cricket has the most amazing snaggle-tooth & impeccable style! She gets the style/cute factor from her mom & luckily the snaggle tooth is from somewhere else ;)
Megan Roup - Bridesmaid
We go wayyyy back to high school dance- off days and ballet days in SB, and have grown to be like sisters. Megan is a total babe- a fitness guru, prima dancer, and amazing friend. We also lived in NYC together in a shoebox apartment and shared so many AWESOME city life experiences together. From West to East Coast & back, she's my sister from another (South African) mister. Through ups and downs, she has been there & I love her for it! Currently lives in New York City but also working on bribing her back to the West Coast.
Lindsay Anderson - Bridesmaid
My OTHER favorite twin! Yes, Megan & Lindsay are twins. Fraternal twins! You will see for those of you who don't know them how different they are! Lindsay is a tall, passionate, incredibly intelligent & creative person. She and her husband own Brass Bear Brewing in SB & kick ASS. Linds lived in the NYC apartment with Megan & me. We all love witches, surprise, surprise! The 3 of us have a fun bond that I adore! Since she and her little fam are back in SB, our friendship only gets better each year!
Maya Friedman-Bach - Bridesmaid
Maya is my other college bestie! She has been one of the most loyal, consistent people I have ever met. I had the honor of being in her stunning wedding in Cancun a couple years ago! She and I seem to get along and be there for each other no matter what phase of life we are in. She is also spicy, adorable, giving and wonderful! We both obsess over the color coral and aren't afraid to speak our minds! She lives in Chicago, is a dietician by trade & mommy to sweet pup Dexter (who I love!).
Ava Knothe - Flower Girl
Ava is my eight year old niece/best friend. She is the most amazing niece I could ask for, not to mention the girl was born a knockout and only continues to get more beautiful inside and out each day. She is incredibly smart and already loves dance and would love to collect kittens, which makes me SO proud! I couldn't imagine life without her, and it's been an honor to see her grow. It makes me happy seeing how much she loves being around Luke- her approval is most important! She will make the most beautiful flower girl on our big day and we both love her beyond words.
Gregory Sharron - Best Man
Gregory or "Greg" has been my best man since June of 1988. My one and only brother, we share a strong bond second to none. Greg was the better athlete of the two of us, or so he so he'd like to believe. While he may have my number on the football field or lacrosse field, I certainly have his in the pool. Greg has always been a fun-loving guy and is a passionate sports fan, namely Notre Dame football, basketball, baseball and softball. He is fiercely loyal to his family and friends.
Chris Richardson - Groomsman
Chris is my brother-in-law. He is the husband of my sister Jennifer and the father to Ethan and Nolan. While Chris follows family line in rooting for the Irish, he unfortunately also roots for the San Francisco Giants - I hear there is conversion therapy for that - Go Dodgers! Chris is a great family man. He is a lover of all things sports, classic Ford Broncos and other classic cars.
Justin Knothe - Groomsman
Justin is Gigliola's brother-in-law. He is married to Angelina and is father to Ava and Dallas. Joining a family of three daughters, having Justin around to balance the feminine has been great. Justin is an all-star member of our Fowl Ballz men's rec league softball team. He is always ready to help with any home improvement project - the man loves his tools.
Colin MacGregor - Groomsman
Colin has been my best friend for nearly 30 years. Exploring the streets and terrain around Agoura Hills to backpacking all through Europe in the Summer of 2008, Colin has been a part of many adventures in my life. He has been a close confidant even though we went to different high schools and colleges. His fearless passion for life is contagious and inspiring. He is married to Brenda and father to their two dogs: Sierra and Bok Choy.
Phillip Harrison - Groomsman
Phil, aka "The Thrill" or "The Spill" (depending on the night), has been one of my best friends ever since we met in dental school. Phillip and I shared an apartment our last two years of dental school, where many a Friday night we got down to some funky vinyls, drinks and dubliner cheese with all of our dental school friends. Phil is currently finishing up his six year residency in oral surgery at UCSF. I am lobbying hard for him to start his work career in Santa Barbara.
Brandon Bell - Groomsman
Brandon has been a great friend of mine since our freshman year of dental school. Our friendship really got going when I joined Brandon and his wife, Kristina, on an 16 hour (over two days) road trip in a tiny little Kia up to Lake Tahoe and Back by way of Sacramento, where we attended two classmate weddings in one day. The Bells frequently joined my and Phil's parties during dental school, as long as we were able to catch them before Brandon crashed on his couch (his favorite hobby). Brandon and Kristina live in Carlsbad with their daughter, Gwyneth, and Labrador, Charger. I think Brandon might be one of the only San Diegans excited about the LA Chargers. AH!
Nick Faccuito - Groomsman
Nick is a Santa Barbarian through and through. Friends since kindergarten, he and Gigliola are almost like brother and sister. Nick is a tremendously kind guy and has become a great friend of mine. Since I began dating Gigliola, Nick and his husband, Eric, were quick to welcome me as a dear friend. Nick is an active traveler for work and for fun. He is a great host and is always up for a party. He is an Italian Stallion and we love him because he knows how to handle Gig :)
Dallas Knothe - Ring Bearer
Dallas is Gigliola's nephew. He is 5 years old, and already a killer athlete. He is adorable, loving, adventurous and mischievous. We are hoping he can help keep Ethan and Nolan on the straight path to the altar without major distractions! Dallas is a truly special addition to this wedding party and we are certain his impeccable kindergarten style and devilish grin will make the lineup even more handsome.
Ethan Richardson - Ring Bearer
Ethan is my oldest nephew. At 3 years old, he has the character of a seasoned Hollywood star. He has already debuted on a number of Jimmy Kimmel "Baby Bachelor" episodes and he keeps us all laughing around the clock. He is a little lovable, huggable human and we are certain he will do a number on the dance floor. Similar to his Uncle Luke, he boasts a head of perfect curls. He is on his way to fame, trust us.
Nolan Richardson - Ring Bearer
The baby of the family (for now)! He not only is my nephew, but my Godson as well. Nolan is a whole one year old and is the cutest little guy we know. He adds cute factor to our lineup and will attract the ladies for the single guys in the group. Nolan is small but mighty and he is always ready to join me in the pool or sneak in some ice cream when no one is looking.