ABOUT GOZO
About Gozo
Gozo has been a family holiday destination for the Hylands since the beginning of time. What's not to like? Sun, good food, booze, beautiful beaches, history, friendly people and blue blue sea.
The people who will be joining us for our special day are our family and closest friends. We look forward to celebrating the day with you in our favourite place ever!
How do we get there?
Gozo has no airport. You need to fly into Malta. Air Malta, Easy Jet, BA and Ryan Air (if you dare) all fly to Malta. There is only one airport on Malta so you cannot book the wrong one.
You will also need a rental car as it is difficult to get about without one.
You then need to get to Gozo - the only way to do this is by Ferry. The Ferry Timetable can be found here...http://www.gozochannel.com/en/home.htm
Where can we stay?
Gozo is such a small island that you can stay anywhere and still get to the wedding easily.
Ginny and Joe will be staying in a town called Xaghra. This is also where the restaurant is located. If you want to avoid a taxi journey home on the night of the wedding then we suggest you look for accommodation near Xaghra.
Joe has pulled together a list of links to hotels, farmhouses and B&Bs on the Details page.
EVENING MEAL MENU
E V E N I N G M E A L
The evening meal will be taking place at Oleander Restaurant at 7.30pm. Please have a look at the Menu, pick your meal and send the choices to [email protected]
Antipasti
A choice of a cured meat antipasti or a vegetarian antipasti
- - - - - - - - - -
Rigatoni Pasta
with Tomato Pesto, Aubergine and Mozarella (Veggie Option)
Veal Ossoburo
served with seasonal veg, roast potatoes & tomato jus
BBQ Ribs
pork ribs served with Gozo fries
- - - - - - - - - - -
Seasonal Fruit Panna Cotta
Snickers Cake
Choice of Ice Cream

ACCOMODATION
B&B Daydream Maison d'hôtes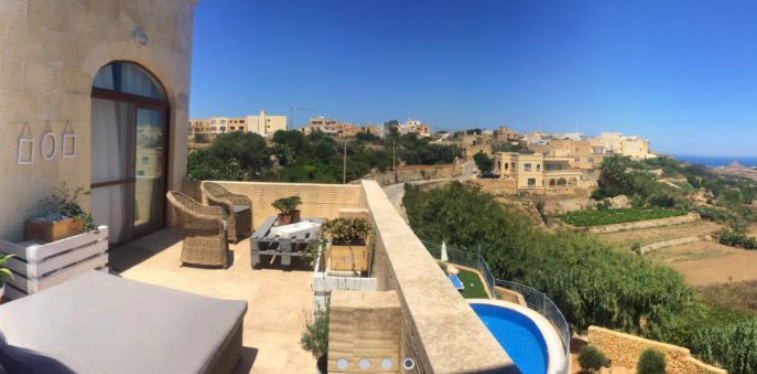 triq il kortoll, Xaghra XRA 1400, Malta
+35679819583
This B&B is located very close to the restaurant and Bella Vista Farmhouses (where Ginny and Joe are staying) in Xaghra. Rates are between 90 and 105 euros per room per night.
Kempinski Hotel San Lawrenz
Triq ir-Rokon, San Lawrenz, Malta
00356 22 11 00 00
The Grand Hotel ****

Mggar Harbour, Gozo
+35621563840
Bella Vista Farmhouses (nearest to Gin & Joe)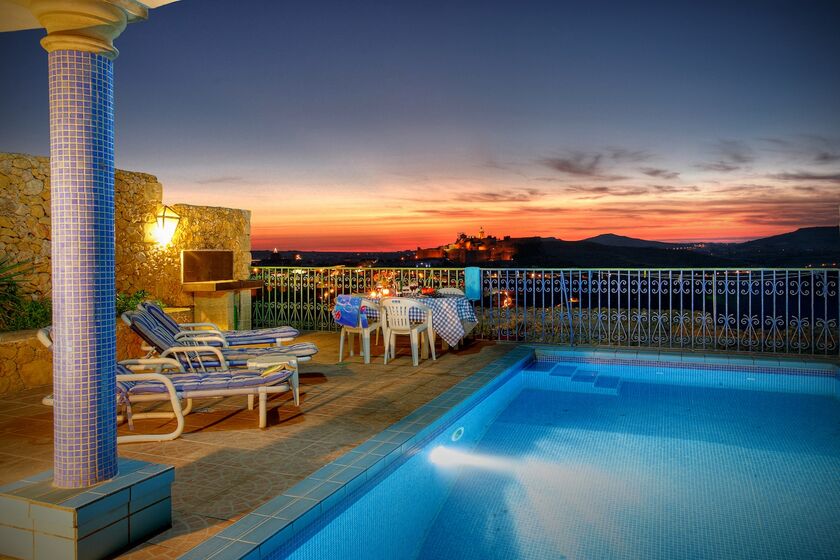 Shrug Street, Xaghra, XRA1346 Gozo, Malta
(+356) 21 561 750
This is where Ginny and Joe are staying. There are a number of farmhouses, each with their own pool, that sleep four, six or eight people.
Bella Vista will be setting its rates for 2017 around 31st August and it will be possible to book after then. Ask to speak to Maria or Monica and explain you are with Ginny and Joe's wedding in July 2017.
Calypso Hotel ****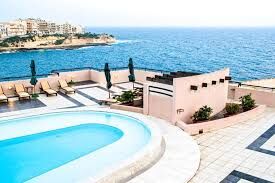 Marsalforn, Gozo
+35621562000
JOE'S TOUR OF GOZO
Ggantija Megalithic Temples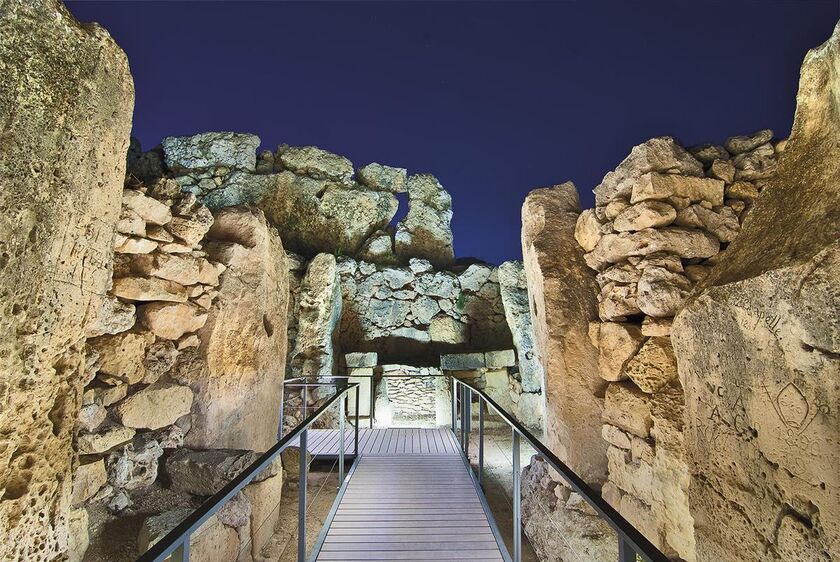 Malta
+356 21 553 194
Try saying that after 5 gins!
Gozo is really really old. And if you like really really old man made structures then this is right up your street. These really really old stones are really really old and are really really worth a look.
Citadel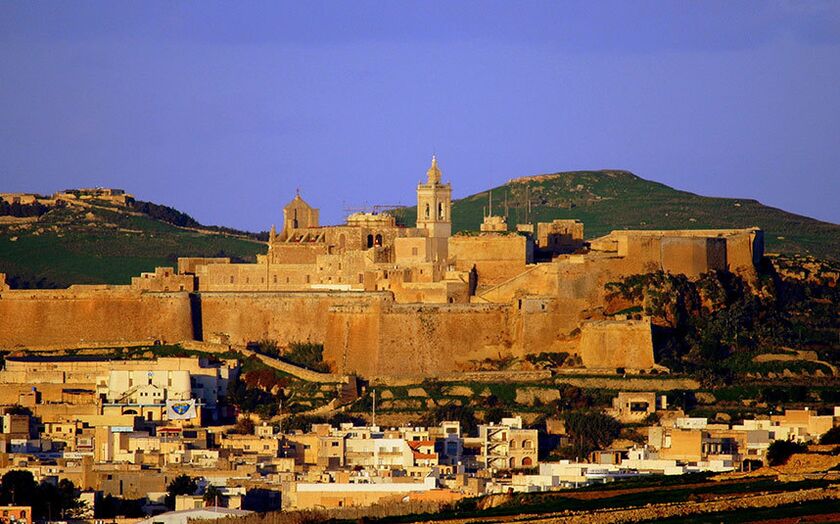 Victoria, Gozo

The Citadel is a remarkable structure of engineering. It can be found in the Capital of Gozo known as either Victoria or Rabat.
I've heard the Citadel is very nice.
I've never been. Ginny did take me once. But we just ended up drinking in a bar.
Xerri's Grotto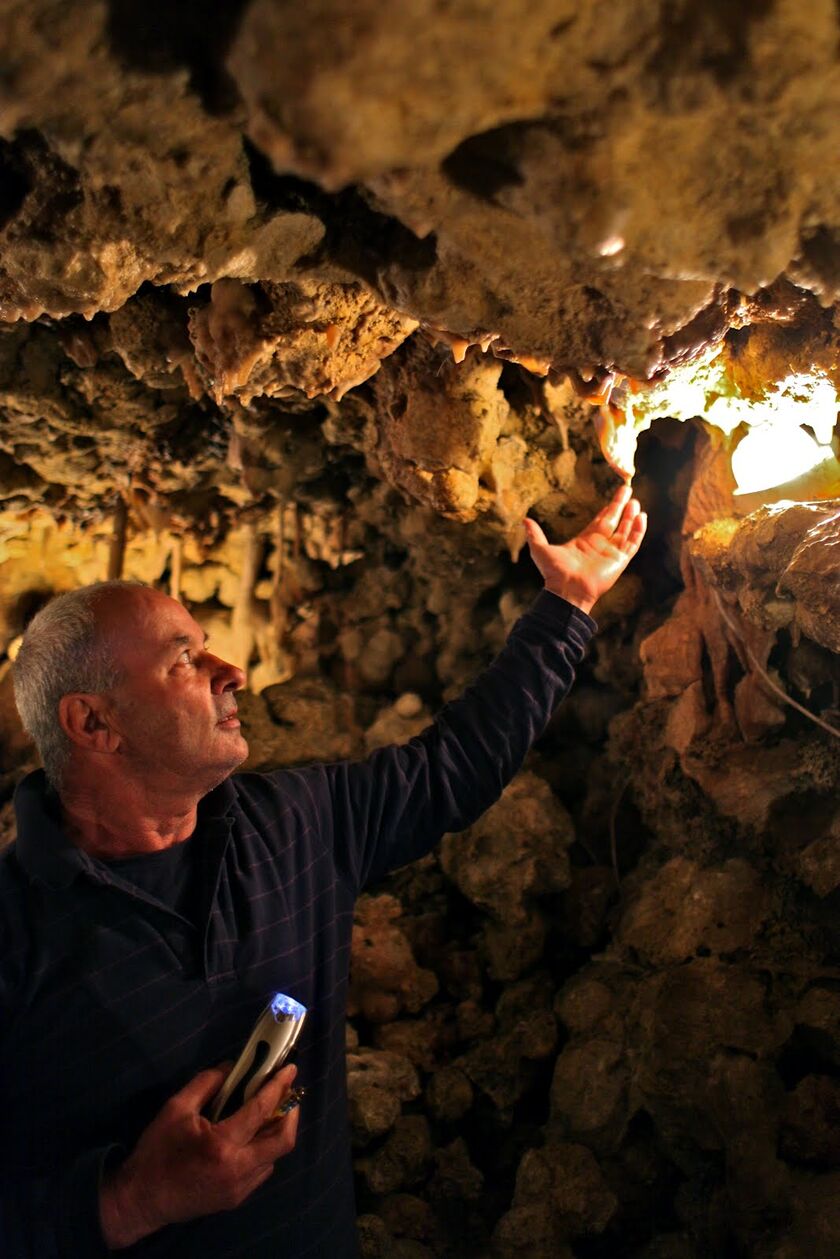 Xagħra, Malta
+35621560572
A massive Cave! Come on, be honest, who doesn't like a massive Cave? Exactly. Nobody.
Xerri's Grotto is based in the Centre of Gozo in a town called Xaghra. (There's a lot of X's in this town, let's hope they don't turn up at the Wedding!).
This cave is pretty cool. You have to walk through someone's house before delving down a spiral staircase.
Ramla Bay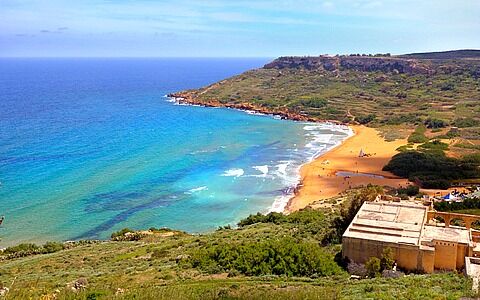 Gozo, Malta

Ramla Bay is a beautiful beach. Sun, sea and sand. A great place to relax while in between celebrations.
We are big fans of this beach. If you see us sun bathing then come say hello!
Be careful in the sea. Although shallow it is quite rough. Plus be careful playing ball games. Blaise once threw a Tennis Ball and it hit a local girl square in the face. It all got rather awkward.
Azure Window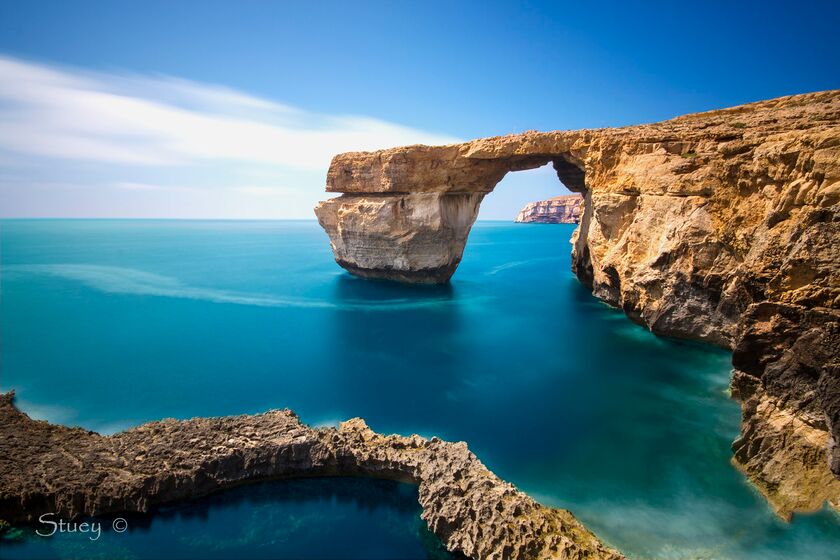 San Lawarenz, Malta

The Azure Window!
If you think this window is big then you should see the curtains! That was a joke.
This place is definitely worth a look while in Gozo. Popular with everybody the waters are clear and the rocks are rocky.
You may recognise the Azure Window from Game of Thrones. We don't recgonise it from Game of Thrones, as we have a life.
Mini Cab Services
MCM Garage
3 Windmill Street Qala
+35621550741 +35677623107 +35679599131
Mario's Taxi Service
70 Mannar Street, Xaghra, XRA 104
+35621557242 +35699435778 +35699495778
Eagle Garage
Triq It Telgha, Qala, Malta
+35621562850 +35699242080 +35699242702
Gozo Ferry Service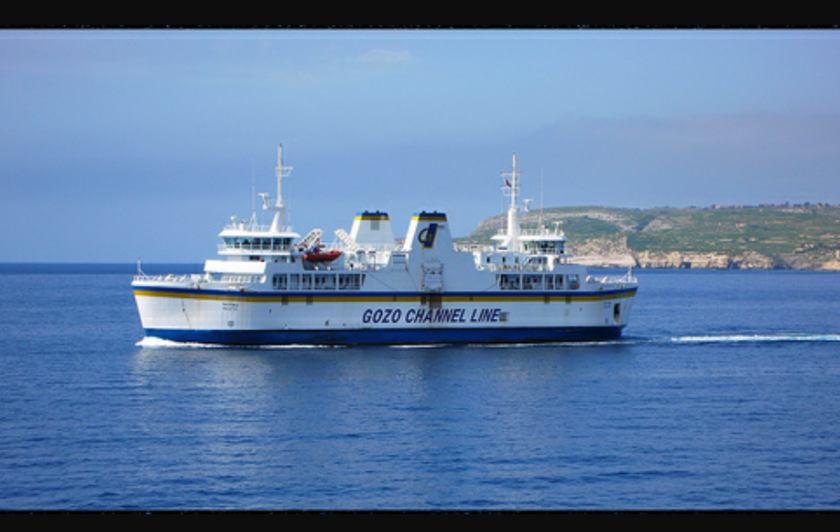 The Gozo Ferry Service runs Day and Night. It is the only way to get on and off the Island (unless of course you are Superman or have invented teleportation).
For times then please visit www.gozochannel.com/en/home.htm
Once you have parked up on the Ferry then get a lift to the top of the boat. Enjoy the views, the breeze, the pastizzi and get ready for the wedding festivities!