Our Story
Our Timeline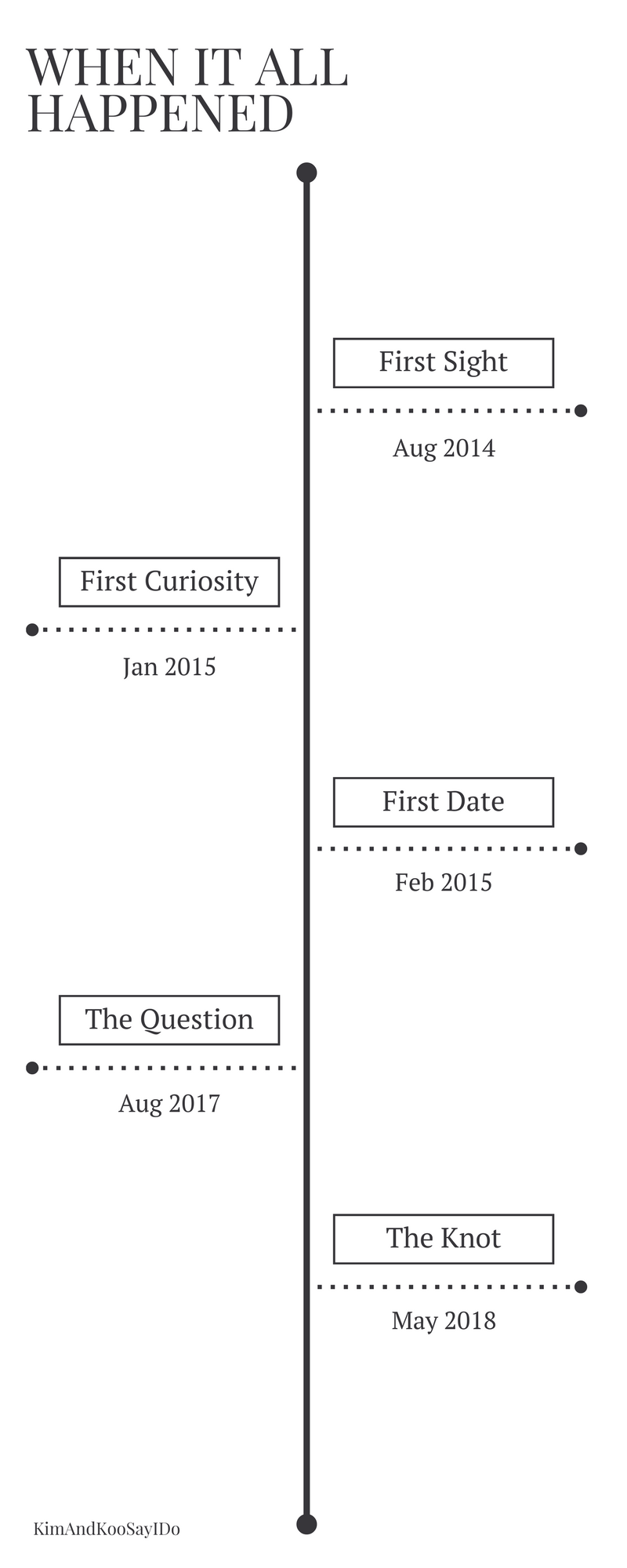 Our Story (explained)
Aug 2014
When Gloria first began attending Salt and Light, the English Ministry at KCPC, James was one of the first people she was introduced to by her pastor. The day they met, he admits that he could barely look at her.
Jan 30th 2015
A few months had passed when James happened to be conveniently seated diagonally from Gloria, at IHOP after a church event. While scanning the menu, he overheard her conversation with the pastor. As the conversation continued, James finally mustered up the courage to chime in with a question. Unfortunately, he never got around to asking his question. Alas, the server stole his thunder by beginning to take orders, and the conversation naturally came to an end. Determined to redeem this rare opportunity to talk to her, he took full advantage of the situation and boldly asked her to quell his curiosity over a cup of coffee. He didn't even like coffee, but it was a good thing that she did!
Feb 8th, 2015
To his surprise, she agreed. The day finally came, and as they exchanged short snippets of each other's lives in between sips, that sweet aroma filling the air, they quickly lost track of time. The two moved locations to a restaurant down the street to continue their talk, and sealed the night with an awkward but friendly high-five. While driving home, Gloria couldn't help but realize that James had never gotten around to asking his question. Her bewilderment was quickly dismissed when she was reminded of how well they vibed that night. Soon after, her interest in James' intriguing questions, stories, and upbringing began to tug at her heart with every passing day. This was what led her to say "yes" when he asked her out again the following week. Naturally, over the course of a couple of years, one coffee date became two, and two dinners became four. So, that's how their love story starts. Till this day, neither one of them knows nor remembers what the question was, but the two would rather leave it as a mystery, since that special curiosity was what God used to bring the two together.
Aug 16th, 2017
On the same day as Gloria's parents' anniversary, James had the opportunity to ask THE question, which Gloria was able to answer with an astounding "YES!"
May 19th, 2018
The day the two finally tie the knot!
The Wedding
Saturday, May 19, 2018
5:00 PM
Ceremony
The Glasgow Farm
448 Hartwood Rd, Fredericksburg, VA 22406, USA
Reception
The Glasgow Farm
448 Hartwood Rd, Fredericksburg, VA 22406, USA
Wedding Party
Melody Lee - Maid of Honor
Juliana Ryuh - Bridesmaid
David Blanton - Groomsman