Accommodations
Hotel Laguna ($)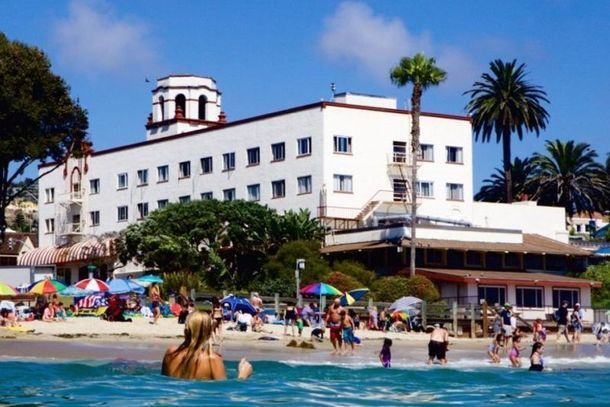 425 S Coast Hwy, Laguna Beach, CA 92651, USA
(949) 494-1151
Home to the beach front ceremony. This is one of the oldest hotels in Laguna and offers basic accommodations in a beachfront setting. What sets Hotel Laguna apart is the full-service Beach Club which offers cocktail service from the sand.
If you book by October 18 you may take advanage of our room block for the village view rooms for $125 per night. All other rooms are discounted 10%. To get this rate, call the hotel directly and mention that you are attending the May/Johnson wedding.
Additional fees apply when more than (2) guests occupy (1) room. Valet parking is available on-site for a flat rate of $20 per night for hotel guests, and hourly rates are available for non-hotel guests.
Pacific Edge Hotel ($$-$$$)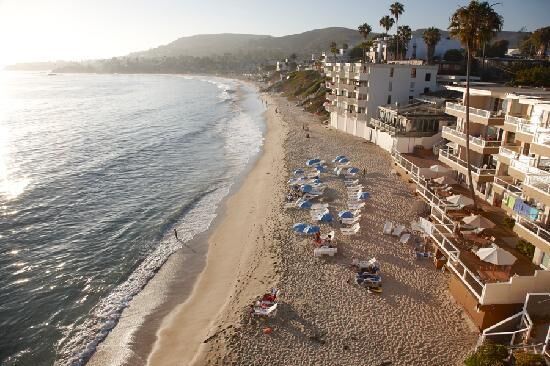 647 S Coast Hwy, Laguna Beach, CA, United States
(949) 494-8566
Pacific Edge is a beachfront hotel that's home to one of our favorite sunset bars, The Deck, and our second room block. This hotel is a 3 minute walk to the reception site and includes two bars, two restaurants, two pools and beach side lounge chairs. Just call and mention you are staying for the May/Johnson wedding to receive the discounted rate. Rates valid until 5pm PT on October 17.
Village View: $145 per night
Two Bedroom Apartment: $278 per night
Beachfront View: $299 per night
Manzanita Cottages ($$)
732 Manzanita Drive, Laguna Beach, CA, United States
(800) 790-5107
Built in 1927 by Hollywood film producer Harry Green, the cottages have been beautifully restored to reflect the charm of the original Laguna Beach art colony while offering the convenience and comfort of modern day amenities, lodging, and accommodations in Southern California. Each rental cottage has individually-selected furnishings and artwork.
Arabella Laguna Cottages ($$)
505 N Pacific Coast Hwy, Laguna Beach, CA, United States
(949) 376-5744
Rental cottages and suites have been beautifully refurbished in eclectic bungalow style.
The Retreat In Laguna ($$-$$$)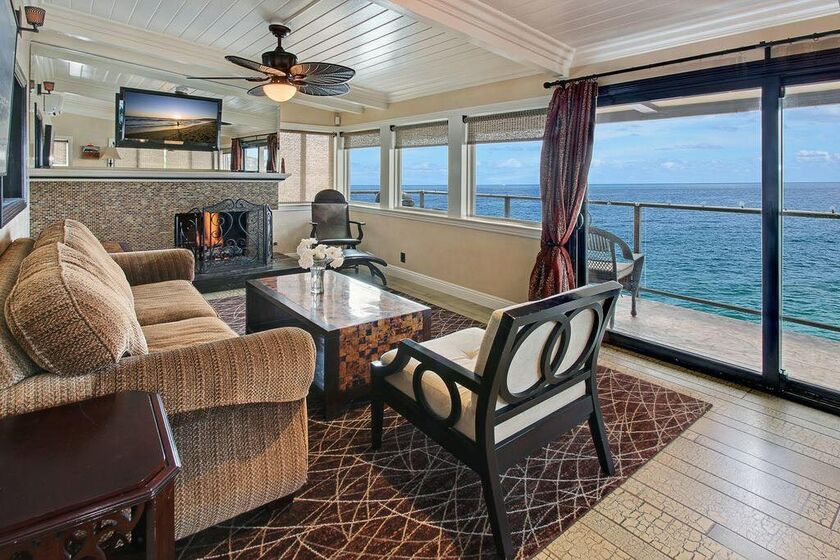 729 Gaviota Dr, Laguna Beach, CA 92651, USA
(949) 376-7170
Community of eight luxurious, beach front, one bedroom villas located next to the reception site, Hotel Seven4One. Call for availability and for booking. Rates range from $200-$340 per night with a three night minimum.
Travel and Transportation
Laguna Beach, CA, United States
The nearest airport to Laguna Beach is John Wayne Airport / Orange County (SNA), which is approximately 20 minutes away. Other airports include Long Beach, Los Angeles and San Diego, which range from an hour to two hours from Laguna (traffic depending).
If you are traveling from one of the farther airports you might consider renting a car as a one way uber ride starts at $40 from Long Beach, $60 from LAX and $80 from San Diego.
Drinks
The Sandpiper (aka The Dirty Bird)
The diviest of dive bars. Like, really divey. It's awesome.
Big Fish Tavern
Best sports bar in town / only sports bar in town?
Hennessy's
Heather's bar! Need we say more?
Nick's
Also in the "Eats" section, Nick's serves up a great cocktail.
Eats
Zinc (Breakfast / Lunch $)
Vegans and veggies eat your heart out at the place to be seen on Saturday and Sunday morning in Laguna. Don't forget your Lululemon pants and Louis Vuitton bag and you will fit right in. We recommend the breakfast burrito!

Penguin Cafe (Breakfast $)
A true diner, Penguin manages to combine incredible pancakes, egg plates, and fully loaded hotdogs with a modest ocean view. Pick your seat wisely and you might even see a dolphin swim by..

Coyote Grill (Lunch / Happy Hour / Dinner $)
Probably the best happy hour in town. Ocean views, tiki bar, and cheap Mexican eats. Snag happy hour between 3-6pm seven days a week. The calamari is the BEST!
Salerno (Dinner $$)
Homemade pasta. It's really good. Phil saw Tyrion Lannister sitting at the bar here!
Thai Brothers (Lunch / Dinner $$)
Incredible Thai food at modest prices, two attributes hard to come by in Laguna.
The Deck (Lunch / Happy Hour / Dinner $$)
The name says it all. Beach front deck with a bar and table seating. Our favorite place to take out-of-towners or to enjoy a cocktail at sunset (try the California Cooler) or a chilled glass of rosé.
Carmalitas (Happy Hour / Dinner $$$)
Delish Mexican cuisine. Come for happy hour discounted margaritas and guacamole.
Groom recommendation: jalapenos stuffed with crab and wrapped in bacon, blackberry margarita
Bride recommendation: seafood enchiladas, cilantro cucumber margarita
Nick's Laguna Beach (Lunch / Dinner $$$)
One of our favorite lunch and dinner spots, Nick's serves up classy American fare and great cocktails. It is located right around the corner on the PCH from Hotel Laguna and Hotel Seven4One.
Broadway (Dinner $$$$)
Class, class class. Bringing a Manhattan vibe to the shores of California, Top Chef finalist Amar Santana serves up incredible plates matched only by the service.
FAQ
What is beach formal?!
Dress to impress, but also for the elements (sun, sand, water). Anything you'd wear to a nice restaurant on a summer night is appropriate.
Guys: Jacket and slacks or a suit will do. Tie optional (the groom will not be in a tie or suit).
Gals: Summer cocktail wear. Think maxi dresses and fun prints! You might want something to keep you warm at night (temp will drop to 58 degrees).
Why are shoes optional for the ceremony?
We will be saying "I do" on the sand! There will be a space for ladies to leave their heels and guys should be able to manage in their shoes. You'll definitely need them to tear up the dance floor at the reception!
What weather should we expect and what clothes should we pack?
Typical November weather in Laguna is a high of 70 degrees and a low of 50 degrees. In the sun it will feel warmer than 70 and as soon as the sun goes down you will feel chilly!
Pack for a warm sunny day and a cool night. Laguna is a casual, artsy beach town, but there are a few nicer restaurants. Think layers (tanks and long sleeves), jackets, flip flops, athletic shoes and clothes (for exercise or hiking), bathing suit (70 will be warm enough for the beach!), hat and/or sunscreen.
What's the wedding hashtag?
Excellent question!
#foreverPHEATHER
What are cocktail entrees? Will there be dinner?
There will be dinner! Due to space limitations we will not have a formal sit down dinner - instead expect tray passed entrees and hors d'oeuvres.
Filet Mignon served in a martini glass? Yes please.
Where should I park?
Street parking should not be a challenge at this time of year in Laguna, however, valet is available at both the ceremony and reception venues.
Hotel Laguna (ceremony): $10 for six hours; $20 for overnight
Seven4one (reception): Complimentary