Our Story
Us Before Us
Once upon a time, Beach was very lonely. Many would visit and but none took up residence in her heart. Some called her picky. And maybe she was. She longed for a partner who could offer love, excitement and long walks on her. She was looking for The One.
Enter Hockey. Hockey lived in The City and wasn't lonely at all. Truth be told, Hockey was a whore. Everyone loved Hockey and Hockey let them all take a shift. But Hockey grew weary of those "shifts" smelling of stale urine and death metal. Hockey needed a change.
We Became Us
While Beach warded off the advances of tourists, Hockey serendipitously came to her town for a visit. At Seacrets one night, Hockey saw Beach from across the room and made a V with his fingers and waggled his tongue between them. Beach rolled her eyes and flipped him off. They went their separate ways.
But neither could forget that moment. Years passed and Hockey finally hired private detective Matthew J. Workman to track Beach down. It was a monumental task, but after loads of surveillance and unnecessary photos, Matt was finally able to arrange a meeting.
In August 2013, Hockey + Beach finally met.
And Now We Are Us
And now their relationship is what dreams are made of. Hockey visits Beach one weekend every summer and they revisit Seacrets together and eat buckets of crabs and drink crab bloodys and eat crab cakes and get crabs and they party at Beach's place until the sun rises.
The Wedding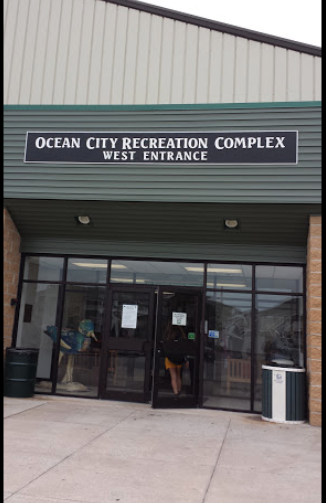 Saturday, August 25, 2018
10:00 AM
Attire: Athletic (Black tie optional)
Ceremony
Northside Park
200 125th St, Ocean City, MD 21842, USA
Reception
Da Fuckin Beach
125th Street, Ocean City, MD, USA
Other Events
Crab Bag!
Friday, August 24, 2018
8:00 PM
Crab Bag
13005 Coastal Hwy, Ocean City, MD 21842, USA
Crabs! Beer! Old Bay! Buckets of Crabs! Mallets! Bibs! Crab Carcasses!
Beach Party!
Friday, August 24, 2018
9:00 PM
The Beach!
125th Street, Ocean City, MD, USA
Sand! Surf! Tiki Torches! Beach Games! Glow-in-the-Dark Stuff! Booze!
Seacrets!
Saturday, August 25, 2018
9:00 PM
Seacrets Beach Club
117 49th St, Ocean City, MD 21842, USA
Aww Shiiiit. Here we go again...